Sides drawn on plan to privatize Michigan mental-health system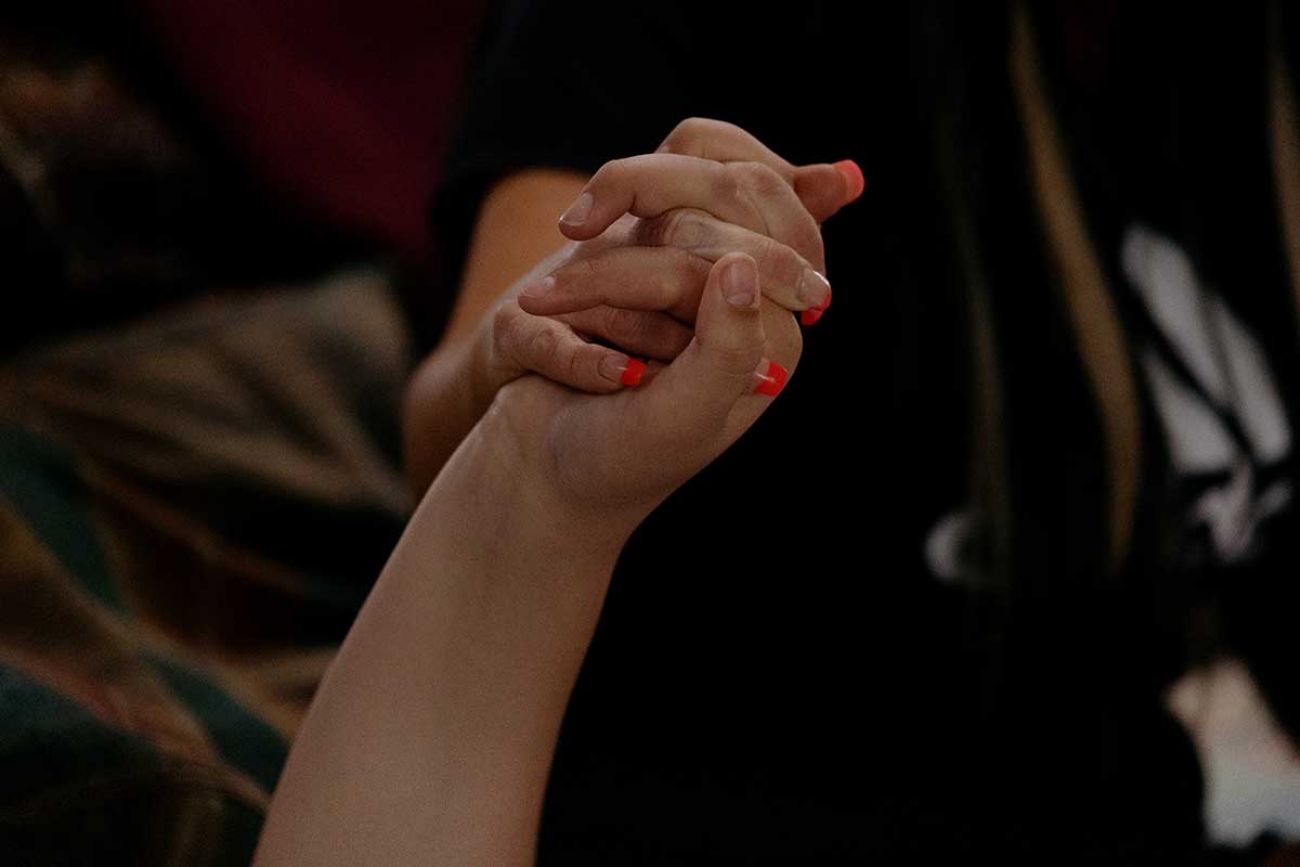 A Michigan mother comforted her distraught son earlier this year. The teen has multiple mental health diagnoses and has lashed out violently at her and others. (Bridge photo by Erin Kirkland)
Privatizing the state's complex mental-health system will make it easier for Michiganders to access services that address both physical and mental needs, proponents of two bills said at a legislative hearing in Lansing.
"It gives us the ability to treat the whole person," Sean Kendall, president and CEO at the health insurer, Meridian Health, said Tuesday.
Kendall testified alongside Dominick Pallone, executive director of the Michigan Association of Health Plans, an insurance industry group, before the Senate Government Operations Committee in support of the bills. Mental health advocates and other groups oppose the measures, saying they will benefit insurers to the detriment of vulnerable patients.
Related stories:
At issue: a two-bill package — senate bills 597 and 598 — that would shift the managed-care layer of the public mental health system — the state's 10 regional mental-health and substance abuse plans for Medicaid patients — to commercial health insurers. Senate Majority Leader Mike Shirkey, R-Clarklake and chair of the committee, and fellow Republican Dr. John Bizon of Battle Creek introduced the two-bill package.
Both supporters and opponents agree on this much: Michigan's mental health system can be a bureaucratic mess — a confusing constellation of public and private providers that force consumers to navigate a dizzying array of providers and services that may or may not be available. Access to care often depends on where a person lives, their insurer and the severity of their mental illness.
Michigan also has long suffered from a shortage of psychiatrists and other mental health professionals, making access more difficult. The strains of the COVID pandemic further tested the system.
The pandemic's toll has been particularly hard on children. Michigan's 334 child psychiatric beds have often been filled with young people. And, as Bridge Michigan recently reported, children and teens in crisis routinely had to wait days or even weeks for specialized care, overwhelming hospital emergency rooms and leaving families with little help.
Under the Republican-sponsored bills, a newer, integrated model of care overseen by insurance companies or a similar entity would assign a person a single care coordinator, a single list of providers, and a single 1-800 phone number they can call when they need either physical or mental-health care, Kendall, the head of Meridian, said.
"All that consolidation at the end of the day means one entity is accountable for all those services. Managed care does that today and is prepared to do that in the future," he said.
Allowing insurers, rather than the public PIHP system, to manage costs will allow insurers to find cost-savings for taxpayers, simplify the system for consumers, and provide better, long-term care for those in need of mental health services, supporters have said.
But the Michigan Association of Counties and groups that advocate for people with mental health and disabilities argued Tuesday that shifting the state's largely public mental-health system to private insurers builds profits for health insurers while stripping the $3.6 billion system of public accountability.
"They see this as really shifting away from that public oversight of their county taxpayer dollars, so there's a lot of concern when it comes to just that private financial administration of it," said Meghann Keit-Corrion, government affairs associate for the MAC, which represents the state's county commissioners.
Kevin Fischer, executive director of the National Alliance on Mental Illness Michigan, echoed the concerns, noting for instance that private insurers are not subject to the state's Freedom of Information Act or Open Meetings Acts, as are county-based community mental-health programs.
If insurance companies oversee the system, he said, "profit margins become more important than service outcomes."
Other critics of the Republican measures argue that health insurers focus on medical care, but not on the kind of wrap-around services needed to keep people with mental-health issues secure and stable.
Kim Flowers, chief clinical officer of the Oakland Community Health Network, said staffers also help people with complicated mental health needs get jobs and housing.
Flowers urged lawmakers to collaborate on improving the current system "without unraveling what is already serving our over 300,000 Michigan residents.
Tuesday's hearing was the second on the topic. The bills were introduced a week earlier, when the former head of Michigan's state health department, Jim Haveman, threw his support behind the GOP plan.
Haveman described a fragmented and bifurcated public-private state mental health system that leaves families lost and often without the care they need.
"You cannot maintain a system that's patchwork … You need a system of care that's actuarially sound and provides access for people who come to that door when they need the services, and one entity is responsible for not only the financing, the treatment, the case management, and follow-up, and it's accountable," he said. "That is not currently in place in the state."
Hearings will continue on the bills in committee, which then may send it to the full Senate floor for a vote. Shirkey has repeatedly made it clear that he intends to collect more input before the bills are finalized.
Senate Majority Leader Mike Shirkey, R-Clarklake.
Meanwhile, lawmakers may soon take up a similar proposal by a fellow Republican, State Rep. Mary Whiteford, R-Casco Township, whose effort is co-sponsored by Republican and Democrat colleagues.
Whiteford's plan also would eliminate the network of 10 PIHPs, but would replace them with a single public or nonprofit administrative services organization, or ASO. Under the proposal, the ASO is defined as a "contracted third-party organization with special expertise in behavioral health systems management."
Any plan by the Republican-led legislature would need a sign-off from Democratic Gov. Gretchen Whitmer.
Others have suggested alternative fixes, including using funds from the American Rescue Plan Act and Coronavirus Local Fiscal Recovery Funds.
We're not just a news organization, we're also your neighbors
We've been there for you with daily Michigan COVID-19 news; reporting on the emergence of the virus, daily numbers with our tracker and dashboard, exploding unemployment, and we finally were able to report on mass vaccine distribution. We report because the news impacts all of us. Will you please support our nonprofit newsroom?