Finding lessons in Flint's tragedy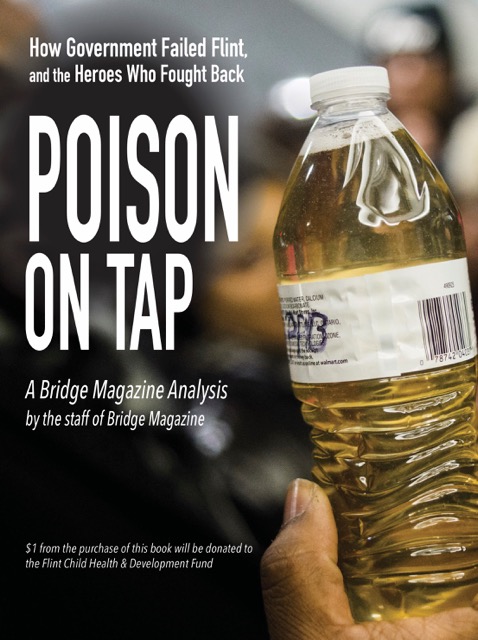 It's rare when just one word can evoke a complex tragedy of human anxiety and suffering, governmental failure and incompetence at all levels, bureaucratic bungling, political exploitation, municipal catastrophe and a systemic breakdown of simple good governance.
But today, we have such a word: Flint.
This is not the first time this has happened. Consider Kent State. Ferguson. Watergate.
These words resonate down the corridors of our history. Over time, they have become milestones in our collective memory, events whose consequences run far beyond the immediate.
They become symbols packed with meaning, markers of time and place, markers of failure and lessons to learn about our system of governance.
Some of us have been fortunate enough – if that's the right term – to see them at close range. That was the job for us at the Center for Michigan and our online publication, Bridge Magazine, as week by week we traced the myriad twists and turns as the still- ongoing debacle in Flint played out, beginning with the first complaints about the water two years ago.
How could entire Flint neighborhoods suffer for months without relief the brown, fetid water that turned out to be poison, especially to little kids? How could it be that entire layers of government – local, regional, state and national – either failed to understand what was going on or, understanding it all too well, got away too long with systematically trying to cover up their mistakes?
How could it be that politicians of all stripes converted a human and municipal crisis into a convenient punching bag for political gain?
It boggles the mind. The only way we could un-boggle our collective minds at Bridge was to make Flint one of the largest stories of our careers. We squinted our way through thousands of emails, trying to make sense of the story as it mutated … and as nearly every participant tried to spin it to their advantage.
We read with growing astonishment the self-serving messages of indifference from "public servants" at the Michigan Department of Environmental Quality and the federal Environmental Protection Agency.
We devoted countless hours and 30,000-plus words to teasing out a comprehensive timeline that tracked the story as it grew. We learned how a whole series of state-appointed emergency financial managers followed the financial-only component of their job descriptions and how this blinkered perception shuttered their common sense and professional responsibility. And we realized how state policy over many years had tolerated – even accelerated – the gradual descent into mute poverty and helplessness of what, 40 years ago, had been a thriving manufacturing community.
We profiled the heroes who collectively struggled to make the Flint story into a compound of courage, honesty, dedication and guts: Dr. Mona Hanna-Attisha, the local pediatrician who helped uncover the threat of lead poisoning; Professor Marc Edwards, the Virginia Tech University national expert on drinking water contamination who – with researchers, students and volunteers – proved high levels of lead in tap water. Lee-Anne Walters, the mom from Flint's south side who noticed hair loss and rashes on her kids and raised hell.
EPA regulator Miguel Del Toral, who risked his career by writing memos telling truth that his superiors tried to suppress.
And we sent our reporters to the front lines of a scared city. They came back with the simple and tragic story that virtually every Flint resident was no longer prepared to trust ANY person in ANY position of governmental authority.
We came to the conclusion that the poisoning of Flint is a cautionary tale for our times – not just for Flint but for countless other communities throughout our land – a tale that questions the assumptions of the effectiveness of government, of a pinchpenny ideology that understood all too well the cost of everything and the value of nothing, and of a political system that insulates bureaucrats and office-holders from accountability.
One of the central policy conclusions that arises from this terrible recital is simple: The question is not whether we need more government or less government. What we desperately need is capable and effective government.
The Center for Michigan is releasing a book next week, "Poison on Tap," which analyzes details of the Flint story. It brings together our regular reporting into one complete and terrible package that we hope will help remind readers throughout America of what can happen when our institutions start breaking down. And it calls for a wholesale reconsideration of what we are as a country … and how to make it a better place for all.
Copies of "Poison on Tap" may be ordered by going to http://bridgemi.com/poison-on-tap/, or for those not on the Internet, by calling 734-769-4625. The price is $20.00 per copy. For every copy sold, a dollar will be contributed by Bridge Magazine and Mission Point Press, the publisher, to the Community Foundation of Greater Flint's Child Health & Development Fund, which is devoted to treating the lead-poisoned children of Flint.
We're not just a news organization, we're also your neighbors
We've been there for you with daily Michigan COVID-19 news; reporting on the emergence of the virus, daily numbers with our tracker and dashboard, exploding unemployment, and we finally were able to report on mass vaccine distribution. We report because the news impacts all of us. Will you please donate and help us reach our goal of 15,000 members in 2021?