Dave Egner has traveled a long way to end up right where he started.
Egner's hometown is a third of the population it was in 1950. It has a high poverty rate and high crime rate. Ninety percent of its residents are African American. It's surrounded by richer communities.
Having grown up in East St. Louis, Ill., Egner recognizes the problems facing his adopted home of Detroit. And he's determined to fix them.
The 49-year-old president of the Hudson-Webber Foundation is a driving force behind the revitalization of Midtown. To Egner, the key to the comeback of Midtown -- and Detroit in general -- is to attract young talent.
In 2000, there were only 15,000 Detroit residents between the ages of 25 and 34 with a bachelor's degree or higher, according to the U.S. Census. "If Detroit had the same proportion of young educated as Chicago, it would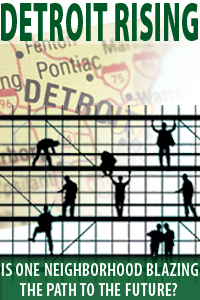 have 136,000," Egner said, snapping off a statistic he's used with audiences across Metro Detroit. "If it had the same proportion as Minneapolis, it would have 82,000."
Two years ago, Hudson-Webber set a goal of "15 by 15" – adding 15,000 young professionals to Detroit by 2015. "We put forth a target number to try to reach a density; to reach a tipping point," Egner said. The idea was picked up by other groups. Gov. Rick Snyder even used it in his State of the State address in January.
Cash incentive programs to entice people to move to Midtown have been a smashing success, with demand for apartments and homes outstripping the supply. New shops and restaurants are popping up.
Egner earned a bachelor's degree in business from Westminster College in Missouri. He worked as the executive assistant to the CEO of the Kellogg Foundation from 1989 to 1993, before running the Michigan Nonprofit Association for four years. He joined the Hudson-Webber Foundation in 1997.
Running Hudson-Webber, and also working as executive director of the New Economy Initiative of Southeast Michigan, Egner says he's "afraid to track" the number of hours he works in a week.
When he gets a break, he can be found at school events of his four children and one grandchild in Novi, where he and his family live.
Egner speaks often about his goals for Detroit -- to see a revitalized Midtown become the spark for the rest of the city. But he has a personal goal, too.
"Our long-term goal, when the kids get out of high school, is to get a loft downtown," he said.