A crusading attorney helped free a man framed for murder. They both ended up dead.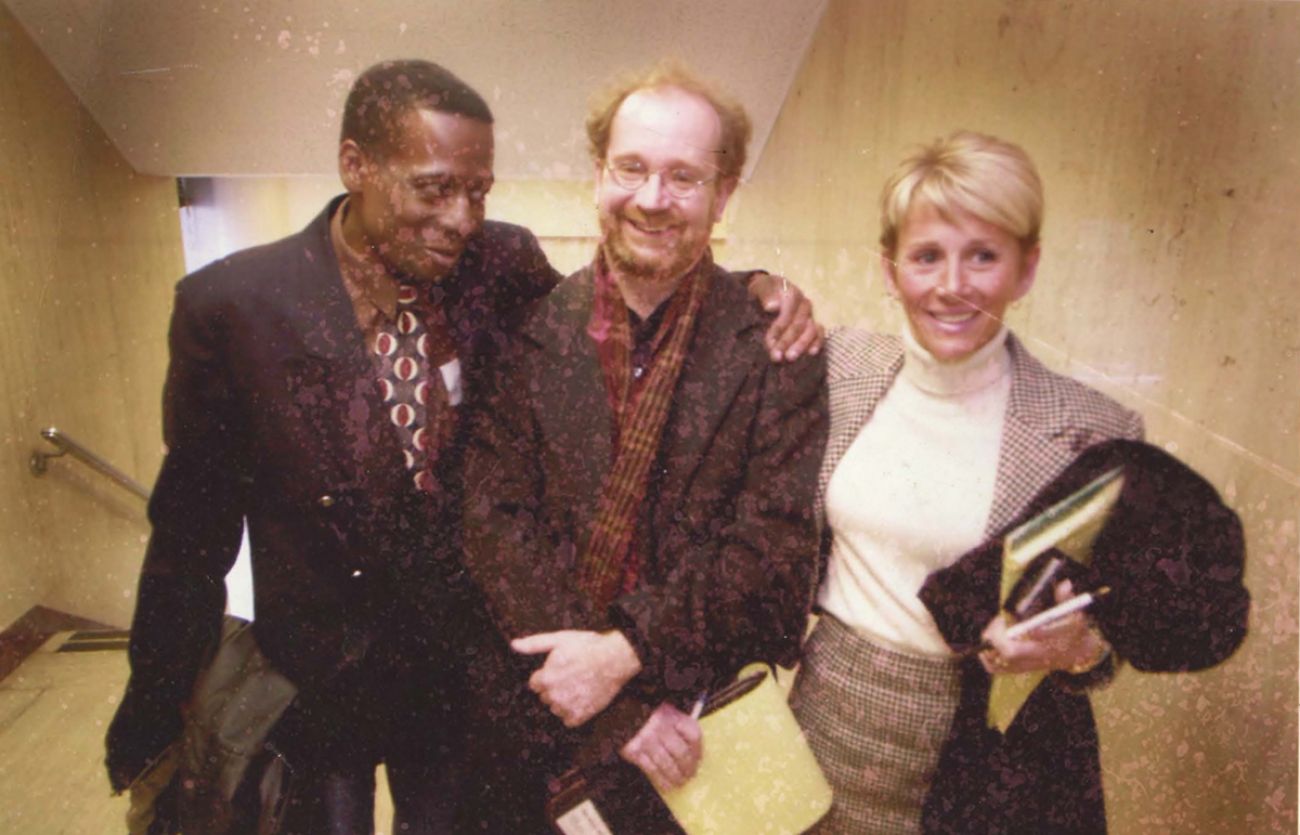 Quality of Life
A crusading attorney helped free a man framed for murder. They both ended up dead.
There is a photo I kept on my desk for years. In it, three people stand in a courtroom hallway. On the left is Dwight Love, a middle-aged man from Detroit who hadn't stood in a courthouse hallway without handcuffs since he was a young man. Love was convicted of a murder he didn't commit when he was 21 years old. Minutes earlier, a judge had dismissed the case.
On the right is Sarah Hunter, a diminutive Birmingham attorney with cropped blond hair and a thick yellow legal pad. She had worked on Love's case for years. By the time of the photo, it was her only case, and she had been working for free for several years to try to get Love out of prison. She'd gambled her professional career on what most viewed as a loser of a case, and she'd won.
In the middle is a reporter, with his own legal pad in a binder that displayed a Detroit News business card. I'd never asked to have a photo taken with people I was writing about before, but this was special. For years, I was the only journalist who wrote about the case. In the end, I played a role in getting Love out of prison, and I wanted a memento. Dwight put his arm around my shoulder; Sarah did the same.
In the movies, the snapping of that photo in February 2001 would be the moment the music swells and the credits roll, the happy ending.
Today, Love and Hunter are dead.
Love, who spent 16 years in prison for a murder he didn't commit because Detroit police hid exculpatory evidence, died in 2014 while waiting 46 minutes for an ambulance in Detroit after he suffered a heart attack. In essence, Detroit took his life twice. Hunter, who became addicted to prescription amphetamines while working night after night on the case, spiraled into mental illness and deeper drug addiction. Divorced, unemployed, her law career gone, she apparently committed suicide in May.
It was easy to romanticize their story, Love the victim and Hunter the heroine, fighting against a corrupt system. But their real stories were messier than what you'd see on the screen, and raise unsettling questions about whether the years-long fight was worth it. Both lives were irreversibly changed by the case. Despite the smiles in the photograph, it's likely their lives changed for the worse.
This is a story about what happened after the happy ending.
'I needed the money'
They met in 1994 at a time when both were desperate. Hunter had left the Oakland County Prosecutor's Office to start her own practice, and she'd placed an ad in Michigan Lawyers Weekly looking for clients in Michigan prisons. Love wrote her a letter, and she drove to Chippewa Correctional Facility in the Upper Peninsula.
"I answered everyone who wrote me," Hunter told me two years later, when I wrote an initial article about the case for The Detroit News.
They were an odd couple. Hunter, 37 when they met, had adolescent children at her suburban Birmingham home she shared with her lawyer husband. Love, 34, was a high school dropout and about to become a grandfather.
Hunter was intense and loud. Love seldom spoke above a whisper. He talked about being stabbed in the prison yard and of mice that shared his cell in a laconic voice, as if recounting a story he'd read in a magazine.
Dwight Love: "To keep from going crazy, I never ask 'Why me?'"
"You don't want to be in prison for (life) and be angry, or you'll lose your mind," Love told me when I first met him in 1996 in the Wayne County Jail, where he was being held during his post-conviction relief hearing. "To keep from going crazy, I never ask 'Why me?'"
Love had a record of petty crimes and car theft before police arrested him for the 1981 shooting death of James Connelly in a botched robbery outside The Interchange, a gay bar, near Love's Holden Street apartment not far from the Motown Museum.
Police never found a gun and eyewitness identification was sketchy, but Love had no one to corroborate his alibi that he was in his apartment when the shooting occurred. The jury deliberated just two hours before finding him guilty of first-degree murder. Just 21-years-old, Love was sentenced to life in prison with no chance of parole.
Thirteen years later, the short, hunch-shouldered convict told Hunter he was innocent. As an assistant prosecutor, Hunter had seen hundreds of defendants proclaim their innocence in the face of incontrovertible evidence. She doubted Love was any different, she told me later, but she took the $1,500 Love had saved from his prison job making license plates. "I needed the money," she said.
Sarah Hunter: "You dream about the case where justice happens. And then you get out and you get jaded. You see that most cases are about the bottom line."
She wasn't being cynical, she was being realistic. "When you get out of law school, you're starry-eyed," Hunter told me later. "You dream about the case where justice happens. And then you get out and you get jaded. You see that most cases are about the bottom line."
Yet two years later, when I met Hunter, she was working on the case full-time for no money.
After I wrote an initial story about the case, Hunter continued to stop by the Birmingham office of The Detroit News with the latest court filings, often not leaving until I agreed to write another article.
"How can you not if you know he's innocent?" Hunter would ask, staring at me until I squirmed in my chair.
Love had passed a lie-detector test, and the more Hunter delved into the case, the more holes she found. A private investigator (who Hunter had cajoled into also working on the case for free) uncovered evidence raising doubts on Love's guilt. Hunter became convinced this was a once-in-a-career case where "justice happens."
"People think I'm nuts, that I'm a ditzy blonde," Hunter said. "All they see is a black guy with a record. I'm not a softy. I think people are crud. But if you're a doctor, are you going to walk away from a half-dead person on the road?"
She learned that lesson from her father, a doctor in the hills of West Virginia caring for Appalachian coal miners whether they had money to pay or not.
"Sometimes you do things," Hunter said, "because they're the right thing to do."
Things began to fall into place in 1996 and 1997.
Hunter discovered that the police had hidden from Love's original defense attorney a file of evidence that included tips on other suspects and potential witnesses to the murder. Meanwhile, articles I wrote in The Detroit News raised doubts about his guilt, including discovering the identity of the alleged killer described in the hidden files. Detroit Recorder's Court Judge Daphne Means-Curtis cited The News' discovery in her ruling granting a new trial in 1997.
The case dragged on for another four years as the Wayne County Prosecutor's Office delayed a retrial. Finally in 2001, Means-Curtis dismissed the case.
Love walked out of the courtroom that day with Hunter. The two hugged. I asked to take a photo with them.
"When you're poor and you have no money, everyone thinks you're guilty," Love said. "I guess I can start living my life now."
A new nightmare
Recently, I showed LeTrisica Day the 2001 photo of her father, Hunter and me in that courtroom hallway. She began to cry.
"He looks so happy," Day said.
Life after prison had not been happy for Love. He could never hold a job, his daughter said. Sometimes he'd get fired after employers learned of his criminal past. Sometimes he'd quit because he struggled to get out of bed due to a debilitating lung ailment he contracted in the Wayne County Jail, where he lived for two years during his drawn-out post-conviction hearing.
After almost two decades in prison, Love had trouble reconnecting with family. The man who was subdued behind bars was prone to loud outbursts at a wife he'd married while in prison, his children and grandchildren.
In prison, Love didn't like to think about how he'd been screwed by the system. Back in the city where he'd grown up, it was all he could think about.
"He was an angry man when he got out," Day said. "I remember him talking about how the justice system had failed him. He felt like his life was stolen from him and he just couldn't put the pieces back together."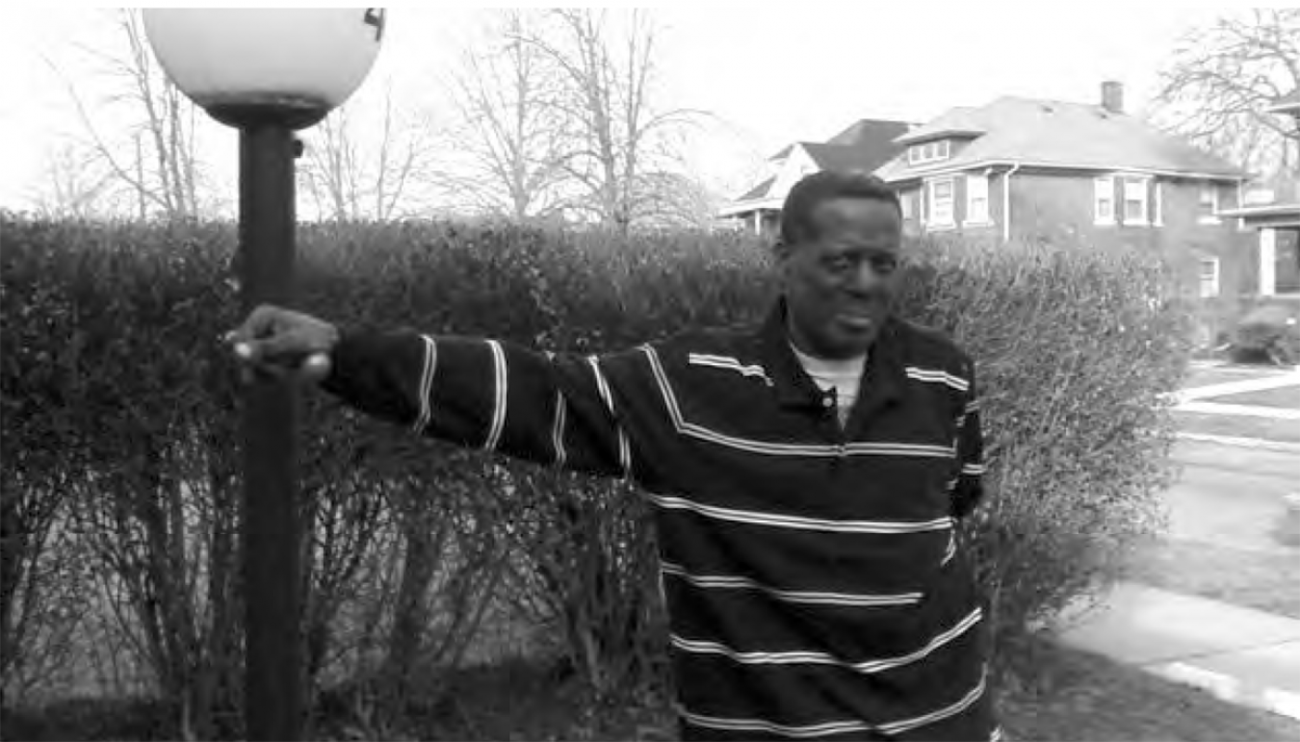 He continued to have run-ins with the law.
Police raided his apartment just six days after his murder case was dismissed, and found a small bag of heroin. He was placed on probation. Later, he was convicted of operating a chop shop, where stolen cars were disassembled for their parts, and for shoplifting.
"It was rough for him to adjust back to society," Day said. "He was an uneducated black man, and he was let out to society with no education, no job skills, and then you all throw him $500 (a month received in disability payments because of his breathing problems) and say, 'Leave us alone.'"
He divorced. He battled drug addiction.
"Getting out of prison was like the beginning of a whole new nightmare," Day said. "It was terrible for my dad. He said he'd rather been in prison where he had a normal schedule, where he knew how things was gonna go. It was too much for him out here to handle. Everything was different, and he could never catch a break."
By 2013, Love was 54 but looked at least a decade older. The breathing problems he'd developed in jail had damaged his heart. After suffering a heart attack, he was admitted to a long-term care facility in Detroit, but, according to his daughter, he was released when insurance ran out.
Day brought her father to her Detroit home in December 2013.
"He'd given up," Day said. "He was always a neat, well-groomed man but he stopped bathing. He would talk crazy. I didn't know what to do."
On Jan. 14, 2014, Love collapsed on the front steps of his daughter's home. A neighbor helped carry him inside and onto a couch. Day called 911 and said her father had suffered a heart attack.
Over the next 46 minutes, Day called 911 three more times as she became more and more frantic waiting for an ambulance to arrive, watching her father's breathing become weaker.
By the time an ambulance arrived, Love was dead. It would be another four hours until the coroner's office arrived to take away his body.
"I just had to sit there looking at my daddy on the couch," Day said, sobbing. "It was terrible."
As I left, Day handed me back the photo.
LeTrisica Day: "They took this man's life once and then they took it again."
"That picture just reminded me how happy he was and how confident he was," Day said. "He knew he was innocent. It hurts when I think about the way he was failed, all the way around. They took this man's life once and then they took it again."
Heroes and demons
Hunter didn't come to Love's funeral. She had long been battling her own demons.
Several years after Love was released from prison, I received an invitation from Hunter to join her to talk about the Love case to a class at the University of Michigan Law School in Ann Arbor. I recall very little about the class, but I remember being stunned by Hunter's appearance. She was gaunt, her cheeks hollowed out. Her sentences ran together and her train of thought was erratic. I asked her if she was alright. She waved off the question, but I suspected she was terribly ill.
I wasn't far off.
The Love case was supposed to launch her into the legal stratosphere. She'd won the freedom of a man serving a life sentence virtually on her own, with no exculpatory DNA evidence. Word spread in Michigan prisons, and she had her pick of convicts eager for her to prove their innocence, she told me at the time. Hunter flew to Seattle to meet with screenwriters who wanted to write a feel-good movie about a spunky attorney taking on the system to help an innocent man. (The movie was never made.)
But at home, Hunter wasn't a hero. The same single-minded obsession and prescription pills that fueled her legal advocacy for Love left a swath of collateral damage outside the courtroom.
For years, according to family and friends who spoke to me recently, Hunter used Adderall, a drug prescribed for attention deficit hyperactivity disorder (ADHD) but that is routinely used by college students to focus while cramming for exams.
Popping the prescription amphetamine, she'd stay awake for two to three days in a row, obsessing over court motions in her basement office, then close the door of her bedroom and sleep for days. Her husband lost his partnership at his law firm because the time he needed to spend at home suppressed his billable hours. The family spiraled dangerously close to bankruptcy.
Love's exoneration in 2001 should have been the start of great things for the attorney, but Hunter's drug addiction and clinical depression only deepened. Hunter told me at the time that she would make up the money she'd spent helping exonerate Love by filing a multi-million dollar lawsuit against the Detroit Police Department on behalf of Love.
The lawsuit became her Moby Dick. Hunter wrote page after page of the lawsuit at night and tore them up the next day to start over, terrified that she might make a mistake. She finally filed the complaint a year after Love was freed. But the case was dismissed when an increasingly erratic Hunter missed filing deadlines. Her payday for years of work – and Love's for almost two decades of incarceration – was gone.
Love knew his lawsuit was dismissed, but his daughter said he never knew it was because of Hunter's mistakes.
"Once that lawsuit didn't work, he just gave up," Day said.
Divorced in 2006, her once-promising career in the gutter, Hunter moved east, bouncing between West Virginia and Washington, D.C.
She tried to pass the bar exam to practice law in her new home but failed. She was hired as a paralegal by the U.S. Department of Veterans Affairs, but was fired when she refused to enter a drug treatment program for her amphetamine addiction.
On April 20, 2017, Hunter posted to her public Facebook page an upbeat note: "Working hard, wondering what to do next in my life!! Lots of things I feel like I should accomplish!"
Sixteen days later, she was dead.
While her official cause of death is still pending with the Washington, D.C. Medical Examiner's office, family members say she committed suicide by overdosing on a powerful sedative. Hunter was found in her sister's townhome. Beside her bed was a bottle of Nembutal, a powerful barbiturate, and a glass of orange juice.
Nembutal is a go-to drug recommended by the founder of the Hemlock Society, an assisted suicide organization family members say Hunter was familiar with from past suicide attempts. Because Nembutal has a bitter aftertaste, assisted suicide advocates recommend taking the pills with orange juice to reduce the chances of vomiting before the drug can take effect.
Hunter's obituary that ran in the Detroit Free Press prominently described her role winning the freedom of Love. The family asked that contributions be made to the Innocence Project, which helps exonerate the wrongly convicted like Love, and Beyond Blue, which helps people suffering from depression like Hunter.
A complex legacy
Knowing how it would end, would Hunter and Love still have chosen to meet at that Upper Peninsula prison 23 years ago?
Day thinks the answer for her father would have been no. That doesn't surprise Valerie Newman, who works for the State Appellate Defender Office, which provides legal defense for indigent prisoners appealing convictions.
Newman asked Hunter and me to speak to her University of Michigan Law School class after Love was exonerated. Since the Love case, Newman has won the freedom of numerous people who were wrongly convicted.
"It's overwhelming to be dropped back into society," Newman said. "And Sarah was in no position to offer psychological help."
Hunter's mental health issues and destructive use of pills eventually cost her everything, but it also fueled the single-minded tenacity that won Love his freedom. Several attorneys who knew Hunter told me that no sane lawyer would have devoted the time needed to exonerate Love.
Sarah Hunter colleague: "Whatever demons she had, they probably helped the case but they didn't help her. She gave her life for that case."
"Whatever demons she had, they probably helped the case but they didn't help her," said a colleague. "She gave her life for that case."
The impact of the case reached beyond Love and Hunter. Twenty-one people convicted of murder in Michigan have been exonerated since Love won his freedom. The secret police files Hunter unearthed in the Love case "boomeranged through the criminal defense community," inspiring lawyers to more aggressively seek police documents, Newman said.
Today, there would have been no reason for Hunter to drive her family close to bankruptcy. Love's case could have been handled for free through the Innocence Clinic at the University of Michigan Law School or similar innocence projects at law schools around Michigan and the nation – most of which sprung up in the years after the Love case.
In 2016, the Michigan Legislature enacted a policy that gave $50,000 to wrongfully convicted prisoners for every year they served behind bars. Love might have received $800,000 from the state if an ambulance had arrived sooner when he was suffering a heart attack in 2014. Instead, he died penniless, with his body cremated because it was the cheapest option for his family.
The complex legacy of the pair is something family and friends continue to wrestle with. Hunter's ex-husband is Jewish, and in the Talmud, it's taught that whoever saves a life, saves the entire world. Hunter saved a life. But she also left the people she loved to deal with the fallout.
I opened her public Facebook page after her suicide. She wrote posts about her cats and her now-grown children, and about a blog she'd created where she railed about criminal justice reform. In selfies she posted on the page, her face is thinner and her expression sadder than when she tilted at windmills in a Detroit courtroom 20 years ago. Hunter's eyes, though, have the same plaintiveness I saw two decades ago when she'd press a new batch of court documents into my hands, asking me to write one more story about a black guy with a record nobody believed in but her.
"How can you not if you know he's innocent?"
Over the years, the photo of the three of us has begun to deteriorate. Brown chemical stains dot Hunter's gray skirt, Love's black suit and my charcoal overcoat, and are beginning to eat away at the smiles.
We're not just a news organization, we're also your neighbors
We've been there for you with daily Michigan COVID-19 news; reporting on the emergence of the virus, daily numbers with our tracker and dashboard, exploding unemployment, and we finally were able to report on mass vaccine distribution. We report because the news impacts all of us. Will you please support our nonprofit newsroom?