Custer and other Michigan historical markers may get a history update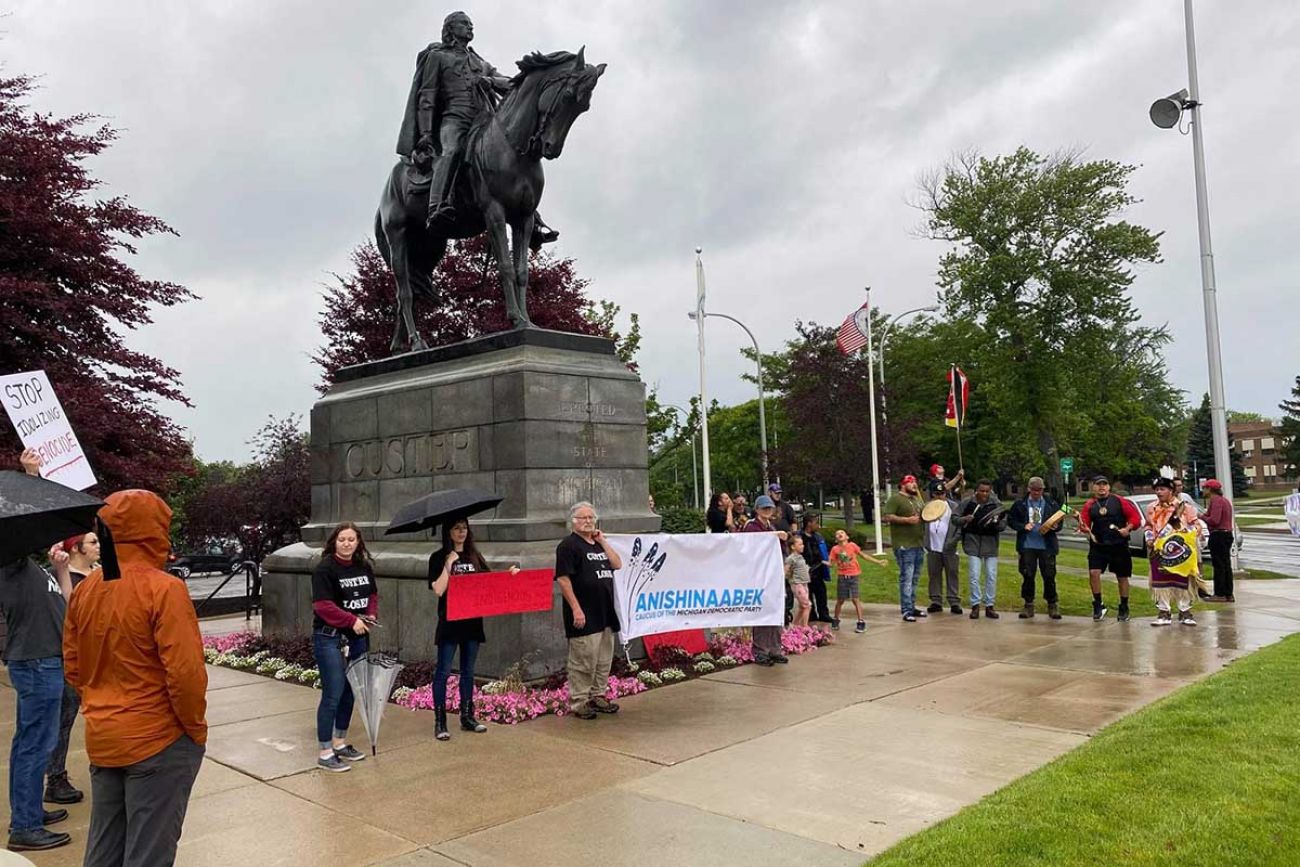 A feud about the fate of Monroe's monument to George Armstrong Custer offers a glimpse at the kind of contentious debates state officials could be wading into as they work to update historical markers that inaccurately or incompletely portray history. (Courtesy photo)
The bronze sculpture of George Armstrong Custer — a towering figure in Monroe's central park — gazes regally from astride a horse, celebrating the town's most famous former resident as a Civil War hero.
Beneath it, a historical marker lauds Custer's valor at the Battle of Gettysburg, with only a brief, vague reference to his less-flattering notables: He would go on to lead deadly attacks on Native Americans as a key player in the U.S. government's Indian Wars before being killed at the Battle of Little Bighorn.
Julie Dye, cofounder of the Michigan Democratic Party's Anishinaabek Caucus, which advocates for Native American candidates and issues, has long resented the omission, which she calls a "scrubbed, whitewashed American history."
Related:
So she was pleased to learn, one recent night, that someone had taped a homemade revision to the "Sighting the Enemy" marker: A photo of a Native American woman and child, labeled as "the enemy."
Dye is part of a contingent pushing for changes to Monroe's public narrative about Custer, which she calls a campaign "to add what has been edited out."
Similar efforts could soon take place in communities across the state.
The Michigan Historical Commission — tasked with approving the green-and-gold signs that mark sites of historical significance across the state — has begun a review aimed at weeding out racist language, inaccuracies and glaring omissions in hopes of telling a more complete tale of Michigan's history.
It's just one way Michigan is taking part in the nationwide reckoning over how America's history has been told and at times mistold. As experiences in Monroe show, it's likely to be a complicated process.
Who discovered Lake Superior?
Since 1955, Michigan's historical marker program has authorized more than 1,700 markers across the state. They denote sites as mundane as a dam that once supplied power to the village of Kalkaska, and as monumental as the birthplace of Ford automobiles.
To erect a new marker, local sponsors must foot the bill and prove they've done research on the historical significance of the proposal. If the text passes an accuracy test and the Michigan Historical Commission deems the site historically significant, it generally gains approval.
"We really like the grassroots part of it," said Sandra S. Clark, a member of the commission and director of the Michigan History Center, a state government entity that maintains archives and museums devoted to Michigan history. "But it also means that it is not necessarily as inclusive a program as we would like."
Markers can cost nearly $4,000, a barrier that limits the authors of Michigan's public history to those with money to champion their version. And in a country with a massive racial wealth gap, that often means remembrances shared by white people, resulting in far more historical markers celebrating French settlers and white abolitionists than the Native Americans and Black underground railroad conductors who were their contemporaries.
Beyond that simple imbalance of representation, some Michigan historical markers still contain blatant inaccuracies or omissions, though overtly racist language has been mostly stamped out in recent years.
The marker for Lake Superior, located at a roadside park in Au Train, erroneously claims it was discovered in the 1620s by "the intrepid Frenchman Brulé," with no mention of the Native Americans who had lived along the lake for millennia.
A marker in downtown Detroit denoting an underground railroad stop where white tailor Seymour Finney sheltered runaway slaves in a barn fails to acknowledge Finney's Black collaborator, janitor George Dolarson.
Until recently, a marker celebrating former Dearborn Mayor Orville Hubbard lauded his civic victories, but made no mention of the racist views that made African Americans hesitant to enter the city and got him federally indicted (he was later acquitted).
And a since-removed marker for a former French missionary chapel on Mackinac Island referred to its priests as "courageous" in their efforts to convert "savages" to Christianity.
Taken together, said Jamon Jordan, a historian who founded the African-American history tour company Black Scroll Network, those errors and omissions amount to a "centering of whiteness" that fails to accurately convey the richness and complexity of Michigan's history. People of color, women and LGBTQ people, he said, are often "just missing from the way that the story is told."
'Making history relevant'
Stephanie Rowe, executive director of the Indianapolis-based National Council on Public History, said the conversations in Michigan mirror others taking place across the country amid a racial reckoning marked by protests over police brutality and culture wars over Confederate monuments and teachings on race in school curricula.
"Interpreting is part of what historians do," Rowe said, "and interpretations change over time."
Similar conversations are happening in Massachusetts, Pennsylvania, Indiana and other states. They often boil down to a key question: With so little space to tell a complicated story on a metal plaque, which parts should be left out?
Telling the most complete possible story, Rowe said, "is essential for making history relevant to people."
Michigan's process, for now, is only getting started.
Members of the 10-person Michigan Historical Commision are reviewing the text of historical markers to spot issues, said Eric Hemenway, a commissioner and director of repatriation, archives and records for the Little Traverse Bay Bands of Odawa Indians. Some, such as the Great Lakes markers, have already been flagged for a rewrite.
Many of the markers were produced in the 1950s and 60s — a time when segregation was legal and non-white Michiganders were largely excluded from decisions about how to convey Michigan's history.
"We're in a position now to change it," Hemenway said.
Clark, of the Michigan History Center, said she hopes to set up community forums in places with markers that have been flagged. This is intended to allow invested local residents to work with the commission to develop new text that tells a more accurate version of history.
"Instead of us sending commissioners, staff or scholars in and saying, 'Well, this should be fixed,' we really want to sit down with people in the community," she said.
It's likely to be a years-long process, and it's not yet clear who'll cover the costs of the conversations or the possible marker revisions. Clark said she hopes to attract private financial support.
The state is also working to dedicate more markers representing the diversity of Michigan's history. The new marker for Detroit's Black Bottom, a Black neighborhood that was razed to make way for freeway construction, is an example.
In parts of the state, the review process has already begun.
A recent effort to better reflect Native American history and culture at Mackinac State Historic Parks resulted in a new exhibit inside Mackinac Island's Biddle House, using the home's Native-American resident as a focal point of an exhibit highlighting Michigan tribes' role in the region's past and present.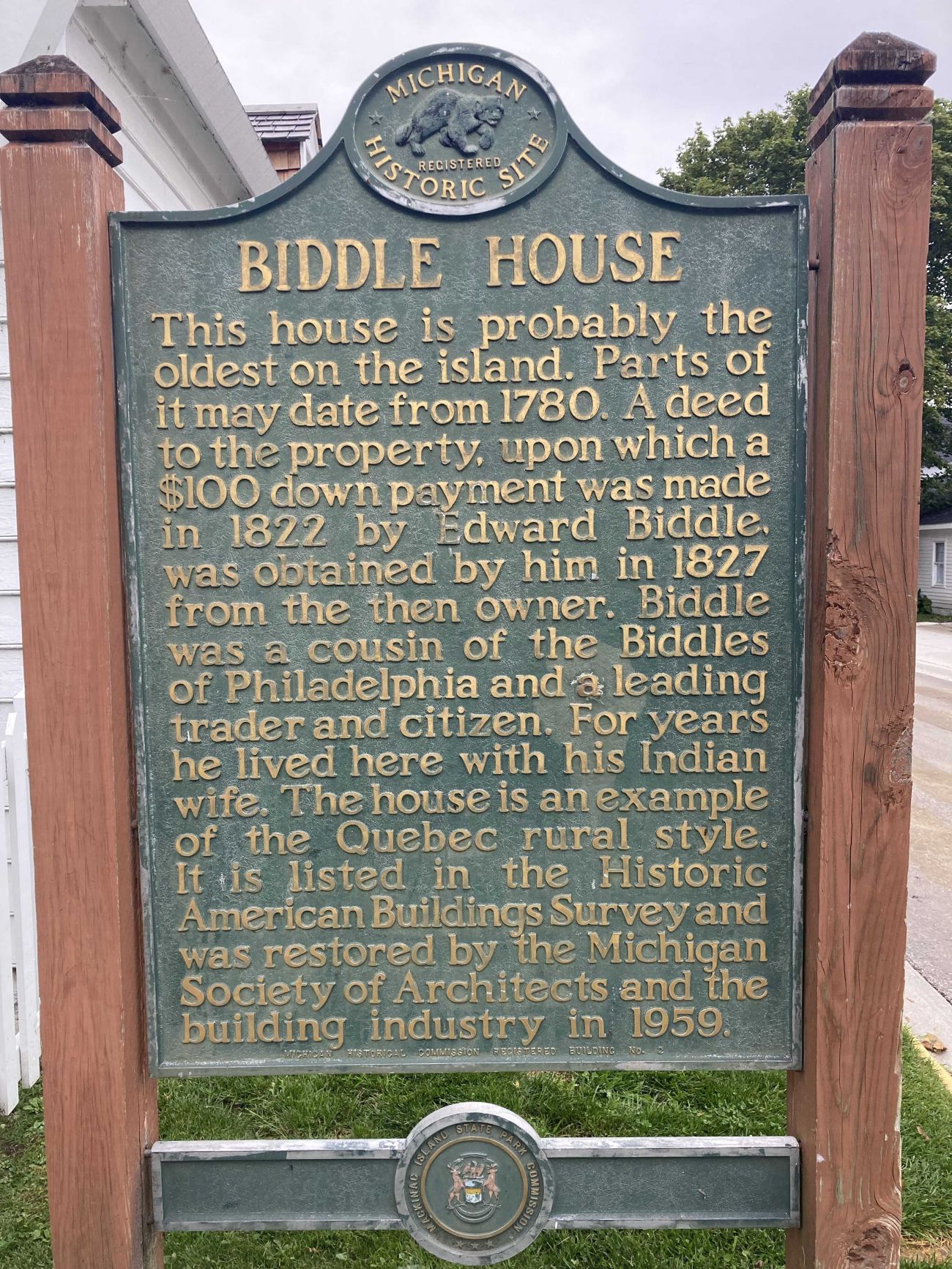 The old historical marker at the Biddle House, which is due for replacement as soon as necessary equipment is delivered, only referred to Agatha Biddle in passing as her husband Edward's "Indian wife." (Bridge photo by Kelly House)
"If you don't do that, you're leaving a bunch out," said park curator Craig Wilson, who worked closely with Hemenway and other Northern Michigan tribal members to develop the exhibit. "It's a disservice to our visitors."
The old exhibit had functioned as a replica of an 1830s home, and the historical marker outside makes no mention of the home's proprietress, Agatha Biddle, other than a passing reference to her husband Edward's "Indian wife."
On the contrary, Hemenway said, Agatha was in some ways more important than Edward: A chief of her tribal community, a philanthropist and humanitarian who took in needy children and elders.
"It's her and Edward's house, but she was, in my mind, the driving force," Hemenway said.
So far, Wilson said, the new exhibit has been well-received by visitors. Parks officials plan to remove the old historical marker as soon as they receive a shipment of equipment needed to install its replacement.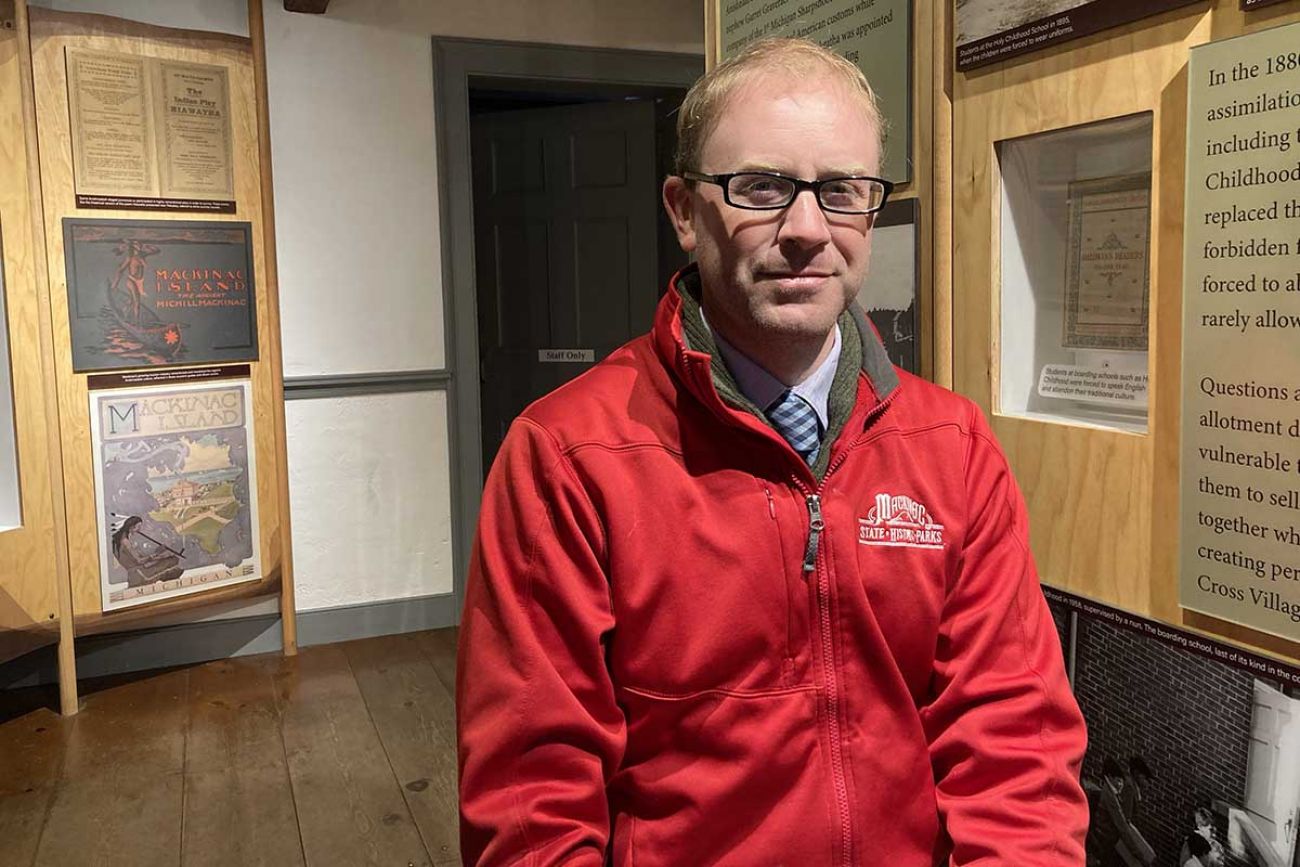 Craig Wilson, curator for the Mackinac State Historic Parks, sits in the Mackinac Island's Biddle House, where a new exhibit uses the home's Native American proprietress, Agatha Biddle, to highlight Michigan tribes' role in the region's past and present.(Bridge photo by Kelly House)
Efforts to reconsider Custer's full legacy haven't gone as smoothly in the city of Monroe.
There, the city council took up the issue of reviewing the Custer monument after a contingent led by the local group Good Trouble Monroe began to press for change. The United Tribes of Michigan passed a resolution supporting the removal of the city-owned statue. Nearly 15,000 signed an online petition calling for the same.
But residents in the 90-percent white community were deeply divided about the statue's fate. For some, no change to the statue would be acceptable. Others would settle for no less than its removal.
In the middle were those calling for a compromise: Keep the statue in place, but change the accompanying signage to reflect both Custer's role in the Civil War, and his role in the federal war on Native American tribes.
David Ingall, who sits on the board of the Monroe County Historical Society, was among them. The statue's fate, Ingall believes, should be decided by Monroe residents alone. And while federal policies toward Native Americans were wrong, he said, Custer wasn't setting those policies.
"The guy is not a saint," Ingall said of Custer. "But neither is George Washington. Neither is Jefferson."
In April, city council members agreed to look for a consultant to guide a community conversation about the monument's future.
Parties on both sides of the debate decried the process as flawed. In response, the council voted in August to cancel the community engagement project before it had even begun.
"The council just threw their hands up and said, 'You know what, if it's not going to be viewed by either party as a legitimate process, what's the point in spending any money on the conversation?'" said City Manager Vincent Pastue.
City officials have yet to officially revisit the statue's fate, but it continues to fuel public controversy. Following a National Congress of American Indians resolution to dismantle Custer memorials across the country, Custer critics in Monroe attended a city council meeting on Monday to again press for the statue's removal.
As the Michigan Historical Commission moves forward on its review of markers throughout the state, including the one in Monroe, Clark is hoping for better outcomes.
She said she expects some difficult conversations. But she wants to make it clear that this isn't an attempt to erase old stories. Rather, she said, "we're talking about broadening the story."
Only donate if we've informed you about important Michigan issues
See what new members are saying about why they donated to Bridge Michigan:
"In order for this information to be accurate and unbiased it must be underwritten by its readers, not by special interests." - Larry S.
"Not many other media sources report on the topics Bridge does." - Susan B.
"Your journalism is outstanding and rare these days." - Mark S.
If you want to ensure the future of nonpartisan, nonprofit Michigan journalism, please become a member today. You, too, will be asked why you donated and maybe we'll feature your quote next time!