With funnel cakes and (some) masks, Michigan festivals lurch toward normal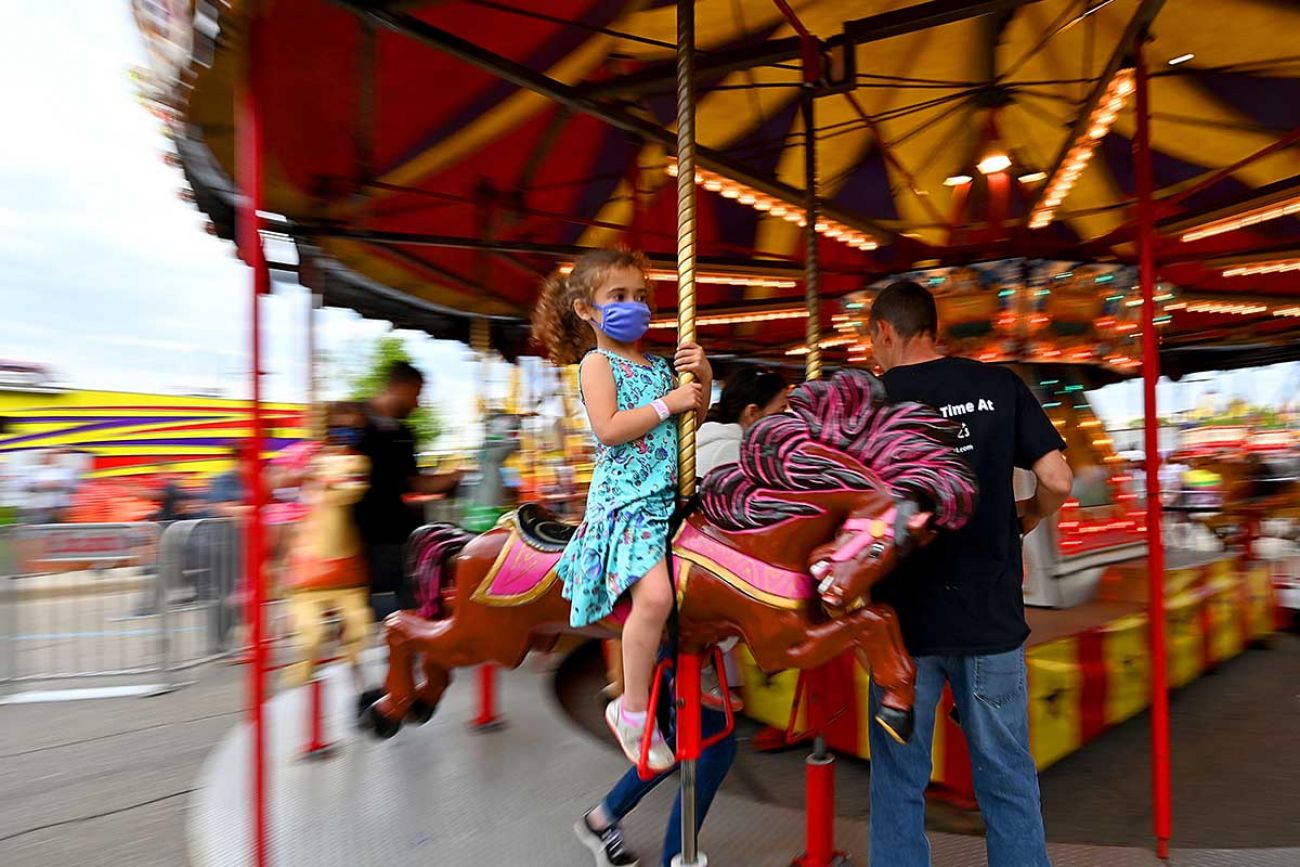 A young girl rides the merry-go-round while wearing a face mask last Saturday, May 15, at the Durand Railroad Days Festival. (Bridge photo by Dale Young)
The town of Durand gave residents something simultaneously rare and remarkably ordinary last weekend: a fair.
Michiganders from neighboring counties flocked to the small Shiawassee County town, population 3,300, for a weekend of carnival games and cotton candy at the Durand Railroad Days Festival. Kids lined up for funnel cake and parents wheedled workers to let too-short youngsters ride the crocodile rollercoaster. Preparing for the afternoon's parade, Miss Railroad Days 2021 teetered down the street in a gown, heels and face mask.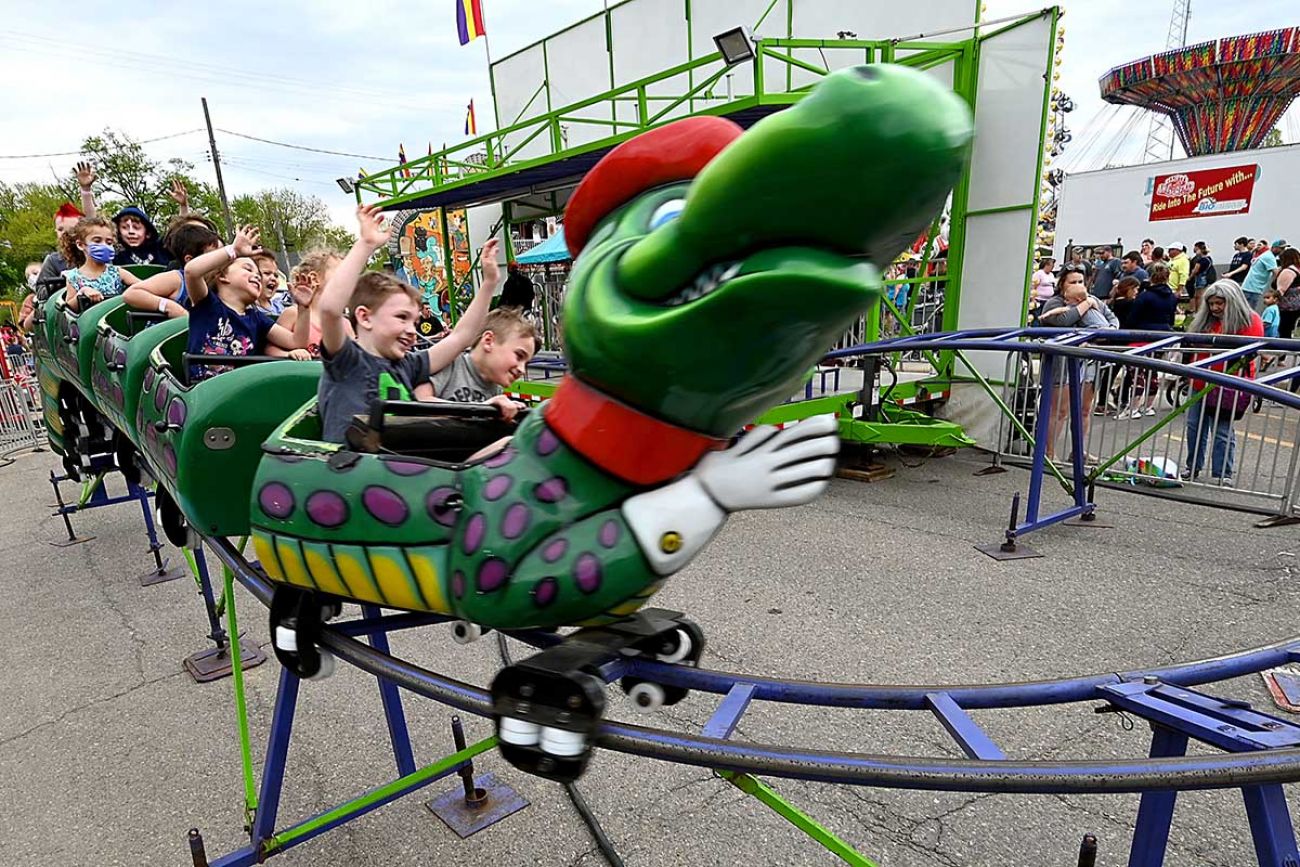 Mostly-unmasked children enjoyed the crocodile coaster at the Durand Railroad Days Festival. (Bridge photo by Dale Young)
It was, in a word, just short of normal.
Related:
"I feel absolutely safe," said Jocelyn Rudd, a carnival worker from the Grand Rapids area. While her employer had required all workers to remain masked, the majority of fairgoers she interacted with were unmasked in a county that is below the state average for adults who are fully vaccinated. (36 percent, compared to 46 for the state, according to the Bridge Michigan vaccine tracker).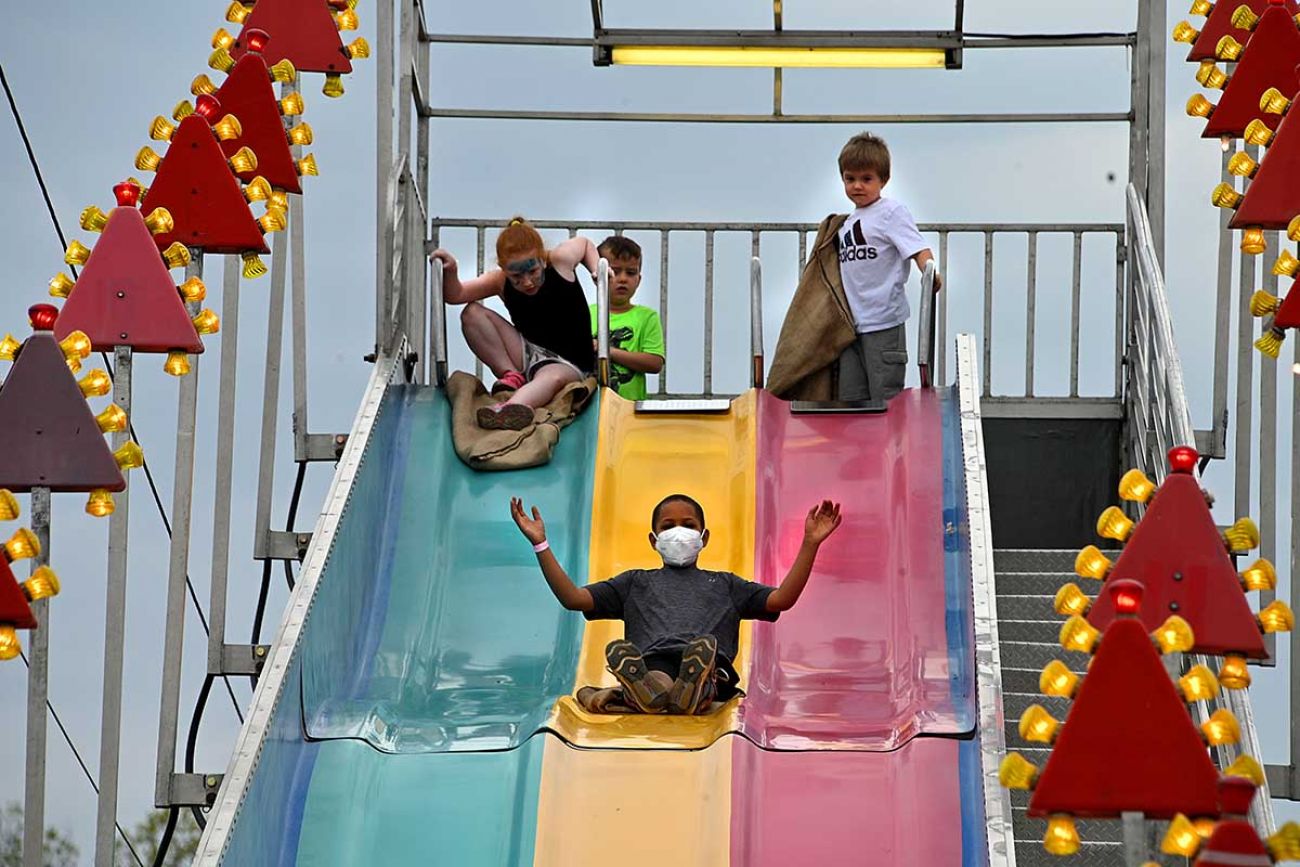 Children – some masked, some not – play on a slide at the Durand Railroad Days Festival. (Bridge photo by Dale Young)
Last spring, in the early days of the COVID-19 pandemic, local governments and events committees agonized over whether to cancel long-planned festivals and parades, almost universally opting to call off the festivities by the time summer 2020 rolled around. This season has presented a host of new variables to weigh: Michigan's springtime surge in cases, sluggish vaccine rates in some counties, residents impatient to return to regular life.
From this gray space has sprung some 2021 events that are canceled, postponed, moved online or modified to accommodate social distancing, while others are barrelling full speed ahead.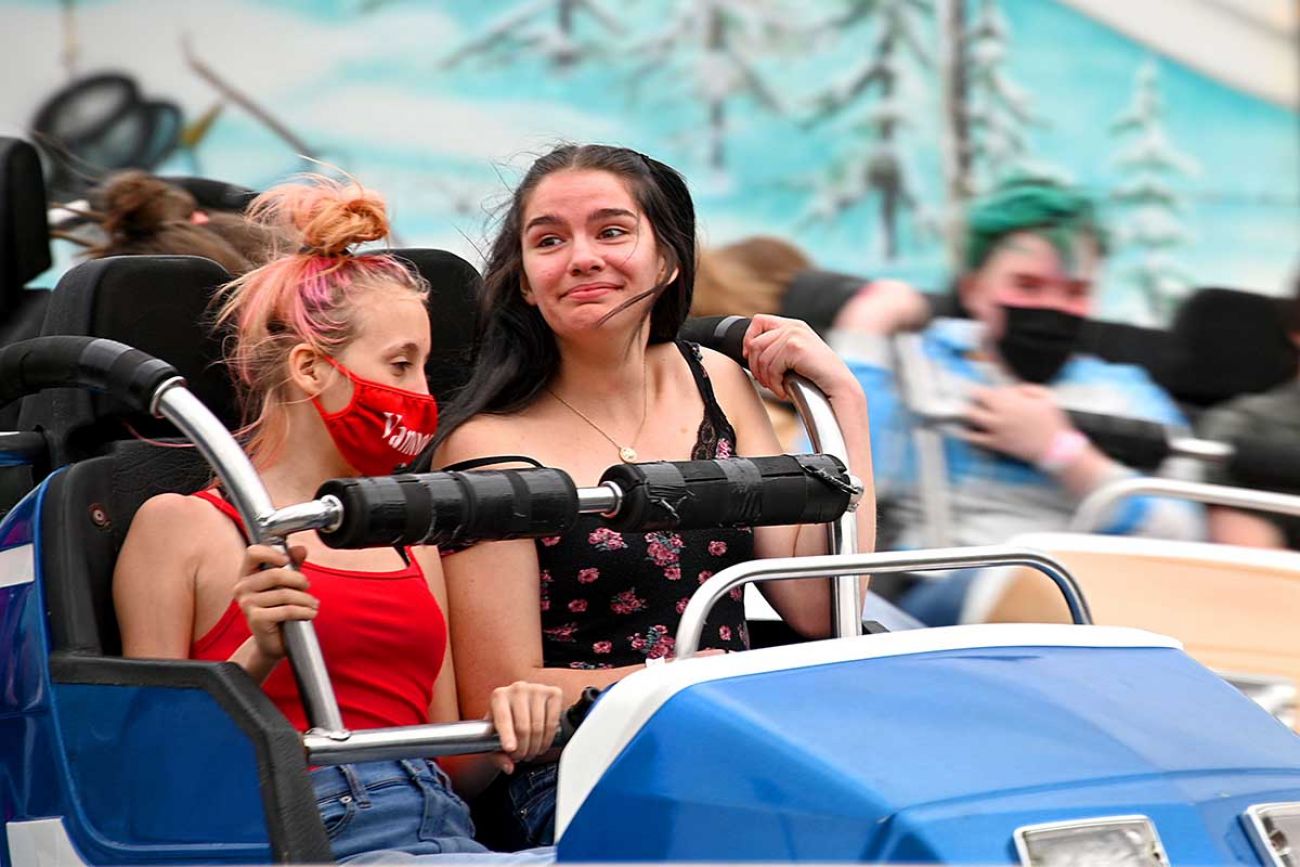 Teens react to a carnival ride at the Durand Railroad Days Festival. (Bridge photo by Dale Young)
Traverse City's National Cherry Festival, which annually draws about 500,000, will take place from July 3 through 10, though some events have gone virtual or been modified.
But elsewhere among the state's more than 600 fests, there's a mix ranging from maybe next year to open-for-fun. The Fenton Freedom Festival, Uncle Sam Jam Fest in Woodhaven and Margarita Festival in Lansing are among the events that are pandemic victims; the Petoskey Stone Festival and the Magic City Egg Fest in Colon are still on the calendar.
Bridge Michigan was unable to identify a Michigan-run website with a rundown of planned and canceled summer events across the state. An Ohio site, oddly enough, provided the most comprehensive list.
"We all want to get back to normal," said Jim Francis, president of Jackson County's Rose Festival Board of Directors. "But we all realize there are certain things we're just not ready to do as a community at this point."
Francis made the decision earlier this year to cancel the early June festival for a host of reasons: the Downtown Development Authority, with whom he typically collaborates closely, was hesitant about green-lighting the event, for one. It proved challenging to virtually assemble residents to plan the festival, which is entirely volunteer-run. And he couldn't ask the local high school, whose marching band is typically a staple of the parade, to gather up to 75 students in-person for band rehearsals. So he canceled.
"Nobody wants to create the next superspreader event that gets blamed for another wave happening in our community," Francis said.
Paul Skinner agreed, saying that canceling the mid-May Empire Asparagus Festival was "obviously disappointing, but in some respects, in the long term, it's a small price to pay."
When Skinner made the choice to shutter the event, the demographics of the community factored heavily into his decision: the median age in Empire is north of 60 years old, he said, leaving residents particularly vulnerable. Today, Leelanau County is the most-vaccinated county in Michigan, with 60.4 percent of the population fully vaccinated. But it's too late to reschedule the festivities for later in the summer, Skinner said. COVID may be gone by then, but so will asparagus season, which lasts just four to six weeks.
Other fair organizers chose to move forward with modified plans. While Gwen Auwerda said she typically starts planning for the town of Holland's Tulip Time festival 12 to 15 months in advance, the ebb and flow of the pandemic in Michigan kept her on her toes this year. When the state's cases spiked this winter, Auwerda chose not to move forward with some of Tulip Time's larger-scale events -- like the Dutch dance program and several parades -- adapting the rest to accommodate groups no larger than 25 at a time. Walking tours, a scavenger hunt, photography classes and a Dutch costume exhibit were among the offerings. Masks were required and social distancing signage was present throughout the fairgrounds.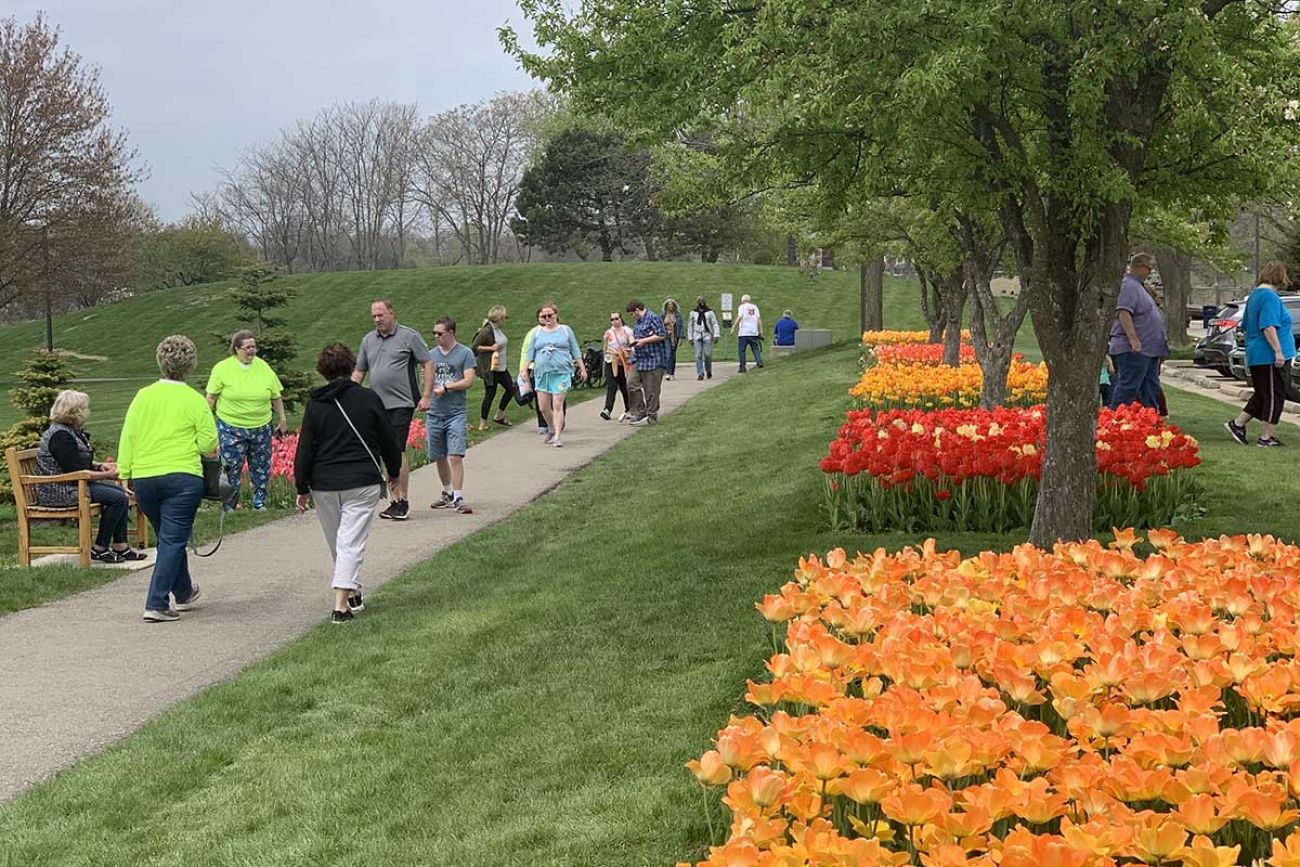 Vistors for the Holland's Tulip Time in April 2021. (Courtesy photo)
A 2017 economic impact study estimated that in a typical year, over 500,000 people flock to Holland, a town of 35,000, for the festivities, which run over a nine-day period, which this year took place May 1-9. Though it is difficult to accurately measure turnout because many of the events are not ticketed, Auwerda said that she estimates this year's turnout was roughly 80 percent of an average year – down from normal, but double the crowd size she was anticipating.
The town took advantage of the influx of visitors by setting up a vaccination site at the event, offering single-dose Johnson & Johnson vaccines to any eligible person. Some of those shots may not be counted towards Michigan's total, though: Auwerda said that people traveled from as far away as Texas and Florida for Tulip Time.
Across the state to the east in Durand, things seemed to be just on the cusp of normalcy this past weekend. Corn dogs were abundant, masks were in short supply, and social distancing appeared virtually nonexistent. Fair employees stayed almost universally masked, but signage instructing people to consume food only at picnic tables and to wear face coverings went largely ignored, perhaps rendered irrelevant by last week's announcement from the Centers for Disease Control and Prevention that fully-vaccinated people no longer need to wear masks or socially distance. The administration of Governor Gretchen Whitmer announced on Friday that people no longer need to mask outdoors in most situations, and fully-vaccinated Michiganders can ditch the masks indoors, too.
"I'm a little worried" about Michigan's COVID-19 rates worsening as a result of the decision, said Chloe Guest of Swartz Creek. Guest, who is fully vaccinated, went unmasked to the festival. Her concerns may be founded – the CDC's guidance relies on an honor-code system that unvaccinated people will continue to mask up. Though Durand's population is just one-third vaccinated, the vast majority of the crowd was not wearing masks on Saturday.
For those just now emerging from pandemic hibernation in their homes, being in overwhelmingly unmasked crowds eating corn dogs can be nerve-wracking. But scientists and health officials have found that the risk of COVID-19 spread is significantly less outdoors, compared to indoor transmission.
Denise Wheeler and her young son Jack were both clad in sparkly pink masks at the festival. "I'm a little surprised by how many people don't have masks," she said. "I look around and I feel like it's only my family."
Wheeler said that she was masking to protect herself and her two children. While her older son recently got his first shot, she herself is still unvaccinated. She said that she plans to get vaccinated "eventually," citing concerns about vaccines causing blood clots. (A small number of women who have taken the Johnson & Johnson vaccine have developed blood clots. There are no such reported side effects with the Pfizer and Moderna vaccines.)
"It is concerning," Wheeler said, looking around the festival. "But it's a personal choice. That's why we live in America."
We're not just a news organization, we're also your neighbors
We've been there for you with daily Michigan COVID-19 news; reporting on the emergence of the virus, daily numbers with our tracker and dashboard, exploding unemployment, and we finally were able to report on mass vaccine distribution. We report because the news impacts all of us. Will you please support our nonprofit newsroom?