The biggest danger to the revitalization of Detroit's Midtown -- and, by extension, the city itself -- doesn't pack a gun or wield foreclosure papers.
He wears a backpack and chews bubble gum.
Children -- and their parents' perceptions about local schools -- will determine whether the young professionals now streaming into Midtown stay in Detroit, or flee to the suburbs like so many of their parents and grandparents did.
Solving that problem has ramifications far beyond the borders of the two-square-mile area known as Midtown, just north of downtown and encompassing the campuses of Wayne State University, Henry Ford Health System and the Detroit Medical Center.
Midtown has been the subject of possibly the biggest urban redevelopment experiment in Detroit's history, with more than $2.4 billion poured into revitalization efforts there in the past decade. A rent and home purchase incentive program to encourage employees of those three anchors to move to Midtown ran through $1.2 million in eight months. Hundreds have moved into the neighborhood, and hundreds more are awaiting the completion of more lofts and condos.
The plan is simple: Make one neighborhood attractive enough to entice people back to the impoverished city, and hope the magic spreads.
Even as more historic structures are being rehabbed into up-scale apartments, Midtown advocates are already pondering the next question: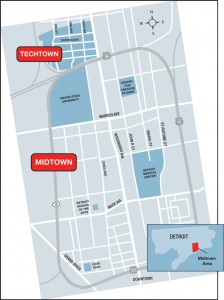 Now that people are here, how do we keep them?
Sue Mosey, president of Midtown Detroit, Inc., ticks off a laundry list of things that need to be improved to keep Midtown's new residents in the city: street lights, light rail, more green space.
But the No. 1 need mentioned by Mosey and others is the same:
"How do we address the school issue?" asked Austin Black, Realtor and president of City Living Detroit.
Detroit Public Schools has been spiraling downward for decades, with low test scores, low graduation rates (62 percent) and crumbling buildings. Many who can afford it either move from Detroit or send their children to schools outside the city limits, or to private schools or public charter schools. Last school year, there were as many students enrolled in charter schools in Detroit as in the traditional public schools.
Former Detroit City Councilwoman Monica Conyers famously was caught having a Detroit police officer chauffeur her son to a private suburban school. Even Dave Egner, one of the lead architects of the Midtown renaissance as president of the Hudson-Webber Foundation, lives in Novi so his children can attend the suburban district rather than Detroit schools.
Detroit may be an extreme example, but most big cities have lousy schools, Egner said. "There's not a working urban school district in the country," Egner said. "People tend to move to the suburbs" when they have children.
But few cities face an exodus of middle-class families on the scope of Detroit, where public school enrollment is less than half what it was in 2000.
The new residents of Midtown are typically young, white collar and childless. But when baby showers become common in those rehabbed lofts, schools will matter. You may be able to pay people to move into a nice new condo, but you can't pay them enough to send their kids to a dysfunctional school.
"Clearly there has to be something done to improve schools so some of the people will stay," said new Midtown resident Melissa Smiley. "It would help if the (Detroit public) schools were seen as a viable option."
Margaret Trimer-Hartley puts the challenge in front of Detroit more bluntly: "Hurry up and shut down the garbage," said Trimer-Hartley, superintendent of the charter school University Prep Science and Math Academy in Detroit. "Charter-ize or reconstitute the schools in a successful way. Right-size the district."
Charters vs. traditional = no clear answer
So far, that strategy hasn't worked. DPS has shuttered dozens of schools in recent years. The district increased the number of charter schools it operates from nine to 14 this year, and has plans to turn 41 more public schools into charter schools. But charter schools in the city haven't improved test scores so far.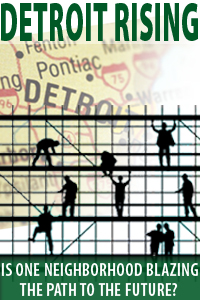 Previous coverage
Of 25 charter schools in Detroit, only six had higher math or science proficiency scores than the DPS average in the most recent Michigan Merit Exam, according to an analysis conducted by the Detroit News.
"There are tons of lousy charters," Trimer-Hartley said. "Just because one is a charter doesn't make it better."
But there are some great charters and public schools, too, many in the Midtown area. Cass Tech had a 94 percent graduation rate in 2010 (Detroit's overall grad rate was 62 percent; the state's, 76 percent). University Prep charter had a 94 percent graduation rate; Detroit School of the Arts, 92 percent; and Henry Ford AcademySchool for Creative Studies, 84 percent.
"There's this exodus on an assumption that it's better in Ferndale or Royal Oak," when there are a healthy number of schools that outperform the inner-ring suburbs," Trimer-Hartley said. "I have 15 percent of my families driving in from the suburbs to be in my school."
The problem is that bad schools, with sub-par test scores and abysmal graduation rates, still outnumber the good, with no easy way for parents to sort them out. "It's the wild west out there," Trimer-Hartley said.
It likely will take massive public-private partnerships, much like the efforts to increase residency in Midtown. In 2002, philanthropist Bob Thompson offered the city $200 million to build 15 charter schools. The offer was rejected. But times -- and attitudes -- have changed. Since then, DPS has opened its own charter schools. Thompson, at the urging of Mayor Dave Bing, invested $16.5 million in University Prep Science and Math High School in Detroit's Rivertown.
"We know that too many of our schools are failing students, and that too few students are afforded the tools they need to succeed as others, past and present, have done," said DPS Emergency Manager Roy Roberts in a statement. "We are doing everything we can to provide students and families with the learning opportunities they deserve, which is why Gov. (Rick) Snyder and I are working together on the new statewide Education Achievement System, which will operate the lowest-performing 5 percent of Michigan's schools, starting with schools in DPS in the 2012-13 school year that most need assistance."
DPS, meanwhile, has 10 new school buildings, and this fall began providing netbooks for all students in grades six through 12.
Others question the importance of great public schools in a healthy city.
"Better schools are an asset," said Lou Glazer, CEO of Michigan Future Schools, which operates three high schools in the city and has plans to operate 35 within eight years. "But if you look at the maps in our Young Talent in the Great Lakes report, young professionals are living in central cities before they have children and in the suburbs when they have children in great cities like Chicago and Minneapolis, … two of the most prosperous regions in the Great Lakes. Those regions prosper from having both a great city and great suburbs.
"Our problem is our kids go to Chicago before they have kids and then raise their kids in the Chicago suburbs, not ours. Mobility goes way down in your mid-30s and when you have kids."
The value of churn and the 'fringe'
That suggests the key may be getting college grads to live in Detroit in the first place -- exactly what is happening in Midtown.
Egner imagines a Midtown residential pattern based on "churn," in which young professionals live for a few years before moving to the suburbs. "Once the vibrancy comes back in full force, you'll see empty-nesters come in, and what I call the 'lunatic fringe' will migrate to the next edgy neighborhood."
Realtor Black envisions a similar pattern, but with those new families moving not to the suburbs, but to stable Detroit single-family neighborhoods such as Indian Village, Palmer Woods and Sherwood Forest. "Those neighborhoods have great housing stock, if they can be further stabilized," Black said.
Either way, those middle-class kids are going to go to school somewhere. "We're at the greatest moment of opportunity I've seen in my career in Detroit," Trimer-Hartley. "There's this golden opportunity to seize the energy in the community, for the right people with the right motives to come in and do the right thing. We could completely blow it. But there are a lot of the right people working on it now."
Education in Detroit "is a canvas just waiting for the art," Trimer-Hartley said. "Will it be art or junk?"
Editor's note: Margaret Trimer-Hartley is a member of Bridge Magazine's Board of Advisers.