In 2008, Howard Lutz watched a loved one die.
The business his family tended for more than 70 years -- Lutz News Co. – became a victim of the seismic shift in the ink-on-paper business.
Lutz moved on to build another business – one that rests on how Michigan handles a controversial state law.
Iron Labs LLC is a marijuana testing firm. Based in Walled Lake, it employs three full-time "cannascientists."
The "cannascientists" put submitted samples of medical marijuana under a microscope and, through gas chromatography, they note impurities and the levels of four different cannabinoids and THC, the active ingredients in the cannabis plant.
The results are reported on the company's website, for the perusal of any of the more than 200,000 Michiganians who've registered for the card that enables them to buy marijuana. Users believe the various cannabinoid levels affect how the drug works on them. Those using marijuana for insomnia may seek a different strain than those who want relief from the nausea of chemotherapy, or back pain, for example. The results page, Lutz says, helps them choose.
"We want credibility for our industry, and testing will be a part of it," he said. But credibility, he admits, is a destination on a road to be traveled step by step.
Since Michigan voters approved the use of medical marijuana in November 2008, the industry, such as it is, has been ruled by confusion and anxiety. (Michigan is one of 17 states that allows for medical marijuana use.)
The law allows "care-givers" to cultivate up to 12 plants per patient for up to seven six patients and possess 2.5 ounces of dried marijuana per patient. But getting it into those patient's hands has been problematic from the start, with local ordinances banning dispensaries, Attorney General Bill Schuette's campaign against it, and the final, overarching irony of the whole law: Marijuana is illegal under federal law.
Marijuana is a Schedule I drug under the Controlled Substances Act, i.e., with "no currently accepted medical use" and a high potential for abuse.
"You're never without risk that the feds will come in and hassle you at any time -- and by hassle I mean arrest and seize you," said Matt Abel, a Detroit attorney specializing in marijuana issues. The U.S. Department of Justice has sent mixed signals. Even while President Obama has promised not to make prosecution of medical-marijuana users a priority, federal authorities raided some dispensaries in California last year.
In Michigan, both sides are waiting for the state Supreme Court to take up what's become known as the "Compassionate Apothecary" case, after the dispensaries in Lansing and Mt. Pleasant that tested a patient-to-patient sales model. The Court of Appeals agreed with Schuette that such sales were illegal. The high court's ultimate decision could determine the future of medical marijuana in Michigan.
But, Abel said, generally growers and users in Michigan are becoming comfortable with the business, even as the laws governing it continue to change. This summer, the Michigan Court of Appeals ruled that local governments couldn't use ordinances to criminalize medical marijuana and that a man could not be prosecuted because he did not have his registration card at the time of his arrest. A four-bill package now in the Legislature would clarify some of the murkier aspects of the original legislation, including mandating that patients actually see the doctors who approve their cards, rather than consult via teleconference or other means.
Relations with police are "location-dependent," Abel said. Oakland County is bad, Washtenaw "relatively good." Genesee is better, he added, along with some counties in the northern Lower Peninsula and U.P.
But the business -- like the plant at its center -- is still a hybrid. Medical marijuana's advocates stress its therapeutic value for a variety of ailments and use medical terminology to describe themselves -- patients, care-givers, etc. But the experience of receiving it is unlike that of any other medicine.
There are no prescriptions, dosages or other pharmaceutical instruction. Once a user receives a card -- or files paperwork indicating they've applied, as the backlog is months long -- he or she finds a dispensary or care-giver and starts experimenting with the choices, which, at Iron Labs, tend to have such un-medicinal names as "Chernobyl," "Trainwreck" and "Tangerine Dream."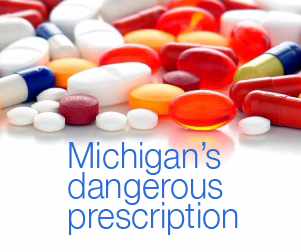 "I have no interactions with doctors at all," said Nick Agro, a Detroit care-giver. "And I work only with my own patients." He has five at the moment, including a 71-year-old woman with pain from knee-replacement surgery; a 68-year-old woman with neck problems after multiple surgeries; a 45-year-old former football player with chronic knee and rotator-cuff pain; and a multiple sclerosis patient who uses marijuana to relieve spasms.
Each uses a different strain, Agro said. One only uses it in edible form. But all, Agro believes, should have the right to treat themselves with a plant they find helpful.
"There's no hard science (on marijuana) yet, because it's still schedule 1," Agro said. "Until it's moved (off the illicit list), we won't get the good research."
When that might be is anyone's guess. Abel freely admits medical marijuana is only the first step in what he hopes will be full legalization.
"Damn straight" it is, he said. "The idea is to get the sick and dying off the battlefield before we satisfy the recreational users."
As for Schuette, a spokeswoman for his office said the attorney general wants marijuana to remain what he believes the "very compassionate" people of Michigan voted for in 2008. (Schuette was a vocal opponent of the ballot proposal that year.)
"They expected a narrowly crafted law to help sick people," said Joy Yearout. "(The Michigan Medical Marihuana Act) was a very poorly written law. Law enforcement needs clarity. We're optimistic that the court will rule that this law was narrowly crafted for a small community of seriously ill people. It's not a back door to legalization."
Staff Writer Nancy Nall Derringer has been a writer, editor and teacher in Metro Detroit for seven years, and was a co-founder and editor of GrossePointeToday.com, an early experiment in hyperlocal journalism. Before that, she worked for 20 years in Fort Wayne, Indiana, where she won numerous state and national awards for her work as a columnist for The News-Sentinel.