Puppy Prozac? More pet owners turn to anxiety meds and CBD for Fido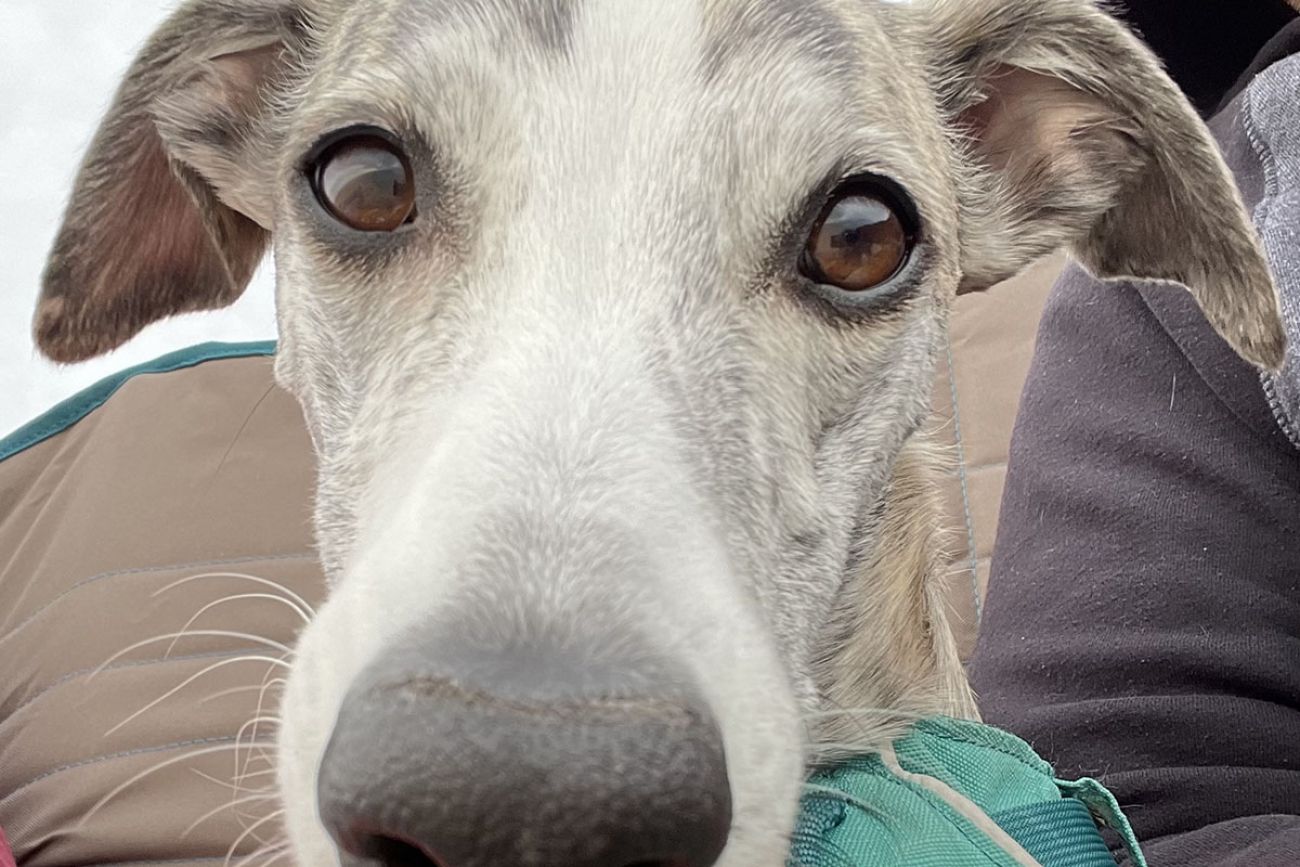 Coqui was diagnosed with general anxiety disorder and prescribed Effexor, a daily anti-anxiety medication. (Bridge courtesy photo)
Alicea Howell came home from vacation to find that her 2-month old whippet puppy, Coqui, dug through the bottom of a door frame and the surrounding drywall of her Traverse City home in the middle of the night to try to escape to the outside world.
It got worse from there after Coqui tried to tunnel through the floor. Howell said he became extremely sensitive to high-pitched sounds like a sizzling pan on the stove, forcing her to take the dog on walks anytime someone made a meal.
"We got to the point where if we tried to cook in our home, the dog was going to have a heart attack," Howell told Bridge Michigan.
Related:
Howell, who has worked for the last 19 years as a veterinary technician and now dog trainer in Traverse City, knew that these were not typical growing pains of a young puppy and took him to see a licensed veterinary behaviorist. Coqui was diagnosed with general anxiety disorder and prescribed Effexor, a daily anti-anxiety medication.
Prescribed antidepressants and anti-anxiety medication for pets is becoming a more common treatment as veterinary behaviorists prescribe them to their patients more frequently for behavioral issues rather than relying on training only, Michigan State University Animal Behaviorist Marie Hopfensperger told Bridge.
There isn't state or national data on pet anxiety med prescriptions, but a 2017 study conducted by market research firm Packaged Facts found that 8 percent of dog owners and 6 percent of cat owners use pet medication to treat anxiety or for calming purposes. According to the American Pet Products Association's 2021 annual report, 70 percent of U.S. households, or approximately 90.5 million homes, have a pet, suggesting the number of pets on anxiety meds is in the millions.
And use of anxiety meds for dogs and cats likely has gone up since then, suggest veterinarians and veterinary behaviorists who spoke to Bridge Michigan.
Also on the rise: over-the-counter pet CBD, in liquid and chewable form. CBD is a chemical found in marijuana but does not contain any psychoactive properties associated with pot.
A 2021 survey conducted by the Center of Canine Studies showed that 51 percent of dog owners that took the survey reported having given their dog CBD. A 2021 market survey estimated pet owners in the U.S. would spend $629 million in 2021 on pet CBD products, up 48 percent from $426 million spent just a year earlier.
The Michigan legislature passed a law in 2020 allowing veterinarians in Michigan to talk with patients about CBD use for their pets. Dr. Kellie Holmstrom, owner of the Animal Medical Center of Marquette, told Bridge CBD has its place in "the toolbox of medications" for pets, but owners must be cautious to buy the right kind.
A 2017 study conducted by University of Penn researchers showed that nearly 70 percent of all online CBD advertisements displayed false amounts of CBD in the products. The Food and Drug Administration (FDA) is also cracking down on commercial CBD advertising, which is not FDA-approved. Despite only being approved by the FDA to treat epilepsy in children, CBD has been legal for commercial purchase in Michigan since 2018.
"I don't advise getting CBD from the pet store because I don't think you can make sure that medication is properly documented that what you're buying is what you think you're buying. Buy it through a vet clinic or at least get one that has the seal that documents what they have (in it)."
Holmstrom said that CBD should be used as a quick solution in situations where animals might experience more stress or anxiety than normal, for instance, if a dog is territorial when someone visits the house. She said CBD is less effective in really high stress situations for animals like the barrage of noisy fireworks on the 4th of July.
"I think it depends on what the animal's issues are," Holmstrom said. "We're going to have a big problem here on Monday because of all the fireworks and CBD is not going to solve that problem."
Hopfensperger said there are fast-acting prescription medications, like Alprazolam, the generic form of Xanax, to deal with isolated incidents of increased anxiety from a particular stressor like fireworks. The fast-acting medication is more sedative than daily anxiety medications, which Hopfensperger said can be a positive "if the pet could just rest through the fireworks rather than be panting and pacing."
Hopfensperger said there is a greater understanding in the veterinary world of how the medicine affects an animal's brain than when she started as a behaviorist in 2010 which has led to more veterinarians prescribing it for issues such as separation anxiety, noise phobia and uncontrollable aggression.
"What we're seeing is a trend towards veterinarians being more comfortable prescribing behavioral health medications," Hopfensperger said.
Prescriptions for behavior-modifying medication do not require actions as alarming as what Howell's dog displayed, Hopfensperger said. She said symptoms of pet anxiety can be shown through increased accidents in the house, increased aggression towards other pets or animals or a noticeable change in eating habits among other signs. She added that it's harder to diagnose depression in animals than humans because signs of depression like apathy are hard to spot compared to anxiety which has "outward-facing signs" that can disrupt the family's day-to-day life.
Antidepressants and other behavior-modifying medicines were introduced into animal care in the early 2000s, Hopfensperger explained, because the patents on common antidepressant and anti-anxiety drugs meant for humans expired. The generic forms of popular antidepressants like Prozac, Paxil and Zoloft were cheaper than the brand names.
"When they went off patent and became cost-effective, we were able to embrace them in the veterinary world since clients are typically paying for their pets' health care with disposable income," Hopfensperger said.
Howell said that her dog's monthly Effexor prescription refill costs under $20, while Fluoxetine, the generic form of Prozac, can be purchased from online pet retailers like Chewy.com for as little as $9 with proof of a prescription.
'It's not drugging, it's medicating'
Dr. Nicholas Dodman, a veterinary behaviorist at Tufts University and director of the Center of Canine Studies, told Bridge prescribed behavior medication works in similar ways in all mammal brains, meaning that dogs and cats that take a daily pill for anxiety or depression will experience a nearly identical response in the brain as humans.
"More serotonin equals less aggression," Dodman explained, "Less serotonin equals more aggression, including in humans. If your serotonin gets too low, you do the ultimate form of self-directed aggression — suicide. Serotonin is the linchpin.
"So if you've got a dog who maybe you've tried training for a month or two or six and it's not going anywhere and you add a serotonin-enhancing drug like antidepressants, such as Prozac or Paxil or Zoloft, all of a sudden you can see the aggression melt away,"
For Howell, the anti-anxiety medication meant that her family could have home-cooked meals again without having to worry about the dog freaking out.
"Because of the medicine, I could get the dog to accept reinforcement, train with me, play with me, take good things to create a feeling of 'Look, it's really, really fun when dad cooks because mom interacts with you and plays with you and gives you cool stuff,'" Howell said. "Now he actually sits in the kitchen just waiting and begging for food instead of trying to get out of the house."
Since the drugs act similar in pets as they do humans, Dodman, the director of the Center for Canine Studies, does not see any ethical issues with prescribing mood-altering medication for pets despite them having no say in the matter.
He compared the pet owners' decision to get prescribed mood medication for pets to a parent seeking medication for their child.
"It's perfectly ethical," Dodman said, "It saves lives, makes animals feel better, makes owners less likely to surrender the dog. The number of (animal) lives that have been saved is just unbelievable.
"It's not drugging, it's medicating."
Only donate if we've informed you about important Michigan issues
See what new members are saying about why they donated to Bridge Michigan:
"In order for this information to be accurate and unbiased it must be underwritten by its readers, not by special interests." - Larry S.
"Not many other media sources report on the topics Bridge does." - Susan B.
"Your journalism is outstanding and rare these days." - Mark S.
If you want to ensure the future of nonpartisan, nonprofit Michigan journalism, please become a member today. You, too, will be asked why you donated and maybe we'll feature your quote next time!