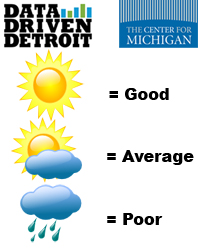 The scorecard generally tracks how well the state is executing on the Michigan's Defining Moment citizens' agenda developed by the Center for Michigan in 2007-2010 through nearly 600 Community Conversations involving more than 10,500 diverse statewide residents.
---
TALENT & EDUCATION MEASURES

2012: Poor · 2010: Average · 2008: Good
Michigan ranked 24th in expenditures per pupil for public elementary and secondary education in FY 2009, the last year for which full national data is available. That's down from 20th in FY 2007, and down from 16th position nationally in FY 2005.  Michigan's FY 2009 per pupil expenditures of $10,373 were $218 (or 2 percent) below the national average of all states. Michigan ranked higher than neighboring Indiana, but lower than all other Great Lakes states -- Ohio, Illinois, Wisconsin, Minnesota, Pennsylvania and New York.
Michigan ranked 12th in average salary paid to teachers in the 2009-10 school year, down from 9th two years earlier and down from 7th  in 2006.
---

2012: Poor · 2010: Poor · 2008: Poor
Michigan's results from the National Assessment of Educational Progress (NAEP) tests have been mediocre for years -- and the latest national rankings continue that trend.
In math, Michigan's 4th grade NAEP scores ranked 41st among the states in 2011, down from 39th in 2009. Michigan's 8th grade math scores ranked 36th, up from 37th two years earlier, but still below the national average.
Fourth-grade average reading scores in Michigan ranked 35thrd in 2011 and were slightly below the national average, after being slightly above average a decade earlier. Eighth-grade reading scores in 2011 ranked 24th and were still slightly above the national average.
In science, Michigan ranks 28th nationally for 4th grade scores and 24th nationally for 8th grade scores.
MATH SCORES READING SCORES SCIENCE SCORES
---

2012: Good · 2010: Average · 2008: Good
In 2010, Michigan's percentage of high school students who graduated within four years (75.95 percent) was at its highest level in several years while the dropout percentage (11.07 percent) was at its lowest level in several years.
The percent of the population in Michigan age 25 and over with a high school degree or higher has slowly but steadily improved -- from 87.2 percent in 2006 to 88.7 percent in 2010. Michigan's ranking on this measure is 20th, up from 21st five years earlier -- and almost two percentage points above the national average.
HOW MICHIGAN RANKS NATIONALLY ON HIGH SCHOOL COMPLETION
---

2012: Poor · 2010: Average · 2008: Good
Michigan, over the 2000-2010 decade, saw large decreases in the under-15 population, slight increases in the young adult population (15- to 24-year-olds) and large decreases in early- to mid-career professionals (25- to 44-year-olds).
---

2012: Poor · 2010: Poor · 2008: Poor
Two years ago, we wrote, "Michigan shows ever-declining support for higher education." The situation has only grown worse. Michigan's higher education support per full-time equivalent (FTE) student was 44 percent below the national average in 2010 and ranked 41st worst among all the states. Higher ed investment fell nearly 20 percent in Michigan over the past five years – giving Michigan the dubious ranking of 48th worst out of the 50 states in higher ed investment over that time period.
---

2012: Poor · 2010: Poor · 2008: Poor
College is increasingly unaffordable for Michigan students and families. As of 2009, it took 21.6 percent of median family income to pay the net cost of a year of college in Michigan. That was the third highest price tag (as measured by relation to median income) in the country -- lower only than Maine and Pennsylvania. As Bridge Magazine has reported, the total amount of student loans at Michigan's public universities is nearing $2 billion per year -- up $600 million per year in just a few years.  From 2004 to 2007, the loan amount per student in Michigan increased nearly 50 percent, reaching $4,625.
---

2012: Poor · 2010: Poor · 2008: Poor
Michigan remains in the dumps on college completion, as it has in the past two Michigan Scorecards. Michigan ranked 35th in 2010 with 25.2 percent of its residents age 25 or older holding a bachelor's degree. That ranking is unchanged from two years earlier.
---
ECONOMY & QUALITY OF LIFE

2012: Average · 2010: Poor · 2008: Poor
Michigan deserves a slight upgrade over previous scorecards on this measure because year-over-year per capita income growth in Michigan in 2010 was an impressive 7th best in the nation. Still, the state is far from fully recovered from a decade of losses. Per capita income in Michigan stood at$34,691 in 2010 – that's 40th best in the nation and 13 percent below the national average.
---

2012: Average · 2010: Poor · 2008: Poor
Michigan earns an upgrade from previous scorecards due to impressive one-year gains. Michigan's unemployment rate of 9.3 percent in December 2011 remains troubling, if compared to long-term trends. But it's down nearly two percentage points in one year – the 4th best jobs recovery (as measured by unemployment rate) in the country.
In terms of total jobs, Michigan remained essentially flat in 2010 versus 2009. By holding its own in that period, Michigan ranked 13th best in the country in terms of overall jobs growth for that period.
EMPLOYMENT DATA YEAR-OVER-YEAR UNEMPLOYMENT RATE
---

2012: Average · 2010: Average · 2008: Average
Michigan's business tax climate ranks 18th in Tax Foundation rankings for 2012, which were just released in late January. The new rankings do not take into account the much-ballyhooed repeal of  the Michigan Business Tax because the new rankings are based on state tax systems in place last summer and the MBT repeal just took effect in January. The state's ranking is down a notch from 2010, but up 10 notches from 2006. Already, however, the Tax Foundation is lauding the MBT repeal and says that next year that change "will improve" Michigan's business tax ranking.
---

2012: Average · 2010: Good · 2008: Good
This measure earns a downgrade this year mainly because of a sharp drop in knowledge industry employment.
KNOWLEDGE ECONOMY: Michigan still ranks respectably (12th and unchanged in 2010 from 2008) on sheer number of knowledge economy jobs and establishments. However, Michigan is not keeping pace nationally. Knowledge establishments grew 1 percent from 2008-2010, the last years for which full data is available as of January 2012. That ranked Michigan 26th nationally. But knowledge industry employment in Michigan was down 5 percent in the same time period – leading to a lagging ranking of 47th nationally.
CREATIVE ECONOMY: Michigan ranks 7th nationally in total creative industry establishments (24,306) and 11th nationally in total creative industry jobs (77,111) as of January 2011.
DIGITAL ECONOMY: Michigan ranks 11th on the number of high-speed Internet lines, down from 10th in 2008.
KNOWLEDGE ECONOMY CREATIVE ECONOMY DIGITAL ECONOMY
---

2012: Good · 2010: Average · 2008: Good
Upgraded from "average" in the last scorecard. Research and development at Michigan's universities totaled $1.75 billion in 2009, moving the state back to 10th nationally, after a drop to 11th in recent years. University R&D in Michigan saw a one-year increase of 9 percent in 2009, the 6th best growth rate in the nation.
---

2012: Good · 2010: Average · 2008: Not in Scorecard
Exports are upgraded from "average" in the past scorecard. In 2010, Michigan ranked 7th in the country for value of total exports, slightly improving its past position in what has, traditionally, been a top-ten ranking for the state. Year-over-year export growth was especially strong for Michigan in 2010 as manufacturing and the auto industry began to recover. Michigan's one-year growth in exports in 2010 was 35 percent, ranking fourth in the country in one-year growth behind only Maine, New Hampshire and the District of Columbia, which all have much, much smaller export bases.
---

2012: Poor · 2010: Average · 2008: Average
Downgraded from average in last scorecard. Michigan ranked 18th nationally for venture capital investment in 2010, growing 16 percent over 2009. But, as has been the tradition, nationwide venture capital investment far outpaced Michigan's. More ominous are the early returns for 2011. Michigan VC money was down 60 percent for the first three quarters of 2011, the 45th worst ranking among all states and in troubling contrast to nationwide growth of 20 percent.
---

2012: Poor · 2010: Poor · 2008: Poor
Michigan has been the 8th most populous state in the country for years, but if present trends continue, both Georgia and North Carolina may soon overtake Michigan in those standings.
For the year ending July 1, 2011, Michigan lost 956 residents and ranked second-last in the nation (ahead of only Rhode Island) in total population change. Michigan ranked a solid 15th among the states in migration of people from other countries. But Michigan ranked 47th in migration of residents from other states -- ahead of only New York, California, Illinois and New York.
POPULATION RANKINGS POPULATION TRENDS
---

2012: Poor · 2010: Poor · 2008: Poor
About the only good thing to say about poverty trends in Michigan is that 33 states had faster growth of poverty between 2009 and 2010. Overall, Michigan residents living in poverty increased from 13.5 percent of the population in 2006 to 16.8 percent in 2010. No Great Lakes state has a higher proportion of its residents living in poverty -- which has been true for several years.
---

2012: Poor · 2010: Average · 2008: Poor
Michigan was the 12th most violent state in the nation in 2010, as measured by the number of violent crimes per 100,000 state residents.  Michigan has hovered in a similar position for much of the past decade, except for a brief improvement to 17th in the rankings two years ago.
On the positive, violent crime actually decreased in 2010 -- from 497 violent crimes per 100,000 residents to 490 -- even as the state continued to suffer deep economic woes and eased prison and parole policies.
---

2012: Average · 2010: Average · 2008: Average
ACTIVE PHYSICIANS: Michigan is improving its standing in national rankings for numbers of doctors. In 2009, Michigan had 258 doctors per 100,000 residents, up from 241 four years earlier. As a result, the state's ranking has improved from 26th to 23rd nationally.
INSURANCE: Michigan has traditionally ranked high among all states in the proportion of the population covered by health insurance. But we're slipping. In 2006, the state ranked 12th, with 89.5 percent of the population covered by insurance. In 2010, Michigan fell to 15th, with an 87 percent coverage rate.
INFANT MORTALITY: A longtime problem in Michigan, infant mortality improved slightly in recent years, even as the state's economic prospects grew more dire. In 2008, the last year for which full numbers were available for the 2012 Scorecard, infant mortality stood at 7.4 deaths per 1,000 births. That left Michigan with the 36th best ranking nationally, but a slight improvement in both survival rate and ranking from previous years.  As of the mid-1990s, Michigan was losing considerably more infants -- 8.25 per 1,000 in 1995, for example.
SMOKING: Michigan is increasingly kicking the habit. In 2010, Michigan ranked 34th nationally, with 18.9 percent of adults actively smoking. But that's down from 22.4 percent (and a 39th ranking) just four years earlier.
DIABETES: Michigan ranked 39th in 2010, with 10.1 percent of the adult population with diabetes. That's up one full percentage point over recent years.
OBESITY: Michigan is gaining weight and losing ground. In 2010, 35 percent of the state population was obese (the 44th best rate in the nation) and down from a 33rd place showing as recently as 2007.
ACTIVE PHYSICIANS RANKINGS INSURANCE COVERAGE RANKINGS INFANT MORTALITY RANKINGS TOBACCO USE RANKINGS DIABETES RANKINGS OBESITY RANKINGS
---

2012: Good · 2010: Good · 2008: Good
74.5 percent of people in Michigan owned their own homes in 2010, giving the state the 6th best ranking in the nation -- and well above the national average of 66.9 percent. Like many states, Michigan is off its all-time homeownership high, reached in 2006, of 77.4 percent.
---

2012: Good · 2010: Good · 2008: Good
Michigan foundations maintained $23.5 billion in assets as of 2009, with total giving that year of $1.47 billion. As has been a long-standing tradition, the state ranked in the top ten on both of those measures.
But fewer volunteers are doing less than in recent years. Michigan received 34 hours of volunteer time per state resident in 2010, 30th best in the country. And fewer than one in three state residents served as volunteers, 26th best in the country.
PHILANTHROPY FOUNDATIONS VOLUNTEERS
---

2012: Good (new ranking system in 2012)
Michigan's air quality has improved considerably in recent years. Forested acres are at the highest levels since at least the 1930s. Toxic chemical releases and the amount of Canadian trash entering Michigan are both down, while the number of corrective actions at hazardous waste sites is up. Notable wild species populations, including bear, wolf, eagle, and moose, have all grown considerably in recent years. Fish populations are generally OK, though Asian carp present a major threat to the Great Lakes and mercury levels in fish remain high. Other threats include rising temperatures and growing numbers of invasive species, beach closures, emerging chemicals of concern, and a lack of funds to clean up remaining pollution sites, including leaking underground storage tanks.
NOTE: This year's environmental ranking relies on the 2011 Michigan State of the Environment Report produced every three years by the Michigan Department of Environmental Quality and most recently released at the end of 2011.
2011 MICHIGAN STATE OF THE ENVIRONMENT REPORT
---

2012: Poor · 2010: Poor · 2008: Poor
Michigan ranked 17th nationally in National Endowment for the Arts grants in 2010, but ranked an impressive 4th in the nation in NEA grant growth for the period of 2007-2010.
Most states provide some kind of public funding for arts and cultural endeavors. Michigan's arts funding has dropped precipitously in recent years and ranked near the bottom (47th) in the nation in 2011. By comparison, in 2011, Michigan invested $1.4 million in arts, while Minnesota invested $30 million and Illinois invested $9.4 million.
NEA GRANTS RANKINGS STATE ARTS APPROPRIATIONS RANKINGS
---

2012: Poor · 2010: Poor · 2008: Poor
On the most obvious measure of infrastructure competitiveness -- road and bridge conditions -- Michigan does not fare well in comparison to its neighboring states in the Great Lakes region.  According to the American Society of Civil Engineers data (which is now quite dated and the same we cited in the 2010 Michigan Scorecard), Pennsylvania's major road and bridge conditions are worst, followed by Michigan. Likewise the Southeast Michigan Council of Governments' latest report finds that fewer than 20 percent of Metro Detroit's roads are in good condition.
PERCENTAGE OF MAJOR ROADS IN POOR CONDITION: Pennsylvania (44), Michigan (37), Illinois (34), Minnesota (32), Wisconsin (30), Indiana (29), and Ohio (27).
PERCENTAGE OF BRIDGES THAT ARE STRUCTURALLY DEFICIENT: Pennsylvania (50), Michigan (30), Indiana (25), and Ohio (25), Illinois (18), Wisconsin (16), Minnesota (13).
FULL NATIONAL INFRASTRUCTURE RANKINGS. SEMCOG ROAD CONDITION REPORTS
---
EFFECTIVE, EFFICIENT & ACCOUNTABLE GOVERNMENT

2012: Poor · 2010: Poor · 2008: Poor
Michigan residents do not have confidence in statewide political leaders.
Gov. Rick Snyder started his term in 2011 with relatively strong approval ratings – 44.5 percent rated him as good or excellent. But by fall 2011 only 19 percent rated Snyder as good or excellent in the Michigan State University State of the State Survey.
Michigan legislators also continue to fare poorly in polls. The Michigan Legislature had a 48 percent disapproval rating in the MRG Mood of the Michigan Electorate poll in 2011.
Those same Mood of the Michigan Electorate polls have documented consistent voter displeasure with the direction of the state, with two-thirds of polled voters saying the state was on the wrong track in fall 2011. The last time the poll showed "right track" opinion higher than "wrong track" opinion was in early 2004.
MSU STATE OF THE STATE SURVEYS MRG MOOD OF MICHIGAN SURVEY (early 2011) MRG MOOD OF MICHIGAN SURVEY (late 2011)
---

2012: Good · 2010: Good · 2008: Good
Michigan operates its state and local governments (including education) with relative efficiency compared to other states.
Michigan ranks 11th nationally in total state and local government employment, despite having the 9th highest population in the country. Michigan ranks 13th highest in pay per state and local government employee.
STATE & LOCAL GOVERNMENT EMPLOYMENT RANKINGS
---

2012: Poor · 2010: Poor · 2008: Not measured
A state's bond rating is a significant signal of the strength of the state's public finances. The rating helps determine how much taxpayers pay in interest on government debt. As of 2010, the last year for which full national comparables are available from the U.S. Census Bureau, Michigan's debt rating, compared to other states, was 42nd by Standard & Poors, 31st by Moody's and 36th by Fitch.
---

2012: Good · 2010: Good · 2008: Good
Michigan voters remain far more engaged than many of their peers across the country – especially in federal elections.
Michigan's 66 percent voter turnout in the 2008 presidential election was the highest in 40 years. Statewide turnout in the 2010 congressional elections (42 percent) was about 15 percent higher than the national average. Turnouts in general in Michigan have run well ahead of national averages in federal elections for at least the past decade.
However, turnout in the 2010 gubernatorial election was the lowest in 20 years, despite an open race with no incumbent.
NATIONAL VOTER PARTICIPATION RANKINGS HISTORICAL VOTER PARTICIPATION IN MICHIGAN GUBERNATORIAL ELECTIONS
---

2012:  Average · 2010: Average · 2008: Poor
Michigan has the 17th highest number of prisoners (457) per 100,000 state residents, but the 6th highest number of prisoners per 100,000 residents outside of the American South. Michigan's prison population, as of January 2012, stood at 43,000, down almost 17 percent from recent highs. Yet prison spending continues to account for nearly one-quarter of all spending in the state's general fund budget.
NATIONAL INCARCERATION RATES 2012 CENTER FOR MICHIGAN TESTIMONY ON PRISON COSTS BEFORE MICHIGAN SENATE CORRECTIONS APPROPRIATIONS SUB-COMMITTEE