Manufacturing appeared to be dying during the past decade in Michigan. Critics of Michigan's taxes and regulations said the state was a terrible place to start a business.
But Justin Ayers and his wife, Tracy, thought it was a great time to open a manufacturing company. And into being came Lakeshore Cutting Solutions Inc., an industrial cutting and metal fabrication services company in Zeeland.
"I knew the market pretty well," said Ayers, who had experience managing a custom fabrication shop. "I knew the companies around town and what they needed."
Tracy Ayers had been the office manager at the company Justin Ayers ran. The two figured they had the skills to start a successful business.
"My wife and I were such a good fit," Ayers said. "We had been working on a business plan for over a year. We decided to jump in."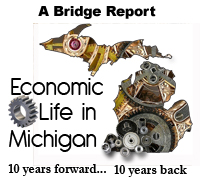 While many banks ran away from entrepreneurs wanting to start manufacturing companies during the 2000s, Ayers said three of the four banks he and Tracy approached offered to fund their venture.
But the banks wanted virtual all of the Ayers' assets as collateral.
"We put pretty much everything we had on the line, including our house and cars," said Ayers, 39. "And we had just had our second baby girl. We put all our eggs in one basket."
Ayers said he rode out the Great Recession by abandoning profit goals and aiming just to break even.
"It was a scary time," he said. "Businesses were closing around us. I pulled our whole team together and said we were going to slash prices to be competitive.
"We ended up as strong as we could be. We made a profit and we didn't have any layoffs."
Lakeshore employs about 20 people and has added about a half dozen workers this year.
"I want this to be a place where people can work for the rest of their lives," Ayers said.
Lakeshore's niche is in cutting a variety of materials, including steel, wood and rubber. It also provides design, engineering and metal fabrication services for the automotive, office furniture, pharmaceutical and other industries.
"We cut and make parts for other companies that they can't make," Ayers said. Most of his customers are in West Michigan.
Lakeshore has posted sales increases every year since its founding. Ayers is forecasting sales this year of $2.3 million, up 35 percent from 2010.
Last November, the company moved from a rented 8,000-square-foot building to a 23,000-square-foot plant that Lakeshore purchased.
Ayers said managing growth is one of his biggest challenges.
"There is so much potential out there," he said. "We're trying to get ourselves in a position that we feel comfortable going after it."