Lakeshore's state academic championship for 8th grade reading began long before the MEAP tests were placed on rows of desks in the Stevensville school.
For years, the district, along the Lake Michigan shore in Southwest Michigan, has resisted a statewide cost-cutting trend to eliminate librarians. When the winning eighth-graders were in seventh grade, Lakeshore created a "Battle of the Books" competition, in which teams of students read 15 books and held quiz bowl playoffs to crown a champion.
Now, all the students are champions.
Lakeshore Public Schools is the Division 4 state champion in 8th grade Reading in Bridge Magazine's Academic State Championships. The district's one middle school, Lakeshore Middle School, also was Division 4 champion in 8th grade Science.
BRIDGE DATABASE: See how your district is doing
BRIDGE GALLERY: Images of success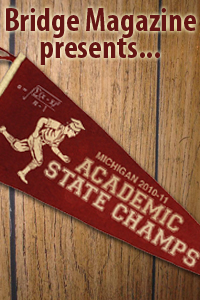 Additional coverage
At Lakeshore, teaches put an emphasis on encouraging students to read in their free time. "It's not about what they remember, it's motivating them in a way that's fun," said Angie Johnson, media arts specialist at Lakeshore Middle School. "We do all kinds of things to hype up sports, but who hypes up reading?"
Johnson says many Michigan school districts have cut library staff. In many cases, schools ask for parent volunteers to sit behind a desk in the library for a few hours a day.
"You can't motivate kids to read by having a volunteer sit behind a desk," Johnson said. "You need to match reading with the student, whether it's a graphic novel or the latest Hunger Games (series book). That's what media arts specialists do, and there aren't a lot of them left."
Lakeshore made the decision to maintain its library staff, believing that there is a correlation between academic success and the amount of time students read for pleasure.
"We have kids who come to the library looking for things to read, and we have it," Johnson said. "We've invested in the resources that kids want to read."
Two years ago, the school used a grant to start its Battle of the Books competition that has been wildly successful at getting students to read. Students are divided into teams, and assigned 15 books to split up to read as the team sees fit. Later, the teams compete for prizes.
"They perform skits and answer questions about the books," said Jennifer Sedevic, reading interventionist and language arts teacher. "They make t-shirts, sing songs, rap, dance. It's a celebration of books."
Today, they have one more thing to celebrate.
8th Grade Reading Champions
The divisional winners in 8th grade reading are:
Portage, Division 1
Niles, Division 2
Bloomfield Hills, Division 3
Lakeshore, Division 4
Michigan Center, Division 5
Williamston, Division 6
Nottawa, Division 7
Alba, Division 8