If this were football, they'd make a movie. Then again, tiny Walkerville doesn't have a football team.
Pulling perhaps the biggest upset in Bridge Magazine's Academic State Championships, Walkerville Public Schools, with 314 students and one of the highest rates of poverty among Michigan school districts, is the State Champion of 8th Grade Math. Not just champion among other rural, poor schools -- but against every school in the state.
"Generally speaking, there is a close relationship between high poverty and low academic scores," said John Adams, Walkerville Middle School principal and math teacher. "But it doesn't mean you can't have an impact. It just takes effort."
Walkerville is surrounded by the Manistee National Forest in northwest Lower Michigan. Last year, 79 percent of its students received free lunch, a rate higher than that in Detroit Public Schools and in the bottom 2 percent of all schools in the state. Yet 100 percent of its eighth-graders tested at proficiency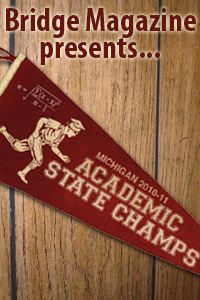 More coverage
level or higher last year on the math section of the Michigan Educational Assessment Program, or MEAP, test.
The kids were well-prepared for success by a string of good teachers and a community that values education, Adams said. But just as important was finding a way to motivate the students.
"Schools are held accountable to the (MEAP) scores, but students aren't,"Adamssaid. "It doesn't matter if they do well or poorly, it has no effect on them."
So Adams motivated his students by using a sports analogy. "When we're reviewing (for the MEAP) I say it's like practicing for the Super Bowl," Adams told the kids. "We're competing against all the other schools in the state.
"We don't want the neighboring schools to beat us."Adams said. "It's getting them to buy in to team spirit."
8th Grade Math Champions
The winners for 8th Grade Math are:
Mona Shores, Division 1
Niles, Division 2
Forest Hills, Division 3
Edwardsburg, Division 4
Michigan Center, Division 5
Houghton-Portage, Division 6
Ashley, Division 7
Walkerville, Division 8