Tim Droege and a team of managers at German auto parts supplier Woco Automotive in Warren decided in 2008 to purchase the company -- just as the state and national economies were imploding.
"It was a crazy time to buy an automotive company," said Droege, who completed the deal in January 2009 and changed the name of the business to NOVO Motor Acoustic Systems Inc.
It sure was. Two of NOVO's biggest customers, General Motors Co. and Chrysler Group LLC, would file for bankruptcy reorganization that summer.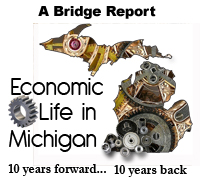 Droege said NOVO survived on receivable payments from its customers. The company manufacturers a variety of parts, such as exhaust hangers, engine covers and mufflers used to reduce vehicle noise, vibration and harshness.
Droege, 43, NOVO's president and a native of Warren, said his company received full payment through the bankruptcy process for money owed it by GM and Chrysler.
But NOVO was forced to temporarily cease production in the summer of 2009 when GM and Chrysler halted most operations to conserve cash.
"What hurt us was the shutdown," Droege said. "When they went dark, we went dark. Most of the time, it was just myself and a financial manager, trying to figure out who to pay and who to string along."
NOVO survived that grim episode and is prospering again as automakers boost car and truck production. Even the recent national economic hiccup hasn't hurt the company.
"We're working three shifts a day, six days a week," Droege said. "There's a lot of business out there."
The company operates out of an 80,000-square-foot facility in Warren, a Detroit suburb, and employs 85 workers. Droege said NOVO likely will hire an additional 15 workers over the next few months.
NOVO also is planning a 40,000-square-foot expansion of it manufacturing plant.
Droege wouldn't reveal revenue figures for the privately held NOVO, but said sales have doubled every year since 2009.
 
He said that trend is likely to continue as automakers develop smaller, more fuel-efficient engines that will require the kind of noise-reducing parts NOVO manufactures.
"I think we're at the right place at the right time in history with the right product," Droege said. "I'm very optimistic."