20 Michigan high schools to teach African American AP course this fall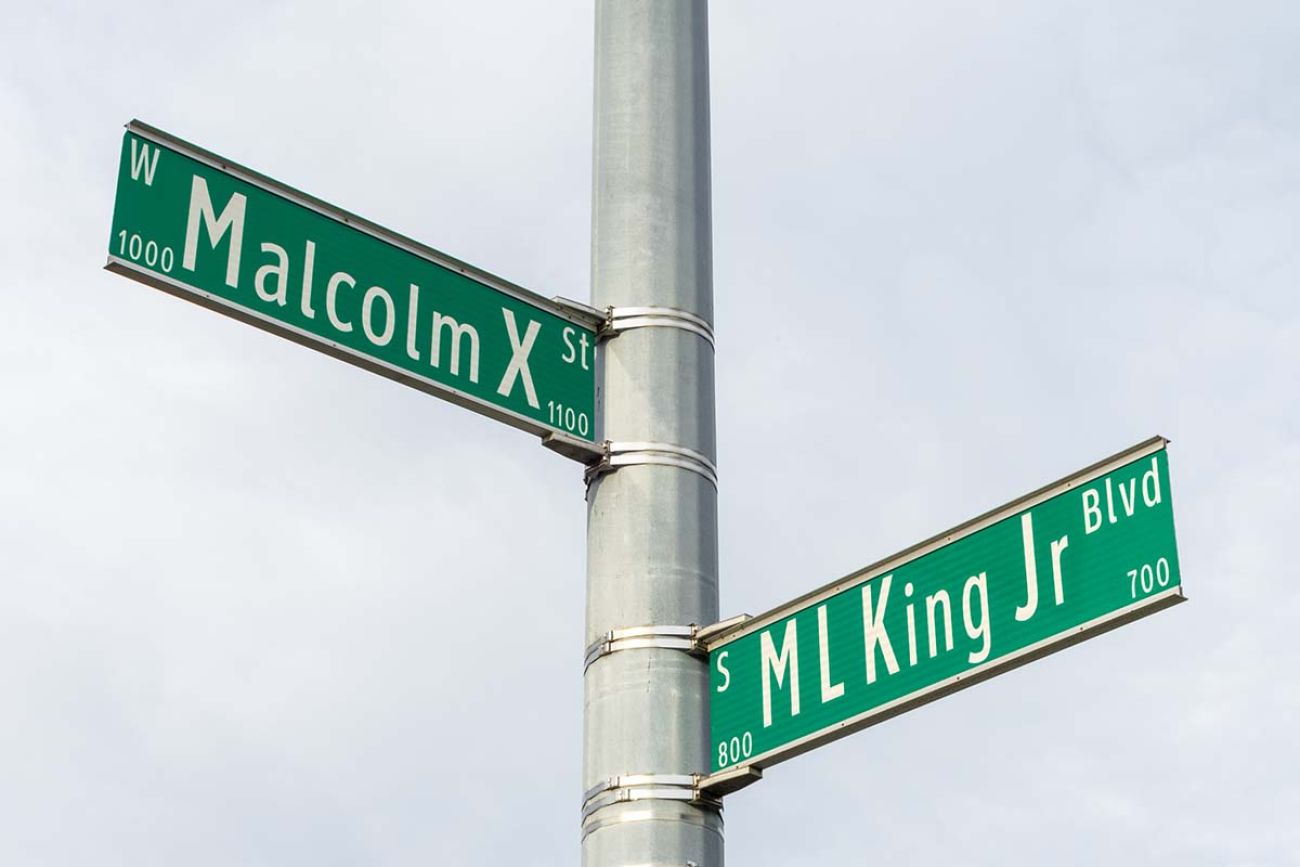 African American history courses are already being taught in many Michigan schools. This fall, 20 high schools in Michigan will pilot an Advanced Placement version of Black history, which teachers and students said they are excited to begin. (Shutterstock)
20 Michigan high schools will pilot an Advanced Placement African American studies course this fall
The course first drew criticism for covering Black Lives Matter and other topics, then from progressives for cutting some topics
There's been little pushback to date in Michigan, where some schools already teach Black history courses
---
The College Board has selected 20 high schools in Michigan to be part of a pilot program this fall for the new Advanced Placement African American studies course, according to a list obtained by Bridge Michigan.
The course, in development for years, has been the subject of cascading controversies in recent months over an early curriculum draft that included a number of hot-button issues such as the Black Lives Matter movement, queer and feminist studies, slavery reparations and the politics inherent in teaching about the Black experience in America.
Several topics, which early drafts had listed as required, have been reduced to optional material, drawing blowback from history experts and others who accuse the College Board of caving to conservative critics such as Florida Gov. Ron DeSantis.
Related:
But in more than a dozen interviews with Michigan teachers, administrators and students, there has been little in the way of criticism or pushback to offering the AP course. Indeed, many high schools already teach courses on African American history, though not at the college-level rigor of a typical AP course.
Educators interviewed by Bridge Michigan say their students are hungry for teaching on Black history that goes beyond slavery, the civil rights movement and Martin Luther King, Jr. And students are keenly interested in better connecting history with contemporary issues.
Gregory Dykhouse, who teaches AP European history at Black River High School, a charter school in Holland, said he first inquired about becoming a pilot school for the AP African American course earlier this school year. He said the pilot will be a nice component to the high school curriculum and has been broadly welcomed at the school.
"There's a real interest when (students) come across names of people that seem to be really important that they never heard of before," Dykhouse said, citing for instance historical figures like NASA pioneer Katherine Johnson. "In the past few years students have become more aware of issues coming out of the African American community and I think they want to know more about it."
The 20 schools selected for pilot courses this fall are almost entirely in metro areas, with 15 schools in metro Detroit and three in and around Grand Rapids. All the schools are in lower Michigan, with the northernmost in Grand Haven.
Michigan schools to teach AP Black history
20 Michigan high schools will pilot an Advanced Placement level African American history course this fall:
Groves High School, Beverly Hills
East Kentwood High School, Grand Rapids
Cass Technical High School, Detroit
Denby High School, Detroit
Renaissance High School, Detroit
Ferndale High School, Ferndale
Fitzgerald High School, Warren
Grand Haven High School, Grand Haven
Grand Ledge High School, Grand Ledge
Black River Public School, Holland
Mount Clemens High School, Mount Clemens
West Bloomfield High School, West Bloomfield
Western High School, Parma
South Lake High School, Saint Clair Shores
Arbor Preparatory High School, Ypsilanti
Lincoln High School, Warren
Jalen Rose Leadership Academy, Detroit
Hamtramck High School, Hamtramck
Center for Advanced Studies and Arts, Oak Park
University High School Academy, Lathrup Village
Source: Michigan Department of Education
The AP course is designed to cover broad historical topics, from early African kingdoms and the trans-Atlantic slave trade through slavery, Reconstruction, The Great Migration, Jim Crow and the civil rights movement, historically Black colleges and universities (HBCUs) and more contemporary issues.
It's that last category that has drawn fierce opposition in conservative regions as the country has become embroiled in skirmishes over the teaching of race, gender and other issues. Several states, including Michigan, sought to pass bans on teaching Critical Race Theory or other racial topics that were deemed "divisive."
In Florida, the DeSantis administration rejected the AP African American studies course, saying it would violate state law, while Virginia Gov. Glenn Youngkin, another GOP leader with possible presidential aspirations, said he is reviewing it, according to the Washington Post.
Since September 2020, more than 200 local, state and federal government entities have proposed or passed legislation against teaching Critical Race theory, according to data from the UCLA School of Law Critical Race Studies Program.
In Michigan, Republican lawmakers tried to pass anti-CRT legislation last year when the party controlled the state Legislature.
Rep. Andrew Beeler (R-Port Huron) introduced a bill that would prohibit race and gender stereotyping in schools. Sen. Lana Theis (R-Brighton) introduced a similar bill that would penalize schools that taught Critical Race Theory and books tracing the history of structural racism in America like "The 1619 project: the origin story" by Nicole Hannah-Jones. The measures failed.
But some state Republican lawmakers offered cautious support for the new AP course.
Sen. Jim Runestad (R-White Lake), who was on an education committee during his previous term, told Bridge he generally supports the AP course, but that certain topics are not an accurate representation of historical events.
"I'm about history, not omission," he said "My concern is that there is omission based upon a desired narrative."
Instead of one course dedicated to one slice of American history — that is, African American history — he said he would prefer a unified teaching of American history that accurately recounts events.
"As we become more diverse," Runestad said, "I hate to see one group, after another group, after another group, wanting to have a separate history taught."
State Rep. Brad Paquette (R-Niles) who serves on the House education committee, told Bridge he is optimistic about the course framework but is concerned that people and politicians opposed to the course will use it to inflame race relations.
"When a teacher does history well, they do it really really well and that comes down to not making it political and not putting a spin on current events," he said.
As a former teacher, Paquette said he believes it's important to expose students to different viewpoints. He recalled a time in which he adjusted his course curriculum to include books like "The Autobiography of Malcolm X," to accommodate students.
"All ideas need to be heard and seen because the young person with a rational mind is able to discern the good ideas from the bad," Paquette said. "The more conversations about this the better."
Seeking a range of experience
For several years, University High School Academy in Oakland County's Lathrup Village has offered a semester-long course on social justice, which focuses on the systemic injustices in place that impact marginalized groups. Students watch documentaries like "Time: The Kalief Browder Story'," and present on social injustices they see across the country.
Piloting the AP course seemed like a natural move for the school.
Cydney Tate, 21, who took the class as a high school senior, said she was inspired to take it after reading "The Hate U Give" by Angie Thomas in an English class. The book is about a teenage girl who watches her Black friend murdered by the police.
"I think it's really odd the way history is framed for students because it's just not complete," she said, referring to the limited way she believes Black history is usually covered. "I think it's really ignorant to want to focus on one particular narrative of history when there is a range of experiences that have existed and have continued to in this country."
West Bloomfield High School will also offer the pilot course this fall, along with a currently available course on African American history. School officials say the AP course will deepen communications in a school that is extraordinarily diverse.
The course "will prepare all of our students for the intellectual challenges of studying African American historical and cultural influences," said Scott Long, assistant superintendent for learning services for West Bloomfield School District. "And it's going to teach all of our students how to relate better to people of various backgrounds."
"We just want to be able to offer a wide variety of courses that are going to engage students and … make them excited to come to school," he added.
West Bloomfield began offering its current class in response to members of its African American Awareness club, which lobbied for it. Long said the class has become widely popular, with at least two sections offered every year that fill up quickly.
Ryan Watson, a social studies teacher at the school, teaches the current course and will also teach the AP African American studies course.
"We wanted somebody that was passionate and dedicated towards the topic that would really take ownership of it and help grow the class," Long said.
Long said he is confident many students who took the African American history course will also take the AP course.
College-level instruction
The nonprofit College Board promotes college preparedness in PSAT, SAT and ACT prep courses and exams in addition to advanced placement. AP courses provide students with a college-style curriculum and at the end of the year students have the option of taking the exam. If they score high enough, that can translate into college credit for select classes.
In addition to its rigor, the AP course will differ from Black history courses now taught in Michigan because it is interdisciplinary, meaning it will involve two or more areas of study.
Dykhouse, of Black River in Holland, said the AP pilot course will give more teachers an opportunity to collaborate on different units in the class, which is something they don't do now. Currently, one teacher is assigned to one AP course.
Despite the political controversy surrounding the course, Dykhouse said he is confident in the creators of the course and the material.
"When we looked at the design of the course, the different units and approach, we thought this is something we can do really really well," he said.
This school year, 60 schools across the nation are piloting the course, but it's unclear if any are in Michigan. The 20 Michigan schools piloting the course next fall are part of a broader U.S. rollout, though most students will not get an opportunity to take it until it becomes widely available in fall 2024.
Until then, some Michigan schools say they are already diving more deeply into Black history.
Grand Blanc High School offers a project-based class that highlights leaders often overlooked in courses, such as Malcolm X, Nat Turner and the late Georgia congressman John Lewis.
The course was developed nine years ago after teachers saw a need for students' voices to be better represented in the curriculum. Social studies teacher Todd Babiasz and department chair Nate Riek reached out to Michigan State University professors to help with its design.
When it was first introduced, it was taught in a chronological format starting with African Kingdoms and ending with the 2008 election of President Barack Obama. As the class evolved, students became more interested in learning about historical figures and events that they had not learned about in other courses.
"The kids wanted to talk about current issues of race in America and connecting them to the past," Riek said. "To be honest, the kids wanted to learn about something that wasn't the civil rights movement or slavery."
Marquise Taylor, 19, took the course as a sophomore during the 2019-2020 school year.
"I just wish that certain figures weren't taboo to talk about," he said, "like Malcolm X," who is widely viewed as promoting a more combative political approach than Martin Luther King, Jr to achieve social change. "He is very taboo to talk about because people think he's a violent figure. Then when you read about him you learn that's actually not the case at all."
Taylor, now a freshman at Hampton University, a HBCU, said the high school course helped shape how it talks about Black history.
"I always knew I wanted to go to an HBCU but (taking the course) definitely impacted my interactions with other people on campus," he said. "You run into people who also took African American history courses or just want to learn more about Black history."
Students taking the course at Grand Blanc no longer use a textbook but instead read a series of books, including "March: Book One," the Lewis autobiography, and the autobiography of Malcolm X, who spent much of his childhood in Michigan.
Taylor said he hopes his former school chooses to pursue the AP course when it becomes more widely available.
"I definitely think that all students should be exposed to African American history," he said. "I think taking a class like this will help them to eliminate the negative stereotypes placed upon Black people and they will see that we're able to accomplish things."
Only donate if we've informed you about important Michigan issues
See what new members are saying about why they donated to Bridge Michigan:
"In order for this information to be accurate and unbiased it must be underwritten by its readers, not by special interests." - Larry S.
"Not many other media sources report on the topics Bridge does." - Susan B.
"Your journalism is outstanding and rare these days." - Mark S.
If you want to ensure the future of nonpartisan, nonprofit Michigan journalism, please become a member today. You, too, will be asked why you donated and maybe we'll feature your quote next time!