Becoming a teacher: too often in Michigan it's come one, come all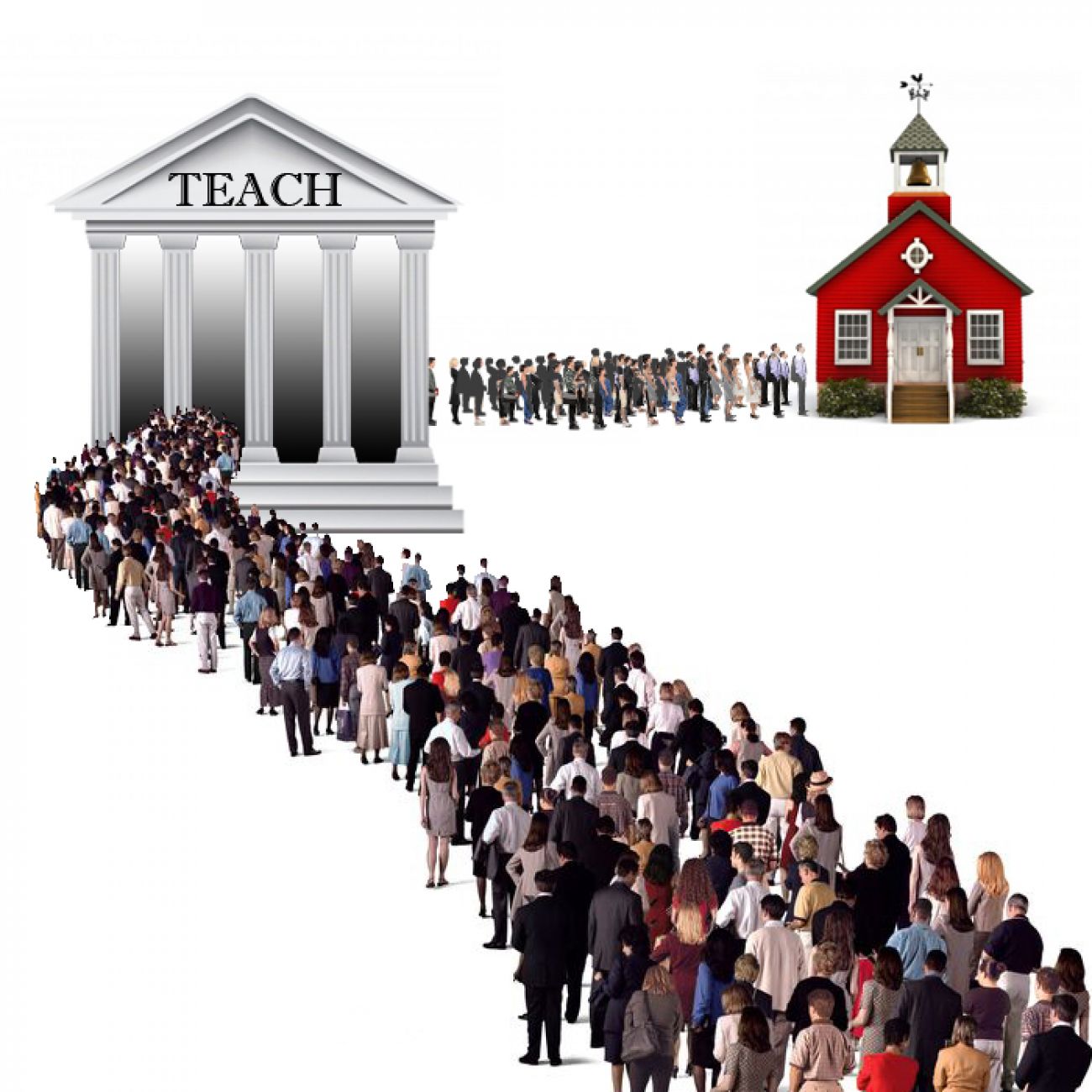 One college advertises classes in "truck driving and teacher preparation." Another program draws potential teachers from the bottom fifth of high school students.
Michigan imposes no minimum standards for admission to teacher training programs, leaving standards to individual schools that have little incentive to limit enrollment.
The result: Some Michigan teacher candidates studying in programs as tough to get in to as engineering, and some in schools with "open enrollment" – where no GPA or ACT is needed.
"How can we professionalize the profession if the approach (to teacher prep) is, 'y'all come, if you can walk and talk,'" said a frustrated John Austin, president of the State Board of Education. "We have to raise the bar for entry to teaching."
Michigan residents want the best and brightest
Education is the economic engine for Michigan's future, and no factor inside school walls has a bigger impact on student learning than teacher quality. In community conversations and polls sponsored by The Center for Michigan, residents said they wanted teachers to be plucked from the most gifted, passionate and motivated students. That's something that doesn't happen in many education departments today.
The state doesn't collect the ACT scores of college students enrolled in teacher training programs, but the scores of all incoming students to colleges offer a proxy. The average ACT score of incoming freshmen at the University of Michigan is 29, according to the National Council on Teacher Quality. See the admission standards for Michigan schools with teaching programs. That means the average U-M freshman scored in the top 7 percent of all high schoolers taking the ACT.
Seven other Michigan schools with education programs draw their typical freshmen from the top quarter of ACT scores nationally. But four schools with teacher prep programs draw students from the bottom half of those taking the test. Olivet College, Sienna Heights, Wayne State University and Marygrove College all have average ACT scores below the national average of 20.9 (out of a maximum score of 36), with Olivet and Marygrove students in the bottom half in Michigan, where the average is 19.9.
Marygrove College freshmen have an average ACT of 15, which means the typical Marygrove freshman scored in the bottom fifth of all U.S. students taking the college readiness test. Marygrove officials did not respond to requests for information about the school's teacher prep program.
Baker College, with campuses across Michigan, is open-enrollment – meaning there is no minimum high school GPA or ACT score to enroll. Baker had 1,172 education majors in 2010-11, according to data from the federal Title II Higher Education report, making it one of the biggest teacher prep programs in state. While callers to Baker College are on hold, they are encouraged to enroll in Baker College classes in, among other things, "truck driving and teacher preparation."
"Want to know which is best for you?" the message says. "Ask to speak to one of our helpful career counselors."
Chris Schram, dean of the School of Education at Baker, said the number of students formally admitted to the school's teacher preparation program is far fewer than the almost 1,200 listed by the federal government. "That number probably includes everyone who initially says they're interested in education," Schram said. Only 62 completed the education program at Baker in 2010-11.
Experts disagree on where the state can have the biggest impact on new teacher quality. Deborah Ball, dean of the University of Michigan School of Education, advocates tougher certification examinations and early-career mentoring; Suzanne Wilson, former chair of the department of teacher education at Michigan State University, argues Michigan should focus on "inputs rather than outputs," raising the bar for entry to programs. Wilson believes there should be rigorous admission standards for teaching programs at all of the 34 colleges and universities now offering a teaching degree. "Some, it's hard to get in to," Wilson said. "Some, it's easier."
Do smart teachers matter?
In a report he co-authored for the National Academy for Education, MSU's Robert Floden argues that focusing on the SAT or ACT scores of entering students is unfair to institutions that serve students from ineffective school districts, particularly urban schools.
"It's fine that some places are highly selective, and that other places are not, because they're each serving a purpose and serving different missions," Floden said.
"We all know it's hard to get teachers to go to the U.P.," Floden said. "The students who are going to teach there probably grew up there. If it turns out that a (teacher prep) program in the U.P. wasn't selective and you shut them down… the U.P wouldn't have any teachers."
Teaching ability isn't all about grades, said Larry Corbett, chairperson of teacher education and professional development at Central Michigan University, the largest teacher prep program in the state. Teaching also requires interpersonal skills that high GPA's don't fix. "It's a complex problem," Corbett said.
Still, a growing base of research indicates that smart teachers lead to smart students.
A study in North Carolina, where student learning has been linked back to their teachers for a decade, found that students learned more in classes led by teachers who were graduates of teacher prep programs with selective admissions.
A study in New York found links between student learning and teacher cognitive ability.
Amanda Ripley, author of "The Smartest Kids in the World," found that nations where students score highest on standardized tests are also the countries where teacher training programs are the most selective.
"Setting a high bar at the beginning of the profession sends a signal to everyone else that you are serious about education," Ripley told the New York Times.
Finland, where test scores are among the highest in the world, doesn't have a rigorous teacher evaluation system, because "they screen them on the front-end," said Sandi Jacobs, vice president of the National Council on Teacher Quality. Only 10 percent to 15 percent of applicants are accepted into teacher programs in the Scandinavian country.
"Smarts matter," Jacobs said. "Yet we are so non-selective, especially at the elementary level, where we produce so many teachers," Jacobs said. "Why aren't we more selective? We both know why," Jacobs said. "It (teacher preparation) is a cash cow."
Teacher prep traditionally has been high-volume, low cost program for universities, said Michael Sedlak, an education historian at Michigan State University. Teacher prep is "a profit center" for many universities, with tuition from large education departments subsidizing more expensive engineering and science programs, Sedlak said.
It's the opposite at Michigan State University, which has one of the top-ranked education programs in the nation – the university funds its teacher preparation program at levels similar to engineering and nursing. Because the program limits enrollment, only the top candidates get in – most with a two-year college GPA of 3.5 or higher.
Delaware raises the bar
Toughened admissions standards for teacher prep programs recently were passed with overwhelming bipartisan support in Delaware. The new standards require teacher candidates to have a 3.0 grade point average, or a GPA in the top half of their class
"The single most important school factor in a child's academic success is teacher quality," Delaware Gov. Jack Markell said in a news release about the law. "We want to attract the best candidates into the teaching profession because our state's success in the future is dependent on how well we educate our children today."
The Delaware State Education Association teacher union and colleges with teacher prep programs support the new admission standards.
Austin said Michigan has the authority to set minimum admission standards. "We have made some changes to the standards," Austin said, "but not nearly as robust as would be most helpful."
Higher standards, lower diversity?
Raising admission standards could have an unintended consequence of lowering teacher diversity. At Marygrove, for example, where the teacher program might be affected by state-mandated admission standards, 55 percent of students are minorities. At Wayne State, which has among the lowest average ACT scores in the state, about half the students are minorities.
MDE considers raising the diversity of the state's teachers to more closely resemble students a key goal; its teacher prep program scorecard includes a category for diversity.
That same scorecard, for 2012, gives Marygrove, with the lowest ACT scores in the state, the best overall score among the state's teacher prep programs (tied with Madonna University, where incoming freshmen have an average ACT of 21).
Because the state's colleges produce many more teachers than are needed to fill vacancies in Michigan schools, Michigan could increase admission standards without creating teacher shortages.
"Admission standards are not the reason we don't have physics teachers," Jacobs said.
Higher admission standards have an ally in Dennis Van Roekel, president of the 3.2 million-member National Education Association, the largest labor union in the U.S.
"What if of all the people who want to be teachers, we only take 25 percent?" Roekel asked at a recent journalism conference in Chicago. "We can't continue to take everyone who walks in the door. Our kids deserve better."
We're not just a news organization, we're also your neighbors
We've been there for you with daily Michigan COVID-19 news; reporting on the emergence of the virus, daily numbers with our tracker and dashboard, exploding unemployment, and we finally were able to report on mass vaccine distribution. We report because the news impacts all of us. Will you please support our nonprofit newsroom?