Echoing state, Detroit schools cut back on standardized tests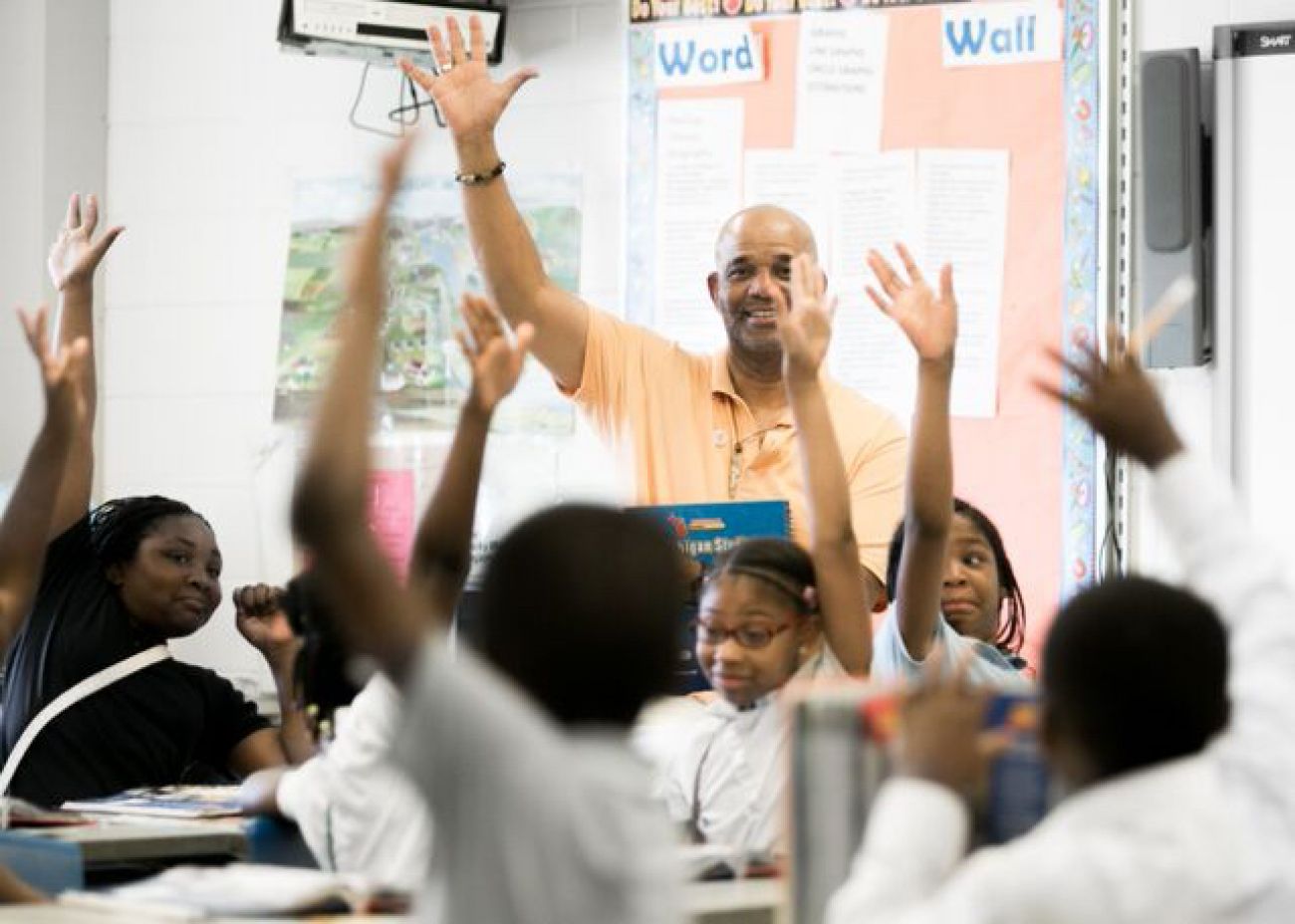 Typically during the first three weeks of class in Detroit Public Schools, students can be found plowing through a battery of standardized tests given by the district.
The tests come every few months in reading and math. And like clockwork, they set off complaints from teachers that the tests have become a burden to educators and are not always taken seriously by students.
Not so much this year.
Detroit Public Schools has cut by half the number of school days teachers spend administering the district's standardized tests, a move the district says will give teachers 15 percent more uninterrupted instructional time. The district's rollback of time students spend on standardized tests followed a similar decision by the state and follows growing national sentiment that the volume of testing has become too great.
The DPS change comes after educators, such as William Weir, a Detroit social studies teacher profiled in June in Bridge Magazine, spoke up about a testing schedule that had students across the district taking at least one standardized test on two out of three school days during the previous school year.
DPS is expected to announce the shortened testing schedule today, several weeks after the state announced that it was cutting its share of student testing. In spring 2016, the Michigan Student Test of Educational Progress, or M-STEP, standardized test will be shortened by 2.5 hours for younger grades and by eight hours for high school juniors.
A testing slog
The DPS testing schedule includes district, state and national-level tests given across subjects and grade levels. But critics say much of the testing fatigue suffered by students comes from weeks and weeks of in-district tests.
This year, two district-mandated assessments – called Star Reading and Star Math – along with several pre– and post-tests will be eliminated. The Star tests alone were administered over the course of 29 total school days in September and January last school year, time that educators say would've been better spent on classroom lessons.
"This is another tangible example of how DPS is becoming a more efficient and effective school system focused on improving student achievement," DPS Emergency Manager Darnell Earley said in a written statement to Bridge. "Increased instructional time is critical to ensuring we achieve this goal."
Ironically, this announcement comes during a week in which Detroit students are taking a district test – Measures of Academic Progress, or MAP – Weir, the social studies teacher, said.
Weir, who teaches at Schulze Academy for Technology and Arts and is on a committee that helps to vet the state's standardized test questions, welcomed the change.
"Testing isn't bad if you can use it for what it's meant to do. We used to have weeks and weeks and weeks of testing and it got to be a burden. Teachers stopped seeing it as a useful tool and started seeing it as just another test," Weir said.
Though pleased, Weir said he suspected DPS was emboldened to make a change only after the state shortened the M-STEP.
"We have been complaining about testing for a long time," he said. "When the suburbs started complaining about the M-STEP being too much testing is when they cut back. It could be a coincidence, but I doubt it."
Last spring, the new statewide M-STEP standardized tests was given to grades 3 to 11 and included a college entrance exam for high school juniors. It took some students as many as eight days to take it over the course of nearly two months. The grievances echoed from Pine River to Grand Ledge.
"We heard loud and clear from parents and community members that they were concerned about the amount of time the M-STEP was taking," Jan Ellis, spokesperson for the Michigan Department of Education.
MDE decided that next spring children in fifth and eighth grades will be the only ones who are required to do English language arts performance tasks (which involve critical thinking and writing) as part of the M-STEP. As a result, grades 3, 4, 6, and 7 will no longer take the ELA performance task and their total testing time will be shorter.
Also, Michigan's switch this school year from the ACT college entrance exam to the SAT college entrance test for juniors means the state does not have to give juniors a separate English and math test because the SAT is aligned to state standards, Ellis said.
The limits of testing
Brian Gutman, director of public engagement for nonprofit Education Trust-Midwest, a statewide education advocacy group, said the changes reveal what's right and wrong with testing.
"The good news is, state leaders have already reduced state assessment testing time to address this problem. The bad news is, many local districts are still giving locally-driven assessments that may be antiquated or unhelpful," he said.
More districts need to take a look at their local tests to see if any should be trashed or slashed – with support from the state, he said.
MDE plans to do just that, Ellis said. MDE wants to help other districts to do what it and DPS are doing – re-evaluating testing schedules to ensure standardized tests are confined to those that are needed and useful.
"In the near future, we're going to be providing districts some tools to be able to do a self-evaluation of their own assessments that can guide them to make changes locally if they choose," Ellis said.
At DPS, the funds previously spent on the eliminated tests will be used to train teachers and administrators to better use the remaining tests and interpret the results, the district said.
Teachers hope fewer testing days could lead to better, more accurate assessments of student learning. Students tired of the endless march of tests have been known to randomly answer questions or give less than their best effort, Detroit teachers say.
"The elimination of the mathematics content-area test (and the STAR Math test in some buildings) has... allowed teachers to jumpstart the school year with more valuable instructional time," said Michelle Thornhill, lead mathematics teacher at Wright Academy of Arts and Science in Detroit and a member of the group that reviewed the district's testing calendar.
We're not just a news organization, we're also your neighbors
We've been there for you with daily Michigan COVID-19 news; reporting on the emergence of the virus, daily numbers with our tracker and dashboard, exploding unemployment, and we finally were able to report on mass vaccine distribution. We report because the news impacts all of us. Will you please support our nonprofit newsroom?