Hillsdale to consider banning Harry Potter as library wars hit Michigan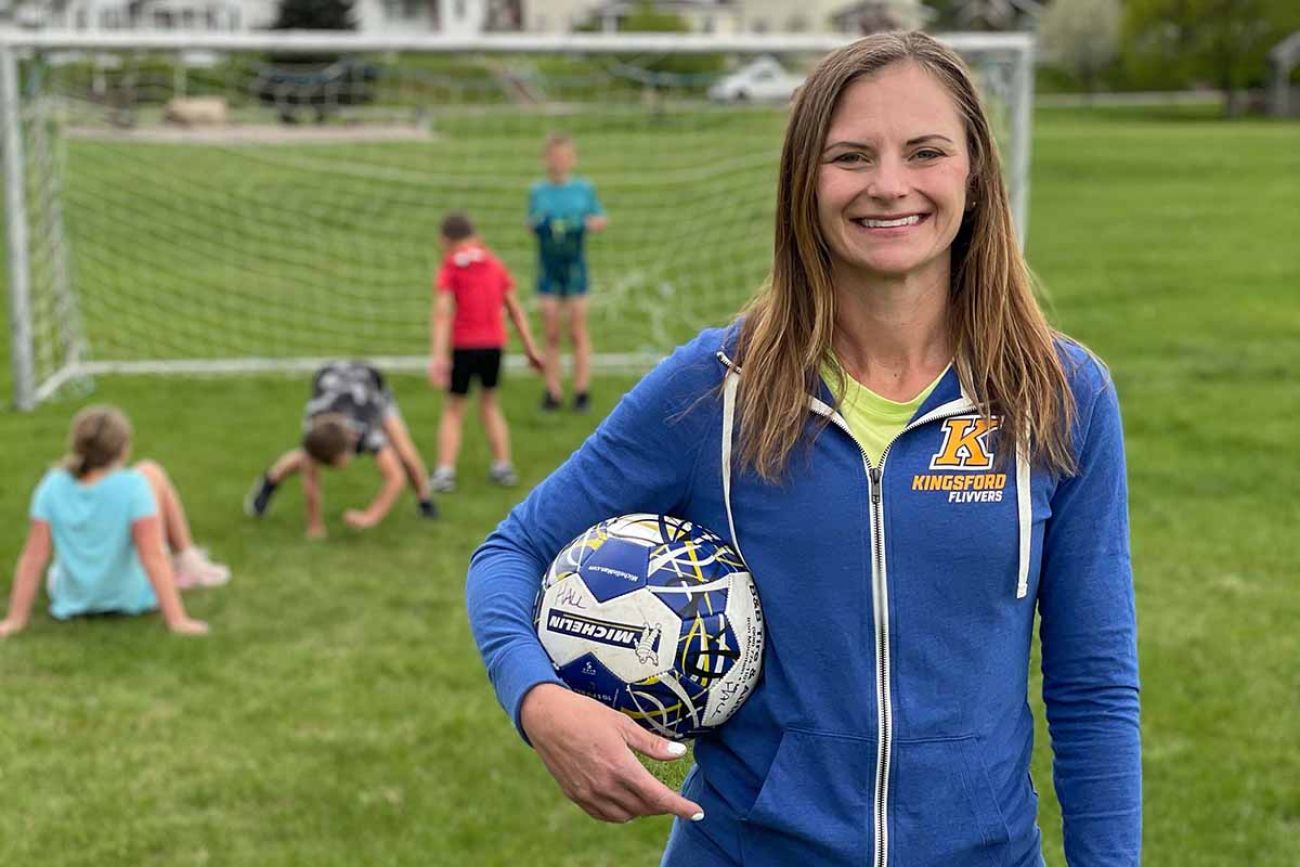 Angela Hall of Iron Mountain was shocked when she saw what she considered to be sexually explicit drawings in a graphic novel available in the Dickinson County Library. She wants the library to make such content inaccessible to children. (Courtesy photo)
May 27: At Hillsdale library, resignations and alarms about politics, pedophiia
In Iron Mountain in the Upper Peninsula, a public library patron recently complained that there were too many books written by Jewish authors and books about Black people.
In Hudsonville, just west of Grand Rapids, the library director quit in April after being accused of being a pedophile.
And in Hillsdale, a library board member last week proposed banning Harry Potter and all books in the children's section that discuss LGBTQ issues, prompting the library director and children's director to threaten to quit. The board will discuss the proposal during a special meeting Thursday evening.
Related:
The war over books may have started in schools, but its spread to community libraries in Michigan, with residents asking that some books dealing with sexual or LGBTQ themes be pulled from shelves, placed behind counters or labeled as containing adult content.
Debbie Mikula, executive director of the Michigan Library Association, said complaints about books in the state's libraries have skyrocketed. In a typical year, a local library might get one or two "challenges" — requests for a book to be removed from the shelves. "Today," she said, "some libraries have experienced 15 to 30 challenges in the past six months. Some individuals have (challenged) over 250 books."
Some books being protested are graphic novels that include sexual illustrations or themes. Others are criticized for their LGBTQ, political or racial justice content. For example, at the Patmos Library in Hudsonville, a parent raised concerns about a graphic novel called "Gender Queer: A Memoir" that was in an adult graphic novel section. The book tells the story of the author's coming of age as non-binary, and includes illustrations of sex acts. At the Dickinson County Library in Iron Mountain, protests were launched over the graphic novel, "Patience and Esther: an Edwardian Romance," which includes drawing depicting oral and anal sex.
Angela Hall, of Iron Mountain, said she was shocked in April when a friend showed her a copy of "Patience and Esther." The book was shelved in the adult collection at the library, but was on a shelving unit adjacent to the children's section.
"Is it evil?" Hall asked. "I think exposing children to pornography is evil."
Other books that have been the brunt of recent library complaints are less explicit. One children's book that raised concern at the Hillsdale Community Library, for example, contained an illustration of a Pride parade that included a child with two mothers. There, a library board member also suggested moving "Harry Potter and the Half-Blood Prince" and a jigsaw puzzle depicting the women's march on Washington at the start of the Trump presidency out of the children's section.
It's a frustrating time for librarians, Mikula said.
"Librarians work extremely hard, are well trained and educated to develop library collections that reflect the diversity of their particular community or school as well as the larger world," Mikula said. "The implication by individuals that they would intentionally include books that are harmful undermines their best efforts and erodes public trust."
Banning transgender books in Hillsdale
Last Friday's meeting of the Hillsdale Community Library board went off the rails after board member Joshua Paladino proposed banning books from the children's section that discuss LGBTQ issues or current political issues such as Black Lives Matter.
In an email he sent to Hillsdale residents a day before the meeting, Paladino said the "city's library director has begun to fill the library with CRT, LGBT and sexually promiscuous books and displays."
Included as an example of books he felt were inappropriate for the library's children's section was a Harry Potter book, plus a book for young readers titled "How to Fight Racism," and the book "All Moms."
The board took no action during the raucous four-hour meeting. On the agenda Thursday is a motion to remove Paladino from the board, and to address the uncertain job status of library director Bryonna Barton and children's director Lauren Jones. Both resigned following the last meeting, but their resignations are listed as part of the agenda for the Thursday meeting
"I want age-appropriate curation practices, meaning no politics, activism, or sexual content in the children's section," Palodino wrote in his email to Hillsdale residents.
His motion to the board would exclude: "materials for children under age 18 that discuss sexually explicit themes including but not limited to sex acts, sexual activity, sexual abuse, sexual perversions, sex-based classifications, sexual preferences or aversions, sexual identity, gender identity, or other topics of a sexual nature. This shall not be misconstrued to exclude children aged 10 years and older from materials that contain educational, non-erotic, and age-appropriate references to the biological aspects of reproduction. Materials that glorify or normalize gender dysphoria, often called transgenderism, shall be prohibited under all circumstances. Materials that help children fight against feelings of gender dysphoria and feel comfortable in their own bodies should not be excluded."
Palodino could not be reached for comment Wednesday. Barton and Jones both declined comment.
'Indoctrinating' kids in Hudsonville
Until recently, the Patmos Library staff typically set up three chairs for the public for monthly meetings of the library board in Hudsonville, a suburban community of just over 7,600 that is perhaps best known for the ice cream company that was founded there. At the board's March and April meetings, about 50 people attended, said library interim director Matthew Lawrence.
Many in attendance wanted "Gender Queer: A Memoir" removed from the shelves, according to Lawrence. The board agreed to move the book behind the counter. The book is still available, but it's not in a public area and patrons must ask a librarian to check it out.
Lawrence said the anger of some community members focused on library director Amber McLain. Several people brought up that McLain is gay. One questioned, "Is she even Christian?" McLain recounted in an email response to questions from Bridge
"I had to change my name on Facebook for a time to prevent messages that were starting to come in," McLain wrote.
"I never read any of them fully, but it was the typical fare — that I'm evil, that I'm indoctrinating kids. In March, a woman came into the library filming on her cell phone. She said she was looking for 'that pedophile librarian' and 'the freak with the pink hair,'" which library staff presumed referred to McLain because the library director had dyed her hair pink.
McLain said she was not in the library at the time.
Soon afterward, she resigned.
McLain said that while the initial concern was over a single book, "Gender Queer," some residents have broadened their protests at recent library board meetings to all books in the library on LGBT issues.
"Libraries are for everyone, not just the majority," McLain said. "When I was director at Patmos, there were just under 67,000 books. The removal of one may not seem like much, but when you consider that there are maybe 50 books with LGBT representation in that 67,000, each one counts.
"The beauty of a public library is that you don't have to read everything you find," she said in the email. "There is something for everyone, and there's likely something to offend everyone. Additionally, it is important to remember that the library having a book does not equal the library endorsing that book — it just means the library is attempting to have a balanced collection."
Literature, or pornography?
In Dickinson County, which includes Iron Mountain, about 30 residents showed up to a May meeting of the public library board to voice their concern over the graphic novel "Patience and Esther: an Edwardian Romance."
By the time of the meeting, the book and the rest of the library's adult graphic novels had already been moved from a shelving unit near the children's section to another area of the library, Library Director Megan Buck told Bridge.
The patron who'd filed the original complaint wasn't at the meeting, but other community members were. "Everyone was polite," Buck said, "but there was a lot of misunderstanding that this (book) was in the children's section," when it had never been there.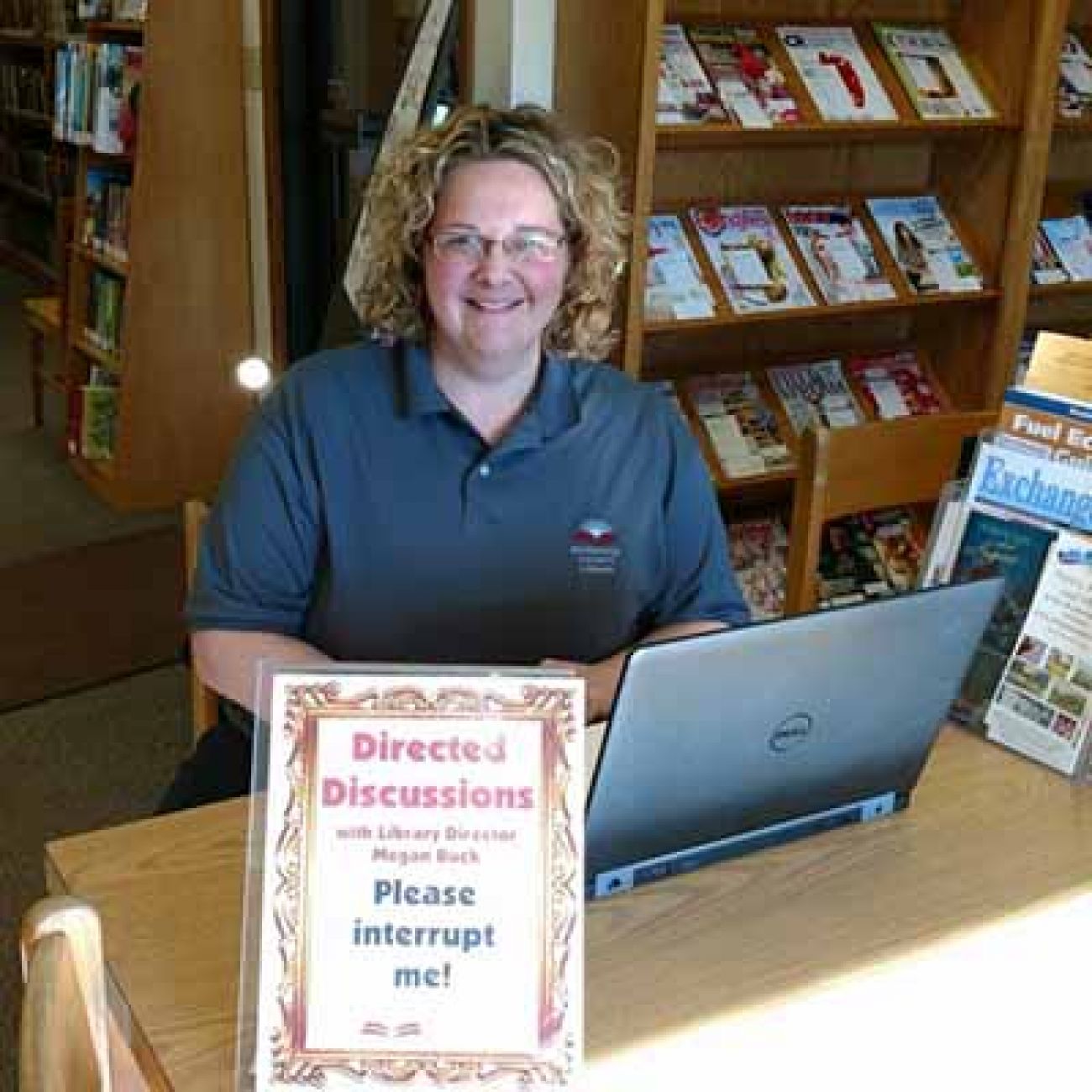 Dickinson County Public Library Director Megan Buck said complaints about books have soared since a patron raised concerns about a graphic novel. Now, some want books about LGBTQ issues removed. (Courtesy photo)
Hall, the Iron Mountain mother, said moving the book wasn't enough to make her feel comfortable. She would like the book to be more difficult for children to stumble upon.
Hall suggested placing it behind the counter so patrons would have to ask a librarian to check it out, or placing a warning label on the cover indicated that there it contains sexually graphic material.
"We're not coming for books. I don't care what literature you have in your library," Hall said. "This could be Shakespeare, but with those images, it would be inappropriate for kids."
Buck said she worries that if the library makes one book harder for patrons to find because of a patron complaint, it could create a slippery slope to censorship.
"Most of the people in the room said, 'I'm for the First Amendment, but I draw the line at this book,''' Buck said. "But what happens when someone else comes in and says 'I'm for the First Amendment but I draw the line somewhere else?'"
Since the "Patience and Esther" protests began, the Dickinson County Library has received complaints that there are too many books by liberal authors, and that books about LGBT issues are "indoctrinating" children.
The library has received multiple emails from a patron complaining that there are too many books by Jewish authors, or about Black people.
"No one in our library would say (''Patience and Esther") is a book for kids," Buck said. "But it's not our place to decide what books the public should have access to."
That's not good enough for Hall, who said she was "shocked" that the library board didn't make the book inaccessible to children.
"I want my children protected from pornography," she said. "The library is no longer a safe place for us because we don't know what else is there."
Only donate if we've informed you about important Michigan issues
See what new members are saying about why they donated to Bridge Michigan:
"In order for this information to be accurate and unbiased it must be underwritten by its readers, not by special interests." - Larry S.
"Not many other media sources report on the topics Bridge does." - Susan B.
"Your journalism is outstanding and rare these days." - Mark S.
If you want to ensure the future of nonpartisan, nonprofit Michigan journalism, please become a member today. You, too, will be asked why you donated and maybe we'll feature your quote next time!