How a tiny U.P. school became a national model for Native American education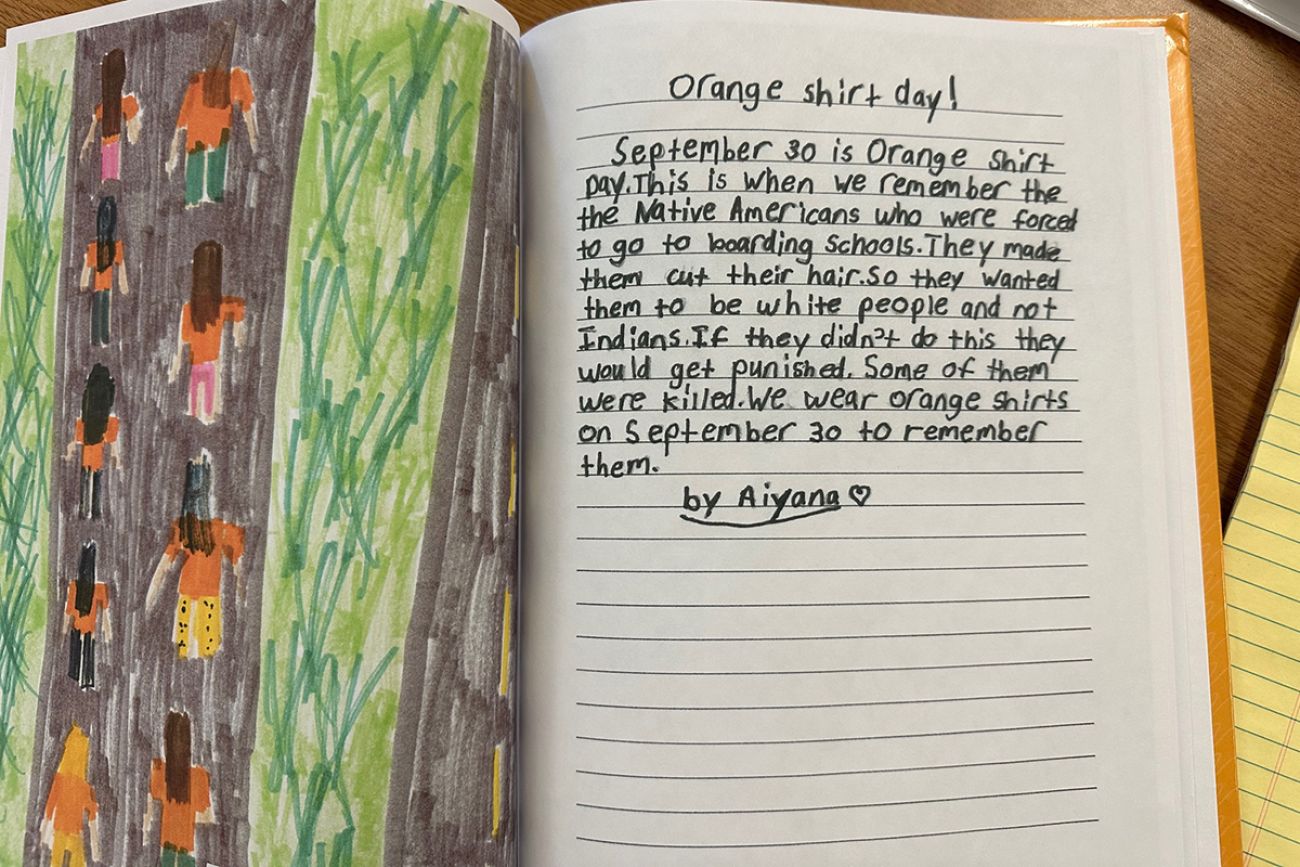 Artwork from a Watersmeet third-grader recounts the generations of tribal children forced from their homes to attend government-run boarding schools that attempted to distance them from their culture and traditions. (Bridge photo by Ron French)
Talent & Education
How a tiny U.P. school became a national model for Native American education
Native American students in Michigan typically struggle, including at one tiny Upper Peninsula school
So school and tribal leaders began to incorporate Native American language and culture in classrooms
The school is receiving national recognition for the efforts
---
WATERSMEET—Three out of four students enrolled at the Watersmeet Township School are Native American, but there were days in the very recent past when you wouldn't know it.
Sixty percent of children from the Lac Vieux Desert Band of Lake Superior Chippewa Indians tribe were deemed chronically absent during the 2021-22 school year at Watersmeet, meaning they missed more than 10 percent of school days. Typically, graduation rates were lower among tribal students than their white classmates, and disciplinary actions were common.
None of which came as a surprise to George Peterson, the non-Native superintendent and principal of the one-building, 140-student school district.
Related:
Native Americans in Michigan, including those who lived in this small, rural community in the western Upper Peninsula, have a long, devastating history with government-run schools. Most Native students have grandparents or great-grandparents who had been forced out of their homes and shipped to one of five Indian boarding schools across the northern half of the state, where they weren't allowed to speak their language or practice their traditions or religion.
And while the last of those boarding schools closed in 1982, that generational trauma continues to color the perspective of schools among today's students.
A collaboration between tribal leaders and administrators at this brick public school building in Watersmeet, launched last September, is trying to change that.
Walk into the school today and you are greeted by a welcome sign in English (Hello) and Anishinaabemowin (Boozhoo), the root language spoken by the 12 federally-recognized tribes in Michigan. The door has a yellow sign with the word for doorway (ishkwaandem), as does the library (agindaasoowigamig) and the bathrooms (zaaga'amoowigamig).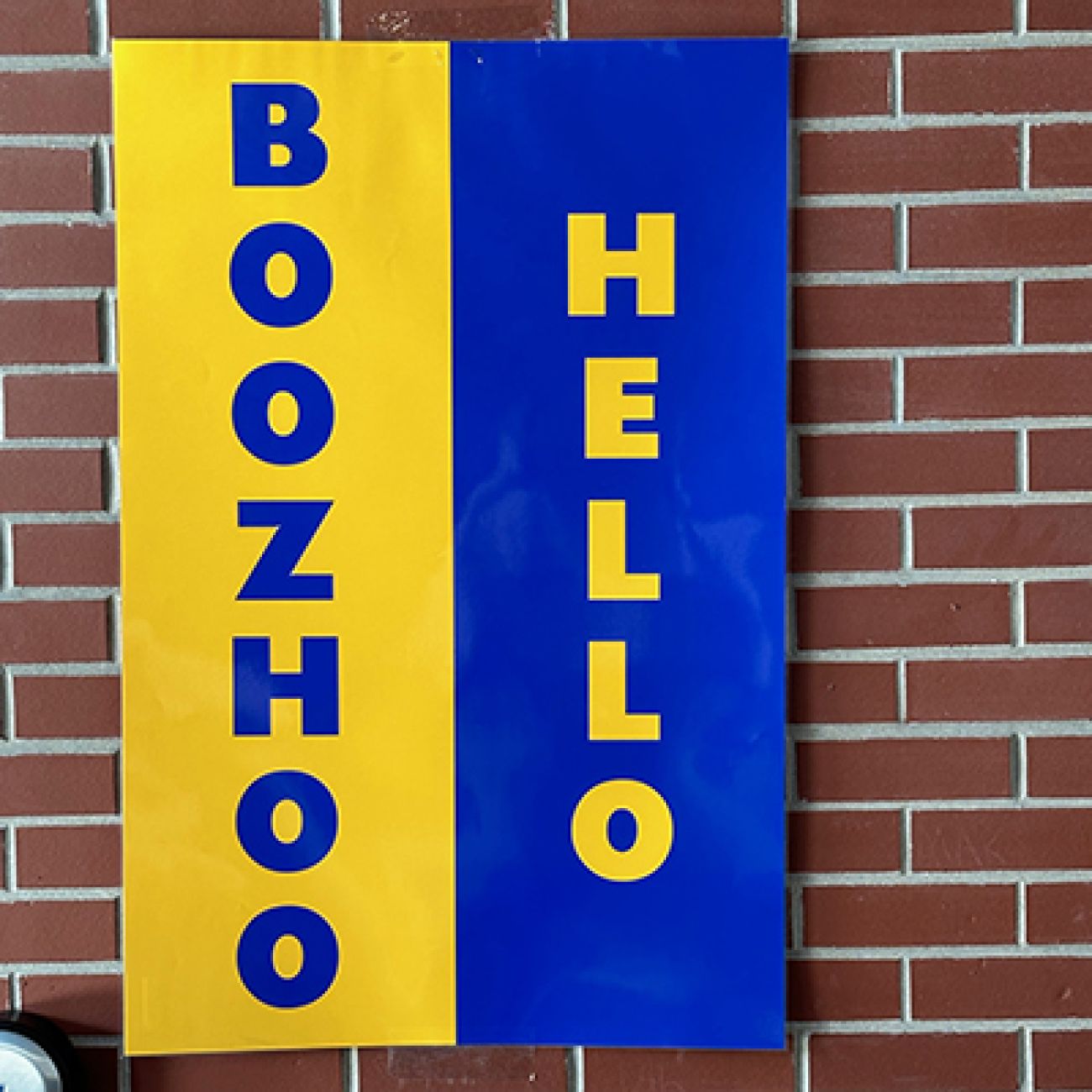 Signs in English and Anisinaabemowin are featured around the Watersmeet Township School, in an effort to embrace the Native American community from which the majority of the school's students come from. (Bridge photo by Ron French)
Under the guidance of a tribal member, students built a wigwam last fall in the school lobby. Crayon artwork on the walls is illustrated by words in Anishinaabemowin and English, telling the Native American story of "The Teachings of the Seven Grandfathers."
Following the embrace of Native American language and culture, attendance and learning improved, Peterson said. Just as important to school and tribal leaders, the effort is helping rebuild a cultural identity among Native students that had been systematically stripped for generations.
Those efforts are gaining attention nationally, with local leaders on Tuesday describing the program in a Zoom meeting with the U.S. Department of Education Office of Indian Education.
"We've always worked well with the tribe, but not well enough to get where we need to be," said Peterson, who is white. "They need to feel at home here."
Boarding school legacy
Watersmeet is one of a dozen public school districts in Michigan with sizable Native American enrollment due to their proximity to tribal territories, with Watersmeet having the largest percentage of Native American students.
In interviews with Native American leaders in various tribes in the U.P., the generational impact of boarding schools was listed again and again as a root cause of wariness about public schools.
Until recently, there's been little effort to incorporate tribal language and culture in Michigan schools, making classrooms feel disconnected from Native children's lives, said Lisa McGeshick, a tribal member in Watersmeet who has worked with the Michigan Department of Education to incorporate Native American history and culture into curriculum statewide.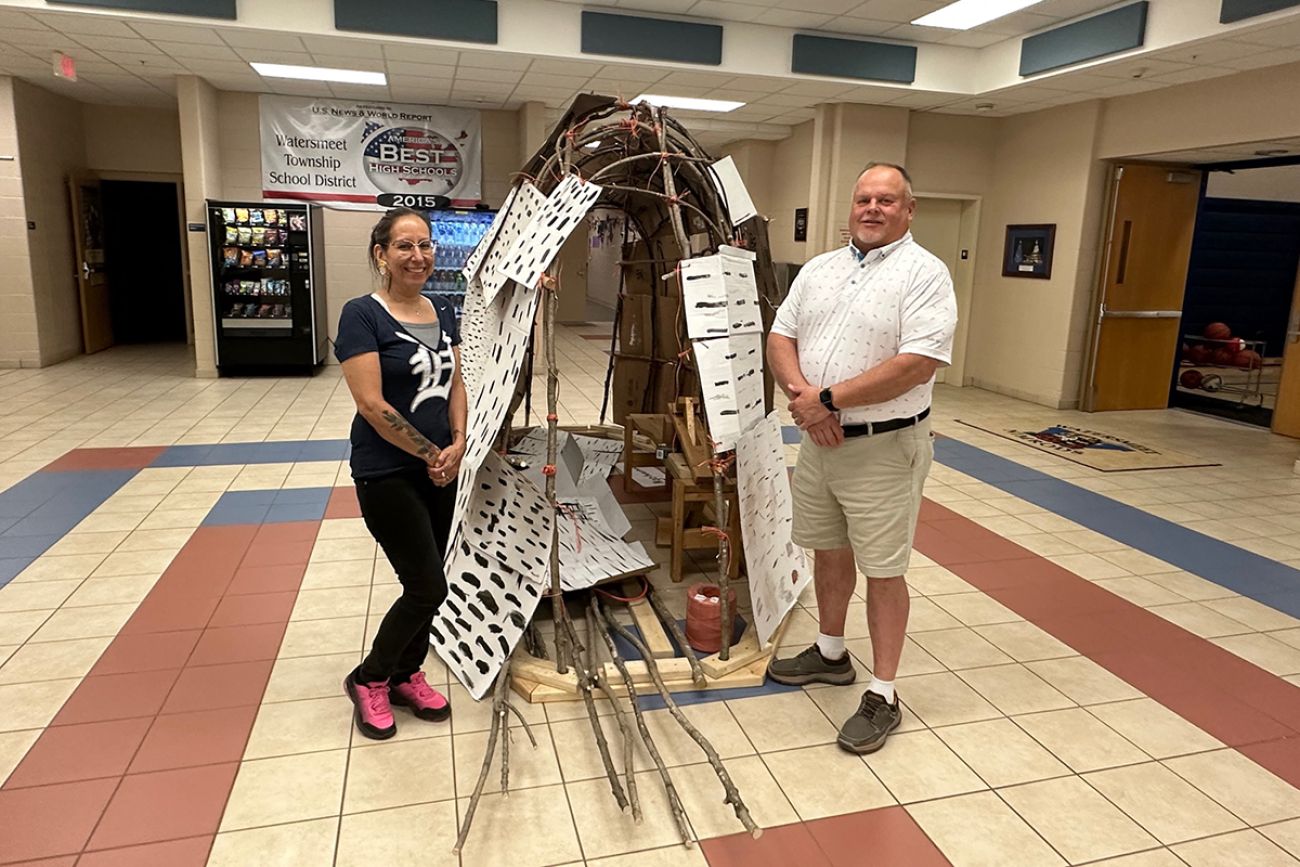 With the guidance of a local tribal member, Watersmeet students built a wigwam in the school lobby. It's part of an effort championed by deputy tribal historic preservation officer Lisa McGeshick, left, and Superintendent George Peterson. (Bridge photo by Ron French)
That wariness carries over to college.
In Michigan, only 14 percent of Native Americans over the age of 25 hold a bachelor's degree or higher, less than half the 32 percent of white adults, according to Census data. Among other racial groups, 18 percent of African American adults, 20 percent of Latino adults and 66 percent of Asian adults have a bachelor's degree or higher.
Among Native American students who enrolled in a four-year public university for the first time in the 2012-2013 school year, 59 percent earned a degree within six years. That compares with 78 percent of white students, 69 percent of Latino students and 55 percent of African American students.
That data matters, because college completion is correlated to higher lifetime earnings. The median household income for Native Americans in Michigan was $48,757 in 2021 — 23 percent less than the state average of $63,448.
Raymond Bramlett, who teaches middle and high school history at the school, said a tribal elder explained the struggles some Native Americans have in public school classrooms. "He said 'there is a prevalence of a feeling that the system is out to get them, so why bother trying,'" Bramlett told Bridge.
"You can understand why."
Boozhoo and bingo
Peterson, the superintendent, and Jim Williams Jr., chairman of the LVD Band, both attended the tiny school from kindergarten through 12th grade. Peterson recalled about 15 percent of his classmates were Native American in the 1970s. Today, the figure is about 75 percent.
As the share of Native students rose, tribal involvement in the schools has increased. During the pandemic, the tribe pitched in $300,000 for technology to allow students to learn remotely. Williams serves as the school's golf coach.
Williams remembers that when he was a student, kids could take French or Spanish, but not the language of the local tribe. Now, they can take Anishinaabemowin to meet their global language requirement.
"They're there for us," Peterson said of the tribe. "So why wouldn't you want to have a great relationship with people I consider family members?"
Recently, the school and tribe formed an American Indian Parent Education Committee to advise school administrators on ways to incorporate Native American culture, history and language into classrooms. Instrumental in that effort was McGeshick, who is also a school board member and serves on the Confederation for Michigan tribal education directors. She told Peterson last year the school needed to amp up its outreach efforts.
"There needs to be some artwork on the walls, there needs to be some sense of belonging and identity," McGeshick said. "If we have this much population, they need to see themselves in the building."
Peterson now starts his morning announcements over the school's intercom system with "Boozhoo," the word for greetings. Many art lessons are related to the local tribe's history and culture. The school hosts a weekly bingo game for the public, with numbers called in Ojibwe, the Anishinaabemowin dialect spoken by the LVD Band. Students can now meet a requirement for a global language by taking instruction in Anishinaabemowin.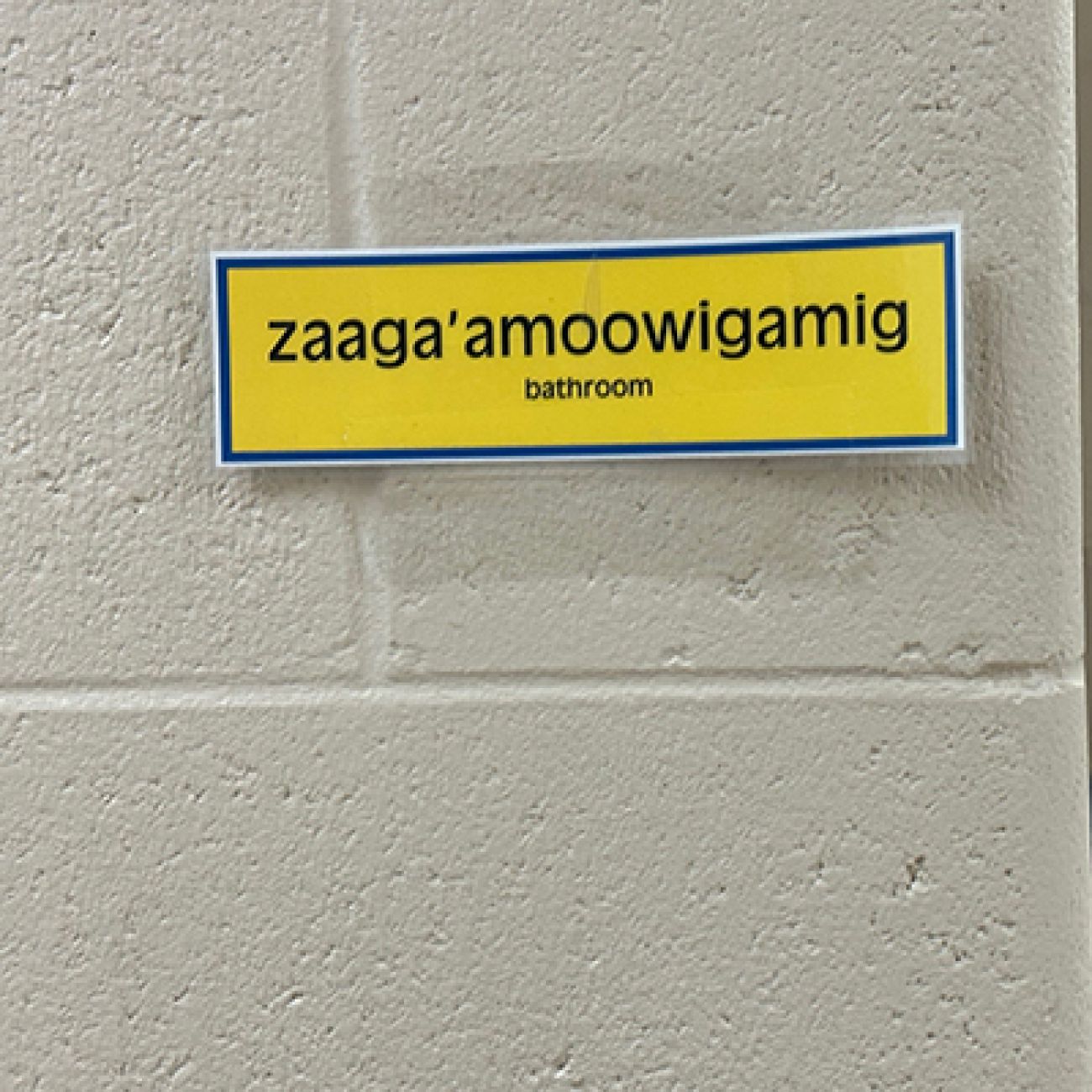 Even the bathrooms at Watersmeet Township School are bilingual. (Bridge photo by Ron French)
"If you had a school full of Finnish people, you'd be looking into their history" in classes," Peterson said.
Seventh-graders learn about ancient Greek creation stories as part of world history, said Bramlett, the history teacher. This year, he paired that mythology with Ojibwe stories about the creation of the world.
"Greek stories are very human-specific," Bramlett said. "Ojibwe is more spiritual and animal-specific.
"The kids loved it," Bramlett said. "It made it so they actually wanted to learn about Greece."
In U.S. history, students learned about Mitchell Red Cloud Jr., a Native American soldier from Wisconsin posthumously given the Medal of Honor for jumping on a grenade to save his colleagues during the Korean War. Another lesson, on the Holocaust, now includes a discussion of American Indian boarding schools, which followed a 19th Century philosophy that schools should "kill the Indian in him, and save the man."
"That (lesson) had some tears and personal stories," Bramlett said. "A lot of these students have grandparents who tell stories of getting beaten, getting their hair cut and not being able to speak their language" at boarding schools.
Grades were up across the board in Bramlett's classes this year, which he attributes at least in part to the impact of increased emphasis on Native American language and culture.
"The students were more engaged in the topics," Bramlett said. "I believe it brought them closer together as classmates."
The school district has also contracted with a Native American education consultant from North Dakota, Ricky White, who regularly visits classrooms in Watersmeet to deliver history and language lessons.
"The vast majority of our students and families have really experienced a loss over generations," White told Bridge Michigan. "One of the primary targets of that loss has been our language that ties right in with our ways of life and how we conduct business."
For Native students, "it's cool for them to know that they're seeing themselves in programming that every teacher is going (to) use, adding some native content to things that they're already teaching."
The impact of the effort reaches beyond students to their parents and grandparents, who've seldom seen their culture included in education.
What's happening in Watersmeet, White said, is "the epicenter of the awakening of our identity."
'Appreciated and respected'
The efforts had an almost immediate impact. Absentee rates for Native American students dropped in half this school year, from 48 percent to 24 percent. The number of Native students on the honor roll rose, while disciplinary actions plummeted.
All 11 seniors earned their diploma this spring, for a 100 percent graduation rate. Ten of them are Native American.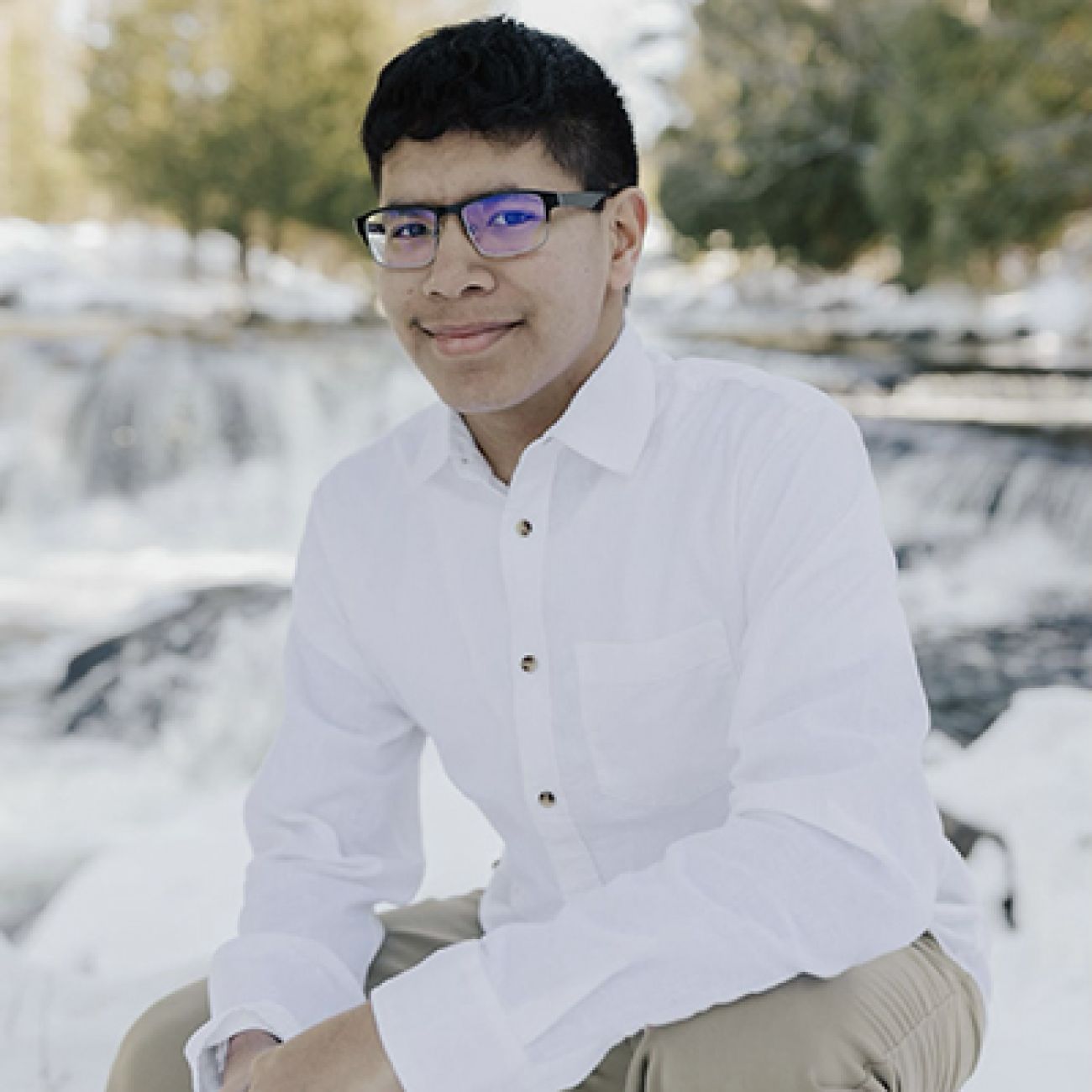 Brock Shively graduated from Watersmeet this spring and will attend the University of Michigan in the fall. He said the emphasis on Native American language and history has changed the culture at the Upper Peninsula school. (Bridge courtesy photo from Brock Shively)
One of them was Brock Shively, who is enrolled at the University of Michigan in Ann Arbor for this fall. He said the school's efforts made him feel good about himself.
"Before this year, people speaking our language, like boozhoo for hello and miigwech for thank you, were not very common," Shively said. During his senior year, "it became the norm. When you talk about language in school, people feel happy to share their own cultural experiences.
"It helped us be ourselves within the district."
White, the North Dakota consultant, said the efforts in Watersmeet are a good starting point.
"It's one thing to live it and it's another thing to really feel like you're being seen," White said. "If you feel like you're not being seen, you're going to just go through the motions.
"Now, they're being appreciated and respected."
Only donate if we've informed you about important Michigan issues
See what new members are saying about why they donated to Bridge Michigan:
"In order for this information to be accurate and unbiased it must be underwritten by its readers, not by special interests." - Larry S.
"Not many other media sources report on the topics Bridge does." - Susan B.
"Your journalism is outstanding and rare these days." - Mark S.
If you want to ensure the future of nonpartisan, nonprofit Michigan journalism, please become a member today. You, too, will be asked why you donated and maybe we'll feature your quote next time!