As Lansing debates funding, schools struggle to pay teachers, fix roofs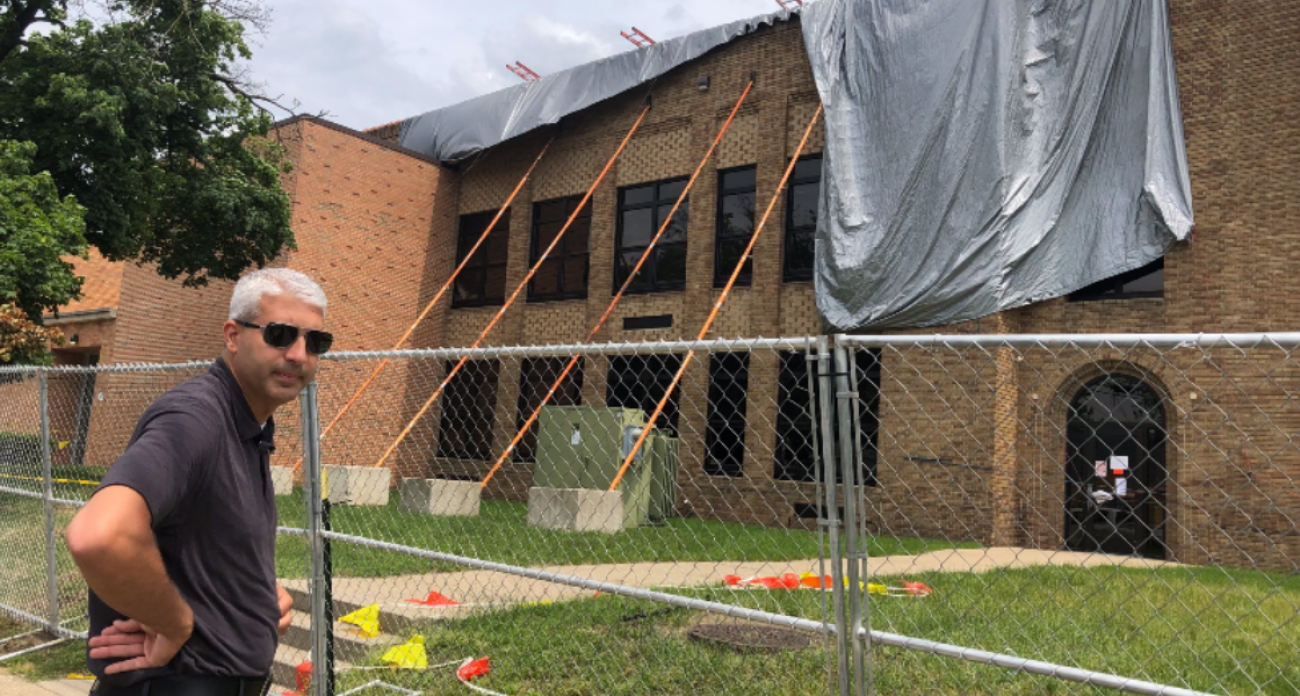 WYOMING – The roof caved in at Lee Middle and High School in May. A large silver tarp covered the hole and orange metal braces propped up the brown brick façade of the building, which opened in 1925 when Calvin Coolidge was president.
Nearby, Godfrey Elementary is comparatively new – it was built in the 1950s. There, 400 students have one boys' bathroom and one girls' bathroom.
A half-mile away at a school for kindergarten through second grade, two-thirds of students speak a language at home other than English. Yet the school can afford only two English language learner specialists. If those specialists split their time evenly among the school's more than 250 Hispanic children, each English language learner would get about 13 minutes of individual attention.
Those buildings are in Godfrey-Lee Public Schools, Michigan's smallest school district by geography, at 1.4 square miles, south of Grand Rapids.
The financial challenges are no less daunting at the state's most expansive school district, covering 1,524 square miles of rural Upper Peninsula. In Tahquamenon Area Schools, 9 percent of the budget is burned in fuel and bus maintenance before kids make it to their desks in the 95-year-old K-12 school in Newberry. To make ends meet, the school offers choir only as an after-school extracurricular activity and the volleyball and cross-country teams carpool in their own vehicles because no buses are available.
Debates about school funding in the impending 2019-2020 state budget will be happening in the coming weeks in Lansing. In current variations of that budget put forth by the GOP-controlled House and Senate and Democratic governor, Republicans and Democrats disagree on how much money schools need to provide students with a good education and how that money should be spent. If the past is any indication, they won't even agree on whether school funding in recent years has gone up or down.
The debates are more personal outside of Lansing, where the financial struggles of Michigan's smallest and largest school districts are emblematic of the impact small changes in budget bills can have on the state's children.
In Tahquamenon, Superintendent Stacy Price scours her budget to find money for a full-time art and music teacher and worries whether some of her district's roughly 600 students have anything to eat at night.
At Godfrey-Lee, Superintendent Kevin Polston sits in an administration building that used to be a car wash and chicken carryout weighing whether an extra teacher is worth delaying building maintenance.
"The students, they internalize all this," Polston told Bridge Magazine, "and feel they're not worth any more."
Brewing budget battle
In her first year in office after making increased investment in Michigan schools a campaign issue, Gov. Gretchen Whitmer proposed a 3.5 percent increase to the school aid budget over 2018-19, to $15.3 billion. The Senate passed a $15.2 billion budget for Michigan schools (2.7 percent increase), and the House, $15 billion (1.4 percent increase). Whitmer and leaders in the House and Senate will meet in September to try to finalize a budget for education and the rest of state government before the new fiscal year begins on Oct. 1.
Schools are required to approve their own budgets for the new academic year by June 30. With no state education budget in place, schools must guess how much money they'll get from the state for the coming school year.
In the Senate's proposal, the basic foundation allowance – the amount given to districts based on the number of enrolled students – would increase $135 to $8,544; the per-pupil payment would go up $120 under Whitmer's budget, and $90 under the House budget. Whitmer's plan would add more money to schools beyond the foundation allowance than plans from the House and Senate, making her plan more generous to most schools in the end.
You can see a detailed comparison of the plans here.
Beyond the upward to $300 million gap between the three plans, there is a significant difference in how money would be spent in the plans.
Whitmer has proposed changing the way Michigan funds schools to direct more money to groups of students who sometimes struggle academically, such as low-income students and those in special education. Though Michigan does that now to a small extent, Whitmer's plan would greatly expand what's called a "weighted formula." In essence, a middle-class student in a suburban district would receive less state funding than a low-income special education student.
Related: Gov Whitmer: Boost Michigan schools by $507 million, with more for neediest students
That's a funding system used in high-achieving states like Minnesota and fast-improving education states like Florida, and about 20 other states. It's also a system that has been pushed by education advocacy groups and business and education consortiums that have studied ways to improve Michigan schools; with more emphasis on what proponents call equitable funding, rather than equal funding.
Children from disadvantaged backgrounds often need more resources to catch up with their classmates. For example, low-income students often step into kindergarten classrooms already behind. Extra funding for low-income students also can allow schools to lower class sizes and hire more classroom aides and literacy coaches.
The Senate and House versions of the school aid fund don't include Whitmer's weighted formula proposal.
It's in the context of that budget battle that the struggles of the seemingly very different districts of Tahquamenon and Godfrey-Lee offer insights into the peculiarities and shortcomings of Michigan school funding.
'Can't raise enough money' in Godfrey-Lee
Godfrey-Lee is 1.4 square miles of working-class homes and small businesses in Wyoming, adjacent to Grand Rapids. Among the district's 1,800 students, nine of 10 qualify for free lunch, and an additional 5 percent for reduced-price lunch.
Three of four students are Latino, the highest percentage in the state, according to Polston. Another 13 percent are African-American.
Two-thirds of students live in homes where English isn't the first language spoken.
Despite these challenges, Godfrey-Lee is a "minimum" funding district, which means it actually receives less money per student than most Michigan school districts.
Last school year, Godfrey-Lee received $7,871 per enrolled student, compared to $8,409 per student received by the majority of Michigan districts. The difference in funding is an artifact of 1994's Prop A that changed the funding mechanism for Michigan schools from one based on local taxes to state funding. Districts that were funded at a significantly higher level than average were allowed to continue to receive higher funding, and districts with significantly below-average funding prior to Prop A (such as Godfrey-Lee) were stuck with lower-than-average per-pupil funding.
But per-pupil funding is just part of the reason Godfrey-Lee can't give its students services available to kids in other districts. Because it has the second-lowest tax base among Michigan school districts on a per-pupil basis, the district can't raise enough money through voter-approved millages (which Michigan districts typically use for building replacement and renovations) to make improvements, Polston said.
"We passed a 3 mill sinking fund in November which will get us just over $3 million over 10 years," Polston said. "Forest Hills (a wealthy neighboring district) passed a bond the same year and generated $190 million.
"Our community is very gracious with our schools," Polston said. "We haven't had a bond issue turned down in about 100 years. But we can't bond enough."
That leaves Polston educating children with above-average needs with below-average funding, with virtually no ability to replace deteriorating school buildings.
"A new high school would be $30 million," Polston said. "I can't raise enough money to do that."
Godfrey-Lee received $170,000 from state and federal sources last school year for English language learner services. That's $181.62 per student above normal per-pupil funding, enough to help pay for two English language learner specialists in a district with 936 English language learners.
The district received $1.36 million funds for "at-risk," or low-income, student support. That's $795 extra per low-income student.
"Our special populations are vastly underfunded," Polston said. "So a smaller percentage of our general fund is going toward the running of the school district because we have to [supplement funding for the needs of] out special populations first."
'You're really kind of out of luck' in Tahquamenon
Newberry is in Luce County in the Upper Peninsula, a place where snowmobiles outnumber cars in hotel parking lots in the winter. It is one of the poorest counties in the state and has one of the highest teen pregnancy rates.
Tahquamenon Area Schools has a single building for kindergarten through high school; part of the building is 95 years old and in desperate need of a new roof.
There's a bond issue to raise $1 million for the roof on the ballot this fall, said district superintendent Price. Similar bond issues have failed twice already. Even if it passes, it will take years to collect the money to pay for the roof.
"When your tax base is low, you're really kind of out of luck," Price said.
In a district of 1,500 square miles, many of the 590 students ride a bus for an hour or more each morning and afternoon.
As a result, Tahquamenon spends $600,000 on transportation each year, which may sound small but it's 9 percent of the district's total budget.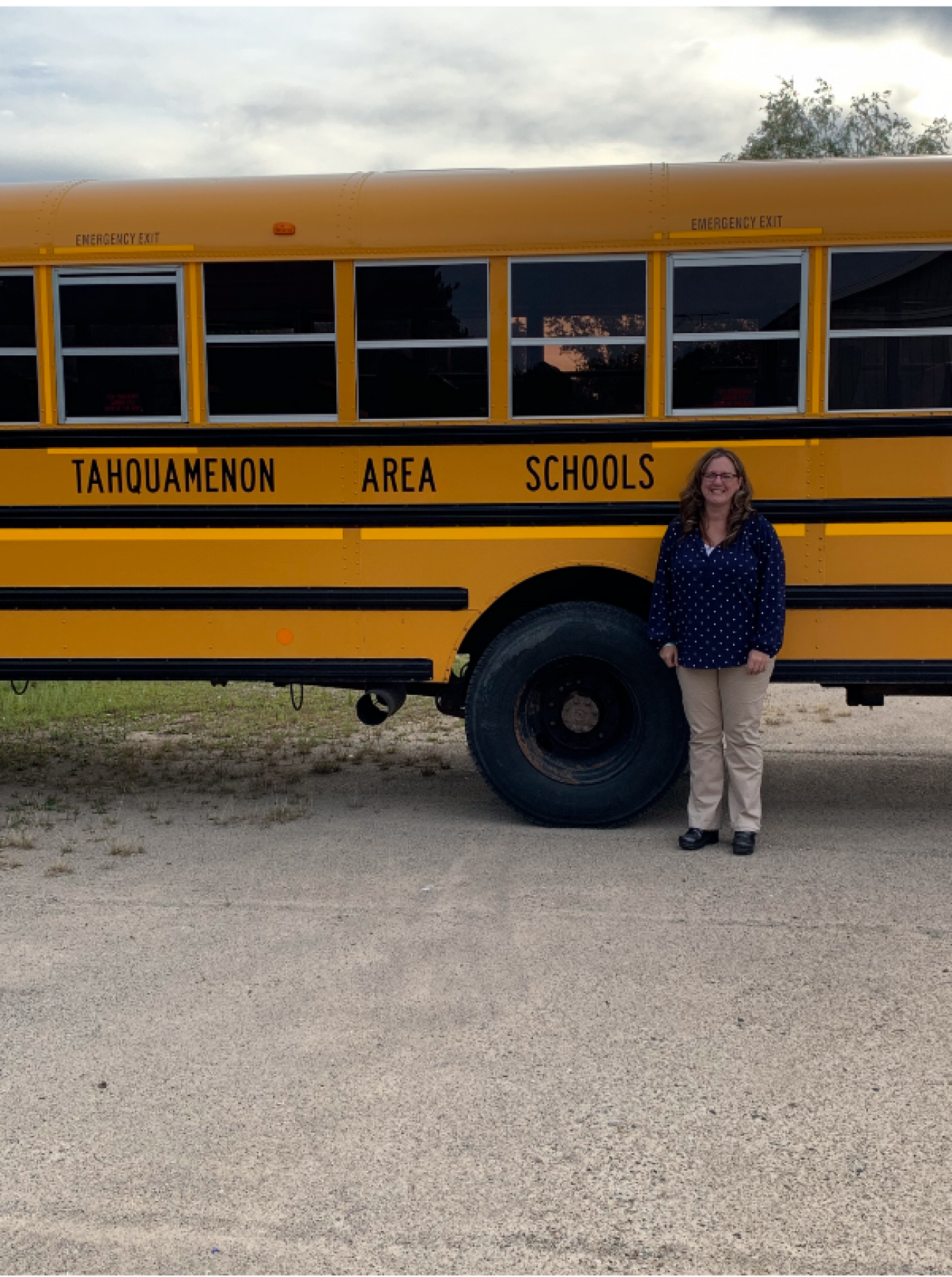 The district spends about $1,000 per student per school year just on gas, bus maintenance and driver salaries. Michigan's current payment to Tahquanemon and other rural districts for transportation costs: $50 per student.
The $550,000 the district must pay for transportation out of its general fund would cover half the cost of a new roof for the district school. It also could pay for additional teachers if the district got more state help for busing. Price would like to have a full-time music and art teacher for elementary students, and wants to add choir and more Advanced Placement courses for high-schoolers. Even money to take field trips would be nice.
"Transportation is a huge component" of the district's financial stress, Price said, "What is more important… is for me to educate. When it comes to a high poverty area, the ruralness here, the low tax base, and when you add all the other factors our kiddos are facing, it's tough."
Broken wings and duct tape
Price and Polston both told Bridge they believe a weighted funding formula that takes into account the extra costs associated with districts like theirs would be a boon to their students.
"Equitable funding to provide programs that every child should have access to would dramatically help education as a whole," said Tahquamenon's Price. "Dollars are not always the answer, but it would sure give a good foundation, especially to rural kids, when access to resources is just not there."
Godfrey-Lee's Polston said more state funding would allow the district to reduce class sizes in early elementary to allow teachers to spend more time with struggling students. Ideally, he'd like to reduce class sizes in kindergarten through second grade from an average of 24 to 18 to allow more personal attention to his district's high level of English-language learners.
"That's six more teachers just through second grade, and that doesn't include paraprofessionals," Polston said. "If we hire a certified professional with 10 years' [experience] and a master's degree, with benefits, retirement, we're over $100,000" for just one teacher.
Finding that kind of money in a district that struggles to keep its buildings safe is impossible without more money from the state – either through a substantial weighted formula or through an overall boost in K-12 spending.
"There are people who say all educators do is ask for money,' Polston said. "But we have a broken wing on our airplane, and we're using duct tape to fix it."
Only donate if we've informed you about important Michigan issues
See what new members are saying about why they donated to Bridge Michigan:
"In order for this information to be accurate and unbiased it must be underwritten by its readers, not by special interests." - Larry S.
"Not many other media sources report on the topics Bridge does." - Susan B.
"Your journalism is outstanding and rare these days." - Mark S.
If you want to ensure the future of nonpartisan, nonprofit Michigan journalism, please become a member today. You, too, will be asked why you donated and maybe we'll feature your quote next time!