Laptops and bathrobes: Michigan State's virtual graduation amid coronavirus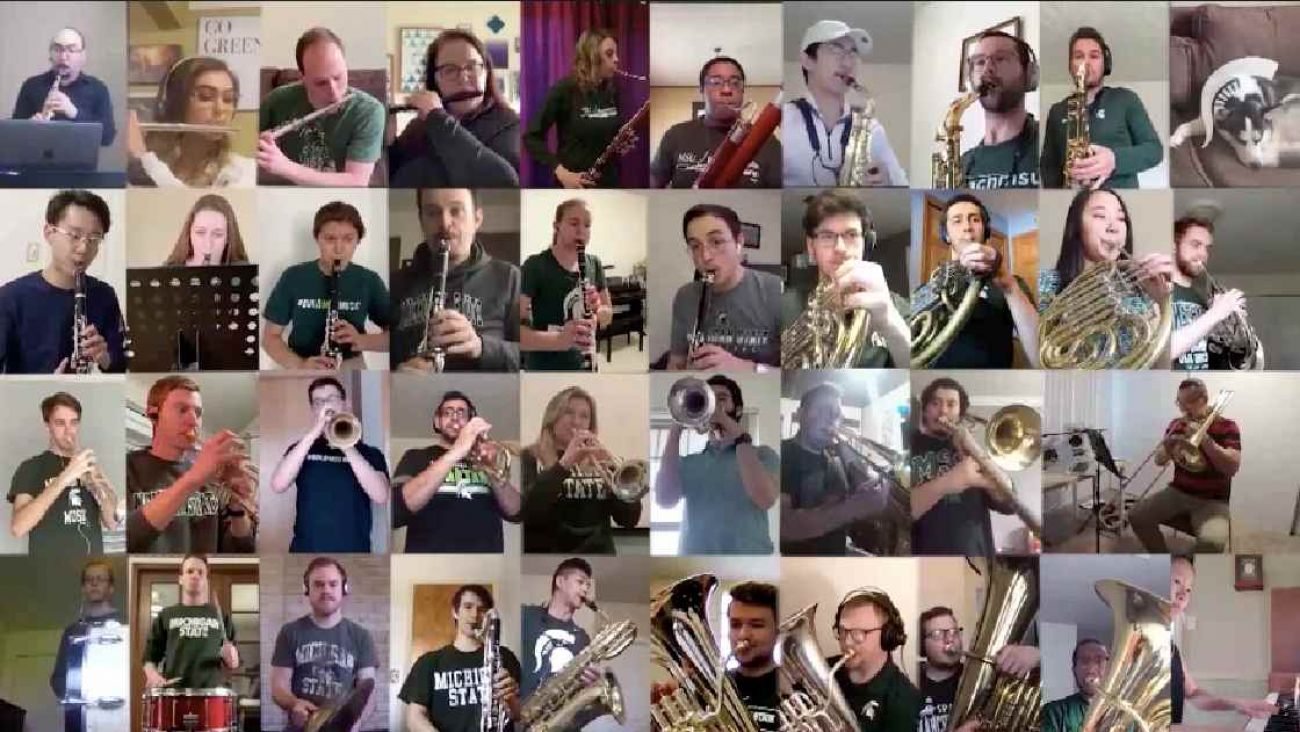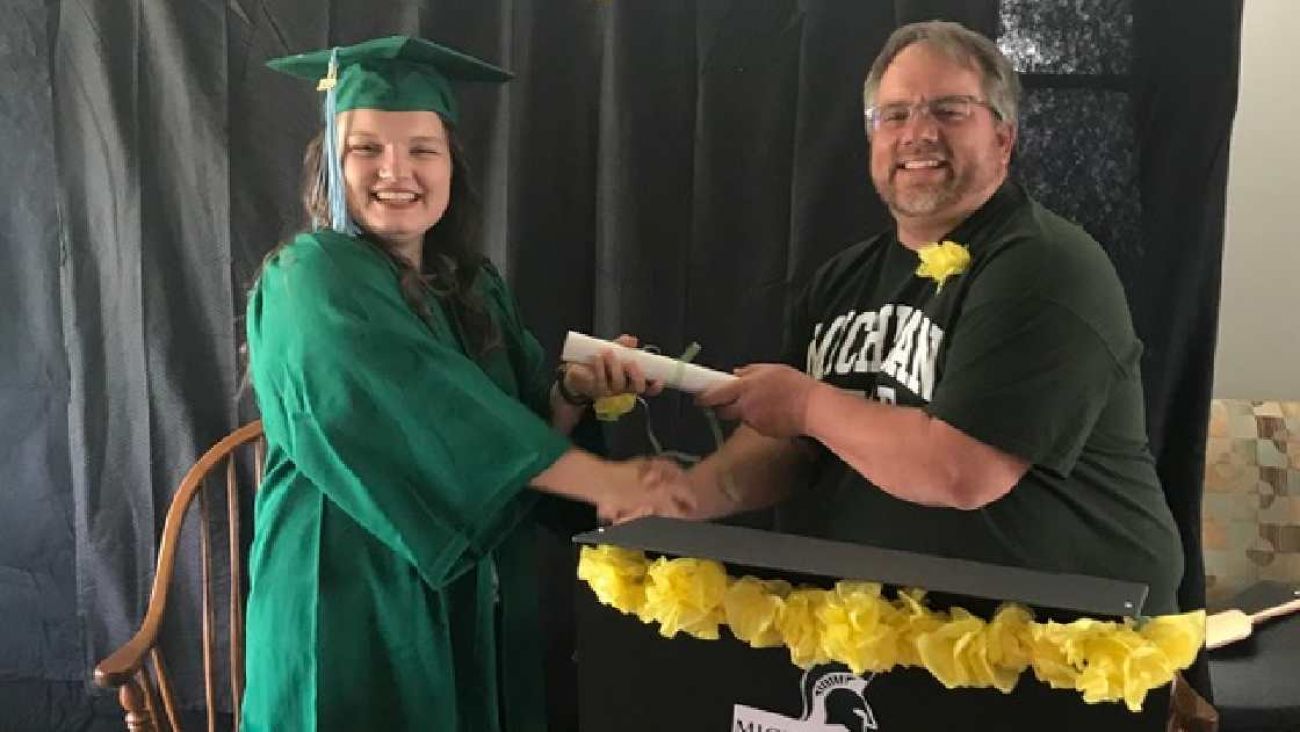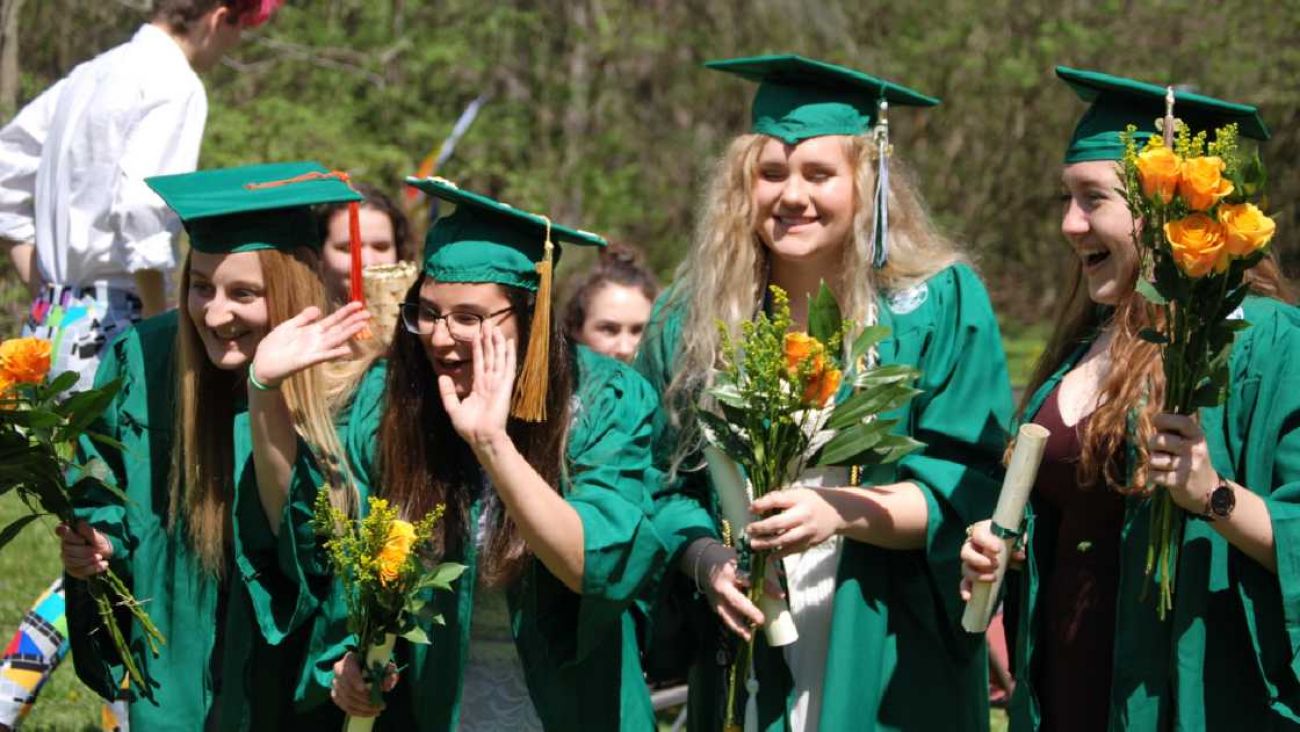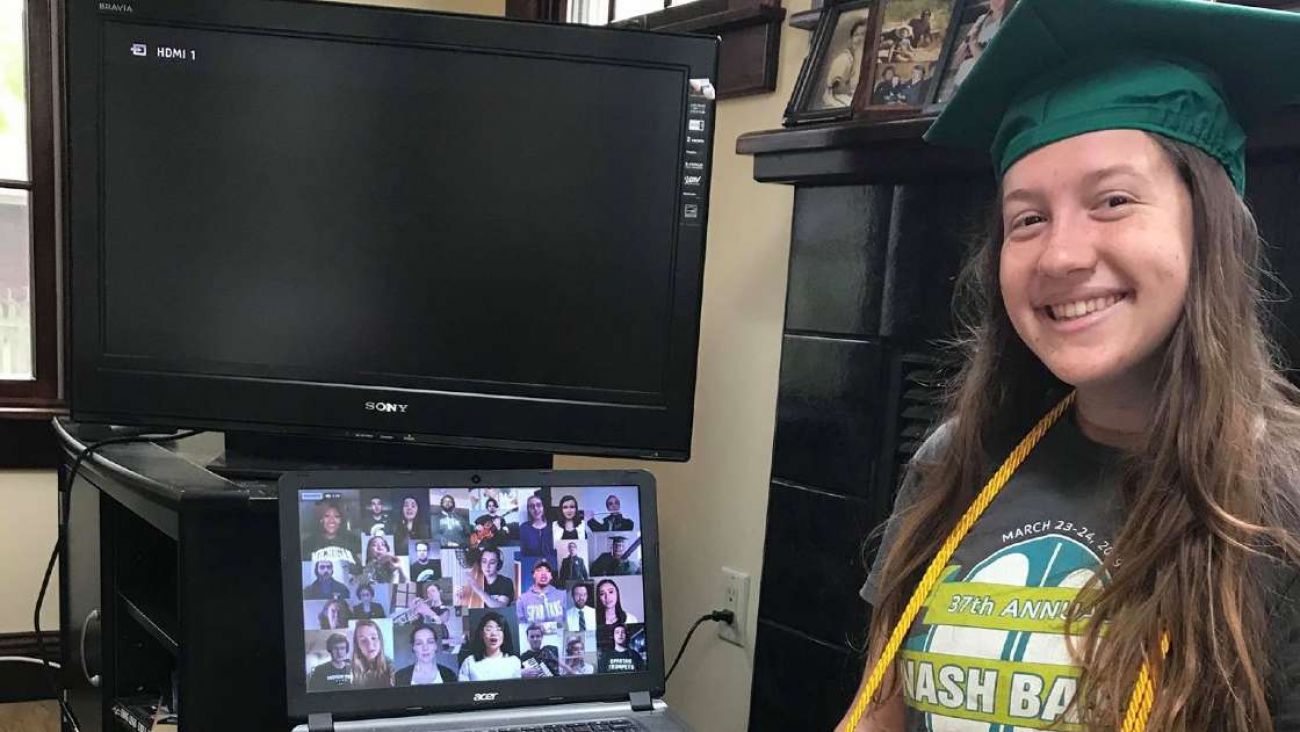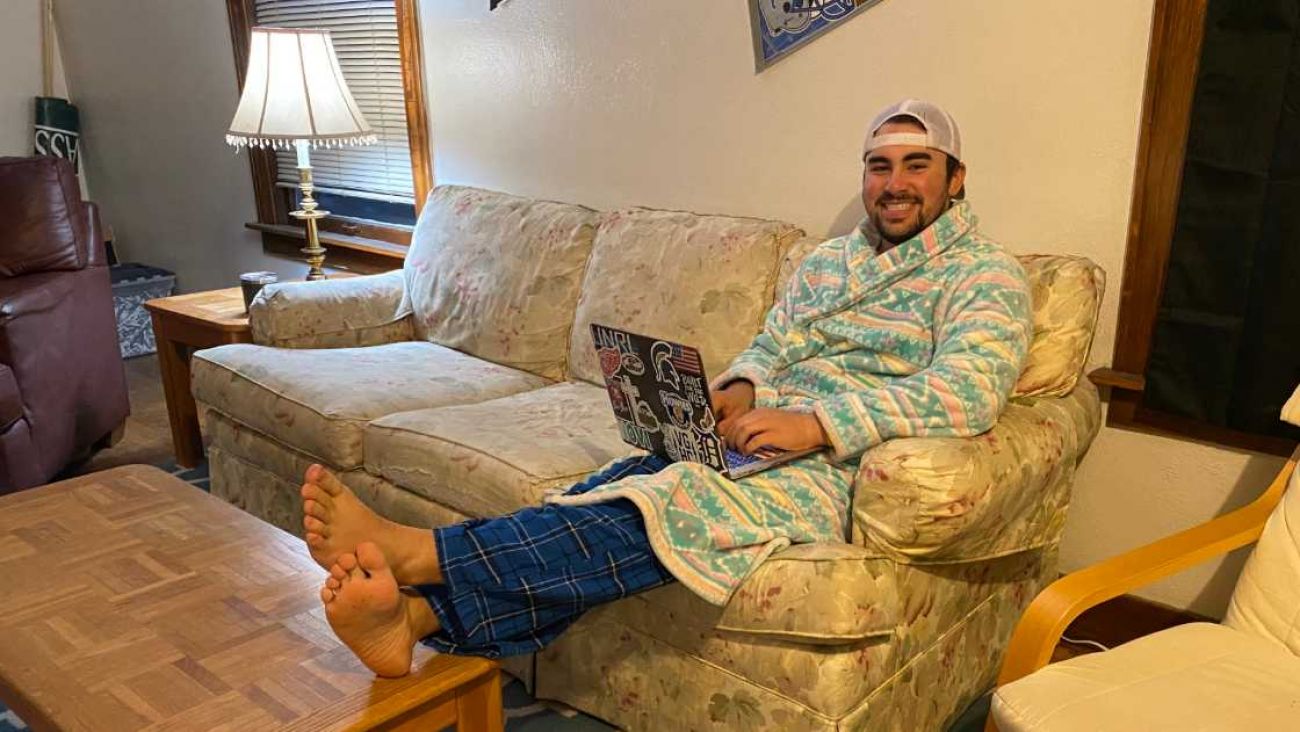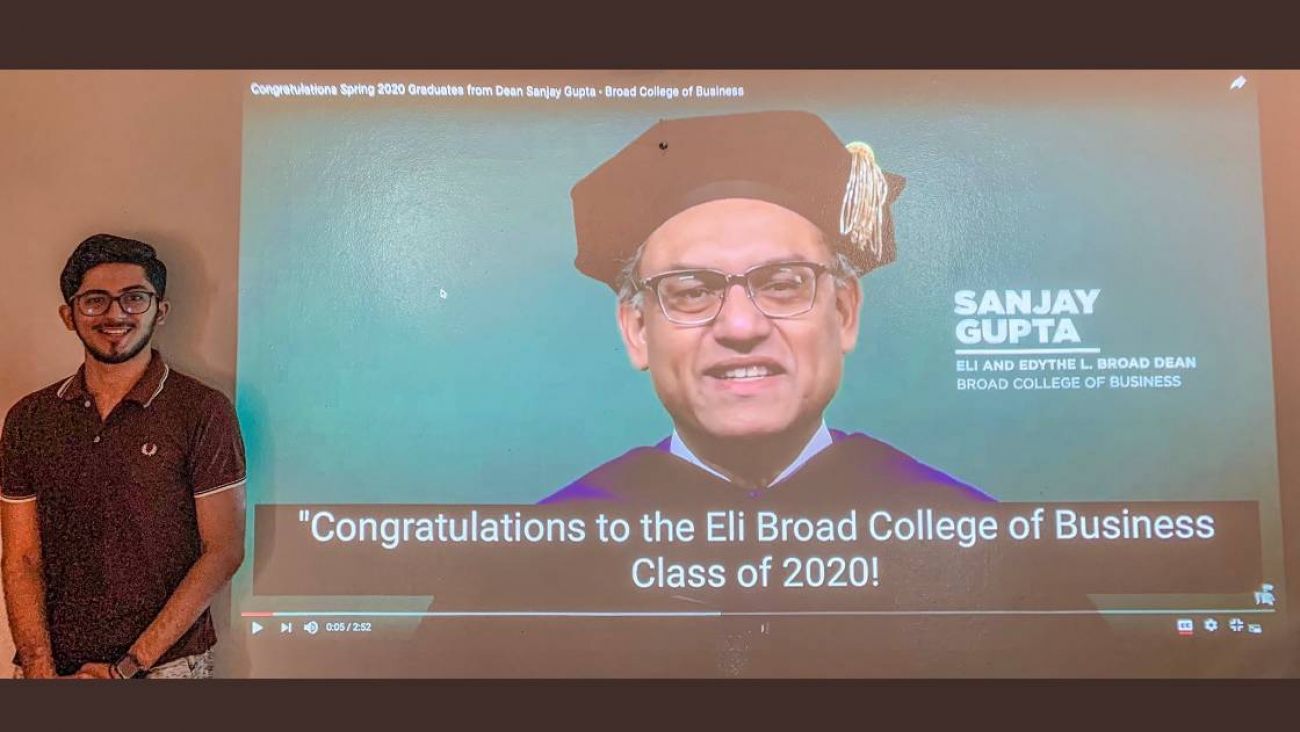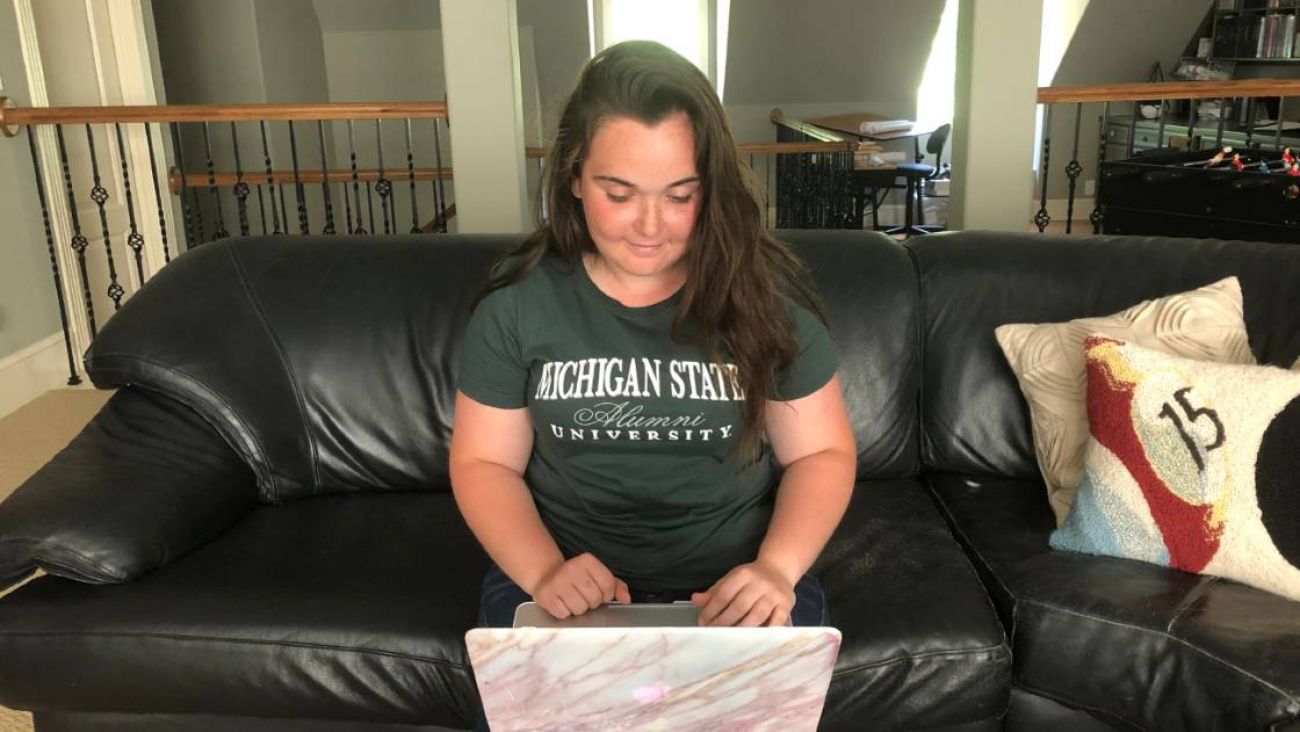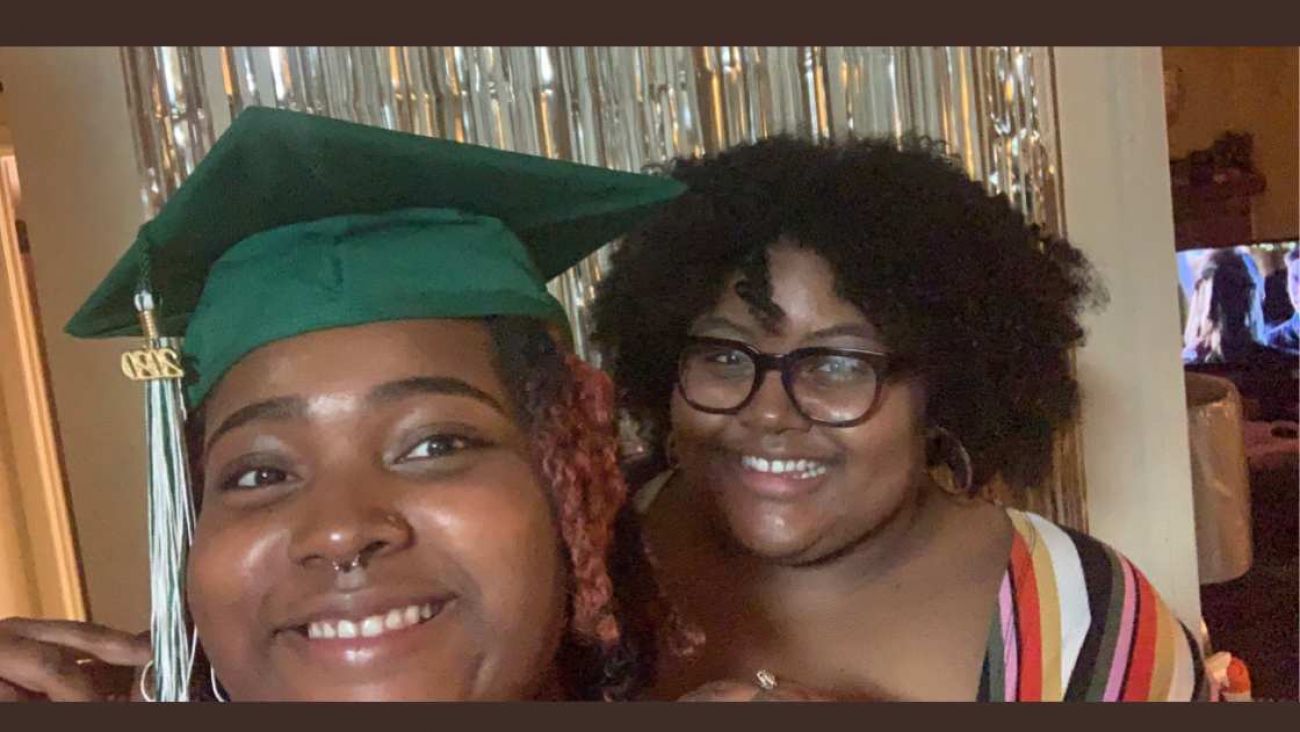 Talent & Education
Laptops and bathrobes: Michigan State's virtual graduation amid coronavirus
This wasn't how Ryan Rabinowitz planned to cap off his college days.
Instead of sitting in the Jack Breslin Student Events Center in a green cap and gown with thousands of other Michigan State University graduates, Rabinowitz was alone in his East Lansing apartment, on a couch in his pajamas and baseball cap.
As a business student and founder of MSU student radio's "Motown Rundown" podcast, his activity-filled college years and bachelor's degree in marketing culminated not in a final massive gathering of classmates, but in a Facebook livestream graduation ceremony.
"When we first received word that our normal commencement was cancelled, it was absolutely devastating," he told Bridge. "Our commencement was supposed to be one of the most memorable days of our lives."
He intends to work for Olympia Entertainment out of Little Caesars Arena in Detroit, but plans are still "up in the air" with the pandemic closing down sporting events.
On his sticker-covered laptop, Rabinowitz watched as the phrase "Go Green. Go White. Go Forth" signaled the end to the virtual commencement. All in all, the entire affair lasted only 22 minutes, less time than a walk to lunch at Case dining hall.
Welcome to graduation during a global pandemic.
For college seniors, graduation is a rite of passage: it represents years of hard work, personal growth, friendships and career development. Graduates often reminisce fondly on the day decades later — sharing Polaroid photos of college friends in graduation regalia smiling at the camera. There are parties, fancy dinners, laughter and time spent with friends and family.
This year's graduates, however, will have a far different experience. Across the country, the coronavirus pandemic has forced colleges and universities to trade in-person commencement ceremonies for pre-recorded virtual celebrations shown over the Internet and social media.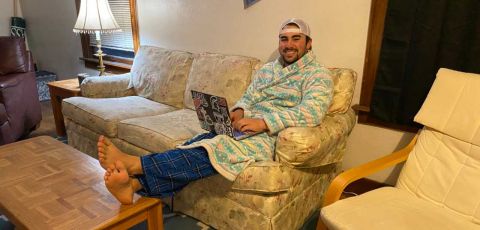 With Gov. Gretchen Whitmer's stay-at-home order extended to May 28th, Michigan State University postponed its May 1st in-person commencement and held a Facebook live event for the class of 2020 on Saturday.
More than 50,000 tuned in to watch the event live. Following a performance of the fight song by MSU's Wind Symphony (with students playing instruments individually in their own homes) and living-room speeches from homebound celebrity alumni and campus administrators, President Samuel Stanley asked graduates to rise as he conferred their degrees.
Don't have a cap and gown? The video suggested a paper hat and bathrobe.
While the university administration has promised an in-person commencement sometime in the future, newly-graduated students must settle for a commencement at home during the pandemic.
Even if that home is 5,800 miles away. Sahil Aswani celebrated his bachelor's degree in accounting from the Eli Broad College of Business with a screen projector in his home in Lagos, Nigeria, calling it "an attempt to recreate an immersive experience similar to one in person."
Aswani listened to Dean Sanjay Gupta's congratulatory speech with a larger-than-life view on the wall of his living room. While relatives from St. Maarten, India, and the United States originally planned to attend his special day, the pandemic has delayed plans of a celebration with his extended family.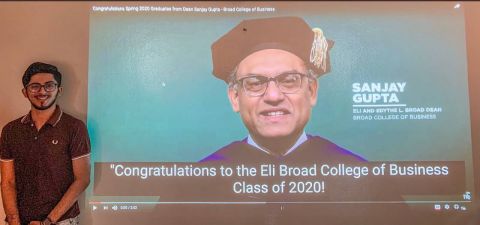 Aswani and other students did face some challenges with the streaming quality, but he emphasized the event's sense of "joy and positivity for our class of 2020."
As her classmates were watching their commencement on laptops, Janet Wetzel was clocking in for the day shift at Biggby Coffee.
Wetzel, who earned a bachelor's degree in human biology, is a first-generation college student from Grass Lake, near Jackson. She said she found the loss of the opportunity to have a traditional graduation felt especially difficult for her and her family.
"Because I am a first-generation college grad, I was very excited to attend the commencement ceremony and my parents were very excited to attend, too," she said. "None of us have ever been to a college graduation before."
While Wetzel's parents live less than an hour away, she stayed in East Lansing to continue her jobs at Biggby and Henry Ford Health to pay off "crushing student loan debt." She had a small ceremony with her housemates on May 2nd, but she did not tune in to watch what was supposed to be a major milestone in her life.
Her parents didn't watch the commencement either — they don't have a computer.
Wetzel's rugby teammate and club captain Sarah Michelson said she had mixed feelings over attending the virtual ceremony.
"It feels pretty anti-climatic after four years of hard work," Michelson, who earned a bachelor's degree in hospitality, told Bridge before May 16. "I appreciate the sentiment, but I think it would reinforce the fact that I can't graduate with my friends in-person and celebrate our accomplishments together.
Despite these concerns, Michelson said she ultimately decided to tune into the graduation from her family's home in Ann Arbor — and she found herself pleasantly surprised.
"MSU had some music majors lead the alma mater at the end and I had actually sang with about four or five of the women in the women's chamber ensemble. It was a lovely bit of closure to sing virtually 'with' them one last time!"
Some families of new graduates found creative ways to mark the milestone. Kinesiology major Maggie Boerst was treated to an "entire virtual graduation" at her home in Ypsilanti organized by her mom, dad, sister, brother and grandma.
Boerst detailed the event for Bridge in an email: "My mom researched what actual Michigan State graduations entail and specifically what happens at a College of Education ceremony. She decorated our living room to look like a stage with a podium and gave each of my family members a role to play: my dad was the dean and main speaker, my sister gave the staff address, my grandma played Pomp and Circumstance on the piano, my brother was the audience, and my mother gave a toast at the end."
The Boerst family virtual graduation was broadcasted over Zoom with extended family and friends.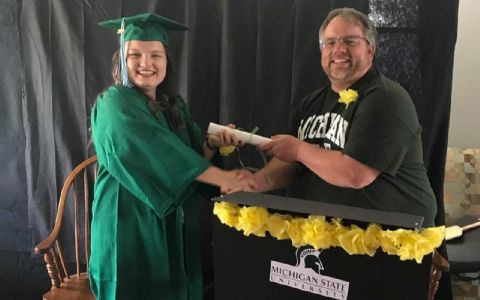 Although it wasn't the graduation that she imagined, Boerst found that there were some positive aspects of a smaller ceremony.
"The perks of not having to wait for my name to be called among the hundreds and to have everyone attend the ceremony, including those who would not have been able to attend a physical one, made this virtual ceremony even better and more memorable," she said.
In Fayetteville, Georgia, Emily Dedoyard's family surprised her on May 3 with a golf outing, cake and presents. She described the decision to postpone an in-person graduation as "bittersweet."
"This is not how I imagined ending my undergraduate career, but I understand why an in-person graduation needs to be postponed," said Dedoyard, who earned a bachelor's degree in human biology.
She is planning to take a gap year to apply to programs to become a physician assistant, but the pandemic has limited her ability to gain more experience with hospital volunteering and shadowing hours.
Dedoyard's mother Alaine Morgan-Dedoyard shared similar feelings about the virtual commencement.
"I'll miss seeing her walk across the stage, mostly because she will not have the special memory to reflect back upon," Morgan-Dedoyard said. The family made sure to make some memories with the surprise party and by organizing a photoshoot of Dedoyard in her cap and gown outside of their house.
A rising senior at Michigan State, Dedoyard's sister Amy watched her sister's graduation plans get canceled. She hopes that her graduation a year from now will be celebrated in person.
"I would understand if I was in the same position as Emily but nothing is the same as walking across that stage," she said.
In Flint, Tiffany Whittington, who graduated with a bachelor's degree in English, said she was "making the best of the situation" by decorating her mom's house with streamers and balloons and having a celebration dinner with her mom.
As a student leader for Curlfriends, a Black women-led organization dedicated to healthy and positive hair care, she reflected on the impact that virtual graduation has on her peers and communities. Though it's "not ideal," Whittington shared what amounted to commencement thoughts for her fellow graduates across the country whose once-in-a-lifetime moment is marred by a once-in-a-lifetime pandemic:
"No ceremony can take away all that you have accomplished," Whittington said. "Make the best out of virtual graduation, spend time with family members, and be proud of what you've done over the last four years.
"With or without a commencement ceremony you've worked hard to get to this point, and that is worth celebrating."
We're not just a news organization, we're also your neighbors
We've been there for you with daily Michigan COVID-19 news; reporting on the emergence of the virus, daily numbers with our tracker and dashboard, exploding unemployment, and we finally were able to report on mass vaccine distribution. We report because the news impacts all of us. Will you please donate and help us reach our goal of 15,000 members in 2021?