MI community colleges ditching remedial courses to keep students enrolled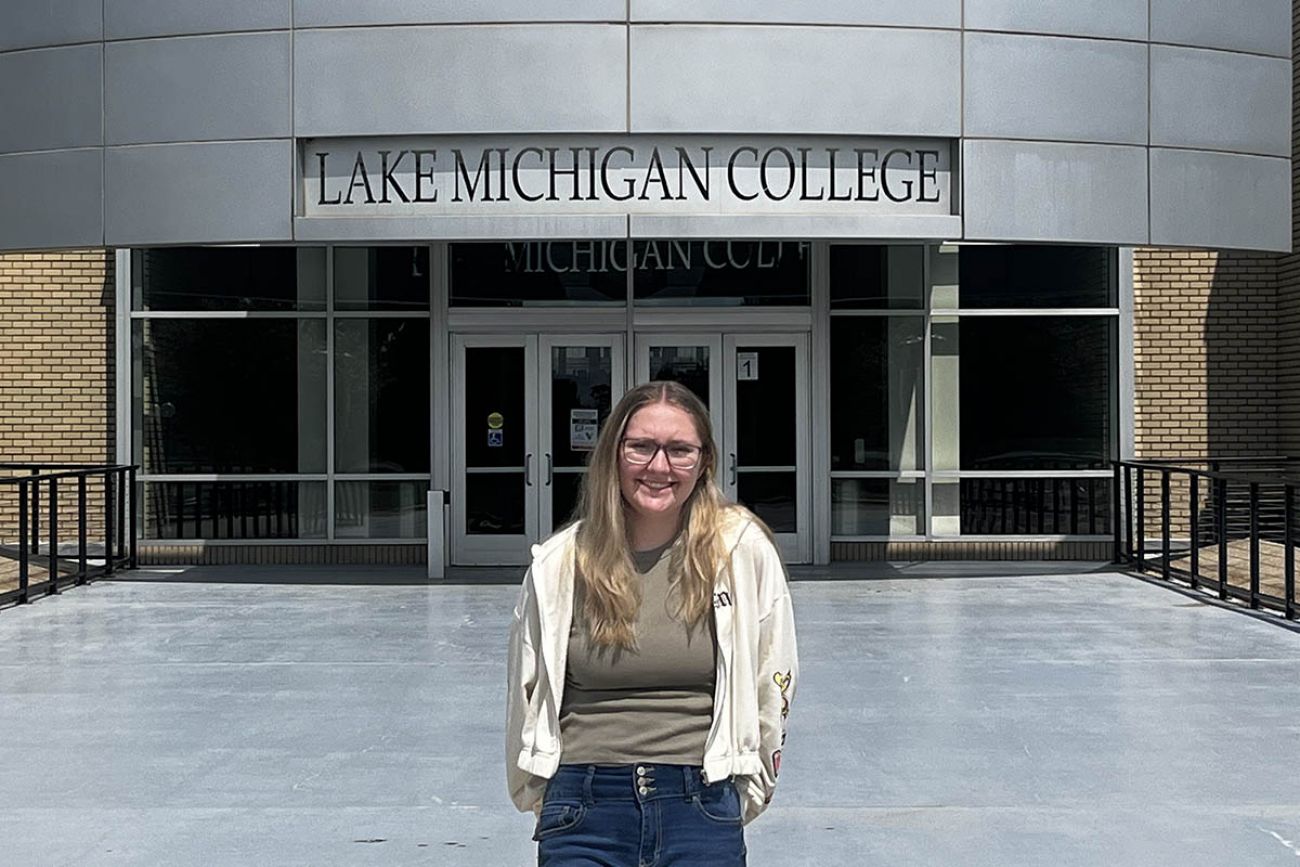 Abby Melson is the sort of student who, in the past, might have struggled to complete college. Officials hope changes in introduction courses will help keep Melson and others on campus. (Bridge courtesy photo)
Less than 10 percent of U.S. community college students placed in remedial courses earn degrees
Many Michigan community colleges are phasing out traditional no-credit remedial courses
Officials hope the change will encourage students to stay in college
---
Abby Melson admits she wasn't the best student in high school. She scraped by with D's in English in an online high school, which she attended from her home in Benton Harbor.
Almost two years after graduating in 2020, Melson worked up the nerve to enroll at Lake Michigan College, a community college in Berrien County. Her goal: to earn an associate's degree in hospitality management and leave her Bigby Coffee shop job behind.
She said she worried, though, if she could cut it in college after a placement test indicated she wasn't ready for college English coursework. Traditionally, students like Melson were required to bump up their academic skills in what are called remedial courses – classes students must pay for and pass, but don't count toward a degree.
Related:
Things were different for Melson. The 20-year-old's voice cracked as she described not only earning an A in her first college English course last spring, but earning her first credits toward a two-year degree.
"I honestly didn't know how that semester would go," said Melson, who dipped her toe in college through the one class. "I accomplished something I didn't think I could accomplish. I didn't know I could survive that well."
Over the years, thousands of Michigan students enrolled in community college but dropped out before their first credit-earning class. Remedial courses, meant as a way to ensure borderline students were ready for college coursework, discouraged some students from continuing.
"I call those classes quicksand," said Ryan Fewins-Bliss, executive director of Michigan College Access Network, an organization that works to increase college enrollment and success, particularly for students from low-income families, first-generation college students and students of color. "Once you step in, you don't get out."
Nationally, fewer than one in 10 students who start their college career in a remedial course ends up with a degree.
That stumbling block is being removed at many Michigan community colleges, partly as the result of an incentive program initiated by the administration of Gov. Gretchen Whitmer.
College access advocates say elimination of remedial courses is a key step in Michigan's efforts to increase the number of adults with college degrees. Michigan is below the national average in its share of adults with a bachelor's degree or higher (31.6 percent in Michigan, 34.5 percent in the U.S.), and in those with a post-secondary credential or higher (49.1 percent to 51.9 percent).
In 2019, shortly after taking office, Whitmer set a goal that 60 percent of adult Michigan residents would receive post-high-school credential or degree by 2030.
Increasing the education level in the state is important for the state's economy and its individual residents. Typically, income increases with post-high school education. For example, in 2021, the median annual earnings of a Michigan high school grad five years after graduation was $19,800; for those with a two-year associate's degree, the median income was $39,600.
Despite the economic benefit of post-secondary education, college enrollment is declining, in Michigan and across the nation. In the Michigan high school class of 2020, about 60 percent enrolled in college within six months of graduation. That's a huge drop from just five years earlier, when 73 percent of the class of 2015 went to college.
To try to boost the college-going rate, Whitmer launched Michigan Reconnect, which makes community college tuition-free for most Michigan residents over the age of 25. Since its launch in February 2021, more than 100,000 residents have applied for the program.
But getting people onto a college campus doesn't help if they don't leave with a degree or certificate, and remedial courses were a bottleneck, said Brandy Johnson, president of the Michigan Community College Association and a member of the Whitmer administration when Reconnect was launched.
"The data does not bear out that (remedial courses are) a successful model," Johnson told Bridge.
Nationally, about two-thirds of community college students take at least one remedial course. Among recent Michigan high school graduates who enroll in community colleges, 30 percent take a remedial course.
Studies show remedial courses, sometimes called developmental courses, hurt the chances of students earning a degree. And those most hurt are the most vulnerable populations — racial minorities and low-income students. An Education Trust-Midwest analysis found that students from low-income public school districts are more than twice as likely to end up in a remedial course than students from wealthier communities.
"Those traditional, non-credit courses are "a dead end for students," Johnson said, "for every demographic, from straight out of high school, to returning adults."
To be fair, students who would traditionally be placed in remedial classes are the least prepared for the academic rigors of college, and thus would have the lowest chances of college success. But some studies have shown that being allowed to build "momentum" by accruing credits through the first year is an indicator of eventual success.
In simplest terms, the argument goes: If students fare as well in introductory, for-credit courses as they do in non-credit remedial classes, let them earn the credits.
A little-publicized provision of the Michigan Reconnect program nudged community colleges to switch from "pre-requisite" remedial courses to "corequisite" courses; meaning, students can earn credits in these courses while still receiving the academic support traditionally given in remedial courses. The nudge? Under the new guidelines, the state stopped funding non-credit developmental courses offered by community colleges this past January.
As of this summer, 24 out of the state's 28 community colleges had dropped non-credit remedial courses in English, and about half had done the same in math, according to data from the Michigan Community College Association.
At least 24 states or community college systems allow or mandate the use of corequisite learning support for students who have been identified as unprepared for college coursework.
And there's reason to believe it will help. A Brookings Institution study in Tennessee found that community college students had higher graduation rates with corequisite courses than with traditional remedial courses.
Lake Michigan College dropped its traditional no-credit remedial course in English in 2014. In its place, students who by their placement tests scores weren't ready for college were enrolled in the school's for-credit English 101 class, and given extra class time and support.
"There was hesitancy at the beginning," said Sean Newmiller, chair of the English department at the community college. "After a few years, we started to see the benefits of it. Students were coming out of those courses ready to go and able to complete faster. And we were seeing equity gains. Prior to implementation, the remedial courses were majority-diverse population."
The pass rate for English 101 at the school has remained steady at just under 75 percent, even though classes now include students who, in the past, would have had to take a remedial course beforehand, Newmiller said. "By the end of the semester, our corequisite students are leapfrogging the other students.
"These are not people with cognitive issues," Newmiller said. "There are things not picked up on standardized tests holding them back, and we have to unpack that."
Newmiller called the move to get students into for-credit classes on day one a "common sense thing."
Fewins-Bliss, of the college access network, agreed. "I've known students who have completed every other class they need for a degree but are still stuck in math 098 (a no-credit remedial course) and can't complete it," he said. "It's a system that needs reform."
As for Lake Michigan student Melson, after her success last spring, she plans to take three courses this fall.
"One in history, my favorite subject, one in professional communication and an introduction to hospitality to start my degree," she said.
"I'm excited to see where it goes."
We're not just a news organization, we're also your neighbors
We've been there for you with daily Michigan COVID-19 news; reporting on the emergence of the virus, daily numbers with our tracker and dashboard, exploding unemployment, and we finally were able to report on mass vaccine distribution. We report because the news impacts all of us. Will you please support our nonprofit newsroom?