Michigan can teach plenty more preschoolers
In his April 2011 special message on education reform, Gov. Rick Snyder extolled early childhood education as an economic engine for the state.
He could have made the same point by just introducing legislators to Lilly Wolf.
Lilly attended the state-funded Great Start Readiness Program last year in Hartford as a 4-year-old. "It was spectacular," said Lilly's mother, Veronica Wolf. "I thought we were doing pretty good as parents, but there was so much I didn't even think about that they needed to know for school (and) that she got filled in so quickly. It just blew my mind."
Almost 30,000 Michigan children never gained that experience last year. About 40 percent of 4-year-olds eligible for the preschool program attended by Lilly weren't in classes, due to inadequate funding, logistical hurdles and inconsistent coordination of services.
Getting those children into classrooms is key to Michigan's future, says Michigan Superintendent of Public Instruction Mike Flanagan.
"We all talk about early childhood, but we do nothing about it," Flanagan said in July at a meeting called by the governor to discuss school finance reform. "(There is an) opportunity here and I don't think it's going to come along again. This involves a system reform."
State has 'lousy' preschool grant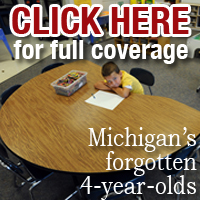 That reform of Michigan's preschool program, argues Flanagan, begins by increasing the "lousy $3,400 per slot" the state provides. State funding per pre-K student has dropped 23 percent since 2000, when inflation is taken into account. Today, most districts lose money with every 4-year-old who walks in the door. The result: Some districts have dropped GSRP, leaving the community's children with no opportunity for state-funded preschool. Schools with programs have little incentive to beat the bushes to find more students.
Tim Bartik, senior economist at the Upjohn Institute in Kalmazoo and author of "Investing in Kids: Early Childhood Programs and Economic Development," estimates the average cost of half-day GSRP is about $4,500.
"At some point, you have to increase the amount they allocate," Bartik said. "The only way schools can run a quality program (today) is to cross-subsidize."
Getting the children into class
Additional money per slot would help schools pay the preschool bills, but doesn't increase the number of children in classrooms. To do that, the state would need to also increase the number of preschool slots or change the funding formula.
GSRP funding is the reverse of K-12. In the state's school aid funding, schools are paid a set amount for every student who enrolls. For GSRP, schools are given a set amount of money and that determines how many 4-year-olds can be enrolled in preschool. The result is many districts have waiting lists of eligible children who could benefit from pre-K.
If districts were allowed to enroll as many eligible 4-year-olds as they could find, the number of children in taxpayer-supported preschool might balloon – if families knew about the program.
Access through information
The Wolf family was turned down by Head Start, the federal preschool program that serves families living under the federal poverty line ($23,050 for a family of four), because they made just over the limit. The family learned of GRSP by accident through a social agency working with a younger daughter.
"We had no idea the program existed," said Victoria Wolf. "If Lilly wouldn't have been in preschool, it would have been devastating. I don't know how she would be without it."
Rachel Phillips-Eaton only heard about the program because she worked as a volunteer at North Penn Elementary in Battle Creek where a GSRP class was based.
"The program is not well-promoted," said Phillips-Eaton. "I feel we are missing opportunities there. If we can catch those children, they'll have a broader base to learn."
The state does a poor job "making parents totally aware of what's out there," said William Mayes, executive director of the Michigan Association of School Administrators. "You've got to know there's help out there before you can take advantage of it."
There's no money baked into the state allotment for marketing to find 4-year-olds. One frustrated GSRP teacher placed an ad in Craigslist. One district uses yard signs advertising "free preschool."
Scott Menzel, superintendent of the Washtenaw Intermediate School District, argues that an allotment of even $20 to $30 per pre-K student would "go a long way" to help inform families.
Transportation is another hurdle
Once families know about GSRP, they need a way to get their 4-year-old to class. Most districts do not provide transportation for GSRP students.
Transportation is a make-or-break issue for many GSRP-eligible families. Some do not have vehicles, others do not have gas money, and many have work constraints inconsistent with the start and end times of the GSRP classroom schedule.
Providing busing for 4-year-olds gets more kids in class. In Algonac, the school district has committed to proving school buses for GSRP 4-year-olds. Preschool enrollment is up 33 percent (from 36 to 48 slots) in one year. "Algonac used local funds to underwrite transportation costs. They've just made it a priority," said St. Clair County RESA Superintendent Dan DeGrow.
Most districts haven't made that choice, with the result being fewer children in GSRP.
"It's a huge problem," said Livingston Educational Service Agency Superintendent Dave Campbell. Even with busing, "we just break even" on preschool. "There simply isn't enough left over to pay for transportation."
According to data from the Citizens Research Council of Michigan, the average statewide cost per K-12 bus rider was $718 in 2010.
Full day pays off
Giving families at least the choice of full-day preschool is another option advocates say would increase enrollment and boost kindergarten readiness of at-risk children.
A recent study in Kent County found that students in full-day GSRP classes achieved significantly higher learning progress by the end of preschool than those in a half-day classes. The achievement gap between half- and full-day students was even wider for children considered most at-risk and for English as a second language learners.
Full-day classes also are popular with working parents, who sometimes can't enroll their children in half-day GSRP because they can't arrange transportation in the middle of the day.
Schools are switching to more full-day classes (about one-third were full-day last year), but with the current funding formula, those full-day students are keeping other 4-year-olds from getting any preschool at all. Districts are creating full-day classes by using two half-day slots for one student. Grand Rapids, for example, has increased the number of full-day GSRP classes, resulting in 25 percent fewer students.
Looking to private providers
If preschool enrollment grows, there will be a need for more classroom space. Some school districts have empty classrooms, some don't. Some advocates suggest an increase in the GSRP classes offered by private providers who meet the same program guidelines as public schools.
Currently, about 8.5 percent of GSRP funding goes to competitive pre-K programs offered outside of traditional K-12 schools or ISDs. These additional GSRP providers include community organizations such as YMCAs, private market preschool providers, community colleges and nonprofit organizations.
It's been done elsewhere. State-funded preschool enrollment in Arkansas ballooned 38 percent in the past decade in its high-quality public preschool program. Yet only 55 percent of those public preschool students are in traditional public school settings – the rest are served through private providers.
Step one: communicate
Better coordination between federally funded Head Start and state-funded Great Start could provide preschool efficiencies, as well as eliminate or limit the waiting lists where hundreds of Michigan's neediest children are stuck.
Today in many communities, Head Start preschoolers are bused to school, but Great Start 4-year-olds are not, even when the programs are housed in the same building. National early childhood policy experts say it's common for state and federal preschool programs to share transportation.
Children on federally mandated wait lists for Head Start programs would be among the first in line for seats in GSRP classes, if there were more coordination between the programs like there is in some other states.
And the price is ...
The price tag? Flanagan recommends more than doubling the state's current $109 million investment, adding another $130 million. Sen. Roger Kahn suggests adding $140 million.
Upjohn's Bartik is a strong believer in preschool as an economic investment. But he knows it's a tough sell. "The problem with additional funding for pre-K is that the return on investment doesn't come for years," Bartik said. "You start getting savings in lower special education costs in elementary and lower retention, (but) up front, it costs you a lot of money, and you don't get major money for at least five years, and not real money for 20-25 years.
"Are we willing to make investment in things that have a long-term payoff?"
Michigan's views on how much education is needed have always changed with the times, said a philosophical Don Wortruba, deputy director of the Michigan Association of School Boards. "At one point, we all thought we needed an eighth grade education and we're good, and only those with money went on to get a high school education," said Wortruba. "Then the world changed and we decided we all needed a high school education and we funded it. Now, a lot of us believe we need education for 4-year-olds, so we may need to fund that."
Senior Writer Ron French joined Bridge in 2011 after having won more than 40 national and state journalism awards since he joined the Detroit News in 1995. French has a long track record of uncovering emerging issues and changing the public policy debate through his work. In 2006, he foretold the coming crisis in the auto industry in a special report detailing how worker health-care costs threatened to bankrupt General Motors.
We're not just a news organization, we're also your neighbors
We've been there for you with daily Michigan COVID-19 news; reporting on the emergence of the virus, daily numbers with our tracker and dashboard, exploding unemployment, and we finally were able to report on mass vaccine distribution. We report because the news impacts all of us. Will you please donate and help us reach our goal of 15,000 members in 2021?