As Michigan schools ban cellphones, reports surface of 'talking,' 'eye contact'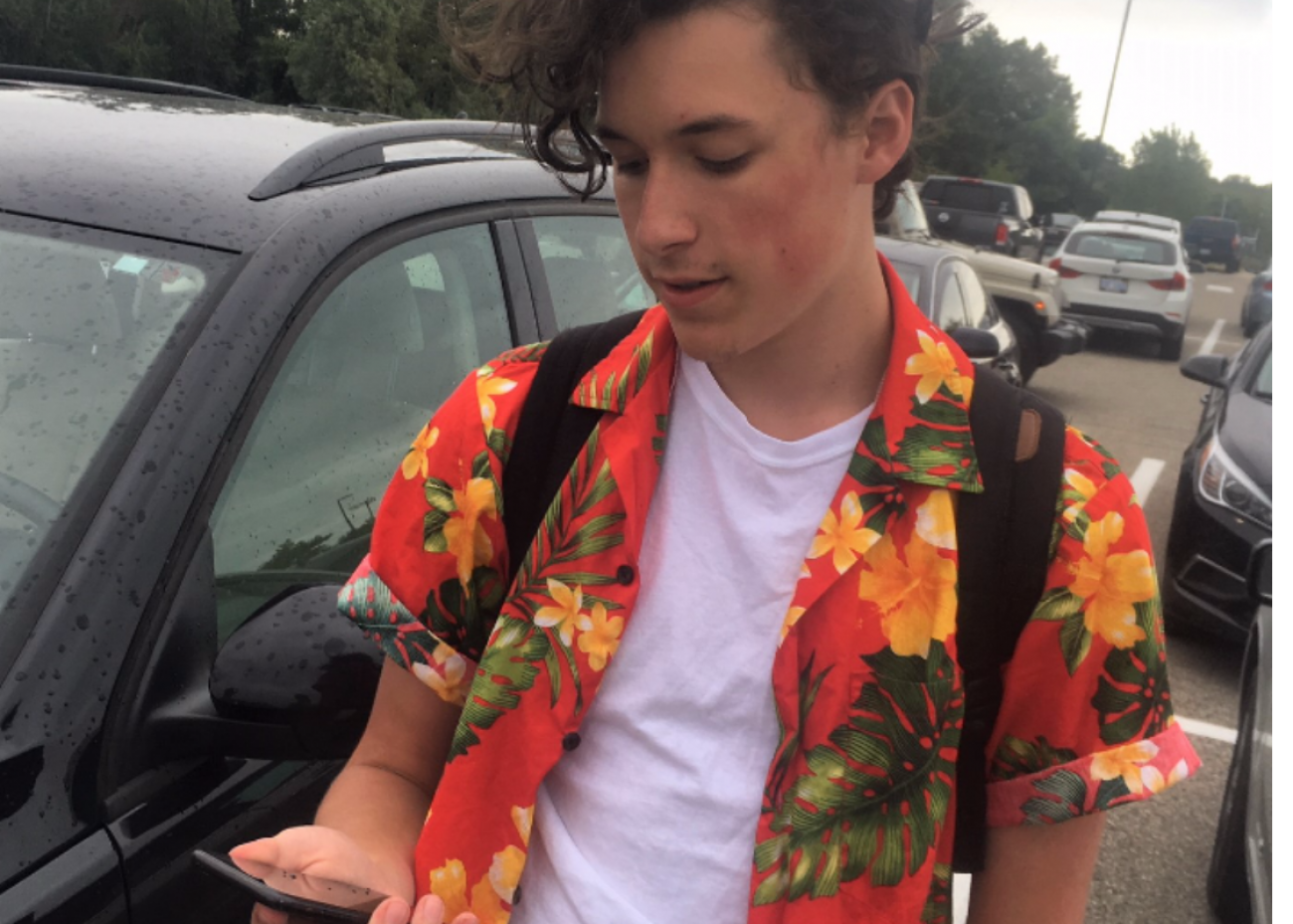 Talent & Education
As Michigan schools ban cellphones, reports surface of 'talking,' 'eye contact'
ADA TOWNSHIP—Standing outside Forest Hills Central High School in late August, senior Jack Walls admitted he has an issue with his phone.
"I'm addicted," he said. "I know it. It's real bad. I have a real bias for texting people."
This was Day 1 of a districtwide ban on student cellphone use at Forest Hills Public Schools, as the suburban Grand Rapids district joined other Michigan school districts with similar new bans.
Walls said he complied with the ban, but that doesn't mean he has to like it.
"I think it's bad. It's probably good for me, but it's not what I feel I need."
Perhaps it is not surprising to find something approaching joy in one parent's reaction to the same ban. As she waited that day in a school parking lot to pick up her son, Amy Sjolin called the policy "a fantastic idea."
"I think the phones are a huge distraction, with the Instagrams, the memes, all the nonsense that goes on. "
So goes this generational debate, as Michigan school officials in several districts across the state impose bans in the name of education while students bridle at the loss of their phones.
Under a policy announced in June, Forest Hills students are barred from carrying or using cellphones throughout the school day. That means everywhere ‒ in class, in hallways, even at lunch.
The policy carries a progressive series of penalties for violators, starting with confiscation of the phone for the day and ending with possible suspension from school for those who fail to follow an imposed phone check-in contract. The contract does permit phones to be available in a school office should students need to contact their parents.
In this district of 18 schools and nearly 10,000 students, officials said the policy grew from a pilot cellphone ban the previous year at a district middle school. The ban was met with skepticism at first -‒ but district officials say it was well received by both teachers and students by the end.
That led to extending the ban districtwide.
Like school officials elsewhere in Michigan, Forest Hills Superintendent Dan Behm argues that research is revealing a downside to undue cellphone use among students.
"The regularity of a cellphone disrupting a student's ability to focus on something is as damaging as having a loud noise, a train engine, randomly disrupting instruction in the classroom," Behm told Bridge Magazine.
"It has become clear that excessive exposure to cellphones has a negative effect on school-aged children."
A 2018 survey by the Pew Research Center, a Washington D.C.-based nonpartisan research center, seems to confirm the stereotype: Teens are hooked on their phones.
Pew found that 95 percent of U.S. teens age 13 to 17 use a smartphone and 45 percent say they are online "almost constantly." More than half said they spend too much time on their phones. Another survey found teens were on their phones nearly nine hours a day.
Almost a fourth in the Pew survey said social media had a "mostly negative effect" on their lives.
A third study, from the University of San Diego, concluded that students frequently on their cellphones were twice as likely to be diagnosed with depression or anxiety as low-level users of cellphones.
Some experts suspect that obsessive cellphone use may in fact be a physiological addiction, as the brain releases the chemical dopamine – part of the brain's pleasure circuitry – with each digital notification.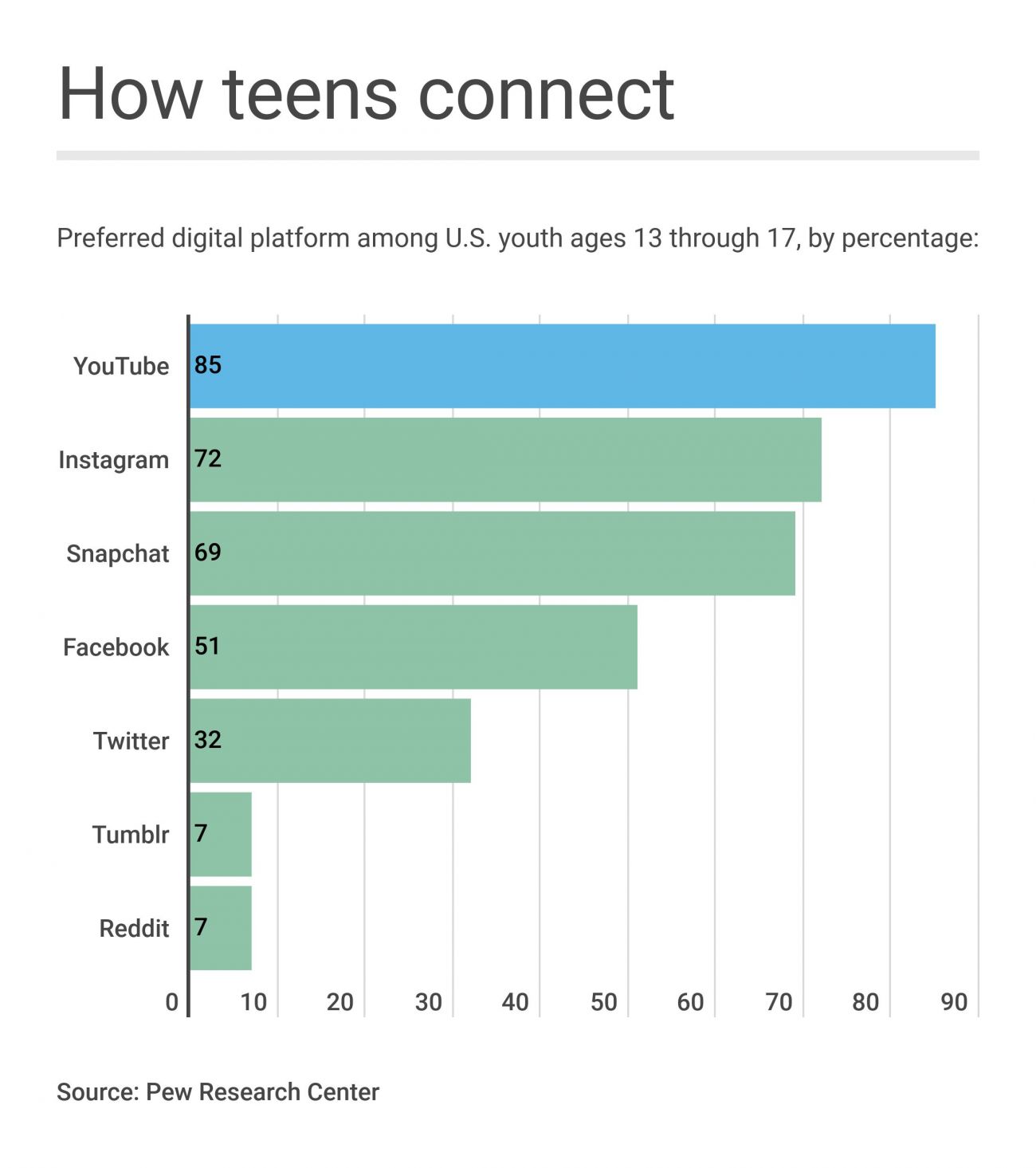 And there's emerging evidence that phones in schools can be a barrier to learning as well.
The London School of Economics looked at test performance of 130,000 students in 91 U.K. schools in 2015 that had banned mobile phones, concluding that scores on a national exam improved 6 percent following the ban. Among underachieving students, scores climbed 14 percent.
Still, one education professor said she is skeptical of policies that summarily take cellphones out of students' hands.
"I'm not a proponent of an all-out ban. They just tend not to work," said Liz Kolb, a clinical associate professor of education technologies at the University of Michigan's School of Education.
Though she added: "I'm not a proponent of a [cellphone] free-for-all, either."
Kolb is author of the 2011 "Cell Phones in the Classroom," which extols cellphones as a powerful educational tool. She teaches education students preparing to be K-12 teachers.
"Bring student cell phones out of pockets and backpacks and into the learning environment," a promotional online page for the book states.
Instead of a ban, Kolb proposed that districts adopt guidelines where phones are integrated into the classroom at the discretion of the teacher.
"They are most effective and successful when teachers are very deliberate about their use and when it's not time to use them," Kolb said.
Kolb said some schools use a stoplight approach, where a red dot outside a classroom means cellphones will not be used, a yellow dot means phones will be put away but could be used and a green dot means students should have the phone out and ready for use.
"Every generation kind of has their thing – rock music, television. Cellphones seem to be kind of a generational tool and conflict as well. But it does come down to giving students an opportunity to explore, giving them room to be teenagers."
But Tamera Laage, a member of the Forest Hills parent group that recommended the district ban, said a phone-free school might mean more than improved learning. Laage said it could encourage students to actually talk to each other face to face.
"When you are texting, you miss the context, you miss the voice inflection, the little things that make conversation meaningful, that human connection. We learn a lot from each other by actually conversing," she said.
Other Michigan districts are moving in a similar direction:
Ionia
East of Grand Rapids, Ionia Public Schools is banning cellphones at its middle school this school year.
"Our responsibility as a school district is to make sure that we are educating our kids both socially and academically," principal Wayne Piercefield III said. "As a staff, we are just realizing that the cellphones are becoming a bigger and bigger barrier to their success."
Grosse Pointe
At three Grosse Pointe Public School System middle schools, cellphones must be "off and out of sight" this school year.
"We're looking to build happier, healthier relationships," Chris Stanley, director of instructional technology, said in a local media report. "This is really an opportunity for us to say, time to put it away, folks."
Plymouth-Canton
Plymouth-Canton Community Schools west of Detroit is enforcing a cellphone ban at its five middle schools, aiming it says to "keep the focus on academics and to reduce unnecessary distractions."
Saginaw
In Saginaw Public Schools, students must keep cellphones in district-supplied magnetic pouches secured by powerful magnets throughout the day.
As the Saginaw district struggles with low test scores, Superintendent Ramont Roberts said the policy is aimed at improving the learning environment.
"We found the phones were a distraction. We are hoping to eliminate the distraction and increase student achievement in our learning environment," Roberts said.
It's unclear what share of Michigan schools now impose cellphone bans. An official with the Michigan Association of School Boards said that organization does not track student cellphone bans among the more than 500 state public school districts – nor was he aware of any organization that does.
While at least several Michigan districts are dialing up new bans this year,a survey by the National Center for Education Statistics found that the percentage of U.S. public schools that banned cellphones actually fell, from 91 percent in 2009-10 to 66 percent in 2015-16. New York Cityreversed its public school cellphone banin 2015, leaving it up to school principals to devise their own policy.
But California is headed the opposite direction, as it takes school cellphone restrictions statewide this year with a law that instructs all charter and public schools to develop policies to limit or prohibit cell phone use.
And in France – where 93 percent of those age 12 through 17 have mobile phones – cellphone use is now banned in primary and middle schools nationwide. Ontario, Canada's most populous province, banned cellphone use in public schools as of this year. The Australian state of Victoria imposed a mobile phone ban this year for primary and secondary schools.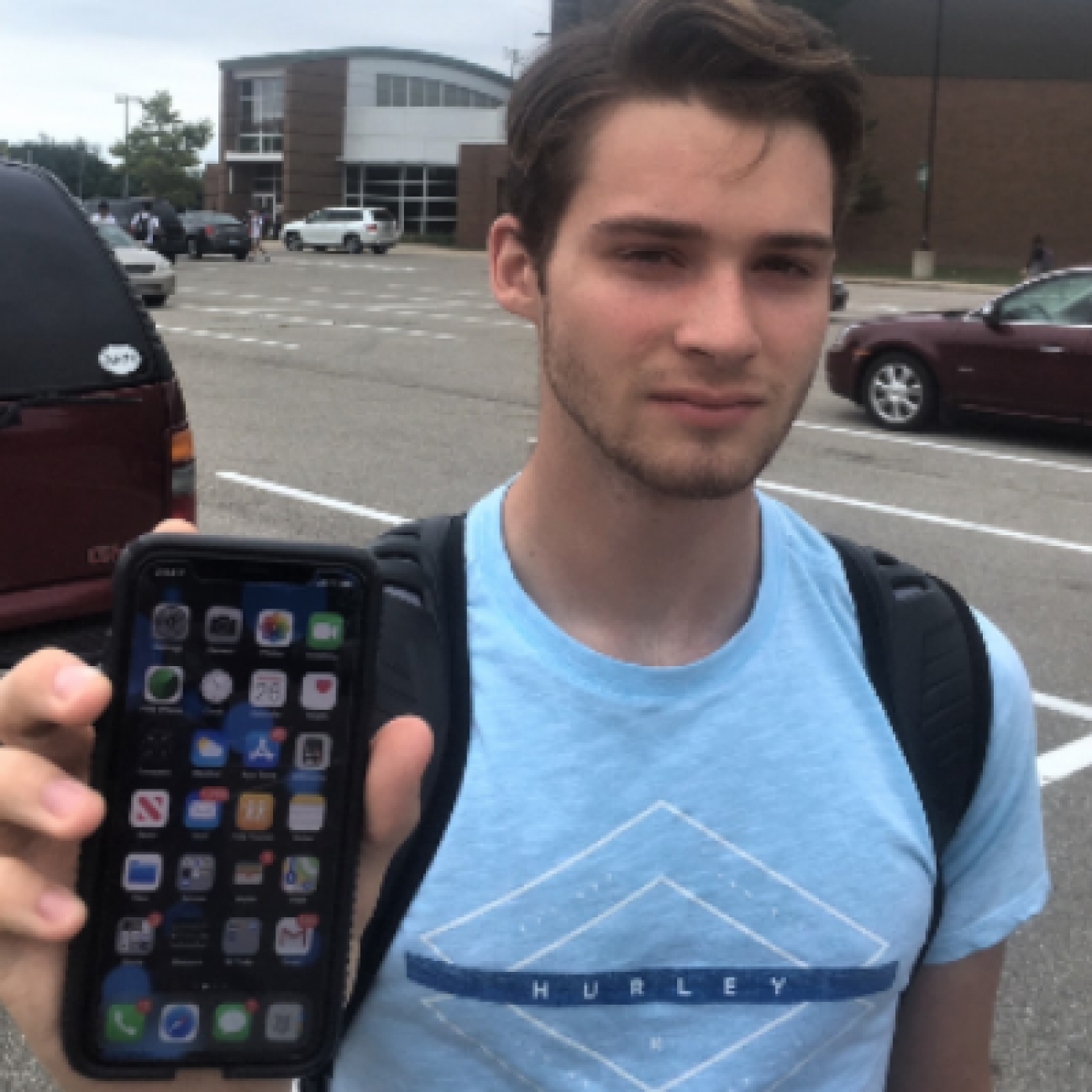 Back at Forest Hills Central, senior Grant Cardin allowed that the policy makes sense – to a point.
"I can see it for the classroom," he said after the first day of the ban. "But I think it's a bit much – we can't even use our phones at lunch."
Cardin, who played on the high school hockey team last season, said he often gave rides to teammates to a nearby ice rink for practice. They would text him during the day to confirm whether or not they needed a ride – messages he would check during the day to plan his schedule.
"Now I won't be able to do that until the end of the day. That complicates things," he said.
Behm, the superintendent, estimates a "couple dozen" students had phones confiscated for the day during the first two weeks of school – step one in the penalty phase. He was unaware of any who reached the second step, where the phone is seized from the student and held by the school until claimed by a parent.
"I have had parents tell me that if it gets to that step, they won't pick it up until June," Behm said.
Behm said early reports are promising.
"I've been hearing that students at lunch are making eye contact and talking face to face. Older adults might not think that is news. But I can tell you from my own experience, it is different."
Revisiting the ban a couple weeks after it went into place, Cardin said it was "well enforced."
Cardin said it had little effect on his lunch group, since he and his friends were more about conversation than cellphones even before the ban.
But he did notice something else: "I can see a few groups that instead of staring down at their phones like they did before, they are kind of doing a lot more talking to each other.
"That's different."
Only donate if we've informed you about important Michigan issues
See what new members are saying about why they donated to Bridge Michigan:
"In order for this information to be accurate and unbiased it must be underwritten by its readers, not by special interests." - Larry S.
"Not many other media sources report on the topics Bridge does." - Susan B.
"Your journalism is outstanding and rare these days." - Mark S.
If you want to ensure the future of nonpartisan, nonprofit Michigan journalism, please become a member today. You, too, will be asked why you donated and maybe we'll feature your quote next time!