Michigan schools race to increase safety through high tech, mental health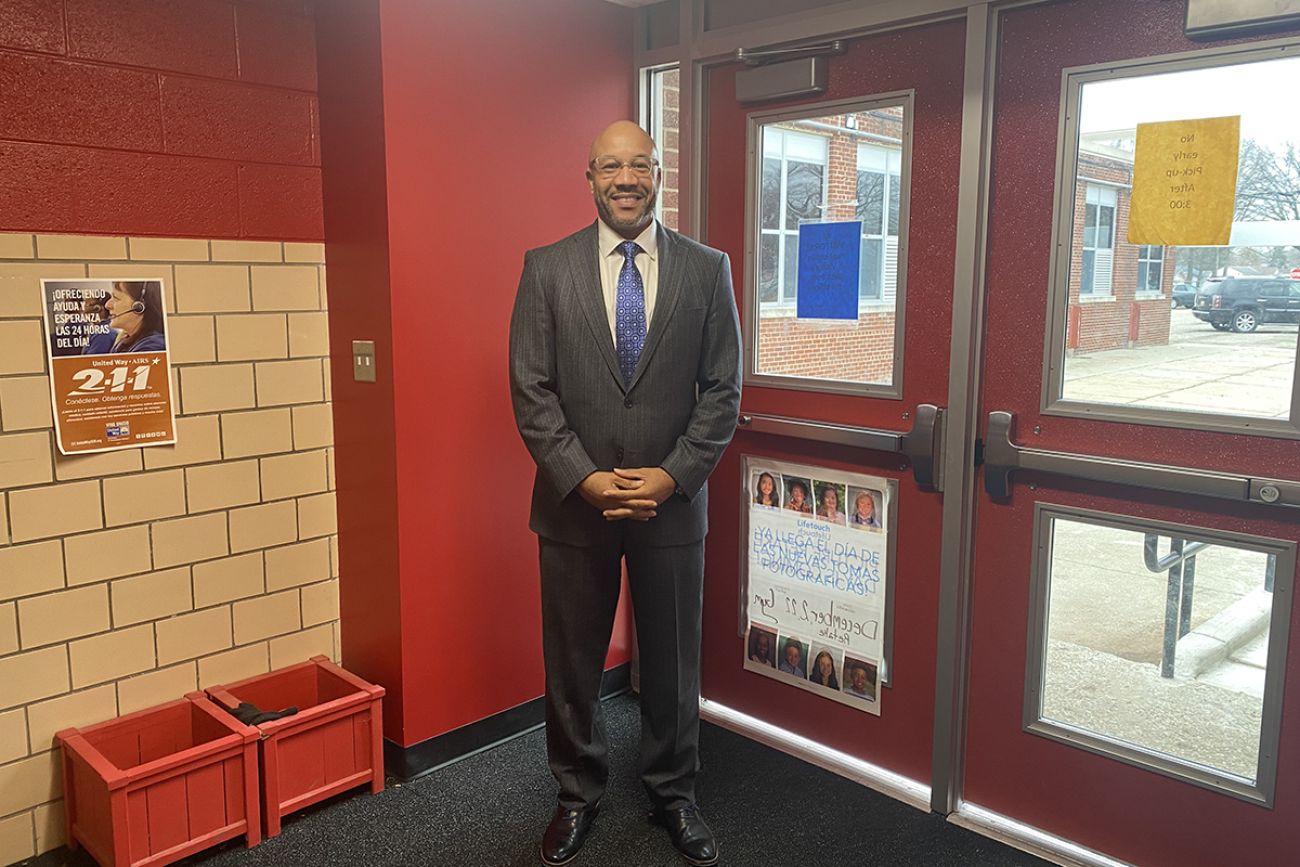 Stiles Simmons is the superintendent at Westwood Community Schools in Dearborn Heights. His district is heavily investing in door barricades, security cameras and additional staff training. (Bridge photo by Isabel Lohman)
Schools are investing in new security technology
Additions range from security cameras, to door barricades to active threat training
Superintendents say they are also focused on student mental health
---
DEARBORN HEIGHTS — Westwood Community School District Superintendent Stiles Simmons need only take a few steps into Thorne Intermediate School before pointing to the new security measures installed since 2021's Oxford High School shooting.
Simmons must be buzzed into the building and, once inside, must go through the office to reach the rest of the school.
The school's administrative assistant uses footage from a security camera before buzzing a guest in. The guest is supposed to go to the main office to check in but even if they didn't, they would be stuck in a vestibule with another set of doors blocking them from the rest of the school.
The 1,400-student district is also spending money on door barricades and technology that connects the barricades to a Bluetooth-network that can communicate information about a school lockdown through hallway lights and staff tablets.
Related:
The door barricade communication technology has a hefty price tag: $440,000. Simmons worked out a payment plan to pay over three years.
"When they say 'the funding levels are historic this year,'" Simmons said, "that's the truth. Do we need more money? Yeah, you could always use more money. Would we like to see the monies (that) had been made available now sustained over (a) longer period of time? Absolutely. And I think there's enough evidence to show that the money's needed."
From Bluetooth door barricades to artificial intelligence gun identification, schools across Michigan have access to millions of dollars to harden their buildings to try to avoid a school shooting.
Already a growing priority in recent years, school safety efforts escalated after the fatal shooting at Oxford High School last November that left four students dead and injured seven.
This summer, state lawmakers approved large investments in school safety and student mental health in the newest School Aid budget.
The state allocated $168 million for districts to use to improve school safety. Districts can use the money for coordination with law enforcement, staff training on threat assessment and training for school resource officers. The money is also allowed to be spent on security infrastructure including cameras, door blocks, hardened vestibules, window screening, buzzer systems and technology to detect guns on security cameras.
Schools are also scheduling safety assessments of their schools thanks to a state program that allows districts to get reimbursed for those costs. There's an acknowledgement that while hardening schools may be necessary, locks and cameras are only part of the solution. School officials and safety experts say improving student mental health and school culture are also vital.
"The reality is security happens in layers and I think the mistake that schools make is they focus solely on the physical security layer, you know and they miss some of the other layers like good behavioral threat assessment processes, good training and good focus on procedures," said Jason Russell, president of Secure Education Consultants.
Russell's company performs security assessments of schools and has worked with over 200 school districts in Michigan since its founding in 2012.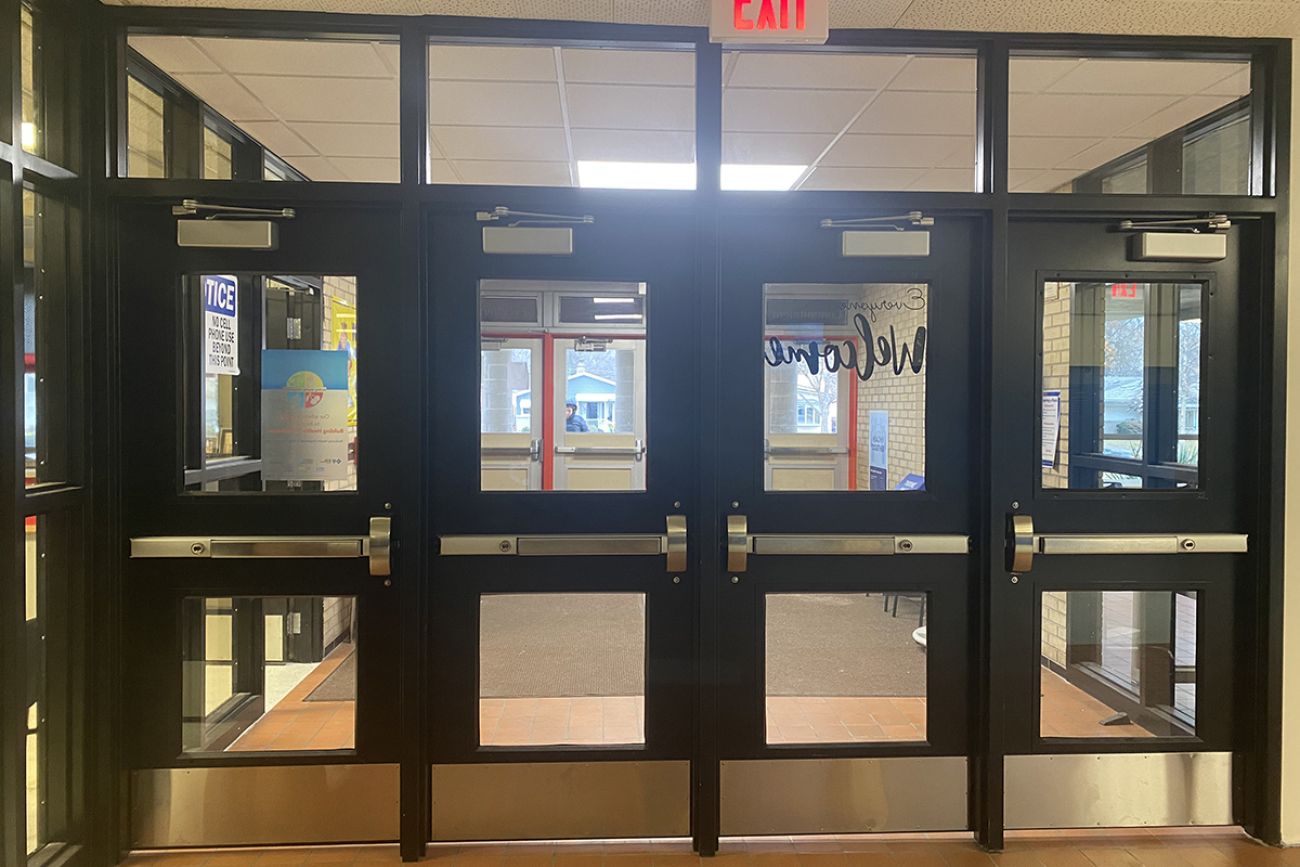 When visitors come to Thorne Intermediate School in Dearborn Heights, they must pass through two sets of doors. The new vestibule is one of many new physical security purchases the district is making. (Bridge photo by Isabel Lohman)
At East Lansing Public Schools, superintendent Dori Leyko is waiting for her security assessments from Russell's company to be completed before deciding how to use an expected $400,000 of flexible school security funding.
"There's quite a continuum of where folks land or really believe money around school safety should be invested," Leyko said.
She said sentiment ranges from wanting investment in door stoppers and bulletproof glass, to prioritizing investment in threat assessment and student mental health.
"I don't think you can have this conversation without talking about guns and safety, but I also don't think you can have it without talking about mental health," Leyko said.
In the last few years, the district built five new elementary schools and renovated another. She said the design phase happened shortly after the 2018 shooting at a high school in Parkland, Fla., that killed 17, and East Lansing community members had a lot of questions about school security.
"Ever since Columbine, I think it's been a more intentional feature in designing new buildings," Leyko said, referencing the 1999 high school school massacre in Colorado. "But I think every time something, a school tragedy occurs, it just becomes more and more important in people's design features."
The schools include secure vestibules similar to the one installed recently in Westwood, emergency panic buttons that trigger door closings and locks, security cameras and administration offices that can see the outside clearly to keep an eye on visitors.
"We may not know if somebody's angry when they get to the office but it gives us an opportunity to have a layer of safety between the office and where our students are."
Security without 'fortresses'
There have been 46 shootings on school property or a school bus that resulted in injuries or death this year alone, according to Education Week's school shooting tracker.
"We don't want to build, you know, like fortresses for school buildings, but we do want to make sure they're secure," Michigan State Police Office of School Safety Manager Kim Root told Bridge.
She said her office tries to guide rather than prescribe solutions for schools to increase safety. The State Police are also reviewing school district grant applications for school resource officers.
Alyse Ley, a psychiatrist and co-director of a program that will work to provide support for students at risk of violence across the state, told Bridge she supports schools using evidence-based ways to mitigate security concerns.
The Adolescent Targeted Violence Prevention Project received $15 million in funding from the state. Ley said the goal is to support young people at-risk of violence with services and ensure that law enforcement, schools and mental health professionals are no longer isolated from each other.
The pilot program builds off research about completed and averted school violence cases. Students who are determined to be high-risk of violence will be partnered with a mentor and a case manager. Those workers will ensure students have services they need whether that's academic or mental support, positive peer interactions or vocational training.
"We can really, really change the trajectory of a young person's life by implementing certain resources, different ways of thinking, positive experiences and relationships, they can all make a huge difference."
Both Ley and Russell of Secure Education Consultants serve on the new state School Safety and Mental Health Commission. Russell said the group has met twice so far. A different state group in 2018 came up with a set of 29 recommendations for school safety.
There are tradeoffs to increased safety technologies. The Cybersecurity and Infrastructure Security Agency's K-12 Security Guide acknowledges that installing security cameras can help identify threats but also lead to "infringement on civil rights and liberties" if schools do not follow local, state and federal laws.
For example, the agency explains that instead of placing several cameras across the school, schools could require staff to stand in hallways during passing periods to monitor student behavior and surveille who is in the school. That creates its own problems, by reducing students' abilities to ask teachers questions after class and requiring staff to be trained on what to do if they see a threat.
The Michigan Department of Education has received funding requests from 937 applicants for the new school safety funding, department communications director Marty Ackley told Bridge in an email. MDE hopes to have the funds distributed around the start of January.
There have been 880 applicants for safety assessment funding.
Matt Schueller, director of government relations for the Michigan Association of Superintendents and Administrators, said this year's funding structure is important because it allows districts to figure out what technology or training works best for them rather than making them apply for a grant for a specific safety feature.
He said he isn't sure if new lawmakers will want to continue this type of funding for the next budget but "we're going to do our best to tell them why this is a really good use of taxpayer dollars."
Westwood's Simmons said if he knew the money would be guaranteed for several years, he would go ahead and purchase additional security measures like artificial intelligence technology that detects a gun on security footage.
Expanding use of technology, culture training
That technology is available to Michigan schools through ZeroEyes, a company that uses artificial intelligence and security camera footage to identify if a gun is present. The company then uses trained weapons experts to verify the threat and then contact law enforcement or other security personnel.
There are about 10 K-12 public or private school groups in Michigan that currently work with ZeroEyes, chief strategy officer Kieran Carroll told Bridge. Oxford High School began piloting the technology in April.
"One of the things that we've realized as a small company is that districts have a really hard time sustaining security," Carroll said. "And it's not necessarily their fault, they don't have the expertise."
He said 10 years ago, the superintendent's job was to ensure students were educated and resilient while faculty was engaged.
"Now, their number one job is, 'How do I make sure every kid is alive at the end of the day?' So this has added a ton of outside pressure onto districts, onto school boards. And what we're trying to at least advocate for on their behalf is sustained resource funding for all aspects of school security."
Westwood is spending $15,000 for 19 people to become certified ALICE trainers. These people learn the system of alert, lockdown, inform, counteract and evacuate. Simmons said it is going to take three years to fully implement the program.
For example, if there is a threat in a school and a staff member is practicing the "inform" component of ALICE, that staff member has to have access to information that would help identify the threat, perhaps found in security cameras. Or for the "counteract" component, it takes time to train students on how to counter a threat. (The district teaches the counter strategy to middle and high school students.)
"You're shaped by your environment," Westwood's Simmons said.
Simmons says he remembers that his freshman year of high school in Detroit included students having to go through metal detectors and there being regular fights in the school. He grew up learning to "have your head on the swivel."
He said not everyone has that same experience, so additional training and drills will help staff learn what to do and not to do during security threats.
"Anyone who's in this position just has a duty no matter, you know 20 years ago, 20 years from now, we'll have a responsibility for keeping kids and staff safe."
Only donate if we've informed you about important Michigan issues
See what new members are saying about why they donated to Bridge Michigan:
"In order for this information to be accurate and unbiased it must be underwritten by its readers, not by special interests." - Larry S.
"Not many other media sources report on the topics Bridge does." - Susan B.
"Your journalism is outstanding and rare these days." - Mark S.
If you want to ensure the future of nonpartisan, nonprofit Michigan journalism, please become a member today. You, too, will be asked why you donated and maybe we'll feature your quote next time!