Michigan State professor details terror of mass shooting in Room 114
Michigan State University Assistant Professor Marco Díaz-Muñoz was teaching an arts & humanities class on the Cuban cultural identity when a masked gunman opened fire, killing two students and injuring several others. (Bridge photo by Kelly House)
Marco Díaz-Muñoz, an assistant professor at MSU, watched a gunman open fire inside his classroom Monday night

He is haunted by the deaths of two students, Arielle Diamond Anderson and Alexandria Verner

Díaz-Muñoz said he is speaking out in hopes of inspiring action by lawmakers and voters
---
Feb. 20: MSU returns to class with unease, determination and more empty seats
[Editor's warning: This account contains disturbing and graphic accounts of a shooting inside an MSU classroom on Feb. 13 that will likely be upsetting to many readers]
Marco Díaz-Muñoz, an assistant professor at Michigan State University, was wrapping up a two-hour arts and humanities class on Cuban cultural identity when he heard two or three loud explosions outside the room.
It was just after 8 p.m. on Monday in Room 114 of Berkey Hall.
It didn't sound like the gunfire in the movies. Too loud. Maybe it's an exploding transformer or generator, he thought, or fireworks.
Seconds later, from his position lecturing at the front of the classroom, at the far end of a hallway leading from the building's entrance onto Grand River Avenue, Díaz-Muñoz saw a figure appear in the doorway at the rear of the room.
The intruder's appearance seemed surreal, he remembers thinking. Wearing a mask and head-to-toe clothing, the man appeared robotic as he peered into the room. He didn't speak.
Related stories:
"All I could see was something shiny in his hands," Díaz-Muñoz said. "And then he stepped in."
Within moments, two students — Alexandria Verner and Arielle Diamond Anderson — would lay fatally wounded by gunfire. Díaz-Muñoz recalled five or six other students being injured before the masked figure, who police later identified as 43-year-old Anthony McRae, wordlessly stepped from the room.
It's not entirely clear what other damage the shooter unleashed in Berkey. Dispatch audio obtained by Bridge indicates another injury in Room 135, though police have not yet confirmed that account or the sequence of shootings.
McRae then left the building, heading toward the student union.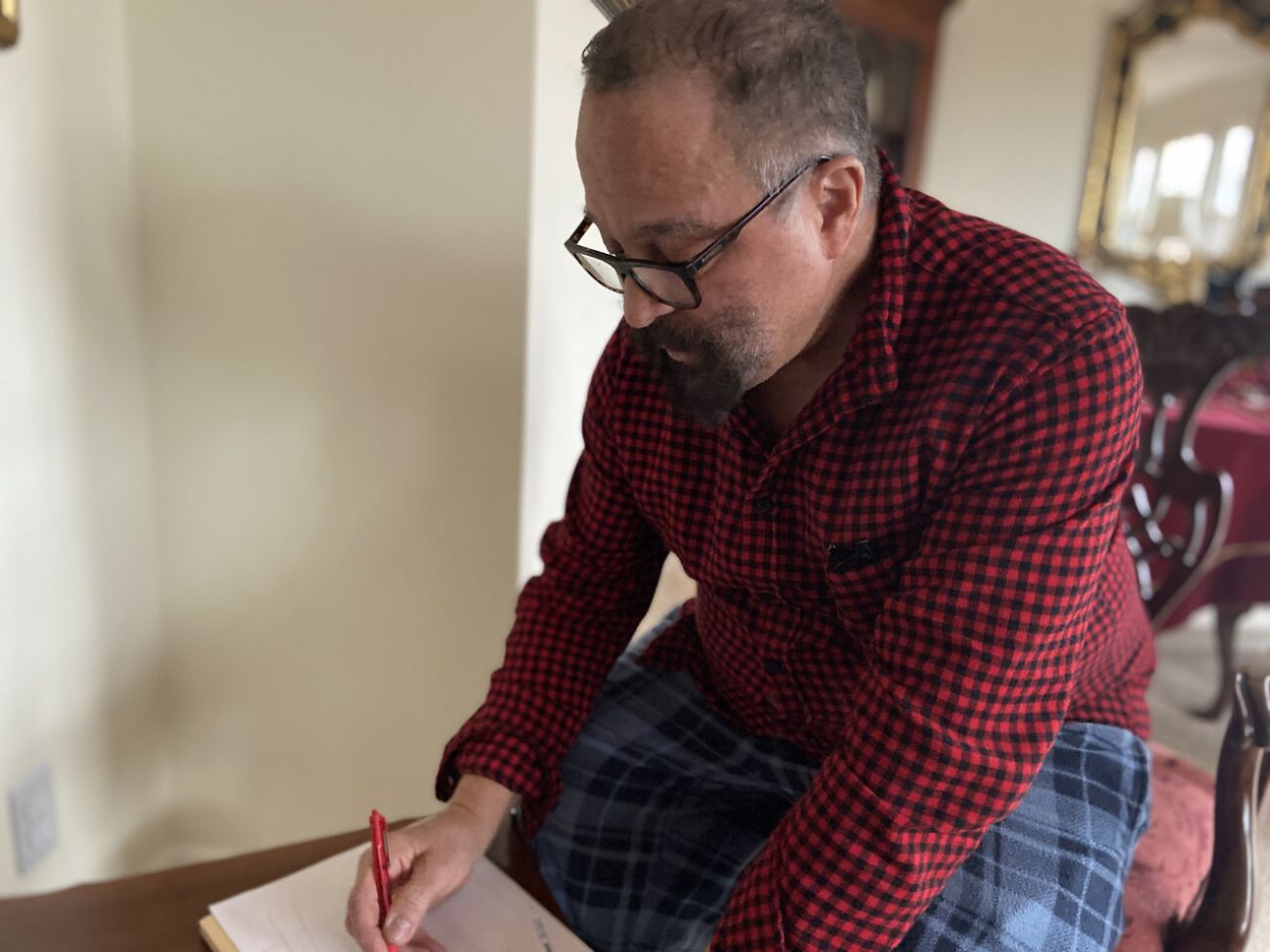 Marco Díaz-Muñoz draws a map of Berkey Hall, where a gunman opened fire while the professor was teaching an arts and humanities class. Two students died and several others were wounded. (Bridge photo by Kelly House)
Late Wednesday afternoon, Díaz-Muñoz shared his account of the terrifying moments that played out in Berkey Hall in an interview with Bridge Michigan from his Lansing area home. He sat in a corner chair in his living room, overlooking a wooded backyard in a quiet neighborhood near the Grand River.
His words steady, he said he remains traumatized and in shock, and spends most of his time wishing he could forget Monday. "There's a side of me that just wants to go under the covers, and remove from the world, and not answer to anyone," he said.
But he said he has chosen to share his story — the first public account from inside the classroom where most of the campus massacre took place — in hopes of impressing upon voters and politicians the heavy toll of America's school shooting epidemic.
"If they saw what I saw," Díaz-Muñoz said of the MSU shooting, which killed three students and left five others critically injured, "these senators, they would be so sick, they would be shamed into changing laws."
A favorite class
The students that evening were in an Integrative Arts and Humanities course called Cuba: The Forging of a Unique Cultural Identity. Díaz-Muñoz, 64, a professor of language and humanities, called it a favorite, with engaged students and a curriculum he relishes.
When the shooting began, the first-floor classrooms weren't the only ones in danger. In the hallway, the professor's wife was sitting on a bench reading while waiting for her husband to finish class. She had accompanied him that evening because one of the couple's cars was not working.
When she heard gunshots down the hall, she slid under the bench and called 9-1-1, then followed the dispatcher's instructions to flee the building.
Stepping inside Room 114, McRae took one step forward and began firing a silvery gun that the professor guessed was maybe a foot or so in length. The shots came in quick succession, maybe 15 in total. The gunman seemed to fire indiscriminately.
"It was just boom, boom, boom, boom, boom," Díaz-Muñoz said.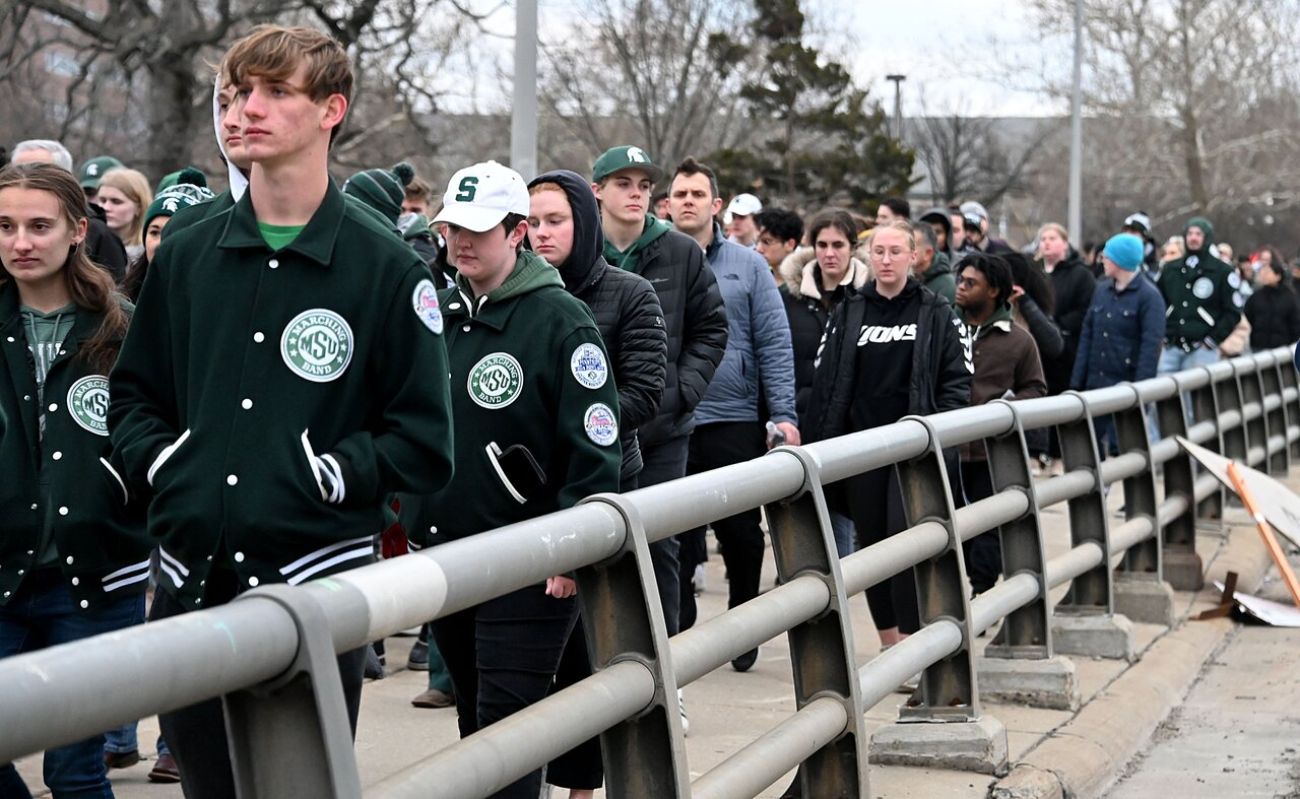 Monday's shooting prompted thousands to gather at Michigan State University on Wednesday to honor the three students who died. (Bridge photo by Dale Young)
Some students dove under their chairs. Others threw themselves on the floor, or started running to the front of the room, closer to their professor and further from the gunman. Some stood frozen. Díaz-Muñoz, too, was frozen at the front of the room.
Within a minute, the gunman turned and left. Díaz-Muñoz lunged at the classroom's front door, believing the gunman may continue his path down the hall and barge through it.
He saw no way to lock the door from the inside. So instead, he said he crouched there, tugging at the door handle with the full force of his body, in fear the gunman would pry it open. He yelled to his students:
"Break the windows, get out through the windows!"
Another obstacle: The lowest windows wouldn't open wide enough for an adult person to fit through. Eight to ten students climbed up to a higher bay of windows and jumped from them.
Others stayed behind, some applying pressure to their classmates' wounds to keep them from bleeding out. All around him, Díaz-Muñoz recalled, students were crying out for help, yelling that they didn't want to die. One said he couldn't breathe.
Finally, Díaz-Muñoz estimates about 10 to 15 minutes after the massacre began, police officers in uniform appeared in the doorway.
"That's when I finally let go of the door," he said, and directed his attention to his injured students while waiting for paramedics who arrived moments later.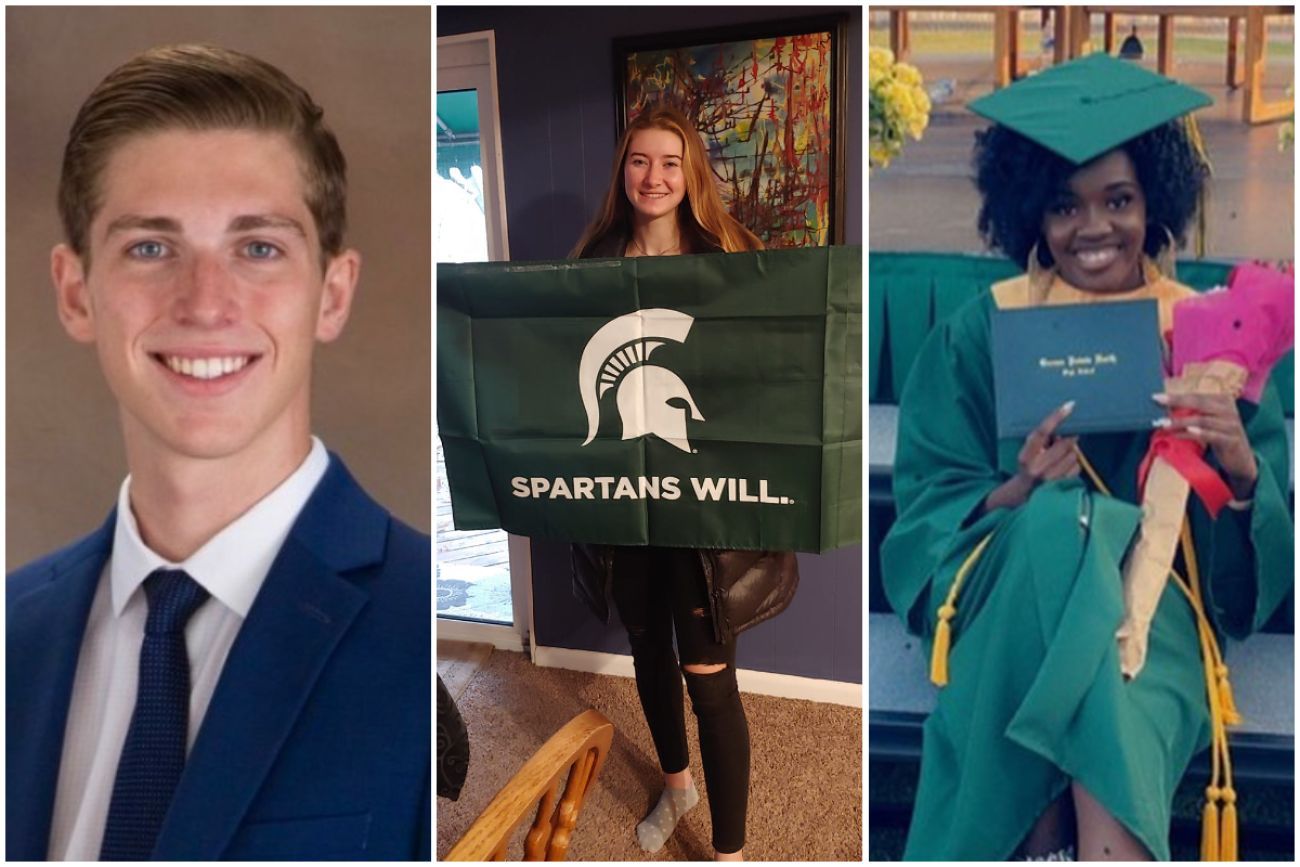 Three students died in Monday's shooting at MSU: Brian Fraser, Alexandria Verner and Arielle Diamond Anderson. Verner and Anderson were in Díaz-Muñoz's class. (Courtesy photos)
Díaz-Muñoz recalled two badly-injured students lying silent, closer to the back of the class, in pools of blood: Anderson, 19, who attended Grosse Pointe schools, and Verner, 20, of Clawson.
Neither stirred or spoke, but their mouths and hands were moving, he said, perhaps silently praying or asking for help. He attempted to move Verner into a more visible spot for paramedics, but stopped when he feared doing so could worsen her injuries. He implored emergency crews to tend to the two students first.
"Somebody said something about a pulse, and that they're gone," he recalled. That's when police escorted the professor and students out of the building.
The next day, police identified Anderson and Verner as two of the three students McRae killed Monday night. Authorities say he shot and killed a third, later identified as Brian Fraser, at the student union.
Like they were his children
In the terrifying moments during and after the attack, Díaz-Muñoz said he saw his students as if they were his children. He has a daughter their age. He said he is haunted by his inability to save Anderson and Verner, who he remembered as kind, bright students.
"I said, 'Well, if he shoots me, he shoots me. I've lived my life,'" Díaz-Muñoz said. "But these are 18-year-olds, 19-year-olds. They haven't even begun to live their lives."
The professor and about eight to 10 uninjured students were escorted out of Berkey to the nearby Eli and Edythe Broad Art Museum, where they were met by MSU counseling officials, Lansing Police and investigators from the Federal Bureau of Investigations. They received counseling support, then gave interviews to police.
Díaz-Muñoz said he finally returned home around 3 a.m.
In the days since, sleep has not come easily. And when he is awake, he is haunted by what he saw. But the images come to him as if they happened to someone else, "like I'm telling you a story, a fiction, not real."
"Then I stop and think about the lives of those two girls, who were just starting life," he said. "It's such a tragedy, and I have a hard time accepting it."
Looking back, he said there are things he wishes had been done differently. He wishes there had been a way to lock the classroom door from the inside, and a way to open the lower windows wide enough to escape.
And though he grimaced at the notion of restricting access to a public university where members of the community have long been welcome to visit academic buildings and use the resources within, he believes it may be necessary to ramp up security with more locked doors, and more selective access to buildings.
Then again, he notes, such measures likely wouldn't have prevented a tragedy like the 2007 shooting at Virginia Tech. That shooting was carried out by a student, who presumably would have been able to access academic buildings, even if they were locked.
But heightened campus security doesn't address the root problem, he said: "The real change (needed are) the laws concerning access to guns and the laws concerning funding for mental illness."
Family and neighbor accounts indicate McRae, the gunman, had a history of mental-health challenges.
Díaz-Muñoz said he wants politicians to make more money available for mental health services, particularly for low-income people who are more likely to experience financial and life stresses that can exacerbate mental health issues.
He believes it should be harder to purchase a gun, with would-be buyers required to pass more thorough screenings. And he thinks lawmakers should ban guns capable of inflicting the kind of rapid fire carnage he witnessed in his classroom.
He said he has been in email contact with two students in the classroom that evening. He worries constantly about the others. He does not know when or whether his class will meet again. If it does, he said, he hopes it's not in 114 Berkey Hall.
"There is a part of me that wants to not teach that class," he said. But another part of him wants to keep teaching, to get his eyes on his surviving students. "To confirm that they are alive," he said, "and they're OK."
Only donate if we've informed you about important Michigan issues
See what new members are saying about why they donated to Bridge Michigan:
"In order for this information to be accurate and unbiased it must be underwritten by its readers, not by special interests." - Larry S.
"Not many other media sources report on the topics Bridge does." - Susan B.
"Your journalism is outstanding and rare these days." - Mark S.
If you want to ensure the future of nonpartisan, nonprofit Michigan journalism, please become a member today. You, too, will be asked why you donated and maybe we'll feature your quote next time!