Michigan's student scores fell along with nation's during COVID-19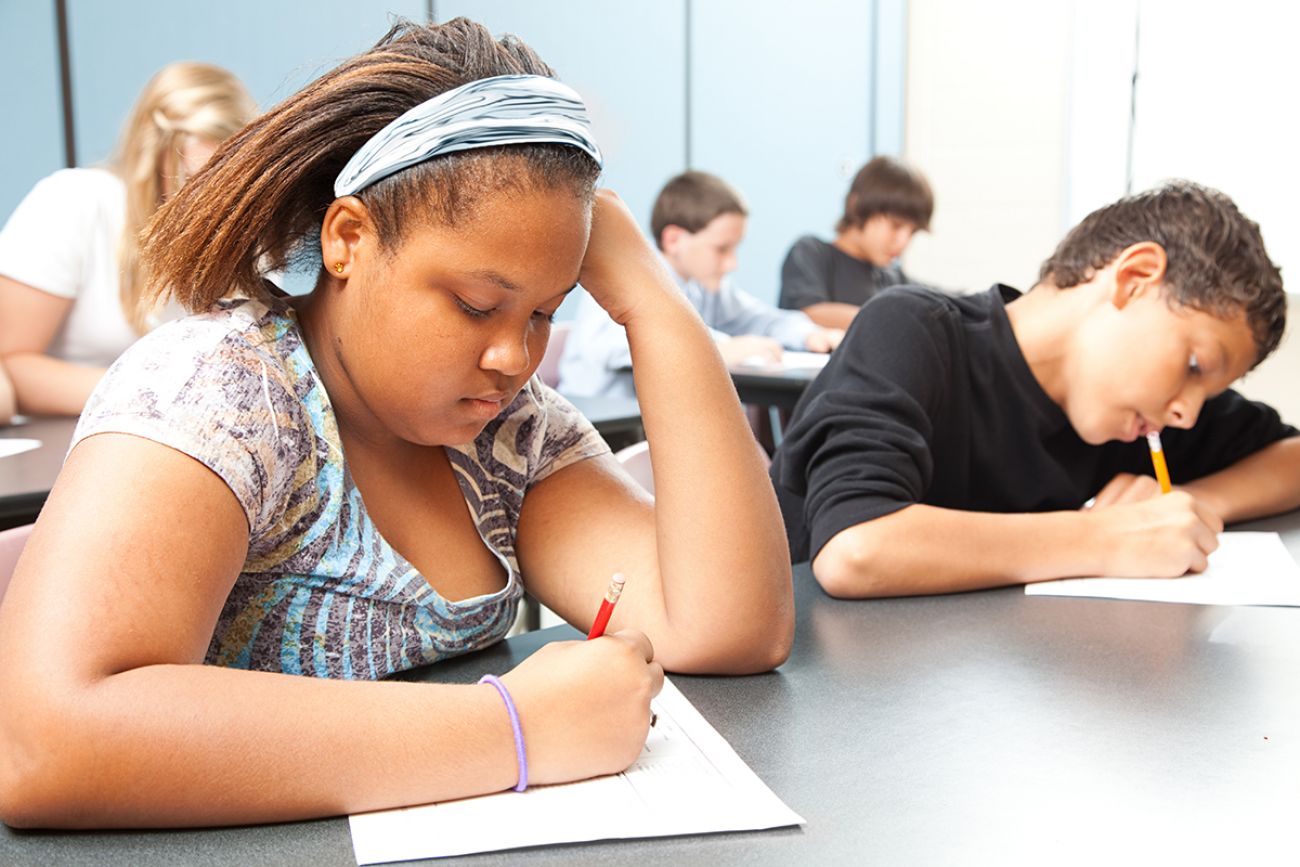 Michigan reading and math scores fell in a national test, showing the challenge ahead for schools. (Shutterstock)
Michigan students' math and reading scores were lower than in 2019, echoing declines nationally
Michigan's fourth-grade reading scores were the lowest in three decades. Black and low-income students fell further behind.
Scores dropped across the country, underscoring the enormous challenges schools face in addressing learning loss
---
Reading and math scores in Michigan — and across the country — were hurt dramatically by the sustained disruption of the COVID-19 pandemic, with scores in every state falling from 2019 to 2022.
In Michigan, fourth-grade students recorded their lowest reading scores in 30 years, according to results of the National Assessment of Educational Progress (NAEP), often called the nation's report card, released Monday.
Scores in Michigan also declined in fourth-grade math and eighth-grade reading and math, but they were not as dramatic. The falling scores come just three years after Michigan showed marked improvement on NAEP compared with students in other states.
Another cause for alarm: The longstanding gap between low-income students and their more affluent peers widened considerably this year.
Experts say the declines are proof of the impact of the unprecedented disruptions of COVID. Most states banned in-person learning in the spring of the 2019-20 school year and many districts toggled between remote and in-person throughout the 2020-21 school year, with Michigan students learning remotely for long stretches.
Monday's release of national scores, in which Michigan finished in the middle of the pack, raised concern.
"The results in today's NAEP...are appalling and unacceptable," U.S. Secretary of Education Secretary Miguel Cardona said in a press conference.
"They're a reminder of the impact this pandemic had on our learners and the important work we must do now for our students. This is a moment of truth for education, how we respond to this will determine not only our recovery, but our nation's standing in the world."
Cardona called for schools to use research-backed ways to help students recover.
"The data prior to the pandemic did not reflect an education system that was on the right track," he said. "The pandemic simply made it worse. It took poor performance and dropped it down even further. As an educator and as a parent, that's heartbreaking. It's horrible. It's an urgent call to action."
The NAEP, given every two years, is a national test drawn from a sampling of schools that allows comparisons among states. Because of the pandemic, the test was delayed last year and given this past spring instead.
In Michigan, 5,000 students took the reading tests (2,500 in both fourth and eighth grade) and 5,300 students took the math test (2,700 in fourth grade and 2,600 in eighth). The National Assessment Governing board, which administers the NAEP, did not immediately release the names of districts that participated in the testing this past spring, making it difficult to determine if the schools involved operated remotely through much of the pandemic.
The results were similar to declines revealed earlier this fall on Michigan's state standardized test known as the M-STEP. Generally, students scored worse on the M-STEP this year than in 2019, the last time M-STEP was administered before the pandemic.
Overall, Michigan fourth graders' average scale score ranked 40th in the nation in reading and 35th in math. The state's eighth graders ranked 23rd in reading and 25th in math.
But individual state rankings can be misleading. In fourth-grade reading, for instance, Massachusetts (with a score of 227) was among 20 states that performed better than the rest of the country. Michigan (212) was clustered in a group of 27 states with middling scores. Three states (West Virginia, Alaska and New Mexico) pulled up the bottom.
"In spite of the extraordinary efforts of staff and students, the pandemic was very disruptive to learning," State Superintendent Michael Rice said in a statement. "What teachers do daily in classrooms across the state is incredibly important, and disruptions of any sort, let alone those associated with a pandemic, do harm."
A national reckoning
Michigan's NAEP declines mirrored much of the country, where many students were sent home and participated in online learning for large portions of 2020 and 2021.
But students' experiences with remote learning varied widely, illustrating the impact of technology, and the availability of home support, on their performance.
Students taking the NAEP this year filled out a questionnaire asking about their work-from-home experience during COVID. In fourth-grade math, students who performed poorly were more likely to report receiving daily help with schoolwork but less likely to report regular access to a computer or tablet compared to higher-performing students.
There is "pretty conclusive evidence both in Michigan and across the country that students who learn remotely for longer fared worse in terms of achievement growth over both the 2021 school year and those effects lasted into the 21-22 school year," Katharine Strunk, director of Education Policy Innovation Collaborative at Michigan State University, told Bridge Michigan.
Strunk said it's important to remember that oftentimes the districts that stayed virtual-only longer were responding to parental and community sentiment as they faced greater health or economic consequences from the pandemic. She said leaders should also be tracking students' growth, not just the test score captured when they took the NAEP test.
For Michigan fourth-graders, the gap between low-income and more affluent students widened dramatically this year.
In 2019, the average reading scale score for students from low-income families was 206, compared with scores of 232 for the other students, a gap of 26 points. This year, scores for more affluent students declined, though just a little, to 230, while the average scale score for low-income students fell to 198, a drop of 8 points. That increased Michigan's income achievement gap to 32 points.
Compared to other states, Michigan's scores were considered roughly equal to the national average in fourth and eighth grades for reading and math.
But students in neighboring states, where students tended to spend more time in the classroom, fared better, with more students considered proficient or better in math. Wisconsin, Ohio and Indiana students performed above the national average in math in both grade levels.
During the pandemic, a greater proportion of Wisconsin, Ohio and Indiana students learned in-person, according to state-by-state data analyzed by Bridge Michigan.
In contrast, Michigan, a local control state, local school districts, usually in partnership with local health departments, made their own decisions on when to go remote, based on COVID case levels at any particular time.
Some districts, including Ann Arbor, Detroit, Flint and Grand Rapids, chose to remain remote for more than half the 2020-21 school year.
But Peggy Carr, commissioner of the National Center for Education Statistics, cautioned against making sweeping generalizations about the effect of remote learning on test scores.
"I want to point out that there's nothing in this data that says we can draw a straight line between the time spent in remote learning in and of itself and student achievement," she said. "Remote learning looked very differently" across the country, Carr said, and it's important to remember "we have massive, comprehensive decline everywhere."
Michigan's COVID approach
Nonetheless, there were broad differences among states, with Michigan students often far more likely to be learning from home. In January 2021, for instance, 23 percent of Michigan schools were fully in-person, compared to 47 percent in Ohio, 54 percent in Wisconsin and 76 percent in Indiana.
"It's hard to disaggregate anywhere in the country the effect of remote instruction from the effect of being in these districts that were more impacted by the pandemic," Strunk said.
Strunk said large, urban districts like Detroit and Flint were closed because of health needs and in response to feedback from families who said they didn't feel safe sending their kids to school. In the first months of the pandemic, African Americans in Detroit and elsewhere had some of the highest COVID-19 death rates.
Michigan's scores include some students from Detroit, which participates in NAEP's study of the largest urban districts in the country. As it has in the past, Detroit's students scored the lowest in reading and math in both fourth and eighth grades and recorded some of the largest declines among urban districts.
Detroit, the state's largest district, is also one of the poorest big cities and poverty has long been an important predictor of poor academic performance.
The Detroit district's roughly 49,000 students were fully remote until the last three months of the 2020-21 school year when the district offered in-person learning. Other Michigan districts were more likely to open classrooms: For instance, in Utica schools, the state's second-largest district, students were remote-only in September and December but had an in-person option the rest of the school year.
Related:
In addition to income gaps, Michigan NAEP scores also showed wider gaps between Black and white students. For example, in fourth-grade reading, the gap between white and Black students was 32 points this year, up from 25 points in 2019.
Alice Thompson, chair of the education committee within the Detroit Branch NAACP and member of a Michigan coalition of civic, civil rights and business leaders, said in a statement she wants Michigan to focus on evidence-based strategies to help students recover.
"Our Black and Latino students, as well as our low-income students and English learners, are just as bright and capable as every other student in our state," she said.
"Our state has not done enough for them — long before or during the pandemic — to ensure their success. We can no longer stand by as education inequalities in funding and resources, which were even greater during the pandemic, continue to disproportionately impact these underserved students."
Where do we go from here?
Strunk, of MSU, said several steps are needed for Michigan students to grow academically. She said the state must continue to invest in schools even after the federal COVID-19 relief funds run out.
"We know what works is more time (with students) in seats learning with qualified educators," she said.
She said schools also must be transparent with parents about their students' individual performance.
"It's unclear to me that districts are telling parents the extent of the problem, and how it applies to their individual student and what they need to do to ensure their student achieves the learning that they need to have, to be able to be successful later in life and later in school."
Strunk said high intensity tutoring in small groups or one-on-one is another way to improve a student's academics, though Michigan has had a difficult time hiring enough tutors to meet demand.
Rice, the state superintendent, called for the legislature to expand "high-quality, frequent tutoring for students, especially in the early grades."
He also called for a decrease in class sizes in early elementary grades, more funding for teacher training in early literacy skills and higher enrollment in the state's pre-K program. In addition, he wants to create "regional parent and family literacy centers" and schools to "continue to expand diversity in literature to better engage" students.
"We need to be able to pay these tutors," Strunk said. "We need to be able to recruit and train these tutors and they need to be able to work with students in a place that is convenient for the students."
Amber Arellano, executive director at The Education Trust-Midwest, a nonprofit focused on improving outcomes for all students, called for using existing federal funding or new state money to invest in evidence-based learning strategies.
"At the start of the pandemic, we called on the state for a Marshall Plan for education, and the need for such a plan is even more urgent given new evidence of how much learning remains unfinished, especially for our most underserved students," Arellano said.
Beth DeShone, executive director of Great Lakes Education Project, a nonprofit that supports widening Michigan's school choices, told Bridge the results are "tragic" but "not shocking."
She called for "every available resource" from federal COVID-19 relief dollars, to at-risk dollars and state funding to support students, especially elementary students struggling to read. She would like to see the money go toward after-school programming, tutors and additional reading coaches.
"We absolutely need to be focused on providing resources directly to those students and their families," she said.
DeShone criticized Gov. Gretchen Whitmer's veto of reading scholarships and said a proposed program to allow tax credits for scholarships for both private and public schools, Let MI Kids Learn, is the "perfect encapsulation of what we should be doing as a state."
Rice called on the legislature to help address teacher staffing challenges by supporting a bill that reduces barriers for out-of-state teachers to teach in Michigan. He also supports Senate Bill 942, which relates to out-of-state school counselors and House Bill 6411, which provides more flexibility for who can be a substitute teacher.
Only donate if we've informed you about important Michigan issues
See what new members are saying about why they donated to Bridge Michigan:
"In order for this information to be accurate and unbiased it must be underwritten by its readers, not by special interests." - Larry S.
"Not many other media sources report on the topics Bridge does." - Susan B.
"Your journalism is outstanding and rare these days." - Mark S.
If you want to ensure the future of nonpartisan, nonprofit Michigan journalism, please become a member today. You, too, will be asked why you donated and maybe we'll feature your quote next time!