From migrant worker to Michigan teacher: 'Just keep fighting for your dreams'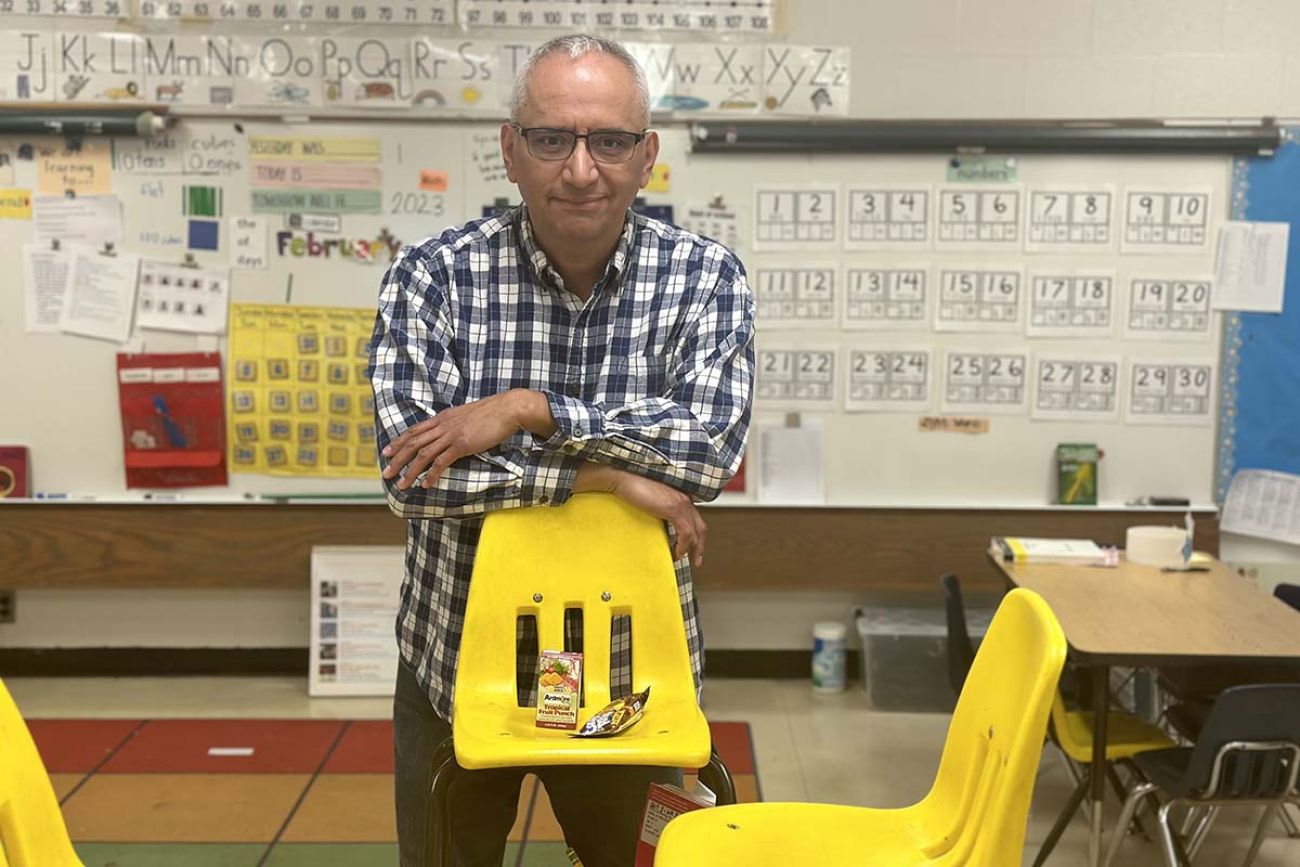 Alfredo Aleman has been a teacher for decades, but never forgets his childhood harvesting fruits and vegetables in a migrant family. (Bridge photo by Ron French)
Talent & Education
From migrant worker to Michigan teacher: 'Just keep fighting for your dreams'
Alfredo Aleman grew up as one of 15 children in a migrant family
He leads a classroom of students with similarly challenging childhoods.
His message: If I can go to college, so can you
---
KALAMAZOO – It's 3 p.m. on a rainy February day at Arcadia Elementary, part of Kalamazoo Public Schools, and the 20 kindergarteners in Alfredo Aleman's classroom are squirming in their seats.
Ninety percent are what the Michigan Department of Education calls economically disadvantaged. Eight are from homes where English isn't spoken.
Education data from similar students would indicate that, already at age 5 and 6, the cards are stacked against them.
That's not what Aleman sees as he looks out at the children, gathered in a semi-circle for Goldfish crackers and juice boxes before they shuffle outside for bus pickup.
He sees himself.
Believe in your own strength and create your own story in which you decide what the ending will be. I'm living proof of that." — Alfredo Aleman
The 60-year-old was born in a migrant family that traveled across the U.S. picking fruits and vegetables. Most teachers didn't pay too much attention to him or his 14 siblings, who they assumed would miss lessons while working the fields.
It took him 10 years of fits and starts in college, but Aleman eventually earned a bachelor's degree from Western Michigan University and became a teacher.
Now eligible for retirement benefits, the veteran teacher continues to work with kindergarteners in a low-income section of Kalamazoo, serving as both a role model and a cheerleader for kids for whom academic success can feel as hard and long as the rows of asparagus Aleman harvested when he was young.
"We don't all start with the same starting position (in) the race of life," Aleman said. "Some of us have holes in our shoes. Some of us don't have shoes. But you have to go up to that line and take that first step."
Bridge Michigan spoke with Aleman recently about his own life's journey, and the lessons that journey can offer the children in his classroom.
His interview has been edited for length and clarity.
What was your life like as a child?
I was the ninth (child) of 15. When I was a toddler we'd go from Texas to Michigan following the crops. We settled in (west) Michigan when I was 4. My father worked as a butcher and in the summer and fall the family worked in the fields. I started working when I was in third or fourth grade, whatever crops were in season.
We'd get there before the sun came up and I'd get tired. I'd say 'Dad, when can we go home?' He'd say, 'just one more bucket of blueberries, just one more bucket.'
He would say, you know, this is noble work, what we're doing to harvest the crops. You know, feeding the people is really noble.
What crops did you harvest?
I remember asparagus. Oh I hated asparagus. The sand is so hot and there's no shade and you just see nothing but rows and rows of stalks of asparagus.
There were plums. Apples, they really weigh you down. And then there's strawberries. You wake up real early in the morning and you put a long sleeve shirt on. As soon as you move those leaves, everything is wet and there's an army of mosquitoes. With cucumbers, you'd reach in there and they have stickers. So my dad went to the store and bought gloves, but he couldn't afford enough pairs, so one of us would get a left (glove) and one would get a right.
Your family was poor, with 15 kids. How did you get by?
A lot of times we ate the food that we harvested. When there's cucumbers, we take some cucumbers home; tomatoes, we take some tomatoes home. Apples, we'd make pies out of them.
Other people would come over (to our house) and they were in worse shape than our family and I didn't think that was possible. They were migrant workers too, mostly Mexican. And they come over and they say 'Hey, we brought you some cucumbers.' My dad would say thank you (and) we would (make) some food.
Food rarely got thrown in the garbage. Working out in the fields gave you a strong back and it made you appreciate the food and the labor that went into it. And it made you a stronger person.
What was school like for you and your siblings?
Our mother never went to school, she was illiterate. Our father went to school for a few years. (Both spoke Spanish).
Some of my older siblings were held back (in grades in school), and I knew I was not on the track for college. Every class I was put in with the same group of kids, mostly Black and poor white students. It was the same roster every semester.
By chance, I don't know how this happened, I got put in one high level English class (in high school). I thought it was a mistake until Mr. Bartels took attendance and called my name.
That class lit a fire under me.
How did you get into college?
I didn't have the grades or scores to get into a four-year college. I went to Lake Michigan College (in Benton Harbor) and Kalamazoo Valley Community College to try and get my grades up.
I was working (at jobs running from grocery clerk to UPS delivery person) and taking classes and I finally got into Western Michigan. I got by on (federal) Pell Grants (to pay tuition) and money from my jobs. I ate a lot of ramen noodles and the cheapest fast food items. It took me 10 years to get my bachelor's degree.
Do your current students face similar challenges?
Forty percent of my students this year are English Language Learners, with a different language spoken at home. I have students from India, Syria, Libya, Vietnam, Africa — Congo — and Mexico. This past summer school I had 25 students who were all English Language Learners.
Sometimes I have students who come to school with no socks in the winter. It reminds me (of) wearing plastic bread bags over my socks in the winter to keep dry because I had holes in my sneakers.
I tell them don't believe in the narrative that is put before them but rather believe in the narrative of those who love you and know what you can accomplish. Believe in your own strength and create your own story in which you decide what the ending will be. I'm living proof of that.
Doesn't data indicate students who are English language learners or from low-income families fare worse in school and are less likely to go to college?
I would tell these 'non-believers' don't judge students by what you see, but rather keep an open mind because there's a lot you don't see. You don't see how some of these students get their siblings ready for school in the morning because their parents are already at work and can't be there to see their children off to school. You don't see the trauma they have experienced as refugees fleeing war-torn countries, and still they do their homework and translate school documents for their parents. You don't see the struggle to try to understand and learn. You don't see the strength, tenacity, and determination it takes just to get to school and still they get here day in and day out.
That's what you don't see but we always need to remember instead of being critical and creating negative perceptions of these children.
What can you, or the state, do to help?
It starts when they're first born: Good nutrition, universal preschool, making sure we're taking (state) funds and paying daycare providers well because they're going to be teaching them when their brains are still developing.
If students have the support and resources they need, that will help increase their chances of success. But just as importantly, these children need the faith and belief from the adults and educators around them that they are valued and worthy of so much more than what life has given them so far
Students know when you genuinely believe in them, and also when you don't. That is why it is so important never to lose faith that any child from any background can move beyond what is right in front of them.
What's your message to kids growing up with challenges like you faced?
There will be hard days, days when you want to quit, and other days when you waver and aren't sure if you will make it to the finish line and accomplish your goals and fulfill your dreams. On those days, I would tell them you just need to hang on, and surround yourselves with people who believe in you, and if you don't have anyone that does then keep on believing in yourself and know that you can get through it.
Just keep fighting for your dreams and things will get better, you'll get through this.
Only donate if we've informed you about important Michigan issues
See what new members are saying about why they donated to Bridge Michigan:
"In order for this information to be accurate and unbiased it must be underwritten by its readers, not by special interests." - Larry S.
"Not many other media sources report on the topics Bridge does." - Susan B.
"Your journalism is outstanding and rare these days." - Mark S.
If you want to ensure the future of nonpartisan, nonprofit Michigan journalism, please become a member today. You, too, will be asked why you donated and maybe we'll feature your quote next time!