MSU's long path ahead: What other universities have done after mass shootings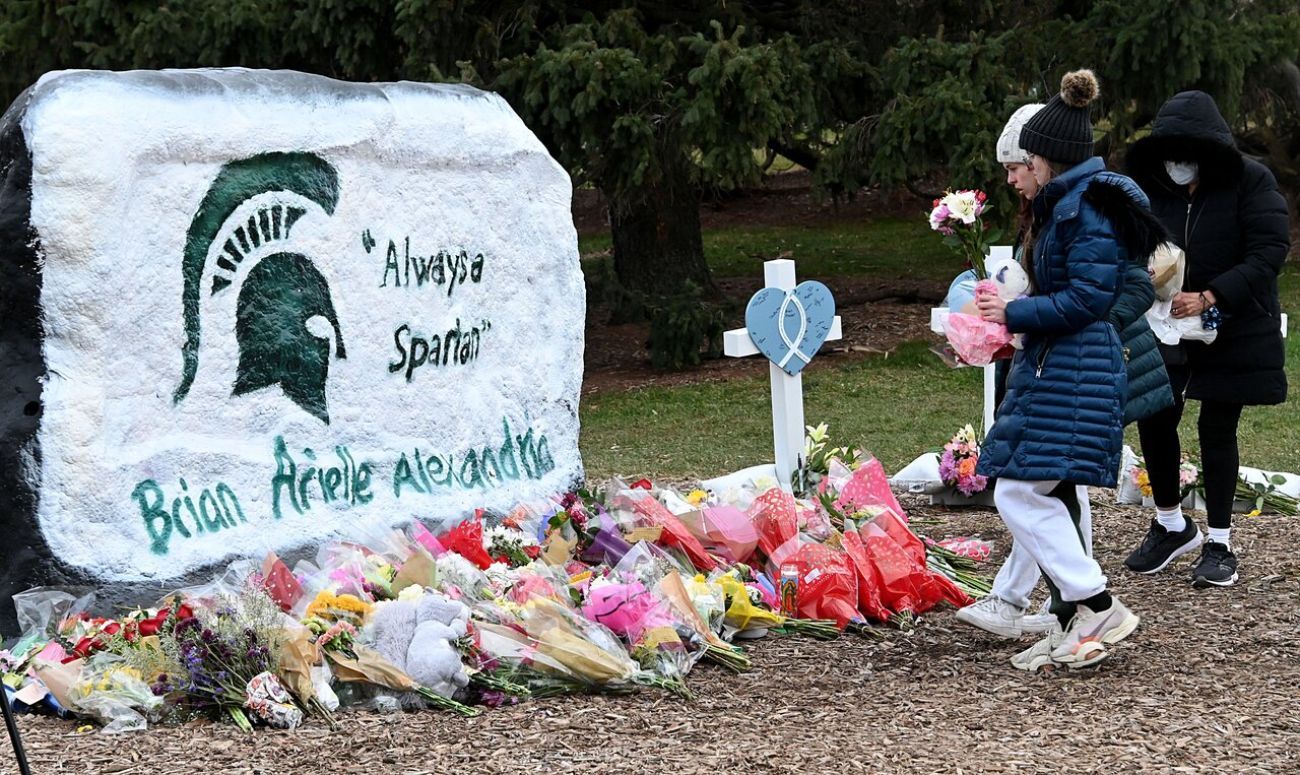 Many survivors and university officials from other schools that have gone through mass shootings offered support to MSU in the aftermath. (Bridge photo by Dale Young)
Talent & Education
MSU's long path ahead: What other universities have done after mass shootings
The Feb. 13 Michigan State University shooting is the 11th incident where a lone gunman killed three or more people on college campuses
Responses to such tragedies have included addressing trauma early and often, preparing coordinated emergency response for shootings and creating threat assessment teams
Many survivors and advocates have called for gun reform in the aftermath of shootings, although fierce political debate over gun rights and access persists
---
As the Michigan State University community was reeling from a shooting that had left three students dead and five injured the night before, Northern Illinois University was marking the 15th anniversary of a similar tragedy.
On Feb. 14, 2008, a shooter stepped into a lecture hall at the university's Dekalb, Ill. campus and started firing, killing five and injuring 16 before dying by suicide. On Feb. 14, 2023, while memorializing those victims, NIU shooting survivors and officials expressed sadness that yet another campus was experiencing the horror they went through.
"It hits differently, because it happened at another university," NIU Police Chief Darren Mitchell told CBS News Chicago following an NIU memorial ceremony, telling the outlet his cousin had experienced the lockdown at MSU. "It's just another constant reminder that we must be vigilant."
"Once you have experienced something like this, you are never the same," Mitchell added in the interview.
Related: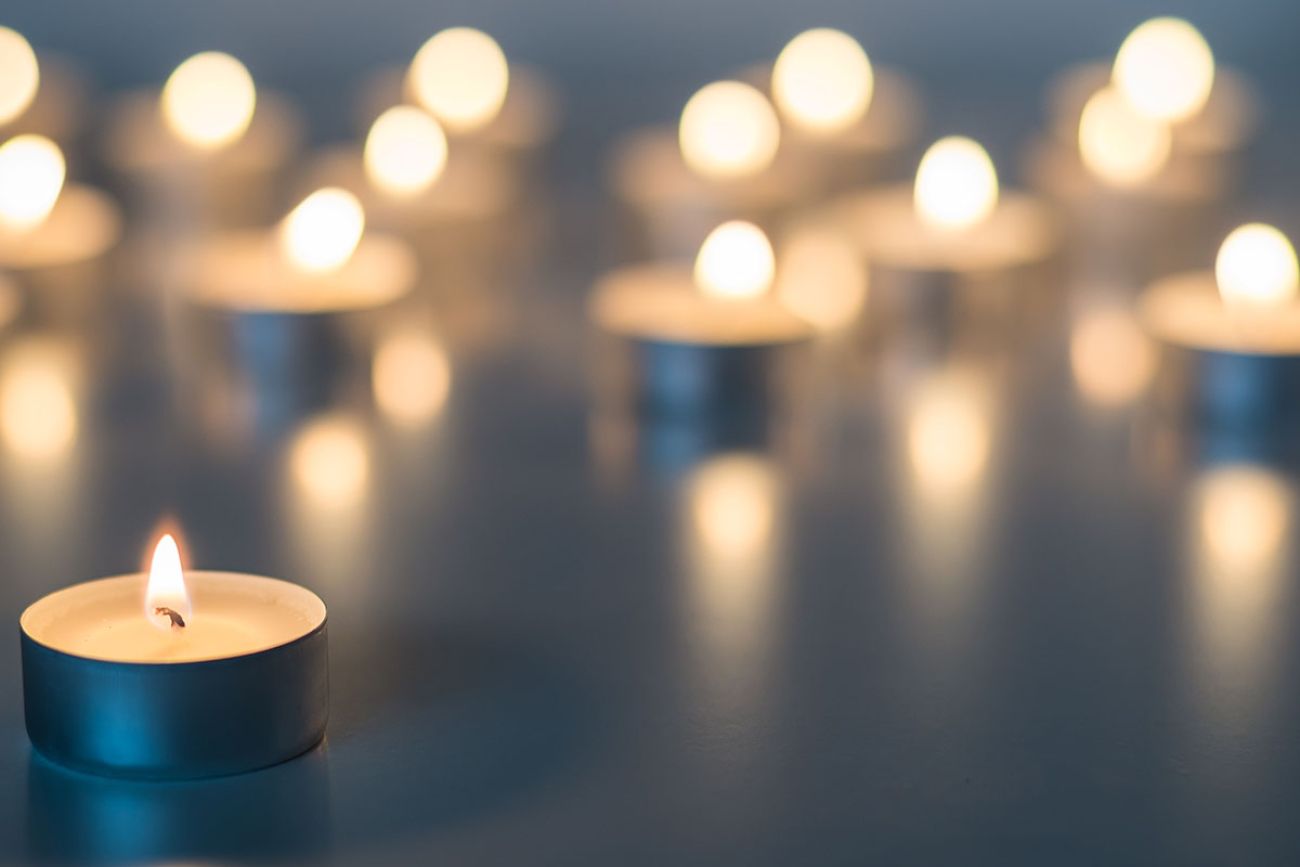 More University students are knowing what it feels like to attend a memorial for those killed and injured in gun violence incidents. (Shutterstock)
The first recorded mass shooting at a United States university — an Aug. 1, 1966 shooting at the University of Texas at Austin that killed 15 and injured 31 others — is widely considered the first modern mass shooting in the nation.
Since then, there have been 10 other shootings where a lone gunman killed three or more people on college campuses, according to college ranking website BestColleges.com, as well as more than 300 other shooting incidents. Another shooting in May 1970 resulted in four students killed and nine injured after the Ohio National Guard fired into a crowd of protesters at Kent State University.
The deadliest college shooting occurred in 2007, when a gunman killed 32 and injured at least 23 others at Virginia Tech. Prior to the MSU shooting, the most recent was at the University of Virginia on Nov. 13, 2022, when a shooter killed three student athletes while on a bus returning from a field trip.
Circumstances varied among the higher education institutions impacted by violent shootings, but the challenges in the aftermath of each were similar as campuses designed for research and learning became the backdrop for violent crimes.
In the decades since the University of Texas tragedy — and as mass shootings become more prevalent — some best practices have emerged for moving forward, including addressing trauma early and often, preparing coordinated emergency response for shootings, and creating and working with threat assessment teams.
Many survivors and advocates have also promoted policy changes dealing specifically with guns, although fierce political debate over gun rights and access persists.
Regardless of what comes after, campuses where mass shootings occur are forever changed, and moving forward is a long and complicated process, experts say.
"There's not a prescribed timeline for when you're going to be able to move forward or feel better," said Justin Heinze, an assistant professor at the University of Michigan School of Public Health who studies school safety and violence prevention.
Dealing with trauma
A common first step for colleges impacted by mass shootings is to address the immediate needs of a campus community mourning the loss of friends, teachers, and loved ones and fearing for their own safety.
For students and faculty at the University of Iowa — where a doctoral candidate killed a researcher, three professors and the vice president of academic affairs and critically injured another employee in November 1991 — healing became the top priority.
Reflecting on the shooting in interviews with the Des Moines Register in 2018, university officials said they viewed the murders at the time as an aberration.
Then-president of the university, Hunter Rawlings III, told the paper that he quickly enlisted a team of mental health workers for the campus, noting, "I frankly think we spent more time and effort to help people who were traumatized than preventing something else from happening."
One counselor told the Des Moines Register she underwent 28 outreach interventions in two weeks with students and faculty, and at one point helped a group of physics students work up the courage to go into the building where their colleagues were killed.
A community-focused approach that acknowledges how many people are impacted by campus shootings is crucial for healing, said Dr. Jim Gordon, a psychiatrist who has worked on trauma healing programs with survivors of school shootings at Sandy Hook Elementary School in Newtown, Conn. (2012), Marjory Stoneman Douglas High School in Parkland, Fl. (2018), and Robb Elementary shoot in Uvalde, Texas (2022) as well as other traumatized communities through his nonprofit, The Center for Mind-Body Medicine in Washington, D.C.
"People's worlds are turned upside down by these mass shootings," Gordon said in an interview with Bridge. "The results are going to be even more profound the closer you are."
Persistent anxiety, fear and uncertainty about the future, nightmares, flashbacks and sensitivity to ordinary events or loud noises are common among survivors of traumatic events. Those feelings can extend to anyone with ties to the community and are normal, but should be processed, he said.
"Just because you weren't in the classroom or aren't in the same year with the people who were shot…you're still going to be affected, and you need an opportunity to be able to come together and experience this process of healing," Gordon said.
MSU has expanded crisis counseling services in the aftermath of the Feb. 13 shooting for students, faculty and staff. Nearly 200 volunteer counselors have joined MSU counselors in providing mental health resources for the community.
How campuses change
After the initial shock, universities that have dealt with mass shootings have typically moved to consider ways they could make their campuses safer while still offering a welcoming environment.
A September 2022 BestColleges survey of 1,000 current and prospective undergraduate and graduate students found a majority — 60 percent — of students are factoring in campus safety when considering college options. Fifty-seven percent of respondents believed colleges and universities should be doing more to protect student safety.
MSU will undergo an external review of security measures and seek funds from the Legislature to enhance campus security, Board of Trustees Chair Rema Vassar recently told Bridge.
Security enhancements under consideration include adding interior door locks to classrooms, shorter windows of time when academic buildings are unlocked, and additional security cameras, as well as making active shooter drills mandatory for students and staff. MSU officials began restricting building access this month and plan to have locks on classroom doors by fall 2023.
Other common responses by university officials in the aftermath of a campus shooting are to evaluate its system for alerting the community to the emergency and the response by law enforcement to see what could be improved, said Kris Brown, president of the Brady Campaign to Prevent Gun Violence. The organization is named after Jim Brady, who was shot during an assassination attempt against former President Ronald Reagan and with his wife campaigned for gun reforms.
One school that did so is NIU, which installed a text message notification system in the wake of the February 2008 shooting as well as other avenues of electronic notification, including sending messages to anyone logged onto university servers and broadcast messages on university TV channels in residence halls and classrooms, according to an NIU report of the incident.
At MSU, an updated timeline released by campus police showed that while officers got to Berkey Hall two minutes after getting the first 911 call, the first text message alert sent by campus police wasn't sent until 8:30 p.m., four minutes after the shooter had already walked to another building and killed another student.
NIU's campus also changed in other ways. Cole Hall, where the shooting took place, wasn't used for four years after the incident, only opening after a $6 million state-funded renovation.
For now, classes in the two buildings where the MSU shooting occurred — the MSU Union and Berkey Hall — were moved to other locations for the rest of the spring semester. The university hasn't yet announced plans for the future of those buildings. The MSU Union Twitter page stated that officials are working to reopen the Union "in its proper form and at the appropriate time."
Brown, who graduated from Virginia Tech prior to the 2007 shooting, said returning to campus as an alumna is a "very different experience" from when she attended school. She cautioned that schools must strike a balance between working to keep students safe and providing a healthy space for the community to move forward.
"The infrastructure and systems that would be best designed to avoid (gun violence), if we really take it to its logical conclusion, would almost be akin to a prison environment," Brown said. "It's very hard in an academic environment, which is designed to give freedom of thought, of movement, of expression, to remind people every single day, all the time, 'You're at risk.'"
Prevention measures
Unlike MSU, most of the perpetrators of mass shootings on university campuses were current or former students. Many universities and K-12 schools have sought to prevent future violence by intervening before it gets to that point.
A state-commissioned report on the Virginia Tech shooting outlined several points where the shooter, a student, had frequently exhibited disturbing behavior to classmates and instructors, concluding administrative and procedural issues resulted in failing to "connect the dots" about the shooter's behavior.
In the aftermath, the state of Virginia began requiring public colleges and universities to set up threat assessment teams for evaluating people considered a potential threat to campus, and many campuses around the country, including MSU, have started doing the same.
Virginia lawmakers recently revisited their state's policy after a shooter killed three student athletes and injured two others on a charter bus headed back to the University of Virginia campus.
The suspected shooter in that instance, also a University of Virginia student, was on the university's radar for a previous firearm misdemeanor conviction prior to the shooting, and the parents of one of the victims argued the deaths could have been prevented if university officials had acted on the warning signs.
Under legislation passed by lawmakers and sent to Virginia Gov. Glenn Youngkin last month, threat assessment teams on college campuses would need to pull criminal history and health records for any person deemed a threat and inform relevant law enforcement agencies of any specific threats made.
The Michigan State Police Office of School Safety has interim guidance for K-12 schools on threat assessments, referencing models used in Texas, Virginia and by the National Association of School Psychologists.
MSU has a threat assessment team in place that gets involved once a person that believes they've observed concerning behavior in the MSU community submits a referral. The team is made up of police, counselors, physicians and university staff who review whether students, employees or other individuals on campus could be a threat.
Such systems can't predict every threat — indeed, the MSU shooter, Anthony McRae, was not a student or employee at the university and lived in Lansing.
But broadly speaking, threat assessments are one of the best evidence-based tools available to identify warning signs and intervene before a person's behavior becomes violent, as are anonymous reporting systems where a person noticing concerning behavior doesn't need to fear retaliation for speaking up, Heinze, the University of Michigan researcher, said.
"When done well, threat assessment can be very, very effective," Heinze said, noting that adequate, ongoing training for threat assessment teams is crucial to ensuring success.
The gun issue
Other university shootings have prompted talks of gun reform, and in some cases highlighted the challenges of coming to consensus when considering policy solutions to prevent gun violence.
Political tensions flared in the aftermath of an October 2015 shooting at Umpqua Community College in Roseburg, Oregon, where a shooter walked into a classroom and killed an assistant professor and eight students, injuring eight others.
Following the shooting, then-President Barack Obama sought to take more executive action on gun control, taking the stance that "thoughts and prayers are not enough."
"This is a political choice that we make to allow this to happen every few months in America," Obama said at the time. "We collectively are answerable to those families who lose their loved ones because of our inaction."
When visiting Roseburg, a moderately conservative city, in the aftermath of the shooting, the president was met at the airport by hundreds of protesters, one of whom told The Associated Press Obama "is exploiting the local tragedy with his gun control agenda."
In Michigan, gun reform policies were already named as a priority for the new Democratic-majority legislature, but took on additional urgency in the aftermath of the MSU shooting.
Lawmakers have been holding committee hearings on efforts to expand background checks to all firearm purchases, enact stricter storage requirements for firearms and allow for "red flag" gun confiscation laws if a person is deemed dangerous to themselves or others. The Michigan House passed expanded background check legislation on March 8.
None of the proposals would have stopped the MSU shooter, who police say passed background checks to legally purchase two pistols after striking a plea deal with a local prosecutor to reduce a felony gun charge to a misdemeanor. A felony conviction would have prevented him from legally owning guns.
Late last year, Bridge Michigan reviewed more than 20 studies on safe storage, red flag laws and universal background check laws. Most studies indicate such laws help reduce gun-related injuries and deaths, but some scholars contend more time and data are needed to make conclusions.
The state of Texas — where a gunman in August 1966 fired into campus crowds from the Tower at the University of Texas in Austin for over an hour — has gone in a different direction, passing laws focused on mental health resources and giving teachers more access to guns while bypassing restrictions.
The Texas legislature has in recent years expanded where guns are allowed, who can have a firearm and the right to openly carry guns as the number of mass shootings in the state steadily increased, a Texas Tribune analysis found. In 2021, the state passed a permitless carry law, which allows people to carry weapons either openly or concealed without a permit.
Advocates for stricter gun policies argue prevention efforts can only go so far without better addressing the weapons available. Brown, of the Brady Campaign, said taken in conjunction with threat assessments, extreme risk protection orders, or "red flag" laws, help prevent potential assailants from harming themselves or others.
Honoring victims
In addition to initial vigils, tributes and policy changes, colleges and universities touched by gun violence have typically installed lasting monuments honoring victims of the tragedy, in some cases starting scholarships in the victims' memories.
The state of California has experienced more collegiate mass shootings than any other. Between 2012 and 2014, three major university shootings occurred in as many years at Oikos University in Oakland, Santa Monica College, and the University of California Santa Barbara. Prior to that, a July 1976 shooting at California State University in Fullerton resulted in a gunman killing seven people and injuring two others.
At Oikos University, where a former student killed seven and injured three others in April 2012 at the private Korean Christian school in Oakland, California, university officials viewed the school's survival itself as a testament to those who died.
The shooting killed about half of the school's nursing class and exacerbated the university's ongoing financial issues. The school's president, Jongin Kim, told the San Jose Mercury News shortly after the shooting that "we want to remember these victims as long as possible" by getting accredited and growing the school's reach.
Oikos University is now accredited with the Transnational Association of Christian Colleges and Schools. A small memorial garden was also erected outside the one-building campus.
In the days following the MSU shooting, floral memorials started cropping up at the Spartan Statue and other areas around campus.
The MSU Herbarium, which maintains a collection of preserved plants, fungi and other specimens, collected some of the flowers to press and preserve, and other flowers will be used as mulch for a memorial tree to be planted later this year. The MSU Archives and MSU Museum are preserving signs and other memorial items left around campus.
In addition to memorials within the MSU community, officials and survivors of several other campus shootings came forward to offer support and solidarity.
"We are with you," Carla G. Williams, director of athletics for the University of Virginia, wrote in a social media post the day after the MSU shooting. "End the violence."
Only donate if we've informed you about important Michigan issues
See what new members are saying about why they donated to Bridge Michigan:
"In order for this information to be accurate and unbiased it must be underwritten by its readers, not by special interests." - Larry S.
"Not many other media sources report on the topics Bridge does." - Susan B.
"Your journalism is outstanding and rare these days." - Mark S.
If you want to ensure the future of nonpartisan, nonprofit Michigan journalism, please become a member today. You, too, will be asked why you donated and maybe we'll feature your quote next time!