Some Michigan schools allow students to say 'no thanks' to M-STEP tests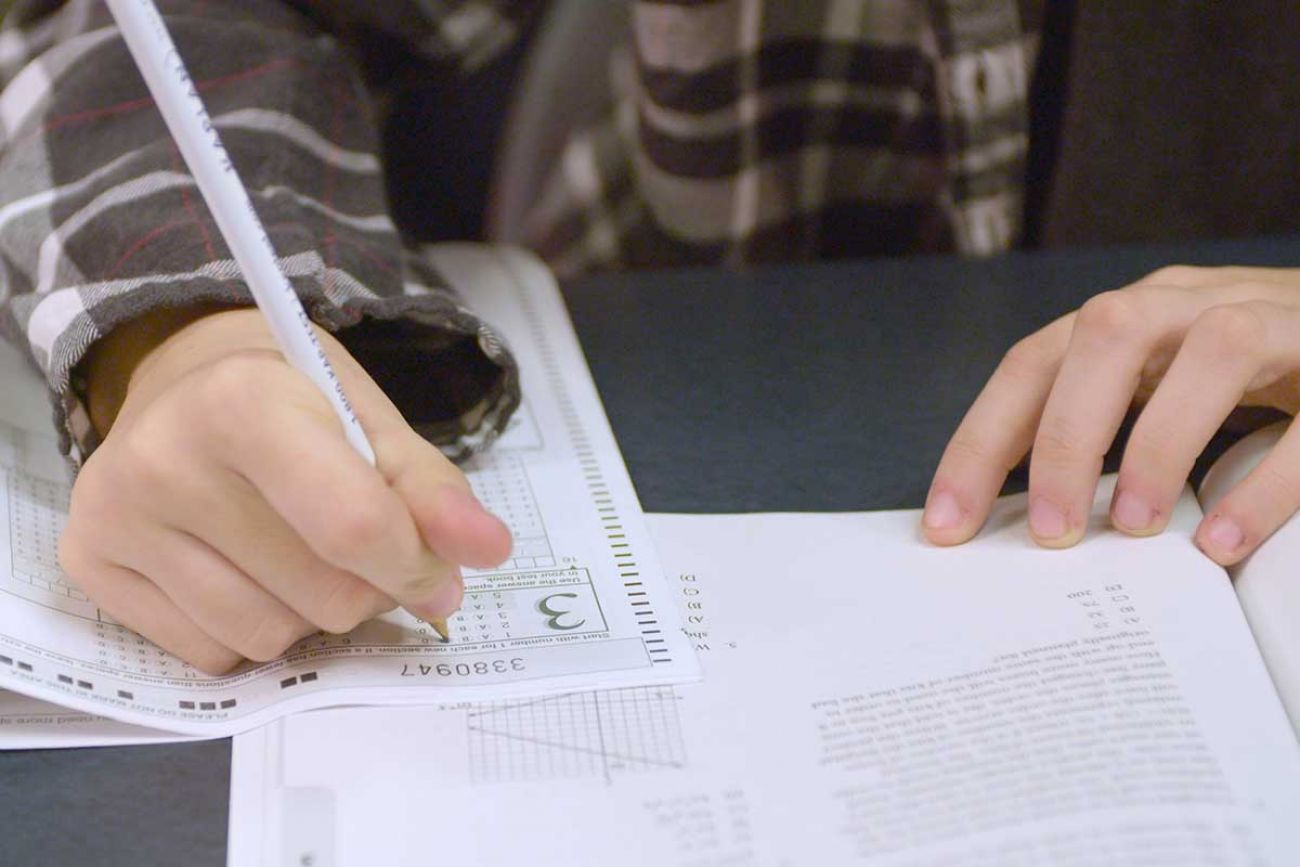 WorkKeys is part of a series of standardized tests taken by Michigan juniors. A bill in the Legislature would make it voluntary rather than mandatory.(Shutterstock)
It sounds like a math question on the M-STEP:
How many students does it take to blow off the state's standardized test before the results are useless?
Michigan may find out the answer this spring.
Related:
A lot of Michigan students won't be taking the standardized tests, which are given in grades 3-8 and 11. Because of the pandemic, many families are being given an option by districts to take the normally mandatory test, or just say no.
The result will not only mean far fewer test-takers, but far less useful data emerging from the scores.
Districts are in the midst of testing, with makeup dates available through early May. It will be weeks before there is a clear picture of how many took the tests, but school officials who spoke to Bridge Michigan said they anticipate a large dropoff from the about 700,000 who took the tests in 2019.
"It would be difficult for districts to put much stock in the results of the M-STEP this year," said Jason Mellema, superintendent of Ingham Intermediate School District. "I would encourage legislators and parents to view these results with extreme caution."
The M-STEP is Michigan's version of a federally mandated standardized test that states must administer annually. The tests allow cross-school comparisons of student achievement, as well as offering clues over time as to whether schools are lagging or improving in academics. It is also used for accountability purposes for schools where scores are lagging, and is a metric used in teacher evaluations.
The U.S. Department of Education allowed states to shelve the test in spring 2020 in the first frantic months of the pandemic.
In January, Michigan officials asked the federal education department for permission to cancel the tests for a second year. That request was denied, with an important compromise.
In normal, non-pandemic years, states are required to administer the test to at least 95 percent of students in the grades in which the tests are offered. For 2021, schools had to offer the tests, but students don't have to take them.
Students who have been learning at home all school year because of the pandemic must be offered an option to take the test. But the test must be administered at a school, so school leaders say it's unlikely many will opt to take it.
And at some both large and small school districts across Michigan, students who are learning in classrooms are being given the option of skipping the tests.
In Ann Arbor Public Schools, one of the largest school districts in the state with enrollment over 17,000, students can "opt-in" to take the test, but no one will be required to take it.
"Parents are not expected or required to have their child/student take state assessments this spring. Testing is entirely optional and will in no way harm or otherwise reduce any academic access your child has now or in the future," Ann Arbor superintendent Jeanice Swift wrote to parents April 20.
"Understanding that the nature of this school year dictates that it will not be possible to obtain an accurate picture of the entire student body or of any individual school; as a result, our focus this spring will be on supporting students."
East Lansing Public Schools is administering the tests only to students who want to take them, and several Kent County schools are offering the tests only to those who "opt-in," according to Kent Intermediate School District Superintendent Ron Koehler.
And when given the choice, a lot of families are deciding to take a pass on the standardized tests, which take four to six hours over several days.
In Ypsilanti Community Schools, most families took a pass on the tests. Superintendent Alena Zachery-Ross told Bridge that 194 students in grades 5-11 were scheduled to take the standardized tests. According to data from the state, those 194 students represent just 14 percent of Ypsilanti students in those grades.
Districts aren't getting pushback from state school leaders on low test participation rates. State Superintendent Michael Rice has been an outspoken critic of administering the tests this year, arguing that the scores will be meaningless because of vast differences in how schools, and students in those schools, are learning during the pandemic. Many students have lurched between classroom learning and online classes numerous times throughout the school year.
The Michigan Department of Education "has informed school districts that during the COVID-19 pandemic, it does not support requiring otherwise remote or virtual students to be brought into school solely for the purpose of state assessment," MDE spokesperson Marty Ackley wrote to Bridge. "While it is expected that the majority of in-person learners will take state assessments, parents need to determine what is in the best interest of their own children during this challenging time."
Katharine Strunk, faculty director of Education Policy Innovation Cooperative at Michigan State University, told Bridge that no matter how many or how few students take the assessments, the test results will be valid for those students who participate.
"The question is will there be enough to generalize to the entire population from who is taking the test," Strunk said.
A larger percentage of urban and minority students have been learning fully online for all or most of the school year, and those students are the most likely to be absent from test results, Strunk said.
Because of the differences in who will take the tests and who won't, Ingham ISD's Mellema said districts in his county "don't know whether scores will be higher or lower than normal."
Researchers will have access to demographic data for those who do take the test, and may be able to draw comparisons between student groups even with a smaller sample, Strunk said.
At Webberville Community Schools, in rural Ingham County, testing participation has been almost as high as in a normal year, with even some of the students who've been learning remotely all year coming into school for the assessments, said Superintendent Brian Friddle.
But even with high test participation, Friddle has reservations about what educators, parents and politicians can draw from the results.
"It's the strangest year ever," Friddle said. "(The test) will be measuring a lot in addition to kids' knowledge this year. We have to discern what it's measuring."
We're not just a news organization, we're also your neighbors
We've been there for you with daily Michigan COVID-19 news; reporting on the emergence of the virus, daily numbers with our tracker and dashboard, exploding unemployment, and we finally were able to report on mass vaccine distribution. We report because the news impacts all of us. Will you please support our nonprofit newsroom?