Is Michigan experiencing an unsustainable student loan bubble?
Students at Michigan's 15 public universities took out nearly $2 billion in student loans in the 2009-10 school year.
That one-year, statewide student debt load increased $600 million – or 49 percent – in just three years (from 2007 to 2010).
Click on the university names at the right for student debt snapshots for all 15 public universities in Michigan. The statewide snapshot: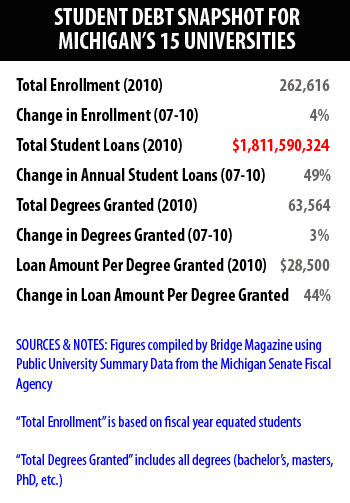 (Click for Senate Fiscal Agency data)
Three sobering numbers from Bridge Magazine's review of student loan debt:
Student loan amount per degree granted across all campuses was $28,500 in 2010 – an increase of 44 percent over 2007
You could nearly fill Spartan Stadium twice with the number of Michigan university students - 147,389 - who took out unsubsidized federal Stafford Loans in 2010. That's 54,000 more unsubsidized Stafford Loan debtors at Michigan universities than in 2007. A commercial web site, staffordloans.com, quotes a current rate of 6.8 percent on unsubsidized Stafford Loans. That's 70 percent higher than current 30-year mortgage rates for home buyers with good credit.
Four universities in Michigan granted fewer degrees in 2010 than in 2007 even while annual student loan debt on those campuses increased between 36 percent and 80 percent. Among numerous possible explanations, those numbers may hint at increased challenges many students face in balancing studies with jobs needed to help pay for school.