A supergroup was to reform Michigan schools, then the schools dropped out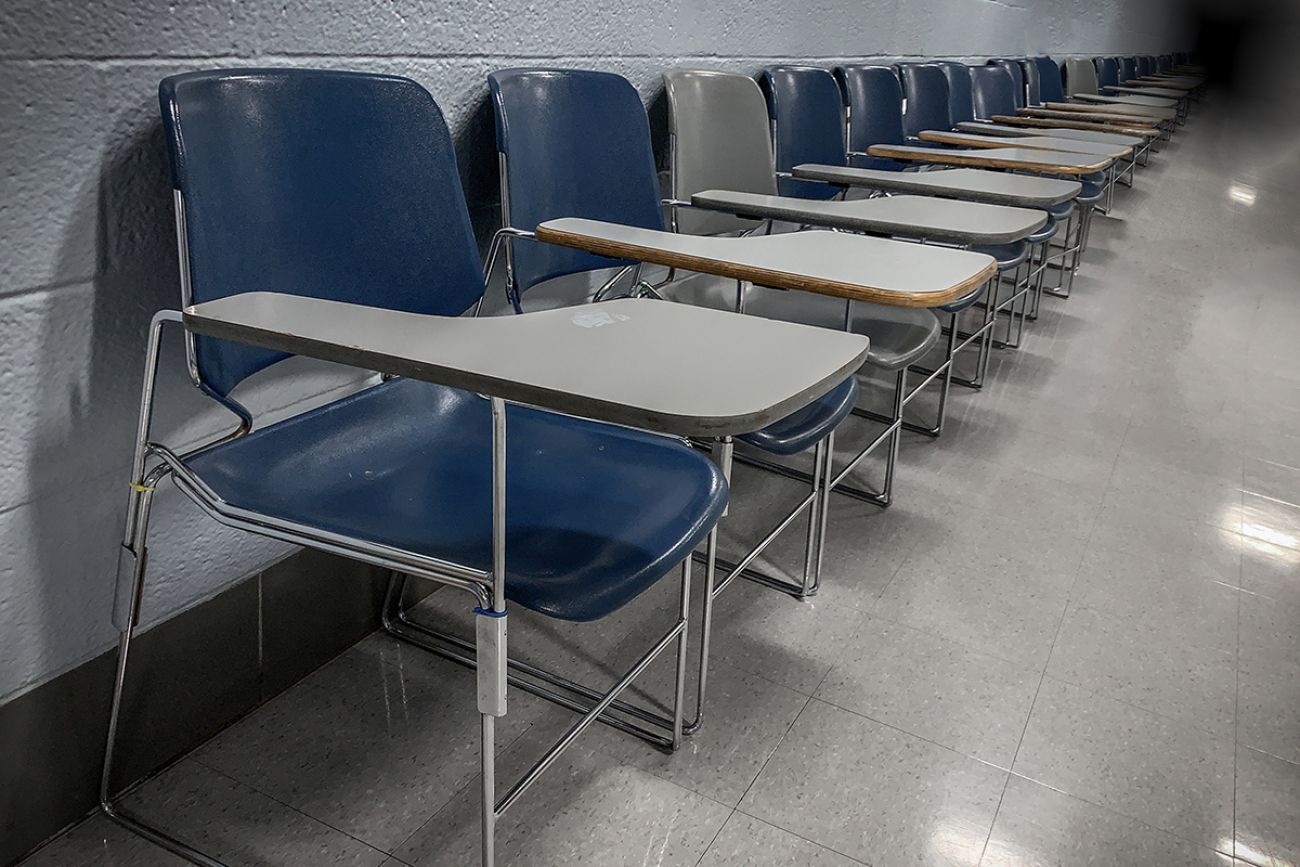 Launch Michigan released a set of recommendations to revamp and restructure Michigan education. But several school groups have left since the ambitious partnership formed. (Shutterstock)
When Launch Michigan was unveiled to the public in December 2019, there were so many leaders of organizations on stage that it was impossible to get them all in one photograph.
Business Leaders for Michigan was represented, as were the leaders of various chambers of commerce across the state; Officials from Michigan's two largest teacher unions were on stage, along with the leaders of several large philanthropies. There were school superintendents and school associations and school advocacy groups; even the Michigan Department of Education.
It was a Who's Who of Michigan civic leaders, vowing to work together — some for the first time — to improve the state's public schools after years of stagnation and infighting. Launch Michigan was the most ambitious collaboration of philanthropy, education, labor, business and community leaders in the long, stumbling history of education reform in the state.
Related:
But 30 months after that public unveiling, and four years after the diverse group of leaders first gathered around a table, the group is fraying. Many of the school groups at those early meetings to reform public education have left the organization, citing a lack of transparency in the process and disagreements over what reforms to advocate for.
Launch released its long-awaited report June 23 that included a laundry list of bold – and expensive – recommendations to reform Michigan's flailing schools, ranging from higher teacher pay to allowing the governor (rather than the State Board of Education) to appoint the state superintendent.
The recommendations included provisions to hold districts more accountable for student performance (including closing poor-performing schools) but — notably — no specific recommendation holding teachers more accountable. There was, however, a recommendation to raise teacher pay.
The price tag: An additional $3.5 billion to $3.8 billion a year, which would be a roughly 18 percent increase above the current $17.1 billion state School Aid budget. That money would likely have to come from a new tax, said Launch President Adam Zemke, a former Democratic state representative from Ann Arbor.
Hanging over the ambitious goals, though, were questions about whether the K-12 reforms pitched by the group were supported by public school leaders, many of whom had walked away from the organization. In interviews, officials were vague about specific disagreements inside the group, citing a pledge of confidentiality. In general, school groups felt aggrieved their interests weren't being listened to, while other groups felt school officials were unwilling to compromise.
Among the organizations that left Launch: the Michigan Department of Education, the Michigan Association of Public School Academies, which represents the state's charter schools, the Michigan Association of Superintendents and Administrators, Wayne and Kent intermediate school districts and Middle Cities Education Association, a consortium of urban districts in the state.
School groups that have continued to participate include the states' two largest teacher unions, the Michigan Association of School Boards and the Michigan Parent Teacher Association. Only one of the state's 57 intermediate school districts, Kalamazoo Regional Service Agency, is currently active in Launch.
Bridge Michigan recently spoke with more than a dozen representatives of groups that are either still members of Launch or that have left in the past year. Most lauded the effort to get so many leaders to sit down to discuss school reform. But they also acknowledged that the splintering of the group highlights the difficulty of reforming an already fractured, statewide system of education, even when most agree that change is needed.
By most measures, Michigan's public K-12 system is, at best, middle-of-the-pack among the 50 states. The results of the National Assessment of Educational Progress (NAEP), often called the nation's report card, found that Michigan students were 28th among the 50 states and the District of Columbia in eighth-grade math and eighth-grade reading; 32nd in fourth-grade reading and 42nd in fourth-grade math.
That data, from 2019, the most recent results available because of a delay in testing due to the pandemic, are actually an improvement over the previous decade, when Michigan schools languished in the bottom third of the nation in most measures.
Some states, such as Tennessee and Florida, have created school reform organizations outside of state government that were able to consolidate competing voices within their states to improve educational outcomes. In Michigan, there have been numerous groups that have issued reports on how to fix schools, but, until Launch, those reports were generally the products of individual interest groups.
Getting disparate groups — such as labor unions and chambers of commerce — to sit at the same table was an encouraging sign, Ron Koehler, then assistant superintendent of the Kent Intermediate School District, said at the 2019 unveiling of Launch. "After years of talking at each other," Koehler said at the time, "we're actually talking with each other."
Koehler, now superintendent of Kent ISD, is among the education leaders who have since pulled out of Launch. "There's a lack of trust (among Launch participants)," he told Bridge Michigan recently. "At the end of the day, that's the issue."
Going big on reform
The June 23 release by Launch was the latest high-profile report calling for significant reforms of Michigan's public school system, and perhaps the most ambitious.
The recommendations, which you can read here, align in part with recommendations made in the past by education advocates and the Michigan Department of Education. The group recommends Michigan:
Develop a "clear and rigorous college and career readiness standard." Students would be assessed in 10th grade and again in 11th and 12th grade, and again in an optional 13th year, if they have not met the standards.
Ensure all public high schools offer options ranging from college prep to career and technical education to advanced placement and dual enrollment opportunities. Schools would also need to include opportunities for students to earn credits toward an associate degree while still in high school.
Increase per-student funding to $10,421 from the 2021-22 level of $8,700. Launch Michigan says the state is currently experiencing the results of decades of disinvestments in schools. This number would align with the number recommended by the School Finance Research Collaborative.
Increase early childhood, out-of-school time programs and wrap-around services especially for high-poverty communities.
Raise teacher pay, including negotiated minimum salaries and opportunities for bigger paychecks if teachers receive advanced training similar to "master teacher" programs in other states. Master teachers may mentor other teachers, conduct research, earn National Board Certification and lead other teachers in improving student outcomes.
Put less emphasis on standardized test results in teacher evaluations.
Have the governor appoint the state superintendent rather than the state board of education. The governor would also appoint the president of the state board of education from among the elected board members. Both moves would require amending the state Constitution.
Zemke told Bridge recently the group has not yet had detailed discussions with legislators about its plan. He said he knows that getting a Republican-run legislature looking to cut taxes for Michigan residents to instead raise taxes to support schools will be "a tough pill to swallow," but he believes having business groups such as Business Leaders for Michigan, a key partner of Launch, on board with the plan could hold sway in Lansing.
"Until we act to create an educational system that gives kids the knowledge and skills to succeed in an economy that's increasingly advancing on a global scale, we will lag behind other states and nations and outsource the opportunities that should belong to our youngest residents," Jeff Donofrio, Launch Michigan co-chair and President and CEO of Business Leaders for Michigan, which remains in Launch, said in a statement about the release of the Launch report.
"To ensure future opportunities will exist for our kids, we have to invest in the educational system capable of producing them."
Where are school leaders?
Missing from the release of the June report were any statements by Michigan K-12 officials – a sign of how most school groups have distanced themselves from the group.
Some school leaders who spoke to Bridge for this article asked not to have their names used for fear of further widening rifts among education reform advocates. In general, school leaders whose organizations have walked away from Launch said they disagreed with some — but not all — of its recommendations.
Among the recommendations that concerned them:
Greater student accountability (the possibility of a 13th year in school if students don't pass a test).
Potential closure of charter schools with bad student test scores, and the possible conversion of public schools with bad test scores to charter or independent schools.
Allowing a sitting governor to appoint the state superintendent, rather than the superintendent being hired by the publicly elected State Board of Education.
"We can better spend our time elsewhere, (rather) than trying to come up with a grand bargain we know won't work and requires constitutional amendments," said Peter Spadafore, executive director of Middle Cities Education Association, whose group left Launch in June because the group was "uncomfortable with the direction" Launch was going with reforms.
Koehler, the Kent ISD superintendent, said he and other school officials became frustrated with a Launch demand that all discussions be kept secret — a lack of transparency that left leaders with no ability to tell their membership what the group was planning.
The Michigan Department of Education, which walked away from Launch in December at the same time as the state's charter school association because of disagreements over reforms, released a tepid statement to Bridge after the Launch report was released, suggesting the reforms did not have the full support of the Whitmer administration.
"So many of the recommendations in the Launch report are reiterative of Michigan's Top 10 Strategic Education Plan that State Superintendent Dr. Michael Rice and the State Board of Education have begun implementing for nearly two years, which is good," MDE spokesperson Marty Ackley wrote.
"If the Launch group can get the state legislature to meet its recommendations to fully fund Michigan's public schools; support each child's needs; support educators; repeal state laws regarding third grade reading retention, educator evaluations based on state assessments and the A-F school accountability system; and support the goals of Michigan's Top 10 Strategic Education Plan, then this report could have some value."
That's not likely to happen, predicted Josh Cowen, professor of education at Michigan State University, who said there was "zero" chance the Launch report will lead to policy change without the vocal support of school leaders.
"It's not trivial to bring a group like this together," Cowen told Bridge. "But it's hard to imagine a world in which you can do anything meaningful without ISDs (intermediate school districts) and superintendents and the department of education aboard."
One Michigan education leader, who declined to be identified because the leader works regularly with Launch participants, called the splintering of Launch an "incredibly discouraging" sign for a potential grand bargain on school reform among competing interest groups.
"The superintendents got cold feet, and labor wasn't willing to budge (on their demands)," the education leader said. Among some groups, there was "no willingness to accept (any) reform other than more money."
Representatives of groups still in Launch and supportive of its recommendations acknowledge that the departure of many school leaders makes their recommendations a harder sell.
"These are big, complicated issues," said Doug Pratt, director of public affairs for the Michigan Education Association, the state's largest teacher union. "This is evidence of how tough it is."
Don Wotruba, executive director of the Michigan Association of School Boards, said he believes it will take a meeting of the minds between business, school and labor leaders on education reforms to make a notable improvement in the state's public schools.
"I would like it (reform) to be faster — 30 years of piecemeal education reform in Michigan hasn't moved the needle," Wotruba said. "Overcoming the history (of distrust) between education and business was a lot more difficult than I thought."
Even after four years of meetings, that distrust is still near the surface, say those who've been involved in Launch meetings.
"There's a belief that school officials are making the wrong decisions."" said Kent ISD's Koehler. "There's mistrust between K-12 and legislators, between K-12 and business. There's a constant feeling that there is fat in the system that can be squeezed out of the system and a demand for consolidation."
"Hopefully we can continue to build trust," he said. "We just have to keep at it."
Only donate if we've informed you about important Michigan issues
See what new members are saying about why they donated to Bridge Michigan:
"In order for this information to be accurate and unbiased it must be underwritten by its readers, not by special interests." - Larry S.
"Not many other media sources report on the topics Bridge does." - Susan B.
"Your journalism is outstanding and rare these days." - Mark S.
If you want to ensure the future of nonpartisan, nonprofit Michigan journalism, please become a member today. You, too, will be asked why you donated and maybe we'll feature your quote next time!