These low-income Michigan schools get students into college. Here's how.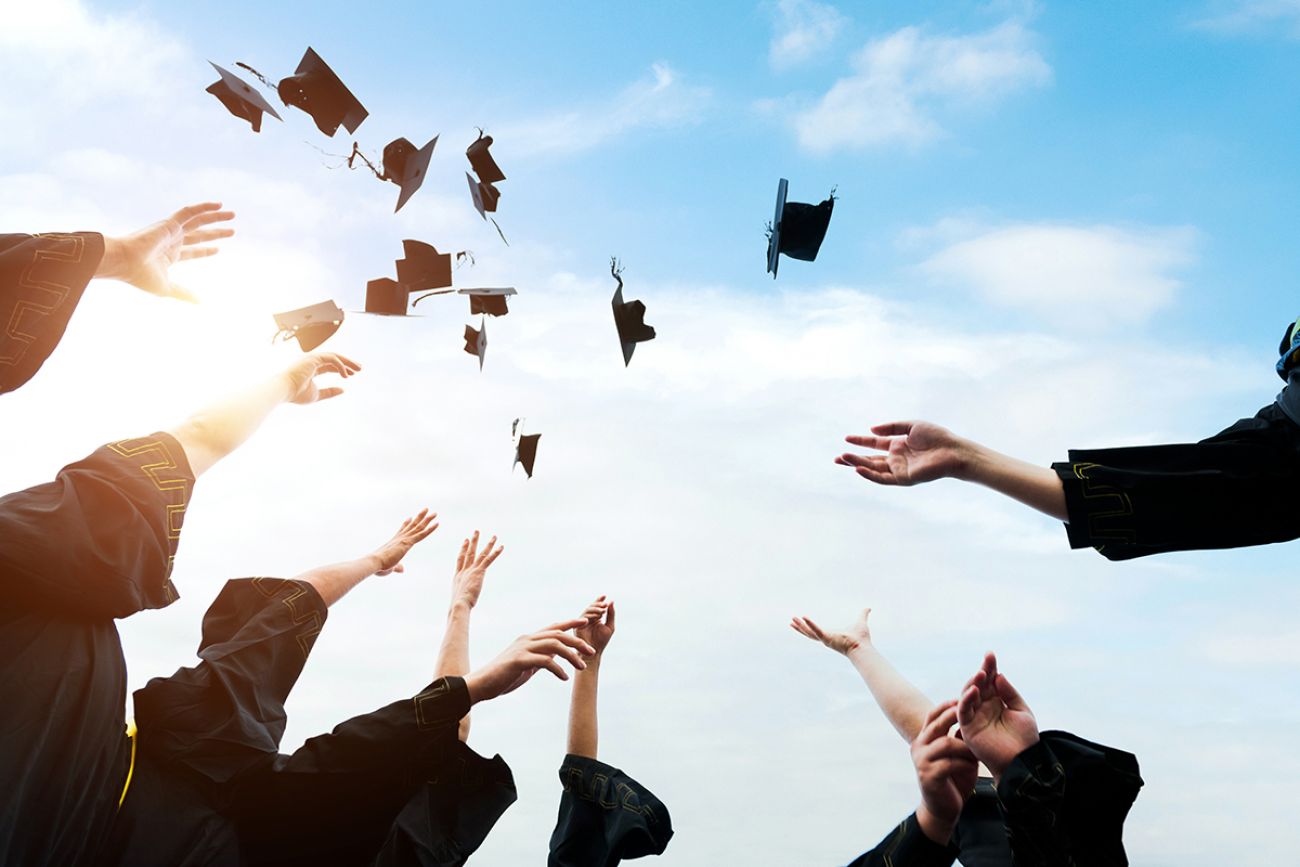 There are a lot of factors to weigh when a high school student is deciding whether to attend college. Counselors and principals at leading schools say it's important to establish a college-going culture early in students' high school journey. (Shutterstock)
By the time students finish their junior year at Whitmore Lake Middle and High School, they will have visited four Michigan colleges.
For many of the students, nearly half of whom are economically disadvantaged, that first visit, in 9th grade, will mark their first time on a college campus.
High poverty schools that get students to college
These are the 19 Michigan schools where at least 40 percent of the student population is economically disadvantaged and at least 70 percent of the class of 2021 enrolled at a 2- or 4- year college or university within six months of graduating.
The first percentage listed for each school is the portion of students who are economically disadvantaged. The second represents the percentage of total 2021 graduates who enrolled at a college last year.
Henry Ford Early College (Wayne County) (53.6 % / 86.4%)
City Middle/High (Kent County) (48.4% / 83.3%)
Central Academy (Washtenaw County) (99.8% / 82.93%)
Henry Ford Early College-Advanced Manufacturing (Wayne County) (63.6% / 82.1%)
Saginaw Arts and Sciences Academy (​​Saginaw County) (40.9% / 81.6%)
Renaissance High School (Wayne County) (54.3% / 81%)
Genesee Early College (Genesee County) (58.9% / 81%)
AGBU Alex-Marie Manoogian School (Oakland County) (55.5% / 78.8%)
Dearborn High School (Wayne County) (58.8% / 77.6%)
Fordson High School (Wayne County) (80.2% / 76.3%)
Star International Academy (Wayne County) (93.3% / 76.3%)
Cass Technical High School (Wayne County) (62.4% / 76.2%)
CA Frost Environmental Science Academy Middle High School (Kent County) (74.7% / 74.4%)
Crestwood High School (Wayne County) (70% / 72.6 %)
Leland Public School (Leelanau County) (44.6% / 72.5%)
Universal Learning Academy (Wayne County) (92.1% / 72.2%)
Roscommon High School (Roscommon County) (46.4% / 71.4%)
Whitmore Lake High School (Washtenaw County) (46.2% 71.4%)
Sault Area High School (Chippewa County) (43.8% / 70.5%)
Source: mischooldata.org
And it's a big one — the University of Michigan in Ann Arbor. Counselor Kathy DeKeyser said that's intentional: It's meant to get students dreaming early about their capacity to handle high academics.
Related:
In the years that follow, they will visit a local community college, a small liberal arts school and a large university as they contemplate different environments where they might fit.
The school's efforts are impressive. While 54 percent of Michigan high school graduates enrolled in a community or four-year college last year, Whitmore Lake sent 71.4 percent of its grads to college, despite its high poverty rate.
The school, just north of Ann Arbor, is one of 19 high schools across Michigan that sent more than 70 percent of its graduates to college last year despite having a student population that was more than 40 percent economically disadvantaged. That's important for a state that has been pushing for years to increase the share of adults with a college degree.
DeKeyser credits the staff's dedication to creating a college-going culture early. She adds that it doesn't hurt that the school's size (about 300 students in grades 7-12) makes visiting colleges easier.
"It's a gift because we are that small, so when I do these things, I have the benefit to say, 'We're all going,'" she told Bridge Michigan.
Counselors, coaches and leaders at these high-poverty, high-achieving schools describe a host of strategies that allow their students to beat the odds. While each school's approach varies, they tend to overlap on three key practices:
No matter their size, they develop close relations with students and, equally important, their families
They begin educating students on the nuts and bolts of college applications, deadlines and scholarships years before students graduate
And they don't leave all the heavy lifting to the counselors — teachers and others work in concert to prepare students for what's next
"There's lots of little things that we use, but it's messy, it's not linear, it's time consuming," said Jane Spencer, a counselor at Roscommon High, which sent 35 of its 49 graduates to college last year. "It's the efforts of the people in the school building talking to kids in the same way about planning what's next."
Spencer said she recently took a group of eighth-grade students to a career exploration day at nearby Kirtland Community College in Grayling. One girl sat in on a course on becoming a surgical technician and "that's all she wants to do now."
The girl is asking questions about how to make that dream happen. Spencer said that early enthusiasm is important to nurture.
Ryan Fewins-Bliss, executive director of the Michigan College Access Network, a nonprofit that works to get more students to pursue a college degree, said some barriers are more significant for lower-income students, including knowing how to apply for scholarships or federal aid that can bring down college sticker prices. The schools that best help low-income or first-generation applicants negotiate those hurdles get more students to college.
Such details matter. The difference between poor and more affluent students' college-going rate is stark.
Consider:
In the 58 Michigan high schools where at least 80 percent of students were economically disadvantaged in 2021, 37 percent of graduates went to college the following fall. In the 55 schools where fewer than 20 percent of students were poor, 74 percent went to college — a rate twice as high.
Statewide, 38.5 percent of students from low-income families enrolled in college compared to 62.8 percent of students who are not economically disadvantaged.
At Crestwood High School in Dearborn Heights, where nearly three-quarters of students are economically disadvantaged and about the same amount enrolled in college last year, school counselors get out of their office and into classrooms.
Crestwood Principal Roni Abdulhadi said he remembers when he went to high school a student typically saw their counselor once or twice a year to pick their class schedule. That's changed.
The school's four counselors also visit classes several times a year and create education development plans for each student. By getting in class, counselors build stronger relationships with students and allow teachers to become part of the process of getting students ready for college or vocational learning after high school.
If a student does not want to attend college, Crestwood helps them find their right path. Football Coach Jamal Al is also an outreach coordinator for the Michigan Regional Council of Carpenters and Millwrights. He tells students about the "other four-year degree," where students can get a national certification and earn money while learning a skilled trade.
"One of the things I believe: If you feed a kid with information and load them up with options, I think (the) tools are there to make a good decision," Al said.
The information Crestwood provides is specifically geared to college prep. Most students at the school, which it says is 74 percent Middle Eastern and 9 percent African American, take a one-semester course focusing on essay writing, financial aid, creating a resume and honing communication skills for college interviews.
Last year, 72.6 percent of Crestwood's graduating class enrolled in college, according to state data. The rate was slightly higher for students from economically disadvantaged families.
Schools build trust with students and families
Forming relationships with students is critical, but so is involving families and understanding how their cultures inform what a college education looks like.
At Central Academy in Ann Arbor, where nearly all students are economically disadvantaged, 82.9 percent of graduates enrolled in a college within six months of graduating last year.
School director Luay Shalabi said most students come from "different cultural backgrounds" including Middle Eastern, Islamic and Asian students. Many of their immigrant parents want their children to remain close by for college, so the school works hard to assure families that area colleges are safe, and affordable.
"We know what our parents want and (there) are much better chances for our students to be joining a college if it is close to home," Shalabi said.
About 46 percent of last year's Central Academy graduates who enrolled in college went to Washtenaw Community College and 22 percent went to Eastern Michigan University, according to the state. The rest went to U-M's Ann Arbor or Dearborn campus, Lawrence Technical University or Henry Ford College.
And nearly 9 in 10 students (88.6 percent) filled out a Free Application for Federal Student Aid (FAFSA) form, compared to 50.8 percent of high school seniors statewide.
Forming relationships with parents or other trusted adults helps support the creation of high expectations for students, said Allison Socol, vice president for preschool through 12 policy, practice and research at the Washington D.C.-based Education Trust, a nonprofit that works to boost achievement, particularly for low-income students and students of color.
"Best practice on family engagement is definitely about building relationships, listening to families, and it not being a-one directional communication," she said.
Central Academy regularly invites recent graduates who go to nearby colleges to return to talk to current students, which Shalabi finds "extremely, extremely helpful."
"That gives the students a security, a feeling of security that, 'If I go there, I'm not going to be alone. I'm not going to the unknown. At least I have so-and-so who will be there and will help me.'"
At Grand Rapids City High Middle School, where nearly half the students are economically disadvantaged, 90 of the 108 students who graduated last year enrolled in a two- or four-year college.
Because students must apply for admission at the school, which participates in the rigorous International Baccalaureate program, it tends to draw high achievers. Principal Ryan Huppert said the program requires "more engagement and more work than a typical high school program," so faculty works hard to support them, including helping students earn money-saving college credits while still in high school.
He said a lot of students leave with a semester's worth of college credit
"And that comes with kind of the expectation of 'Hey, you're going to be one of the most prepared students that you'll meet as a freshman in college and university because of the education that you've received here. And you're going to receive credits that you otherwise wouldn't. So let's take advantage of that by pursuing those best-case college and university options for each student.'"
Huppert said every student is expected to apply to at least one college and is encouraged to complete the FAFSA.
Nearly every Friday in the first semester, head school counselor Danielle Ralston visits the high school senior English class to help students apply for college, including helping with essays and filling out the FAFSA.
"So part of my approach to working with seniors and preparing them for their life after high school has been a very systematic approach," Ralston said. "And when you work within a system, you're able to help the (masses). And when you're able to help the masses, you then have time to work one-on-one with kids who need the additional support and guidance."
The school also invites graduates back to campus to give current seniors advice on exams, how to get the most out of their senior year and be successful at college.
"As much as we like to think that the advice that we give as adults is always fully received, it may be well-intended," Huppert said. "But sometimes hearing from their peers or from a similar age group, sometimes that's better received by the students."
On Thursday, Whitmore Lake will hold a senior assembly as it does at the end of every school year. Graduating students will walk down a red carpet and strike a gong signifying good luck in their next step after high school. But even that senior-focused event is used to inspire younger students.
DeKeyser, the counselor, said school officials feel it's important for students in lower grades to attend as well. It's one more chance, before they break for summer, to dream about their college future.
Only donate if we've informed you about important Michigan issues
See what new members are saying about why they donated to Bridge Michigan:
"In order for this information to be accurate and unbiased it must be underwritten by its readers, not by special interests." - Larry S.
"Not many other media sources report on the topics Bridge does." - Susan B.
"Your journalism is outstanding and rare these days." - Mark S.
If you want to ensure the future of nonpartisan, nonprofit Michigan journalism, please become a member today. You, too, will be asked why you donated and maybe we'll feature your quote next time!