U-M, MSU thrive while Michigan regional universities scramble for students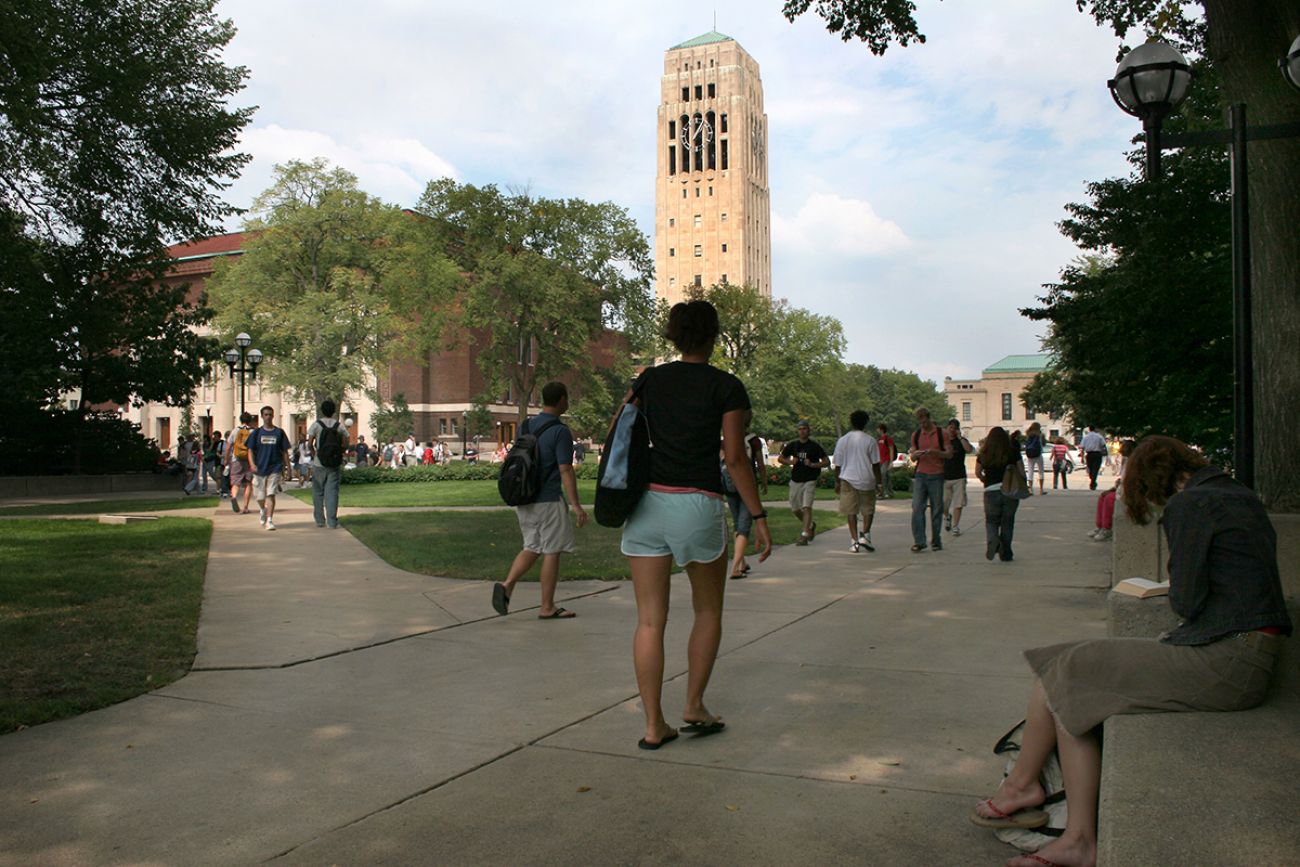 The University of Michigan's Ann Arbor campus has grown by more than 7,000 students since 2012, surpassing Michigan State University as the largest school in the state. (Steve Pepple / Shutterstock.com)
For Michigan public universities, state demographic trends have been a ticking time bomb: Fewer students are graduating from high school each year, and a smaller percentage of those who do are heading to college.
But the pain is not universal.
Enrollment at 12 of the state's 15 public universities is down nearly 46,000 students, collectively, since 2012. But at the University of Michigan in Ann Arbor and Michigan State University, student enrollment has grown over that period — by 7,000 students at U-M and over 700 at MSU. It's also up 62 students at Michigan Tech.
Related:
The result is, effectively, a tale of two university systems — impressive growth at the state's two flagship schools, U-M and MSU, along with Tech, with regional schools competing in a zero-sum competition for a shrinking pool of students.
Add a pandemic and students and families more skeptical of higher education in general, and suddenly Michigan's universities — which operate independently — find themselves in a tighter, more competitive market.
This is not Michigan's problem alone. Since 2015, enrollment in public four-year schools has dropped 8 percent nationally among those 24 years old or younger.
MSU's Director of Marketing and Communications in the Office of Admissions Julia Janssen acknowledged "the competition is a lot more fierce between colleges" as universities shift from a "growth economy into the market share economy."
Officials at three regional universities that suffered sharp declines — Central Michigan University, Eastern Michigan University and Ferris State University — cited the broadening pool of first-year admissions at MSU as a factor in their own enrollment downturns.
"Frankly, for a lot of students, a big school like MSU can be very tantalizing," said Kristen Salomonson, dean of enrollment services at Ferris State, where enrollment is down 29 percent and 4,100 students since 2012.
CMU (down 43 percent) and EMU (down 35 percent) told Bridge Michigan that MSU is their biggest competitor.
Kevin Kucera, EMU's vice president for enrollment management, said the school prides itself on undergraduate research opportunities and small student-to-faculty ratios. But that's not always enough.
"I think that matters to a lot of families," he told Bridge. "And for some students, that doesn't matter. And they want to go to a football game at a packed stadium and they want a chance to go to a Rose Bowl and that's cool. I mean, I get it. We are not going to appeal to everybody and no regional university will appeal to everybody."
The rich get richer
U-M and MSU have cast wider nets and accepted more first-year applicants since 2012. And they've done so with no apparent drop in academic achievement in the students accepted.
MSU and U-M received over 37,600 additional applications in 2020 compared to 2012 and granted admission to more students each year. Yet, average ACT scores for students enrolled at MSU have stayed the same, and U-M's have actually increased. The two schools now enroll 29 percent of all in-state students headed to a Michigan public university, up from just under 26 percent in 2015.
U-M's growth is so stark it is now the state's largest university, exceeding MSU by more than 600 students. In 2012, MSU had nearly 5,500 more students than U-M.
U-M, which is consistently ranked among the top 20 universities in the world, is not just battling for in-state students, who are just over half of enrollment, but for students across the country and beyond.
"We are in a fight nationally for the best students," U-M Vice Provost for Enrollment Management Adele C. Brumfield told Bridge. "The best students are also being recruited by other colleges and universities across the nation, not just from people who are at schools that are at our borders."
In-state, U-M also has made inroads with students from lower-income families through its "Go Blue Guarantee", which provides free tuition at its Ann Arbor, Flint and Dearborn campuses for qualified Michigan students from families with incomes below $65,000 a year.
And U-M has offered more financial aid in recent years. The average student award of scholarships — not counting student loans or federal Pell Grant dollars — was $22,021 in fall of 2020, up 30 percent from $16,842 in 2015. Michigan State's average aid rose to $11,721 from $8,859.
In contrast, at Central Michigan, financial aid averaged $7,843 in 2020. That's up 29 percent from $6,066 in 2015.
Compounding the problem for the smaller schools are lower levels of state funding for higher education. Michigan ranks 47th in the nation in per-student funding of higher education.
There has also been an uptick in Michigan high schoolers going out of state for college. In 2020, nearly 6,100 students chose an out-of-state school, which amounted to nearly 12 percent of those attending a four-year school. That's up from 5,700 in 2015, when they accounted for nearly 9 percent of all four-year students.
Al Pscholka, a former Republican legislator and state budget director under former Gov. Rick Snyder, told Bridge that increasing higher education funding was incredibly difficult — he helped orchestrate an $80 million increase for Gov. Snyder in 2014.
"It was one of the hardest things to get through the legislature," he said.
Lawmakers' hesitancy to invest in higher ed combined with skepticism from students and parents about whether a college degree is worth it makes things even harder.
There were 1,430 first-time students admitted to Ferris for fall 2021 that lived within a 50-mile radius of its campus in Big Rapids. Of that group, 22 percent enrolled at the school, 38 percent went to a different school and 40 percent went to no school.
"So our biggest competition in that local area is no institution, not Central or even (Grand Rapids Community College) or another community college — it's literally not going anywhere," Salomonson said.
Ryan Fewins-Bliss, executive director of the Michigan College Access Network, which advocates for sending more students to college, particularly low-income and first-generation students and students of color, said adults are giving "bad advice" to teens when they say a college degree isn't worth it.
He said there's this "urban myth" that if a student isn't good at math, for instance, they should pursue the skilled trades.
"Why are we telling them that?" he said. "You know who uses math more than me every single day: every skilled trade. And their math really, really matters so that our buildings don't fall over and our cars stay together."
So what's the strategy for regional schools?
At Ferris, administrators are selling the message that college can be affordable for less-affluent families by expanding scholarships. For example, the school's "Bulldog Bonus" lets students earn up to $2,000 in scholarship funds if they are admitted, attend a financial aid workshop and submit the Free Application for Federal Student Aid (FAFSA) form.
The number of state high school students seeking federal financial aid has been sluggish. In Michigan, 40.9 percent of Michigan high school seniors had completed the FAFSA as of March 25. That's down from 42.5 percent at the same time last year.
At CMU, Jennifer DeHaemers, vice president of student recruitment and retention, laid out a "sales and marketing approach" to recruitment, including more outreach to prospective students. She is also exploring ways to expand students' knowledge about the school before they set foot on campus, including workshops by faculty on topics like cyber bullying that can appeal to parents and high school counselors.
As Bridge first reported, DeHaemers recently critiqued CMU's recruitment efforts in the past decade, telling faculty and staff by email the school had accepted "complacency," and in turn lost market share among high school grads in Macomb, Oakland and Wayne counties.
At EMU, Kucera said the school tries to sell students in these metro Detroit counties by plugging the potential to save money on housing by commuting to EMU in Ypsilanti.
EMU is investing in paying for bus transportation so prospective students can visit campus. Enrollment data shows EMU has had a bit of success in attracting more incoming first-year students from Detroit — 99 students in 2021, up from an average of 77 students from 2016-2018.
Kucera said EMU is proud of its student diversity and wants to ensure that the current population, with a significant minority of students needing financial aid, gets enough support to complete their degree. In 2020, 38 percent of EMU students were eligible for a federal Pell Grant for lower-income students, compared to 19.3 percent at U-M.
The recruitment field is changing rapidly, Kucera said, and now "we've got to be more nimble, we've got to read the marketplace better and we've got to have alternatives that appeal" to others, including adult learners.
Fewins-Bliss, of the college access group, said student priorities are shifting too, especially after more than two years of COVID. Some students never want to do virtual learning again, while others want to do virtual and possibly save money.
"How do you build a business model around that? I think that's the question (universities are) going to have to answer for the future. But students are demanding those things now. They want this, they want that" and schools need to navigate that complexity.
Fewins-Bliss also said he hears from people at K-12 schools who say students are in a "pandemic funk" where it's harder to turn in assignments on time and complete tasks to apply to college. That combined with school counselors being pulled from their typical job duties to help with substitute shortages leaves a "wicked mix" where students need more help and there are fewer adults available to provide the support.
At MSU, Janssen said she too has a shift in expectations. Seven years ago, the school didn't have the price of attendance on its main slide deck for prospective students. Millennials, she said, were focused more on how to get into the school and would figure out the money component later.
Now, she said, "if we don't talk about cost and the value, the cost/benefit of coming (to) MSU upfront, it's a no go. Gen Z is not interested in that huge debt load that the millennials took on."
It also doesn't hurt that the three schools that continue to thrive (U-M, MSU and Tech) are able to attract the highest-performing high school students. The schools have the highest average test scores among enrolled students of the 15 public universities and the highest median earnings 10 years after graduation.
Universities across Michigan told Bridge their experience also shows students want more personalized interactions during the recruitment process.
If the schools are pitching high-quality education and relatively similar costs it's hard to stand out. In those moments, Janssen said, it just comes down to the "sum of the small details" that stick in a student's head.
MSU's approach includes hosting an admitted student day on April 16 just two weeks before National College Decision Day. The school advertises the event as "far different from a regular campus visit," and includes open houses, a student life fair, pep rally and watching the MSU spring football game.
A state with independent players
In Michigan, each of the 15 public universities is autonomous, making its own decisions — a level of independence enshrined in the state constitution.
MSU and U-M can make decisions to boost enrollment — increasing financial aid, admitting more students — independently. For better or worse, that means they often find themselves competing against each other for students.
In many other states, such as North Carolina, California and New York, there are integrated university systems or over-arching governing boards.
States with more unified systems are unlikely to control admission standards, said Frimpomaa Ampaw, department chair of advanced studies in leadership policy at Morgan State University in Maryland.
Yet, a centralized approach can help stabilize enrollment "because the programs are not necessarily duplicated across all the institutions."
"Most systems control the new programs that are made and so every school is able to sort of specialize in something versus every school doing everything to everybody," Ampaw said.
Pscholka, the former Republican legislator, said lawmakers often talked about changing the system, perhaps with an eye at consolidating some universities.
But the constitutional dimensions of that independence make it unlikely to change anytime soon. Legislators have learned that "the hardest thing to kill is the school mascot," Pscholka said. "I think politically it would be very difficult."
Only donate if we've informed you about important Michigan issues
See what new members are saying about why they donated to Bridge Michigan:
"In order for this information to be accurate and unbiased it must be underwritten by its readers, not by special interests." - Larry S.
"Not many other media sources report on the topics Bridge does." - Susan B.
"Your journalism is outstanding and rare these days." - Mark S.
If you want to ensure the future of nonpartisan, nonprofit Michigan journalism, please become a member today. You, too, will be asked why you donated and maybe we'll feature your quote next time!