At Wayne State, easy to get in, difficult to get out
Since LaQuanda Pratt enrolled at Wayne State University three years ago, many of the African-American students she shared classes with are gone. Some left the college because of family difficulties, Pratt recalled. Some ran out of money. Others couldn't cut it academically.
"A lot of students aren't prepared," said the 20-year-old psychology major from Detroit. "They think they did what they needed to be ready for college. Then they get here and find out they didn't."
Wayne State is located in America's largest black-majority city, yet is one of the nation's worst at getting degrees into the hands of African Americans. Only one in 10 black students who enroll at Wayne State earn a degree within six years -- a startling rate that is less than one-fourth the national average for African Americans and one-fourth Wayne's own graduation rate for white students.
Wayne's black-white graduation gap is the widest among all public universities in United States, but many other Michigan schools aren't far behind. The state's public and private universities have the sixth-highest racial graduation gap in the country in 2010, according to Education Trust.
More than half of white students get a degree within six years at Michigan's public universities, compared to a third of African-American students. Lawrence Tech in Southfield had the biggest black-white graduation gap in the country among private colleges in the 2010 report.
Racial graduation gap at each of Michigan's public universities
Moving more black students from freshman orientation to graduation ceremonies is a test Wayne State -- and Michigan -- can't afford to fail. In a state that desperately needs more college graduates to resuscitate a sluggish economy, graduation rates -- particularly for minorities -- need to improve.
Universities in other states have found ways to narrow or eliminate the graduation gap, pumping more college grads (with their higher earning power) into their communities.
Nowhere is emulating those results more vital, and more of a challenge, than Wayne State.
Shocking report greets new prez
On his first day as president of Wayne Statein August 2010, Allan Gilmour was handed the report by Education Trust, a Washington, D.C.-based organization that works to close educational achievement gaps. The report listed Wayne State as having the worst racial graduation gap in the country among public colleges. According to the data available at the time of the report, 43.5 percent of white students at Wayne earned a degree within six years; only 9.5 percent of black students graduated. (Since then, grad rates of 8 percent in 2009 and 10 percent in 2010 have been released.)
"I was horrified," recalled Gilmour.
Wayne State is a large public research university with more than 20,000 full-time undergraduates and 30,000 students overall. The school is home to the nation's largest single-campus medical school and a large law school -- and has the nation's top-ranked social work program.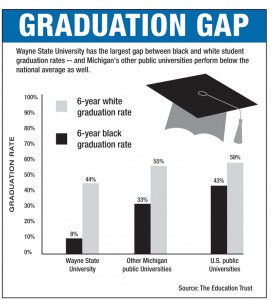 The school may be best known for having one of the largest black student bodies of any four-year college in America, with 7,423 African-American undergraduate and graduate students.
But most of those black students aren't graduating. Since 2002, the percentage of African-American students who graduate within six years (the standard length of time used by universities to measure student success) has wobbled between 8 percent and 12 percent. The national average for public universities is 43 percent.
That's a grim economic indicator for Detroit, said Mamie Lynch, a higher education policy analyst for Education Trust.
"Economic competitiveness depends on an educated work force," Lynch said. "We simply can't rely on students who have traditionally been well-served; we need to improve access and success for students of color."
If black students graduated from Wayne State at the same rate as their white classmates, about 3,000 more African Americans would have earned a bachelor's degree in the past decade. In a city with one of the lowest rates of adults with a bachelor's degree or higher (12 percent, compared to a national average of 29 percent), several thousand additional college grads could help spark revitalization.
A Wayne graduate and the class of whenever
"Detroit can't grow by importing a bunch of college grads and saying we don't give a damn about what happens to city residents," said Kurt Metzger, director of Data Driven Detroit*. "You have to be able to (get degrees into the hands) of the minority population of Detroit."
Gap isn't confined to Wayne St.
Wayne State isn't alone. Graduation rates for the poor and for minorities have typically been low. Minorities, on average, enter college with fewer academic credentials. A higher percentage of minorities are the first in their families to attend college, and thus have less tutoring on how to succeed on campus. The black-white graduation gap is 16 percent nationally.
Wayne State's students face challenges that most students at the University of Michigan or Michigan State University don't. More than twice as many are poor; five times as many are part-time students, often working full-time jobs or caring for children; eight times as many are over the age of 25. A blown gasket in a car or a child with pneumonia could lead to dropping out of school. Their median ACT scores are significantly lower than students at many colleges, meaning they often struggle more with college-level work.
But a Bridge Magazine analysis found numerous colleges where students have similar challenges as those atWayne, but still graduate at a higher clip.
The University of Illinois-Chicago has a similar proportion of students receiving federal Pell Grants (awarded to economically disadvantaged students), yet has an African-American graduation rate of 39.7 percent.
Students at Indiana University-Purdue University at Indianapolis have a similar median composite ACT as Wayne students, but black students graduate at more than double the rate of Wayne State's.
Wayne State administrators argue that the six-year graduation rate under-represents the school's true graduation rate, because some of its students who work full-time jobs take longer to earn a degree. While one in 10 African-Americans graduate within six years, about two in 10 graduate within 10 years.
Florida Atlantic University also has plenty of part-time students. But the school still has a six-year graduation rate for African-Americans that is triple Wayne's rate. At FAU, black students get degrees at a higher clip than white students.
"If an institution is able to serve white students at a certain level, they should be able to serve black students at the same level," Lynch said "It's a question of equity."
Wayne State's horrendous black graduation rate can be partially explained by the juxtaposition of the school's liberal admissions policy and tough academic standards. Anyone with an ACT score of 21 or a high school grade point average of 2.74 was automatically accepted as a student. And it wasn't unusual for students who didn't meet those standards to also be admitted through an alternative program.
For example, among freshmen entering Wayne State in 2004 (the latest year for which six-year graduation rates are available), 12 percent had ACT scores of 15 or lower. The ACT has a high score of 36; the national average for ACT test-takers is 21.
Those academically challenged students were thrown into a tough academic environment. In the Carnegie Classification of Institutions of Higher Education, Wayne State is categorized as a high-research university on the same level as U-M and MSU.
Among those students accepted atWaynewith ACT scores of 15 or lower, fewer than 8 percent earned a degree.
Anita Williams, principal at Detroit's Renaissance High School, is sympathetic to Wayne State's struggles. "I know my kids are not as prepared when I get them (at Renaissance). We spend years trying to get them to a high school level. They struggle with rigor; they struggle with the challenges of their courses; they struggle with independence."
Wayne State was giving kids a chance to go to college, but not offering the kind of support needed to get them a degree, said Metzger, who worked at Wayne Stateuntil 2005. "Those who didn't get beat down enough in high school, got beaten down in college," Metzger said. "You can't throw open the doors and let everyone in without providing the resources to make students successful."
Universities apply new techniques
Some schools are beginning to close the graduation gap.
Florida State University increased its black graduation rate by focusing on student data early and often. "They don't just look at graduation rates," Lynch said. "They look at data as soon as they enter campus, looking at mid-semester grades and attendance, finding students who are at risk and intervening early."
The Tallahassee, Fla., school now graduates more than two-thirds of its black students, with a black-white graduation gap of 3 percent.
Florida State also has a program that begins working with local minority students as early as sixth grade, offering after-school and summer programs geared toward preparing kids for college. That's an idea that appeals to Metzger, who believes some of the blame for Wayne State's low black graduation rate must be given to Detroit Public Schools.
"Wayne State needs to get connected much earlier," Metzger said. "It needs to be working with DPS in an all-encompassing effort, a cradle-to-career effort."
Georgia State University in Atlanta got degrees into the hands of more African Americans through Freshmen Learning Communities, a program that helps smooth the transition from high school to college by grouping students who have something in common, such as a class, a major or a sport. Students who join a learning community get better grades and are more likely to stay in school.
The University of Alabama-Birmingham has a black male retention program that its director describes as "highly structured, mentor-rich, highly involved, aggressively rigid." The point of the program, Blazer Male Excellence Network, is simple: "To try to keep these guys in school," said Michael Brooks. "We drill that in to them as much as we can."
Students are required to enroll in a seminar course and meet regularly with program personnel.
"Our target population is the marginal student," Brooks said. "The student who has the 29 ACT, we know they're motivated enough to negotiate college. We're looking at 2.0 (GPA) student with a 17 ACT. The benefit is, that 4.0 student is in the same room, so they're able to see how it's done."
Students in BMEN have a retention rate of 96 percent -- a rate that rivals Harvard's.
"They're not all academically proficient, some are on the bubble," Brooks said. "But it's a good start."
Wayne looks for solutions
A good start is how Wayne State characterizes its efforts to increase graduation rates.
Under Gilmour's reins, the school has undergone a "culture shift" that is focusing more on the care of its customers – the students, said Rob Kohrman, associate vice president in Wayne State's Office of Budget, Planning and Analysis. It's a mind-set Gilmour brought to Wayne State from his former job as an executive at Ford Motor Co.
More African-American freshmen are returning for their second year, 70 percent in 2010 -- up from 57 percent in 2007. That increase is likely to yield a higher graduation rate in a few years.
"It's not a question of blame," Gilmour said. "It's a question of success."
Senior Writer Ron French joined Bridge in 2011 after having won more than 40 national and state journalism awards since he joined the Detroit News in 1995. French has a long track record of uncovering emerging issues and changing the public policy debate through his work. In 2006, he foretold the coming crisis in the auto industry in a special report detailing how worker health-care costs threatened to bankrupt General Motors.
* Kurt Metzger is a contributor to Bridge Magazine.
Only donate if we've informed you about important Michigan issues
See what new members are saying about why they donated to Bridge Michigan:
"In order for this information to be accurate and unbiased it must be underwritten by its readers, not by special interests." - Larry S.
"Not many other media sources report on the topics Bridge does." - Susan B.
"Your journalism is outstanding and rare these days." - Mark S.
If you want to ensure the future of nonpartisan, nonprofit Michigan journalism, please become a member today. You, too, will be asked why you donated and maybe we'll feature your quote next time!