Michigan Environment Watch
Michigan Environment Watch examines how public policy, industry, and other factors interact with the state's trove of natural resources.
Articles
Funding shortage threatens to halt toxic cleanups in Michigan, including a 6-mile long plume of pollution that's tainted 13 trillions of groundwater beneath Antrim County. (with map)
A group of industrial chemicals increasingly is found in Michigan's environment. See where regulators have flagged them so far.
After Enbridge admitted breaching public trust, Michigan is paying a pair of experts big money to monitor the company's studies of its controversial pipeline across the Straits of Mackinac.
This week's can't-miss journalism about Michigan's natural resources.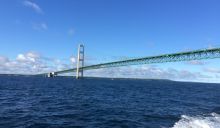 Environmentalists aren't happy. A shutdown seems unlikely. And other takeaways from Monday's deal over the gas pipeline.
Despite broad public support for protecting Michigan's natural beauty, state and federal budget cuts may stall projects in a state that, after the Flint water disaster, has become synonymous with environmental risk.
Pages