Michigan Environment Watch
Michigan Environment Watch examines how public policy, industry, and other factors interact with the state's trove of natural resources.
Articles
A group of industrial chemicals increasingly is found in Michigan's environment. See where regulators have flagged them so far.
After Enbridge admitted breaching public trust, Michigan is paying a pair of experts big money to monitor the company's studies of its controversial pipeline across the Straits of Mackinac.
This week's can't-miss journalism about Michigan's natural resources.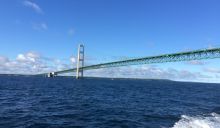 Environmentalists aren't happy. A shutdown seems unlikely. And other takeaways from Monday's deal over the gas pipeline.
Pages