Promises, meet reality: Measuring Detroit Mayor Mike Duggan's first term.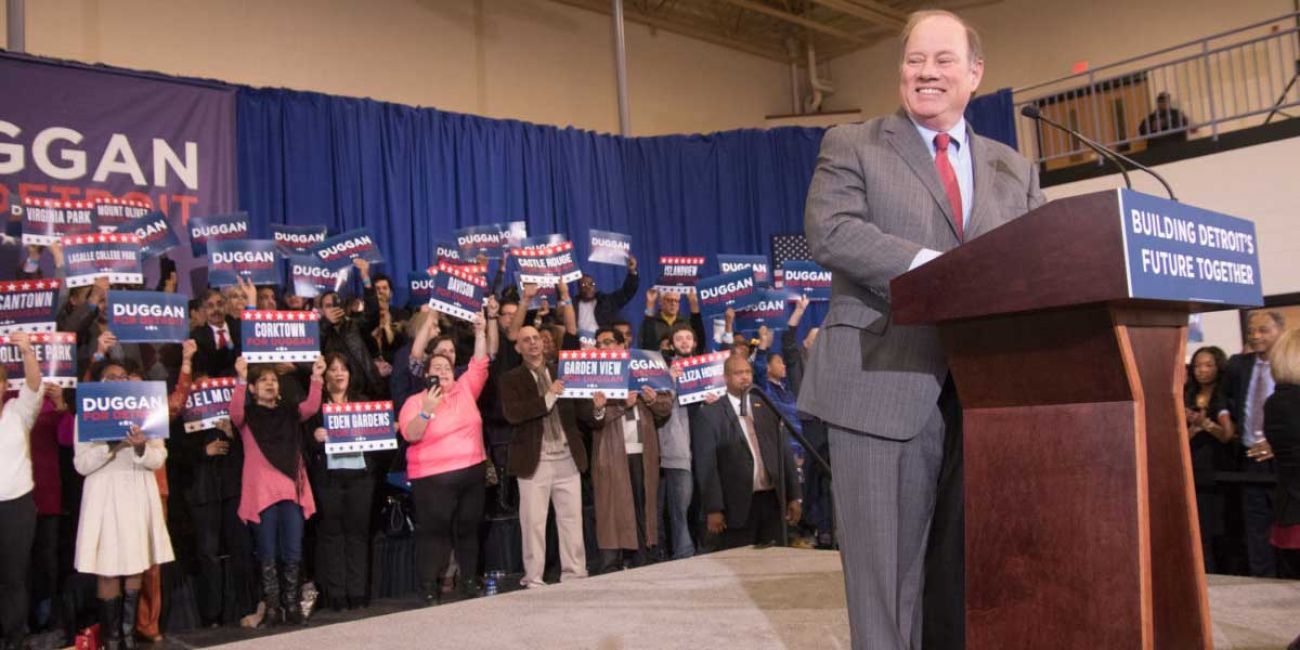 Chastity Pratt-Dawsey will discuss this story at 9 a.m. Thursday, Sept. 28, on the "Detroit Today" program of WDET, Detroit's public radio station.
Detroit Mayor Mike Duggan is running for re-election on his reputation as a can-do technocrat who is loath to make promises he can't keep.
It's a reputation rooted mostly in reality – even though Duggan's record of delivering on promises includes some notable misses, according to a Bridge Magazine review of promises the mayor has made in his four State of the City speeches since he took office on Jan. 1, 2014.
Duggan took on tough issues (with the considerable help of more than $250 million in federal and state funds) during his first term from an ambitious and controversial demolition program to replacing the city's burnt out street lights.
His administration improved parks, tackled blight and put thousands of teens to work in summer jobs. Thus far, though, Duggan hasn't yet delivered on the key goals of creating a discount city car insurance program or increasing the population of the struggling city. And, according to FBI data released this week, he hasn't cut violent crime (although the city disagrees).
To be sure, Duggan inherited a host of problems when he took office. The city was still in bankruptcy (it emerged in December 2014) and is beset with generational problems from crime and poverty to schools and blight. His opponent in the Nov. 7 nonpartisan election, state Sen. Coleman A. Young II, has frequently accused Duggan of racking up successes in downtown and Midtown while neglecting neighborhoods.
Related: Are there two Detroits? A new report says yes, but...
Bridge attempted to sort truth from campaign rhetoric by sifting through hours of State of the City speeches. By in large, the analysis showed that Duggan has avoided making unrealistic promises. In fact, as his term progressed, Duggan began making fewer promises, turning the speeches instead into updates and recitations of accomplishments.
A few caveats: Duggan's office controls the data on some metrics, and some promises – such as repeatedly making the city more "inclusive" – are too subjective for this sort of analysis.
Here are highlights of what Duggan said in his speeches and what reality is today.
2014 Speech
Promise: "We're going to start our own insurance company that we call 'D Insurance.'
Reality: Unkept promise.
Car insurance has been a huge impediment to attracting new residents to Detroit because rates are twice as much as suburbanites.
Duggan lobbied hard in 2015 for a bill to create D Insurance, an insurance policy that would decrease personal injury protection premiums by as much as 55 percent for Detroit residents. It would also reduce medical coverage in the event of an accident.
Related: Seeing red: some of the state's poorest pay the highest insurance rates
The proposal, though, suffered the same fate as other efforts to reform Michigan's no-fault insurance and died in the Legislature. The state has the highest rate in the nation because it guarantees lifetime benefits for drivers who are severely disabled from crashes.
Duggan hasn't given up. This week, he led a coalition of groups in Lansing that announced a package of bills intended to lower Michigan auto rates by up to 50 percent.
Promise: "This summer we're going to have 150 parks open and well-maintained ... we asked the clergy and businesses to adopt parks ... so we can get up to 200 parks open."
Reality: Kept promise.
About 275 parks are now regularly maintained, up from about 25 in 2013, according to Duggan's office. About 70 of the parks are maintained through an adopt-a-park program involving churches and neighborhood groups. Of the 275, 40 are getting makeovers through an $11 million initiative to install new equipment, fields and landscaping. Ten of those park projects were completed last year and the remaining 30 should be done by the end of this year, said John Roach, a spokesman for the city.
Related: That Detroit rarity: a home mortgage
Promise: "By the end of this year, more than 50 percent of the city's neighborhoods will be fully lit and by the end of next year, they'll all be lit."
Reality: Kept promise.
Duggan's predecessor, Dave Bing, initiated the work of the Public Lighting Authority. In 2013, some 40,000 streetlights weren't lit. There are now 65,000 new LED streetlights that illuminate all neighborhoods.
Initially, some residents complained the new lights in the neighborhoods were not as bright, but the city reports that they are 150-watt equivalent LED lights, or twice as bright as the old sodium lights.The street lights on major thoroughfares are brighter, at 250-watt or 400-watt equivalent lights.
Promise: "Is the population of the city of Detroit going up or down? I think that is the one true gauge of a mayor's success."
Reality: Unkept promise.
Duggan has said repeatedly he should be judged on whether the city can reverse a decades-long slide that began in the 1950s and saw Detroit's population fall by more than 1 million residents.
Duggan told media he wouldn't expect to win re-election unless the city adds population, a change he predicted would happen in 2016.
Related: One promise Mike Duggan can't keep?
The city has continued to lose population every year of his term, but the rate is slowing. In May, the U.S. Census estimated the city lost 3,541 residents and the population is about 672,795 as of July 1, 2016.
Duggan notes the data lags by one year and is based on estimates. He points to building permits and DTE Energy occupancy records as positive signs.
2015 Speech
Promise: "We're going at 200 (housing demolitions) a week … the city of Detroit is now considered a national expert (on blight removal.)"
Reality: Mixed.
A cornerstone of Duggan's administration was his 2014 promise to demolish 40,000 homes in targeted neighborhoods with federal funds. About 12,000 homes have been razed, while another 3,000 have been rehabbed.
Related: Can Detroit find salvation through demolition?
A report by the Skillman Foundation hailed the campaign, calling it the most rapid demolition program in the city's history and estimating that each razed home increased the value of nearby homes 4.2 percent.
But controversy surrounds the program, which is subject to a host of investigations including a federal grand jury investigating whether money was misappropriated. In June, Duggan said his office has not been subpoenaed.
Promise: "We're going to roll out a new program called Improve Detroit ... a new app."
Reality: Kept promise.
The city said it was unable to provide the number of individual users who have downloaded the app that allows users to report problems from running water at hydrants to potholes, illegal dumping and damaged street signs.
In 2 ½ years, the app has processed some 80,000 complaints, Roach said.
Promise: "We're demanding the hockey arena (construction) use 51 percent of the workers from the city of Detroit"
Reality: Unkept promise.
The $862 million Little Caesar's Arena (LCA) entertainment complex is city-owned but managed by Olympia Entertainment. LCA contractors agreed to the city's requirement that 51 percent of the construction jobs go to Detroiters.
But Olympia did not meet the goal and contractors had to pay at least $2.9 million in fines. An average of 27 percent of total hours worked at the arena site were performed by Detroit residents from April 2015 to March 2017, according to The Detroit News.
Promise: "We've got to get the violent crime down."
Reality: Depends on who is asking.
Police Chief James Craig has said violent crime has been on the decline since 2013 and dropped 5 percent again last year.
The FBI this week, though, declared Detroit the most dangerous city in the nation. It issued a report claiming that the number of murders, rape, assaults and robberies in Detroit jumped 15.7 percent from 2015 to 2016.
Police data is often controversial, and Craig said the FBI's numbers are off because of aging software.
Promise: "Project Greenlight will have between 100 to 200 locations in the city."
Reality: Kept promise.
Project Greenlight, championed by City Councilman Andre Spivey, started in 2016, connecting real-time video camera feeds from eight gas stations to police headquarters. To date, 211 businesses participate in Project Greenlight, from gas stations and liquor stores to churches and nightclubs. The majority of the businesses involved continue to be gas stations.
2016 Speech
Promise: "This year we set a goal of 8,000 (youth summer jobs)."
Reality: Kept promise.
The Grow Detroit's Young Talent program has employed 8,100 youths for the past two years. Before Duggan, a series of disjointed programs employed about 2,500 youth during the summer, Roach said.
Promise: "This year, Detroit is going to start issuing municipal ID cards to citizens who don't have them."
Reality: Kept promise.
Detroit ID, a municipal identification card for city residents, was first issued in December. The program, pushed by City Councilwoman Raquel Castaneda-Lopez, allows residents who do not have a Social Security number, including homeless adults and immigrants, to access city services and use some banks. A small number of key institutions - DTE Energy, Detroit Police Department, Detroit Public Schools and one credit union, for instance - accept Detroit ID. But most banks have not yet signed on, city data show.
Related: Poor in Michigan with no ID. "I am somebody. I just can't prove it."
2017 Speech
Duggan made fewer promises this year than normal, instead focusing his speech on accomplishments and making several announcements, including a $30 million Neighborhood Strategic Fund, seeded by private investors, to help city neighborhoods, and a return of city street sweeping.
Promise: "We're going to lower unemployment from 9.8 percent through Detroit at Work program"
Reality: Kept promise.
As of June 30, the unemployment rate in Detroit was 7.5 percent, the lowest rate since 2000. Data from the U.S. Bureau of Labor Statistics show 224,642 Detroit residents had jobs in May 2017, an increase of 18,074 since Duggan took office, according to Crain's Detroit.
The Detroit at Work program is an online portal launched this year that helps to link job seekers to job training and employers. The website started in February, and 10,865 residents have received basic job assistance, while 1,530 have been placed in jobs, according to city records.
To focus on community life and the city's future after bankruptcy, five nonprofit media outlets have formed the Detroit Journalism Cooperative (DJC).
The Center for Michigan's Bridge Magazine is the convening partner for the group, which includes Detroit Public Television (DPTV), Michigan Radio, WDET, Chalkbeat Detroit and New Michigan Media, a partnership of ethnic and minority newspapers.
Funded by the John S. and James L. Knight Foundation and the Ford Foundation, the DJC partners are reporting about and creating community engagement opportunities relevant to the city's bankruptcy, recovery and restructuring.
We're not just a news organization, we're also your neighbors
We've been there for you with daily Michigan COVID-19 news; reporting on the emergence of the virus, daily numbers with our tracker and dashboard, exploding unemployment, and we finally were able to report on mass vaccine distribution. We report because the news impacts all of us. Will you please support our nonprofit newsroom?