White cops in black communities underscore tension in Michigan protests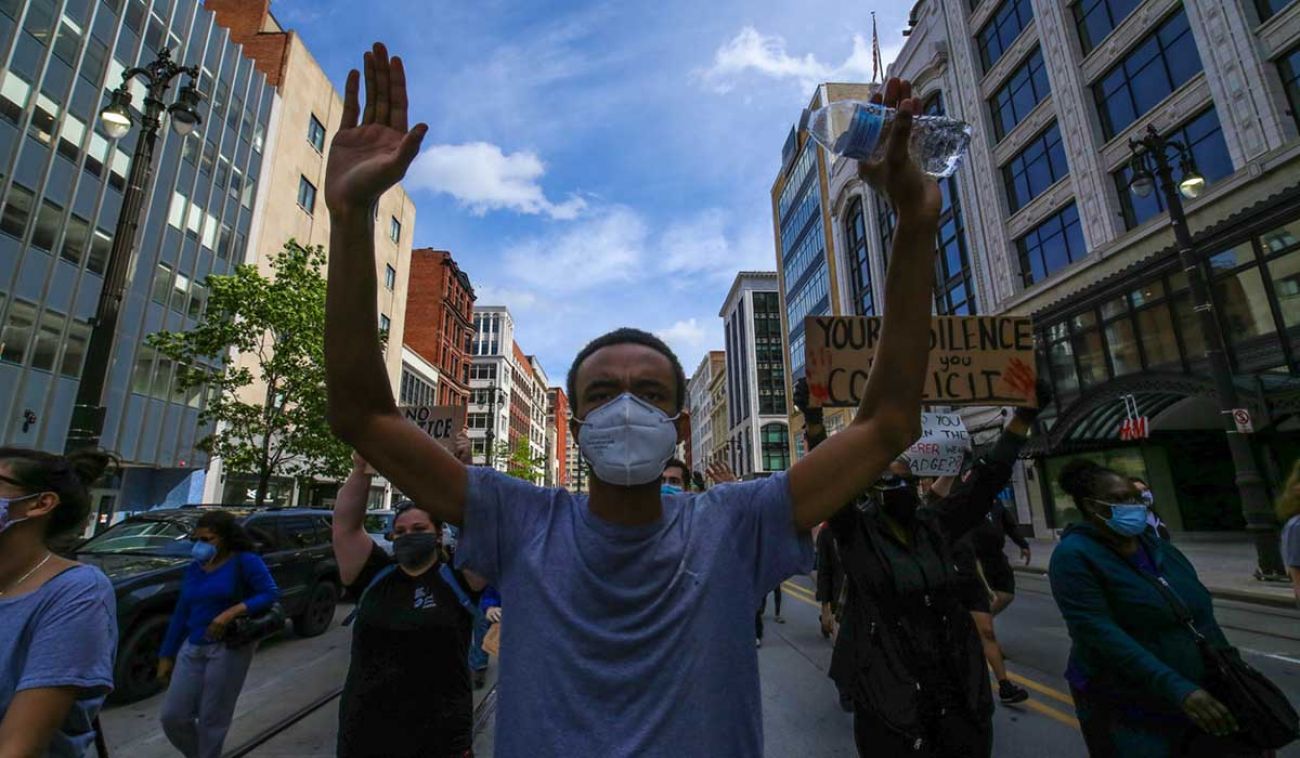 There is a dramatic racial divide between police and many Michigan cities in which they serve, a divide community leaders say fosters distrust between residents and police and could spark the type of combustible confrontation that has broken out in cities across the country in the last week.
Sporadic violence, from looting stores and burning police cars, to police firing rubber bullets and tear gas at protesters, followed the May 25 death of George Floyd in Minneapolis. Floyd, an African-American man, died while being pinned to the street by Minneapolis police officers. A graphic video showed a white officer pressing his knee into Floyd's neck for more than eight minutes as Floyd begged him to stop, saying he could not breathe. His death has been ruled a homicide, and the officer has been charged with murder.
Originally peaceful protests turned chaotic around the country and in several Michigan cities, including Detroit, Grand Rapids and Lansing over the weekend, spurred by Floyd's death and violent police encounters with other African Americans in recent weeks.
One common element in rallies in those cities: police departments that, by and large, look nothing like the people they arrest.
Despite efforts to recruit minorities, police departments in Detroit and across much of Michigan continue to be whiter than the cities they protect.
In Grand Rapids, for example, the population of African-American residents (20 percent of the city) was five times higher than the percent of black cops (4 percent) in 2013, the most recent year comprehensive data could be found on its racial makeup.
In Lansing, the share of African-American police (10 percent) is half that of residents (20 percent).
And in Benton Harbor, where memories remain fresh of violent disturbances in 2003, after a police chase ended in a motorcycle crash that killed a young black man, the disparity is jarring: 86 percent of residents are black, but 80 percent of police officers are white, according to Benton Harbor Mayor Marcus Muhammad.
"I wouldn't have been shocked" if an incident similar to the Floyd death happened in Benton Harbor, said Gwen Swanigan, a community activist and founder of Society Harmonizing Against Racial Profiling in Benton Harbor. "There have been incidents that have come close."
Years of turmoil in Grand Rapids
What started as a peaceful protest in Grand Rapids on Saturday evening ended in flames, looting, shattered windows and extensive damage in the hours after midnight in the city's downtown. Protesters set several parked police cruisers ablaze.
One advocate for overhaul of the Grand Rapids Police Department noted that the protest followed decades of friction between the department – still largely white ─ and its residents."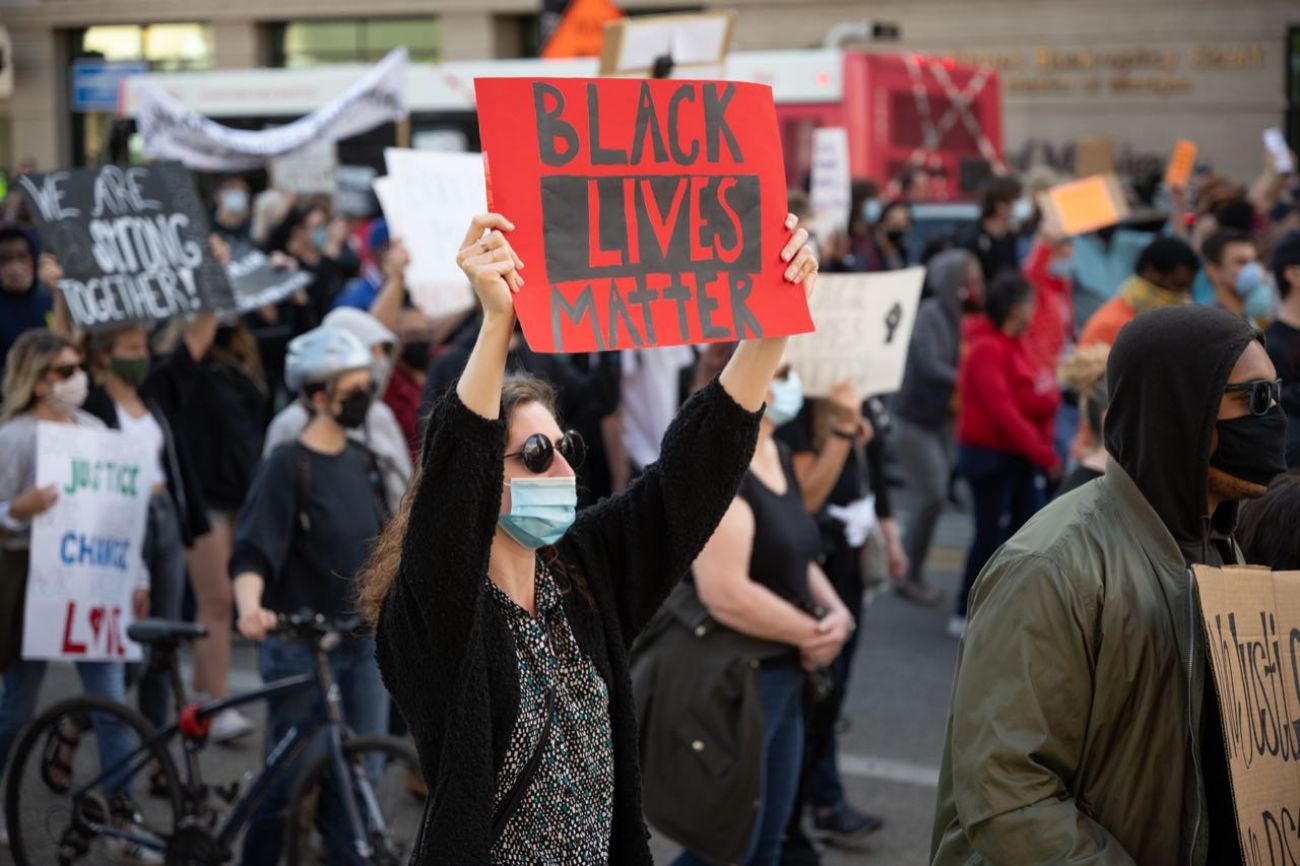 There is certainly a long history of concern by the African-American community around policing practices," said Jeremy DeRoo, executive director of LINC UP, a Grand Rapids nonprofit development organization.
He said it doesn't help that the department has a lack of minority officers.
In 2017, this city of 200,000 residents had but 12 black officers — 4 percent of the police force; another 12 officers were Latino.
Grand Rapids community activist G. Foster told Bridge Monday it's hard for a minority community to trust a police force that looks nothing like them.
"The department doesn't look at all like the community it represents. Is that the best people for the job?"
Foster said the department must find ways to broaden its minority membership.
"If it can be done, it should be done."
But DeRoo said he's unsure that early-morning damage done in downtown Grand Rapids can be strictly tied to racial tensions between the police and the city's African-American community.
"I think we have to be careful how we characterize this because I don't know that it was caused by African Americans. My understanding is that it was a racially diverse group, primarily white, that perpetrated it."
Bridge was unable to reach Eric Payne, the city's first African-American police chief, for comment Monday.
DeRoo cited tensions between African-American residents and police stretching at least as far back as the 1967 rebellion that left burned buildings over several blocks, 44 people hurt and 350 arrested.
In 2017, frictions resurfaced as the city released a report that showed that black drivers were twice as likely to get pulled over as whites. That same year, community groups urged residents to contact the city manager and chief of police after officers held five unarmed blacks ages 12 to 14 at gunpoint, handcuffed and temporarily detained them as they responded to reports of fighting at a recreation center.
Later that year, Grand Rapids police held an 11-year-old black girl at gunpoint and handcuffed her while she screamed for her mother as they searched for a suspect in an attempted murder. The department later cleared the officer who handcuffed the girl.
Last year, the Michigan Department of Civil Rights opened an investigation into the Grand Rapids police force following 23 complaints of discrimination, including allegations from residents of police intimidation and racial profiling. In January, the department said the investigation remained ongoing, while the number of complaints grew to 28.
Seeking closer community ties in Lansing
In Lansing Sunday, several dozen buildings were vandalized, including two state government buildings, during protests.
That city's police force has made efforts in recent years to hire more officers of color after facing backlash from a round of hiring in the Lansing Fire Department that didn't include a single African American or woman.
Derrell Slaughter, Ingham County Commissioner representing southwest Lansing, said members of his community have told him the Lansing Police Department isn't perfect but that they appreciate the efforts the department has made to build relationships with "grasstop leaders to grassroots folks."
In 2019, after a police officer came under fire for punching a 16-year-old girl's leg while attempting to get her into a patrol car, the department quickly reached out to Slaughter and other leaders to update them on the investigation into the incident, he said. The department also recently hired a social worker to work with the homeless and mentally ill.
"In general, I think our law enforcement officers are more sensitive and actually do care about what the public feels," Slaughter said. "And when things do happen that are wrong, they try to be transparent."
Still, Slaughter said police could invest more in training on how to work with people who have mental health issues, anti-bias training and in screening officers.
Diversifying organizations is always a good thing, Slaughter said, but he said he recently participated in a local focus group of young men of color in their early 20s who were asked how they would feel if there was more diversity in the police force.
"They said that wasn't as important, but [what] was important was being treated right and treated fairly."
The Lansing Police Department did not respond to a request for comment.
Benton Harbor's violent history
Benton Harbor has its own long, troubled history of tension between police and residents.
"Police relations have not been great," said Benton Harbor's Swanigan, the community activist. She pointed to the racial disparity between the police department and residents.
"The Benton Harbor Police Department, we have some issues with some of the white officers attacking and harassing our young black men in our city."
In December, a Benton Harbor officer was accused of using excessive force on a young African-American male, who the officer tased and punched in the head to, as the officer said later, "try to get control of him and help him reset his thought process."
The racial makeup of the Benton Harbor police force "has been an issue for years," said Ron Singleton, a former police officer in the city who is African American. "It's pretty much similar to most urban communities. It's a sense of mistrust, a lack of communications. There's a concern that the police department is out of touch with the community."
A national 2015 Gallup poll found 70 percent of whites had a "favorable" view of police in their communities; only 43 percent of blacks looked at police favorably.
In Detroit, the police department is majority African American. But despite efforts to recruit more blacks, Detroit's police force has become whiter, going from 62 percent black in 2013 to 55 percent in 2018, according to data available on the Detroit Police website. The city is 80 percent African American.
Sheriff Benny Napoleon of Wayne County, which includes Detroit, told Bridge it takes extra effort to recruit enough people of color to create a police force that reflects the community, but that it's imperative.
"I strongly believe a police agency that reflects a pluralistic makeup of that community is better able to earn the support and respect of the community that it is serving," he said.
It can be hard to persuade people in a community with a history of unfair treatment at the hands of the police to join their ranks, Napoleon said. But there are ways departments can increase diversity, beginning with recruiting from African-American and Latino sororities and fraternities, labor organizations, churches and the military.
Other policies, such as requiring police officers to live in the community that they work in and eliminating college degree requirements for new recruits, can also help boost demographic representation, he said.
Distrust isn't the only barrier.
Entry-level police jobs in some places can come with low salaries — around $32,000 at the Wayne County Sheriff's department — and poor benefits, Napoleon said.
"Trying to recruit people, anybody, but especially young African Americans into a job where you have a tough job with low pay" and a lot of risk can be a tough sell, he said.
Police brutality and racism in policing has grown as a part of the national conversation since the Black Lives Matter movement sprung up in 2013 after George Zimmerman was acquitted of murder charges for killing 17-year-old Trayvon Martin.
But asked whether policing in Michigan has changed much in the subsequent years, Napoleon said: "Not at all."
While some police chiefs have grand plans for making policing more equitable, chiefs typically stay in their posts for only about three years as local city leadership or politics change, Napoleon said. "In that short period of time, you can't change the culture of agencies."
Continuity of leadership, better training, focused recruiting and intentional community policing will be necessary to foster more trust between police and the community, he said.
"Everybody should be indoctrinated to understand that we serve at the pleasure of the citizens and not the other way around," Napoleon said.
An Obama-era federal report found numerous barriers to minority hiring: strained relationships between police and minority populations and a lack of knowledge about opportunities within law enforcement. But that report also said that screening tests may be inadequate and selection standards may be too rigid.
The police department in Wichita, Kansas, changed its application process to review an "applicant's life experience and skill set" after finding its old policy of entrance tests were knocking out many minority candidates. In Colorado, applicants for police work are now able to ask for exemptions for past criminal convictions, including, in some cases, felonies.
Benton Harbor had its own protest Sunday. It was attended by residents and police. It ended peacefully, Singleton, the former Benton Harbor police officer, said he worries the city won't stay peaceful forever unless relations between cops and residents improve.
"There's so much fuel on the fire," Singleton said. The death of George Floyd in Minneapolis "was like pouring a gallon of gasoline on smoldering wood, it blew up."
That could happen in an urban Michigan community, too.
"We're basically a powder keg," Singleton said. "I believe we're one incident away from something like that happening here."
Only donate if we've informed you about important Michigan issues
See what new members are saying about why they donated to Bridge Michigan:
"In order for this information to be accurate and unbiased it must be underwritten by its readers, not by special interests." - Larry S.
"Not many other media sources report on the topics Bridge does." - Susan B.
"Your journalism is outstanding and rare these days." - Mark S.
If you want to ensure the future of nonpartisan, nonprofit Michigan journalism, please become a member today. You, too, will be asked why you donated and maybe we'll feature your quote next time!