Articles
April 23, 2019 | Andy Balaskovitz
A task force is considering whether farmers enrolled in a preservation program should be allowed to add solar panels.
January 9, 2019 | Andy Balaskovitz
Concluding that climate change is violence upon the Earth, the Adrian Dominican Sisters have poured efficiency savings into renewable energy.
November 2, 2018 | Andy Balaskovitz
Grand Traverse Band says 'we were here first,' but have been 'pushed aside and treated as second-class people' during debate and discussion about the controversial oil pipeline.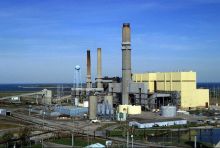 December 14, 2017 | Andy Balaskovitz
Programs designed to help customers lower energy bills aren't benefiting those who need them most.
September 3, 2015 | Andy Balaskovitz
Watchdog groups accuse MDOT of relying on outdated projections of traffic volume to justify expensive expansion projects. Federal courts have ruled in favor of such groups in other states.