Articles
May 15, 2019 | Sarah Winchell Lenhoff, Ben Pogodzinski, Erica Edwards
Detroit neighborhoods with higher rates of asthma have higher school absenteeism. One in five students switched schools during the year. Data can be a valuable tool when researchers are in touch with a city's challenges.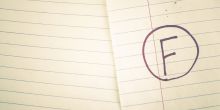 October 24, 2017 | Sarah Winchell Lenhoff
The author takes a State Board of Education member to task for denying that our public schools are in crisis, and cites three policy changes that can boost learning in Michigan.