Articles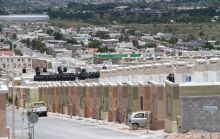 September 25, 2014 | Serena Maria Daniels
Saltillo was once prized for its colonial architecture. Now, this Mexican desert city is flanked by a sprawling vista of tiny stucco homes, where first generation auto workers scrape to join the middle class.
September 25, 2014 | Serena Maria Daniels
Steelcase moved manufacturing to Mexico to save on labor. Herman Miller and Haworth have largely stayed put, with few regrets.