For booming Grand Rapids, a larger ambition: Midwest technology hub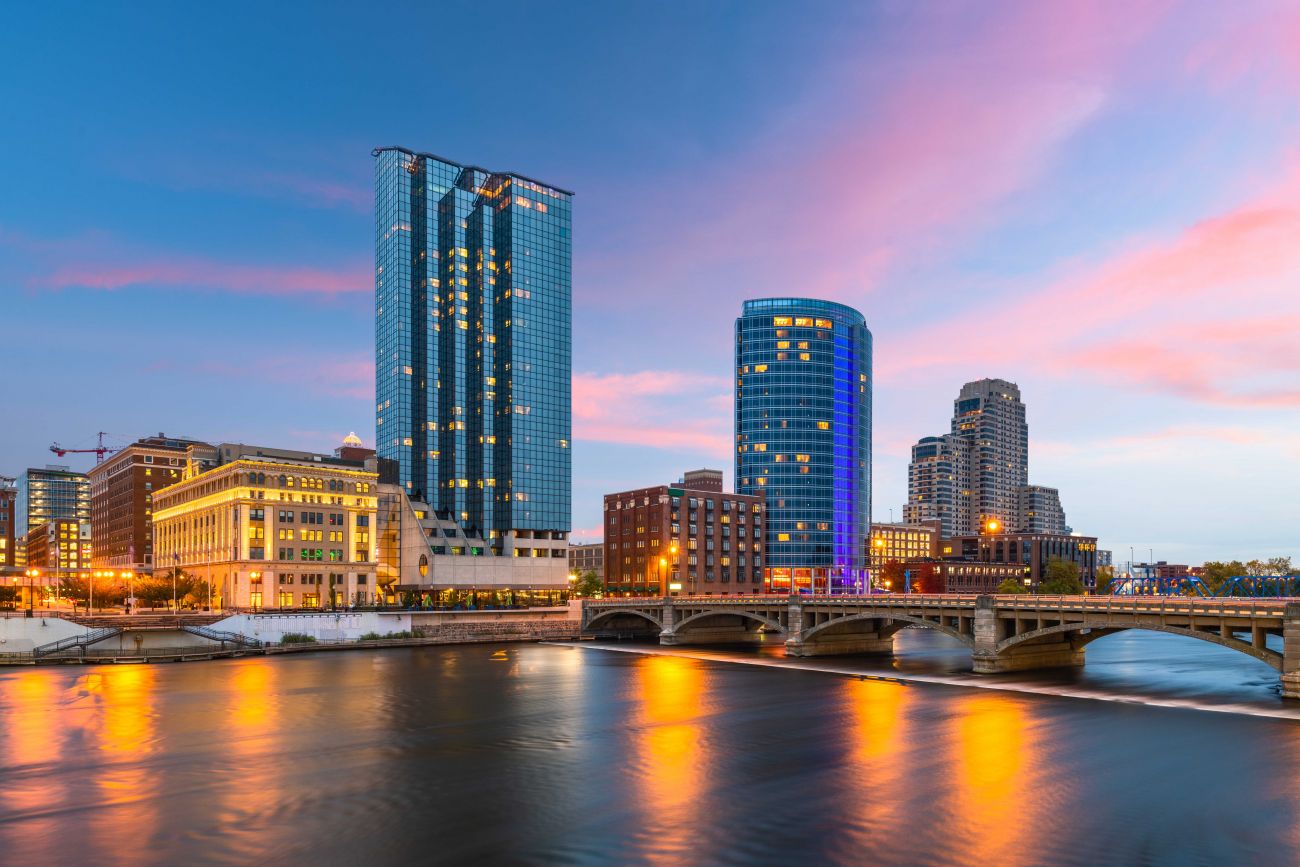 Grand Rapids is one of the few areas gaining population. Its lure could make it a Midwest tech hub, economic developers say. (Photo from Shutterstock)
Business growth in the Grand Rapids region has taken deliberate paths for decades, from development of downtown attractions that fueled nightlife to creation of the "Medical Mile" area filled with medical research and care facilities.
Now the area has a new economic goal: To become the Midwest's leading technology cluster by 2031.
Randy Thelen, CEO of The Right Place, a West Michigan economic development organization, announced the plans for the Grand Rapids area in November.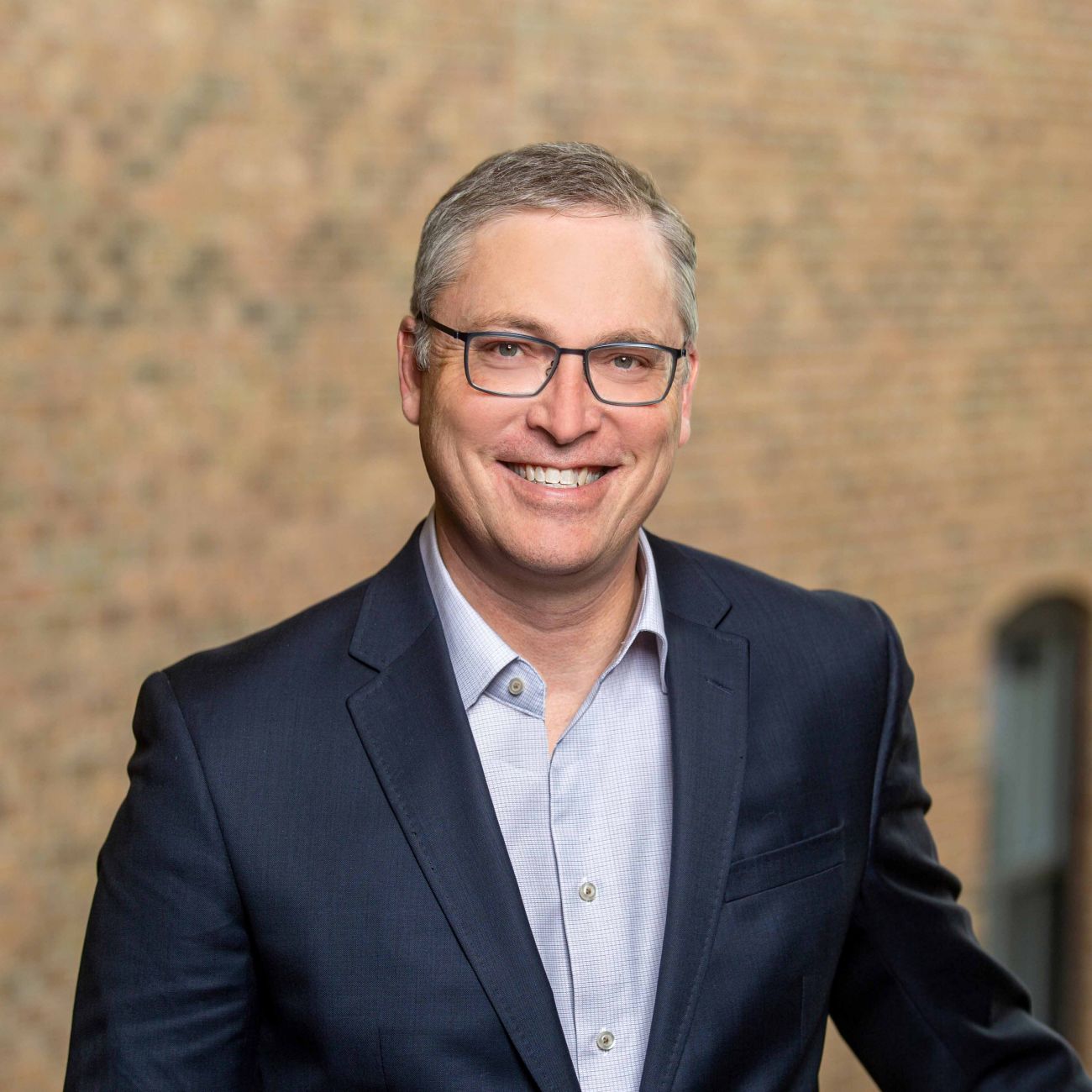 Randy Thelen, CEO of The Right Place, is leading the effort to turn greater Grand Rapids into a Midwest tech hub. 6
"Every business is a tech business to some extent," Thelen told Bridge Michigan. "And so the stronger our tech economy can be here, the more it's going to support every other business across the region, and the healthier and stronger those other companies are going to be."
Researchers say tech clusters "play a central role for modern innovation, business competitiveness, and economic performance." And they involve jobs that extend beyond science and technology. The climate for startup innovation, investment and research advances also is strong, like in Silicon Valley in California, the U.S. model for a tech hub.
The rewards can be great: Denver, for example, saw a 13.8 percent increase in the number of high-tech jobs from 2017-18 through today as it positioned itself as a growing hub. Thelen was senior vice president of economic development at the Downtown Denver Partnership before he took over leadership of the Right Place early this year.
Related:
Bridge business editor Paula Gardner recently spoke with Thelen about the West Michigan tech effort. Here are excerpts from the conversation:
What's the foundation for this move to double-down on technology?
Leadership here across West Michigan recognizes there's not a business in the country, certainly not a business around here, that isn't at its core based in technology in some form or fashion. We've seen our restaurants switch over to much more tech-based (operations) and we've got very advanced manufacturing now that's been managed almost entirely on computers, and sort of everything in between.
We recognize the tech sector as the hottest growth engine around the world and it's something we know we need to grow. And that's what we're committed to do.
The way West Michigan sets its big-picture economic development goals seems unique in Michigan.
There was a recognition back in the early 1980s that what had driven the (West Michigan) region's economic success for nearly a century was starting to run out of steam. The plan of attack that really launched The Right Place was a recognition we needed to diversify our manufacturing base, we needed to move beyond just automotive and furniture, and really start to add what has become aerospace, medical devices, food.
Maybe 20 years after that launch, we had a recognition we needed to diversify the economy. Setting our sights on health sciences was obviously very well-timed, with a series of strategic investments. That's all throughout the region and it has really helped create, frankly, something pretty special. We are approaching $200 million a year in advanced research now in life sciences. So those are pretty big, bold advances over a relatively short period of time.
What are the numbers behind this tech cluster goal?
By our research, five percent of the economy and five percent of the jobs are in tech-based fields today. Our long-term goal is to get that to 10 percent.
We did a survey that showed 3,000 open local tech positions just across 100 companies. So it's not hard to extrapolate that we have 10,000 or more tech positions on the horizon. And we want those jobs to be filled here. We want to either develop the talent to fill it, train existing talent to take on those roles or attract people here to fill those roles as necessary.
So if you think about just those 100 companies and just those 3,000 jobs, that collection of jobs at the wages they pay would be by far the largest economic development project the region has ever seen. They would be dispersed. But if you aggregate that, it would be an incredibly profound economic boost.
I'm thinking about what I've read about Austin, Texas, right now and its economic growth. The lure has to be strong — for companies and young workers. Tell me what kind of competition you face, for the 3,000 open jobs and the goal to grow the tech sector.
The competitive landscape for those positions is extremely intense with remote work or local companies can hire that talent anywhere.
I moved here from Denver at the start of the year. Denver is like Austin in the sense that it has become one of the hottest tech hubs in the country and I was able to work in that environment and understand it firsthand. And what's interesting is, you could go back 10, 15 years in Denver, and it wasn't a tech hub in any way, shape, or form, and it's really exploded in the last 10 years.
That proves that we can build it. We have to find a way to learn from some of those other markets that have had that tech growth, and we've got to find a way to develop and pursue that here.
What national business patterns tell you that you can be successful?
Silicon Valley remains the global center of technology without question, but that has evolved. Over the last 10 years, Silicon Valley companies have been (moving) across the country. Today, they've tended to be in Austin and Denver, Nashville, Salt Lake City.
For the next wave of relocation, we're looking to be that location in the greater Midwest, so if they want to be in the Midwest, those companies want to be here. We've got to provide the talent and the ecosystem that is receptive to that growth.
How does the rest of Michigan compare to your strategy? I live in Ann Arbor, for example, and I know this region considers itself at least tech-centered, if not yet a hub.
No question Ann Arbor is probably the leader in the state today. They have that great connection with a great university. Detroit has made great strides with Bedrock and the Gilbert investments that have been made over the last 10 years. I think Lansing and East Lansing are starting to crack the code more and more.
What are some of the regional assets for a tech hub?
It really is building upon some of the investments that have been taking place at Grand Valley State University. Michigan State University has built this new Grand Rapids Innovation Park downtown that has a heavy tech emphasis. We've seen the growing venture capital community, like Grand Angels, which was started a number of years ago and is a strong, strong player, regionally and statewide.
We've got to find a way to get it to a larger scale so that we can get those bigger.
What will get you to that larger scale?
(In November) we hosted over 100 business and education and civic leaders together to have this tech strategy conversation. We've generated countless ideas. We've got a handful of other strategic planning exercises over the next 60 to 90 days, and we expect to have a strategy completed in that second quarter of 2022.
But you can imagine that plan is going to center around talent. Today, talent is the driver that tech companies are seeking.
We've got to look at our innovation ecosystem. And do we have enough scale to the startup incubator kind of concepts or the venture capital kind of funding? We have that environment that's welcoming into that startup scene and can we take it to a different level? And then business growth: How do we retain those 3,000 jobs that are on the horizon? And how do we attract from Silicon Valley and beyond additional tech companies to come forward?
That's a high level kind of the direction the strategy is going and we're going to put more refinement as obviously as we invite more and more input from across the community.
Before you worked in Denver, you had some success with tech in Omaha, Nebraska, too.
They have a tremendous financial services sector and agribusiness sector, and a major defense industry. Those are sort of their three pillars. We set about a technology strategy of sorts in what was an eye-opening exercise there. Just like we're going to do here, we had to leverage off our strengths…based off of the fundamental industry cluster that was there.
What it taught me is that, even though as a region Grand Rapids might not have a rich, deep history of tech, we can build off of our strengths and invite technology related to our core industries that can really help catapult us forward.
What do you need from the state?
(Michigan has) designed our incentives around manufacturing, and it's served us well. Now, we are going to have to look at our statewide incentives and ask: Are we really well equipped to be competitive for the tech sector? It's a different set of tools.
Such as?
If you think about an early stage technology company, typically they're not yet profitable. I mean, even Amazon wasn't profitable up until a couple years ago. And so if you're not profitable, you're not generating tax liability. And economic incentives generally are against tax liability. So then, what other ways can we help tech companies choose Michigan? It could be investments in their talent development to help them train people to accelerate their growth.
I find myself thinking about education in Michigan as we talk, and all of the efforts to increase skill levels here. Can our workforce support more tech focus?
Technology jobs certainly require higher levels of education. Generally, they require a bachelor's degree or more and a third of (Michigan's) population has a bachelor's degree. High performing tech communities generally are north of 50 percent.
And so we've got to find a way to close that gap if we're going to be successful long-term, but these are the types of jobs that young people want. They've grown up with technology. They've spent the last year exclusively on technology. And so as they look ahead to their careers, they fully expect to be engaged in some form of technology.
What kind of reactions to the plan are you getting from your members?
Overwhelmingly positive. I thought we would have more pushback. We've had tremendous success in the manufacturing sector. We've had tremendous success in the health science sector. And you know, by and large things are going well. But when we look ahead, we know the economy is moving to more technology. We know that's where the wave is going. Everybody understands because their business needs this. It's happening today. And they only see it growing going forward. So it's a natural place for us to want to be. We just want to move it more quickly. And it might occur naturally.
How realistic is your timeline?
While we'll have the strategy done in the second quarter of next year, we have begun executing, frankly, already.
We've engaged with a firm out of Silicon Valley to help us identify target companies (there and nationally) for us to connect to, ones that we think we have a compelling case to make for them to be in West Michigan.
We're working with our companies, talking with them already about what we can do to secure that job growth here versus other markets around the country. And we just submitted a grant to the U.S. Economic Development Administration with partners at Grand Rapids Community College and Grand Valley State University.
So we're not waiting, necessarily. We know there are some near-term opportunities that we can pursue. Ultimately West Michigan is at our best when we plan our work and then work the plan and then that's what we're setting out to do with this technology strategy.
Business Watch
Covering the intersection of business and policy, and informing Michigan employers and workers on the long road back from coronavirus.
Thanks to Business Watch sponsor:

Support Bridge's nonprofit civic journalism. Donate today.
Only donate if we've informed you about important Michigan issues
See what new members are saying about why they donated to Bridge Michigan:
"In order for this information to be accurate and unbiased it must be underwritten by its readers, not by special interests." - Larry S.
"Not many other media sources report on the topics Bridge does." - Susan B.
"Your journalism is outstanding and rare these days." - Mark S.
If you want to ensure the future of nonpartisan, nonprofit Michigan journalism, please become a member today. You, too, will be asked why you donated and maybe we'll feature your quote next time!