Can remote workers jump-start Michigan population? Yes, but roads go both ways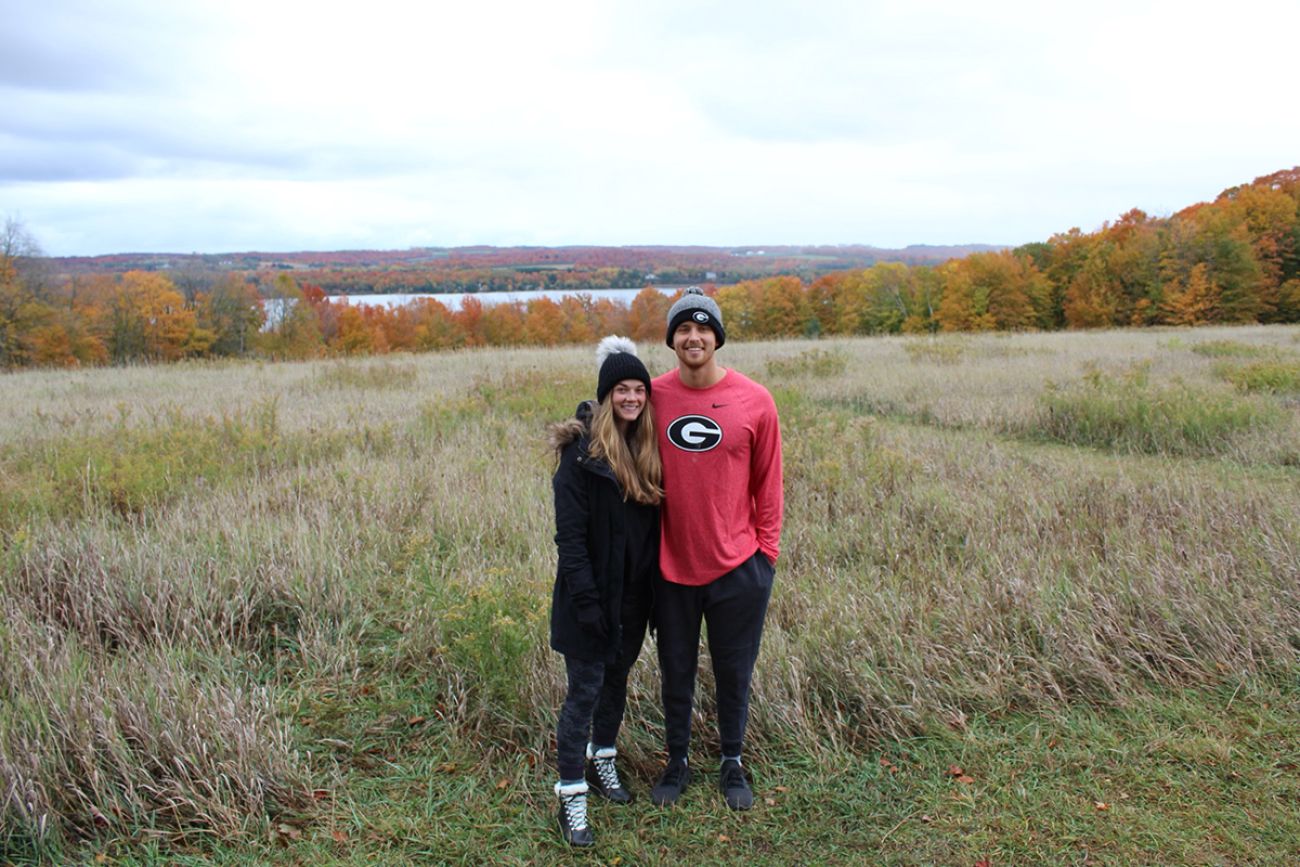 Georgia natives Garrett Spivey and Abigail Baudry moved to Traverse City because Spivey's remote job allows him to live anywhere with a good Wi-Fi connection. (Bridge courtesy photo from Garrett Spivey)
The percentage of Michigan workers who work remotely has tripled since 2019
Remote workers can live anywhere, and some are moving to communities thousands of miles from their employers
Luring more remote workers than it loses could be key to Michigan's population and economic woes
---
If Garrett Spivey's Southern drawl doesn't give him away, his Georgia Bulldog shirt might. The 28-year-old grew up in Georgia and met his longtime girlfriend at the University of Georgia.
That girlfriend's grandfather had a cabin in northern Michigan, and when they vacationed there years ago, Spivey fell in love with Traverse City.
"It's hard to beat," Spivey told Bridge Michigan recently. "But I kind of always figured there was no way to live here because the job market wasn't great."
Related:
Today, Spivey works for a forestry company based in Portland, Ore., but lives 2,400 miles away in Traverse City. His online, remote work allows him to live anywhere that has good Wi-Fi.
Michigan could use a few thousand more workers like Spivey — young college graduates who make good money and are increasingly leaving the state. The population has flat-lined, ranking 49th among states since 1990, and many boosters feel that remote work could be a lure to reverse the trend.
Indeed, the percentage of Michiganders working from home tripled between 2019 and 2022, according to census data, roughly matching the increase in the U.S. More than 1 in 8 (13.5 percent) Michigan employees worked from home in 2022, up from 4.5 percent just three years earlier.
But flexible work cuts two ways, as Rebecca Frausel can attest. The 34-year-old education researcher was recently hired to work for Public Policy Associates in Lansing, and she and her husband are now looking to buy a home.
In Colorado.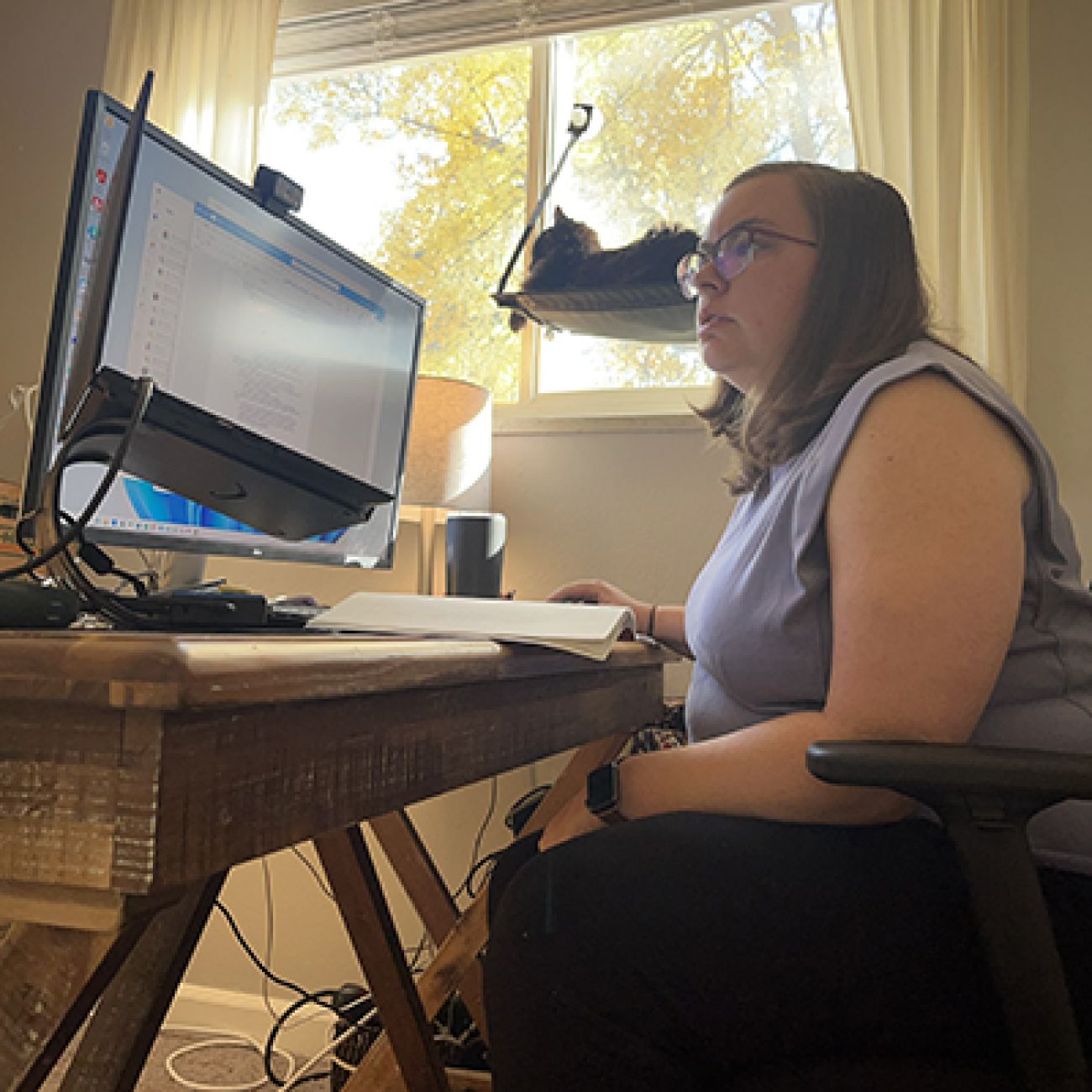 Under the supervision of her cat Lyra, Rebecca Frausel works in her home office in Colorado — for the Michigan-based Public Policy Associates. (Bridge courtesy photo from Rebecca Frausel)
From her Fort Collins apartment, she holds Zoom meetings with her colleagues in Michigan, while her cat Lyra sleeps in a small hammock attached with suction cups to a window in her home office. Close by, her husband is typically on his computer, working for a company based in New York.
"We're lucky to be able to work in one state and live in a different state," Frausel said. "The technology was there all along, but we needed a pandemic to prompt this."
The popularity contest between Michigan and other states is crucial for a state at a crossroads, said Lou Glazer, president of Michigan Future, a think tank that promotes a knowledge-based economy.
"We get younger and more educated," Glazer said, "or we get poorer."
Michigan's 'bad rap'
The company Spivey worked for in Georgia went fully remote in the early days of the coronavirus pandemic. When the company began urging employees to return to the office, he switched to a job where he could continue to work from home.
That allowed him to move to Traverse City in 2022 with his girlfriend, who snagged a job with the city's chamber of commerce.
"Michigan gets such a bad rap," he said. "My friends think it's just cold and Detroit, but there's so much natural beauty here."
Michigan gets no direct economic benefits (such as taxes) from workers who are employed by Michigan-based companies but live in another state. But Michigan transplants who work for companies outside the state pay Michigan taxes and contribute to local economies through their spending.
State leaders have targeted working-age college grads in efforts to increase population and make Michigan more attractive for businesses.
Several years ago, Traverse City's chamber of commerce, called Traverse Connect, launched a campaign to attract young professionals. Michigan's Creative Coast is a talent attraction initiative highlighting the Grand Traverse Region. Its website features photos of young professionals on laptops in Michigan meadows or at the beach, and offers connections to local business leaders who serve as "navigators" to make their move easier.
"We're intentional about making this part of our sales pitch. We saw remote work as a positive," said Warren Call, CEO of Traverse Connect. "We saw this huge influx (of remote workers) during the pandemic, and we're continuing to see people move here and bring their jobs with them."
Seven years ago, the largest number of people moving to Traverse City were 55 and older. Today, it's those 35 to 49 years-old, Call said.
Likewise, Michigan recently launched a $20 million ad campaign targeting border states and 12 other market areas, including New York, San Francisco and Washington, D.C., promoting opportunities in Michigan.
Keri Amlotte, communications director for 20 Fathoms, a technology incubator and co-working space in Traverse City, said there are "about 20" remote workers who use the space, with "six alone who work for California companies, plus workers from New York, New Jersey, Delaware and Florida."
Traverse City real estate agent Meg Zammit said she routinely has inquiries from professionals on the East and West Coasts looking to work remotely from Traverse City.
"Many of the younger professionals are very connected to nature and the outdoors, it's a big part of their personal life," Zammit said. "If they can have that (in Michigan) while making the paycheck from another market, that's a win-win for them."
They're folks like Ben Pearson, an Indiana native who moved from Austin, Texas, to Traverse City. In Austin, Pearson had a 40-minute train ride to reach downtown. "Here it's a 5-minute bike ride," he said.
Sarah Diaz Pennell grew up in Rochester Hills, went to college in Ohio and moved to California for a job. In Los Angeles, her 18-mile commute took her 2.5 hours a day. "It was mind-numbing," she said.
She persuaded her boss to let her work remotely in 2019, and she and her family packed up and moved to Traverse City, where "I live right downtown, and I can literally bike to a co-working space."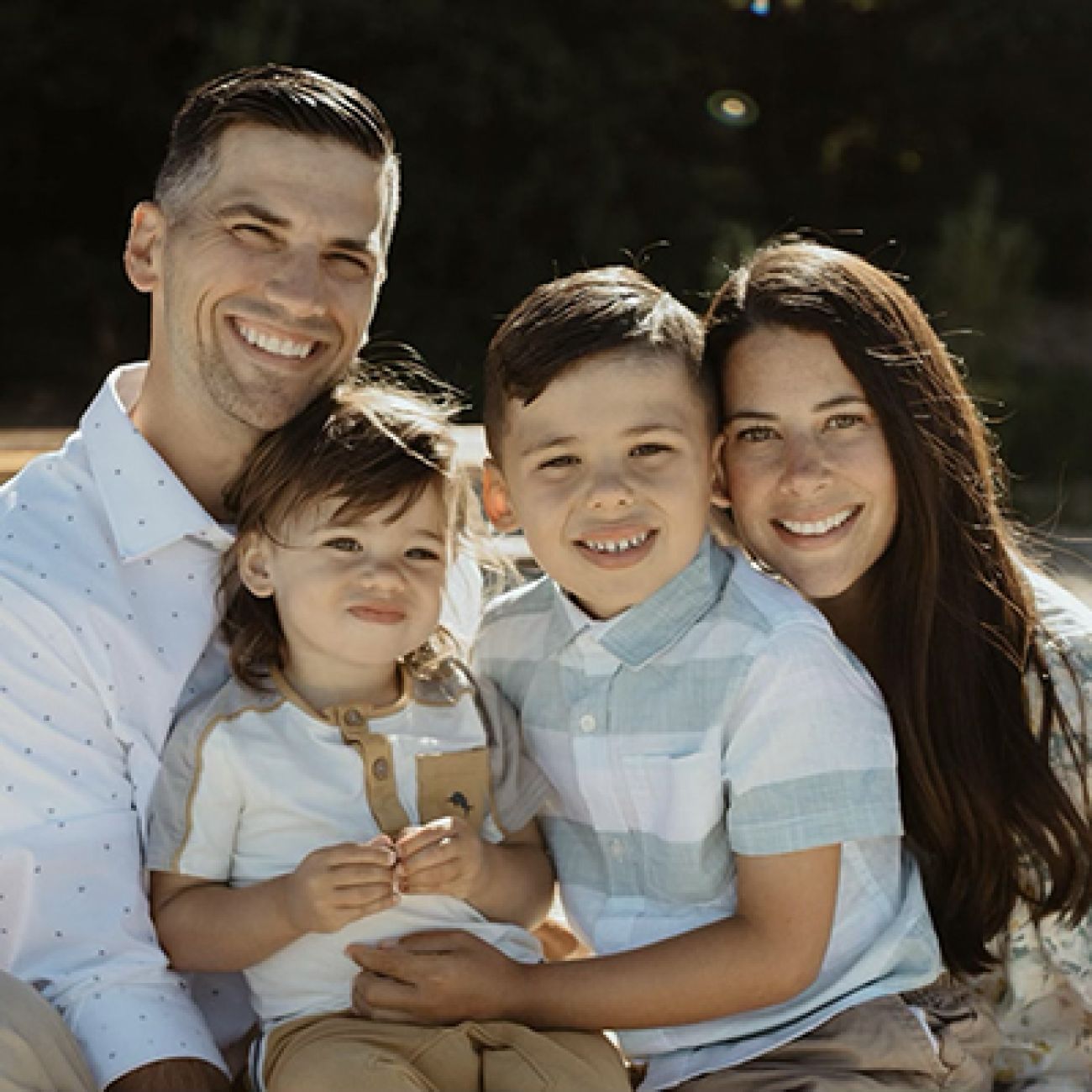 Sarah Diaz Pennell, right, and her family moved to the shores of Old Mission Peninsula in 2019 from southern California. She still works remotely for Amazon and her husband also works from home. (Bridge courtesy photo from Sarah Diaz Pennell)
The 41-year-old, who now works for Amazon, said she's become part of a network of remote workers in Traverse City who work during the day for companies in New York or Washington, D.C., and can be on a bike path or paddleboarding on Grand Traverse Bay minutes after they close their laptop.
"There's so many of me here," she said. "I never knew my neighbors in LA and here I'm making friends and getting involved in volunteering. I've had people come to visit TC and say, 'It's the best-kept secret that no one knows about.'"
Remote workers a 'game-changer'
But remote work makes it just as easy for workers to leave Michigan as it does to come.
Surveys have shown that residents of other states have, at best, mixed views of Michigan, with "cold" often being the first word they associate with the state. And 1 in 4 young adults who currently live in Michigan expect to move elsewhere in the next decade.
Frausel, the education researcher, was living in Erie, Pa., and had few illusions about moving to Michigan when she was hired by Public Policy Associates of Lansing in December 2022.
Erie was "isolating" for her and her husband, who is also a full-time remote worker. "We never felt a part of the community," said Frausel, adding they feared a repeat in Michigan.
"We don't have family in Michigan and we didn't want to be in the same position we were in in Erie," she said.
The couple considered Chicago and Columbus, Ohio, before choosing Fort Collins, Colo., where Frausel could be close to family.
At Frausel's employer, Public Policy Associates, a research and evaluation firm, none of the last three employees hired live in Michigan. In the group's most recent employee search, none of the finalists were Michiganders or had intentions to move here.
"If you're trying to hire trained PhD researchers, you have the entire country available to you instead of just mid-Michigan," said PPA chief executive officer Rob Fowler. "For a company like ours, that's a game-changer."
Fowler, who is the previous president of the Small Business Association of Michigan, said his recent experience with hiring remote workers, along with local employees' resistance to coming back to the office full-time, led him to decide to take his entire company remote.
(Disclosure: Fowler is a member of the board of directors of The Center for Michigan, which publishes Bridge Michigan.)
Michigan as 'best-kept secret'
Fowler said he hopes the state is paying attention to the trend toward remote work and what it could mean for Michigan's efforts to retain and lure new workers and residents.
"There's a relationship between place, business and talent, and business used to drive that, and they assumed talent would show up," Fowler said. "That may still be true in manufacturing, but I think more and more, people decide where they're going to live, and they can get a virtual job or find a job where they want to live."
Fowler acknowledged that's a different perspective than he had a decade ago. Might it be possible, he asked, that a billion dollars in taxpayer incentives for a battery plant to be constructed here could be just as well spent improving the quality of life in Michigan communities to make them more attractive to workers who can live anywhere they want?
"We're still chasing businesses, and there's so much political pressure to do that," Fowler said. "Could you say, 'We'd love to have Ford build a plant here, but we're going to focus on talent.' That would be politically dangerous, maybe courageous, but that would be the implication of saying we were going to spend our money differently."
Glazer of Michigan Future said the state is still struggling to shed a "20th Century infrastructure vision" that focuses on fixing roads rather than making communities more walkable.
"People aren't moving to Chicago because there are fewer potholes, for God's sake," Glazer said.
"You've got to have cities and inner-ring suburbs that are attractive to knowledge-industry workers," many of whom now can live anywhere they want, he said.
"Quality of place matters. If you look at where knowledge workers choose to live, if not central cities, it's high density, high walkable places," Glazer said. "If you don't have a Chicago or a Traverse City, you're not getting these people."
Some of the state's best salespeople may be remote workers in communities like Grand Rapids and Traverse City, where transplants like Spivey sound like those old Tim Allen "Pure Michigan" ads.
"When the clock hits 4:30, I'm taking the dogs and going grouse hunting," said Traverse City remote worker Spivey. "If I were still in Atlanta, I'd be driving an hour to get outside of town, and that's without traffic."
Business Watch
Covering the intersection of business and policy, and informing Michigan employers and workers on the long road back from coronavirus.
Thanks to our Business Watch sponsors.
Support Bridge's nonprofit civic journalism. Donate today.
Only donate if we've informed you about important Michigan issues
See what new members are saying about why they donated to Bridge Michigan:
"In order for this information to be accurate and unbiased it must be underwritten by its readers, not by special interests." - Larry S.
"Not many other media sources report on the topics Bridge does." - Susan B.
"Your journalism is outstanding and rare these days." - Mark S.
If you want to ensure the future of nonpartisan, nonprofit Michigan journalism, please become a member today. You, too, will be asked why you donated and maybe we'll feature your quote next time!