Grand Rapids tech firm is paying more to compete for software developers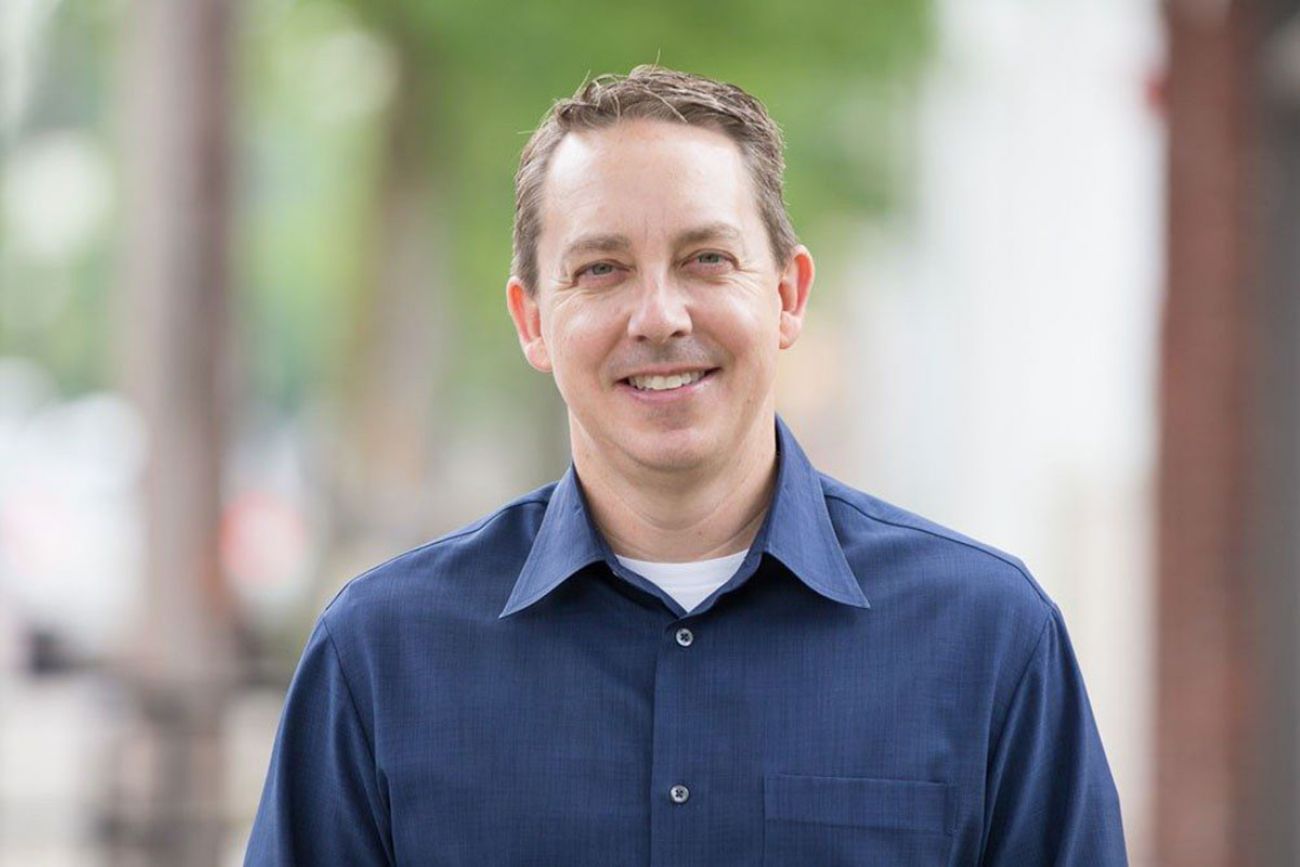 Jeff Williams, managing partner of Atomic Object's flagship office in Grand Rapids, says in-person work is critical for the development of Michigan's young tech talent. (Courtesy photo)
West Michigan is trying to expand its tech sector to 10 percent of its economy in the next decade
The growth and experience of software company Atomic Object, founded in 2001, offers insight into what the region can expect on recruiting
Managing partner Jeff Williams says Michigan's colleges can play a key role in preparing tech workers for jobs in the state
---
Custom software company Atomic Object — among the legacy technology companies in Grand Rapids since 2001 — is now an integral part of the region's goal to become a tech hub by 2032.
Expanding the sector into one of the nation's hubs for high-tech jobs will help diversify the Grand Rapids area economy, increase population and boost opportunities, according to regional economic development group The Right Place, which calls tech the "hottest growth engine in the world."
The goal is to make technology 10 percent of the regional economy in the next decade. In 2022, the region added 2,100 tech jobs to bring the total number of such workers to 35,000. Business leaders aim to add 20,000 more tech jobs over the next nine years.
Related:
But the region — and the entire state (the auto industry also needs tech talent) — faces competition from across the U.S. Careers in software are in high demand, with the Bureau of Labor Statistics predicting demand for software developers will grow 22.2 percent by 2030.
Which means the industry is rebalancing how and where it works, said Jeff Williams, managing partner in Atomic Object's flagship Grand Rapids office. The software company, whose clients include Steelcase, NSF and Ford Motor Co., has grown from about 70 to 90 employees since before the pandemic. It also has offices in Ann Arbor, Chicago and North Carolina.
Williams spoke recently with Bridge Business Editor Paula Gardner about recruiting, retention and what geography may mean for the tech industry in Michigan. Here are excerpts from the conversation:
When we met recently, you spoke about your office culture and how important working in person is to your company. Many businesses are grappling with that today.
We believe big in our offices and our presence. Our physical locations are how we are part of the local community. We invest heavily in that office infrastructure and how we sort of run offices is in our product. It's almost like a franchise.
When the pandemic hit, we made this hard choice immediately to go all remote. I think every company did that, and figured out how they were going to make it work.
Tell me a little bit about your transformation around the pandemic.
We had knowledge workers, so it was pretty easy for us to say, "Hey, everybody go home and work." What was challenging for a lot of our young people is that a lot of them lived by themselves…So a lot of those social structures that they got out of being in the office kind of disappeared for them right away.
It was a huge cultural shift. That huge dynamic of how we were interacting was changing and what we've learned is all young people that got jobs when the pandemic started really suffered because they weren't getting the feedback that they needed. They couldn't really figure out, "Am I doing the right stuff? Should it change? Can I interrupt these busy people and ask them?"
It was really hard for those young people to find success in a remote world.
You've got about 90 employees now, including half of them in Grand Rapids, and only about 8 openings across the company. Have you struggled to hire amid that shift?
We didn't see (significant) turnover until last year in December (2021) when there was this feeding frenzy that was occurring with these big companies that were looking for software developers. They were these big companies on the East Coast and West Coast recognizing that they needed the workers to get things done. They went on a hiring craze. Recruiters were reaching in the Midwest and looking for exceptional talent.
Economists speak a lot right now about wage growth alongside labor pressures. I can imagine it's very acute in software, which is in such demand.
We were doing all our compensation adjustments that December … and we were seeing people getting offers to work for companies, remote jobs, that were for a company's headquarters outside of Michigan, and they were getting offers of $200,000 or more a year to do software development work.
It was just a crazy time. It just seemed like every company was reaching into our market here in Michigan and trying to get remote workers, software developers with experience, and hire them.
How was the pay they offered different from your range?
For some of them it was almost like a 50-percent increase. It was significant enough where they said they want to be a part of Atomic and love everything about the company, but can't turn down this money.
So then you gave three raises in the last year.
Last December, we started seeing signs of people leaving Atomic … as we were giving raises (calculated for) our markets. We said, we can't do that anymore. Because these remote job offers are coming in and everybody's expectations on salaries were changing.
In order to compete well, we made an adjustment. That wasn't enough. We saw wages continuing to increase (and decided) we needed to get ahead of this and not constantly play catch up.
So then we made a third adjustment. We invested another million dollars in compensation changes which is significant, but we felt that was the right thing to do.
And our whole goal is to make sure that people are fairly compensated with respect to the market. Now I'm talking to people in the marketplace about coming to Atomic and (expected) compensation matches exactly where we're at.
Also, one of the things that's unique is we offer ownership to our employees. So they can become shareholders of Atomic and the idea behind that is it creates this sort of long term investment in the company.
Does Grand Rapids pay what Chicago pays?
No, because Chicago is about five to 10 percent higher comp and we're not going to compete there. But Ann Arbor and Grand Rapids for us are the same amount. That probably covers all the way into Indiana and Ohio and parts of the Midwest.
You've said you also had to raise costs to your customers. Is that strategy working out?
Yes. All of the software consultancies have had to make this adjustment (about 35 percent over the past few years).
We're seeing some remote workers revolt when told to come back to the office. Did anything like that happen with your workforce?
I think there's a couple of things at play (instead) here. We had been in this COVID state working remotely at home and I think people were looking for change, saying they can't live like this anymore. I want to work somewhere else. I want to see what other places are like.
Then when some people heard that they could make more money, they said I'm going to go after that. I think that was happening to a lot of companies here in the Grand Rapids area, (losing workers) to big companies.
There was a time when we all heard it was wonderful that we could work from anywhere, because it leveled the playing field geographically for a place like Michigan, where there might be a lower cost of living. But it sounds like that's not necessarily the case. There's a lot of disconnection among people, employers and communities in this scenario.
For young people offered a lot of money, I think this is a great adventure for them to go and have experiences working remotely for these companies.
My fear for them is they're far away from where decisions are being made. And because they're far away from where decisions are being made, they don't see how changes or decisions are happening and it's easy for them to be in a spot where suddenly they're not important anymore. They can get dropped by that company.
And what happens to them if the new employer wants people back in the office?
There's pressure building now in certain companies to have workers next to the leaders that are making the decisions. And I think this is going to continue to increase over 2023.
I think remote workers are going to start to feel more and more pressure for them to actually work physically in the offices. I know there are a couple here in Grand Rapids who are thinking they might have to move to Seattle to keep working for Amazon.
What's your ideal now? What do you want to see in your office this year?
People with remote work had an opportunity for more autonomy in their life. People felt that they could get more autonomy over how they were doing work and when they were doing work than they ever had before in their life. And I think they've leaned into this and that's a good thing for Atomic as creating more flexibility than we had before.
We'd like people in the office 60 percent of the time and 40 percent however they want to manage their time as long as they're communicating with their team. Today they have more freedom, but we still believe in community and connection and being in the office.
When you think about what you're going through and what your industry is going through, what does it mean for Grand Rapids as it sets its goal to increase tech workers?
Grand Rapids is doing a great thing through The Right Place to continue to try to build a more supportive community around technology. So that economically makes sense.
To do that, we have to continue to level up the skills and expertise of the people in Grand Rapids. I see a lot of the programming and ways of creating connections to the community that sort of raises that technical IQ.
The region's also figured out that we have to continue to graduate more students and have them stay locally in town with technical skill sets.
Where are your employees coming from now?
Our biggest pipeline for hiring is right to the colleges. We have an accelerator program, where we hire college graduates and then we put them through a two-year program, just sort of not only make them stronger software developers, but also give them the soft skills. Once they're done with that, we believe they're better at their job than their peers who had just gone from college straight into programming at a big company.
If anything, what we've tried to do is open up and say let's try and hire more people with job experience in that five-year plus range. To see if we can get people who've had some significant job experiences. Right now, Atomic has openings for senior software developers, designers and delivery leads, and we're just trying to see what's out there in the marketplace as a way of adding more expertise.
So are you competing now with basically everybody for the person everybody wants?
Yes. For years, I have looked at software developers and said if you can continue to build the technical skills, but you also have the people skills, then every company is going to want to have you because you're going to be able to come in and add instant value. And the biggest thing we need are people who can solve problems, not people who can just take direction.
Are you optimistic for Michigan when you consider how many places in Michigan seek software developers and a tech-based economy?
I really do believe there has been market smoothing where the Midwest no longer is "cheaper" (as its distinguishing feature). Maybe it's cheaper than the east and west coasts. But I think because of this remote trend the whole market has kind of smoothed out and prices and compensation are now more aligned than ever before with what you can see on the east and west coasts.
Michigan can compete better with other states for what they offer for compensation as well as what they can offer for life experiences. It's just a beautiful state to live in.
Grand Rapids has been so clear about saying what it wants with tech workers. Ann Arbor has a cluster, and so does Detroit, particularly as Ford Motor Co. grows in Corktown. What's realistic for Michigan as other communities eye similar goals to grow high-tech jobs?
That corridor of (population growth from Detroit to Grand Rapids and Kalamazoo) is right for continuing to go after building technology muscle. That requires focus. Attention. I don't think it happens organically.
Communities need to rally conversation and investment dollars and look at programs that they need to do or efforts to create the ability for those places to grow and be seen in the marketplace. Michigan's competing with all the other states.
What's your best advice to college students, your future employees?
They feel like they have to have all the answers figured out now. And I don't think that's true. I think what they have to do is to go in a direction that's interesting that builds these problem-solving skills, and then be okay with trying something out and then changing if it's not working for them.
There are amazing opportunities out there for kids who want to go into software development. Every company is a software company.
Business Watch
Covering the intersection of business and policy, and informing Michigan employers and workers on the long road back from coronavirus.
Thanks to Business Watch sponsor:

Support Bridge's nonprofit civic journalism. Donate today.
Only donate if we've informed you about important Michigan issues
See what new members are saying about why they donated to Bridge Michigan:
"In order for this information to be accurate and unbiased it must be underwritten by its readers, not by special interests." - Larry S.
"Not many other media sources report on the topics Bridge does." - Susan B.
"Your journalism is outstanding and rare these days." - Mark S.
If you want to ensure the future of nonpartisan, nonprofit Michigan journalism, please become a member today. You, too, will be asked why you donated and maybe we'll feature your quote next time!