Holiday sales could set records. Michigan's 'makers' want a piece of it.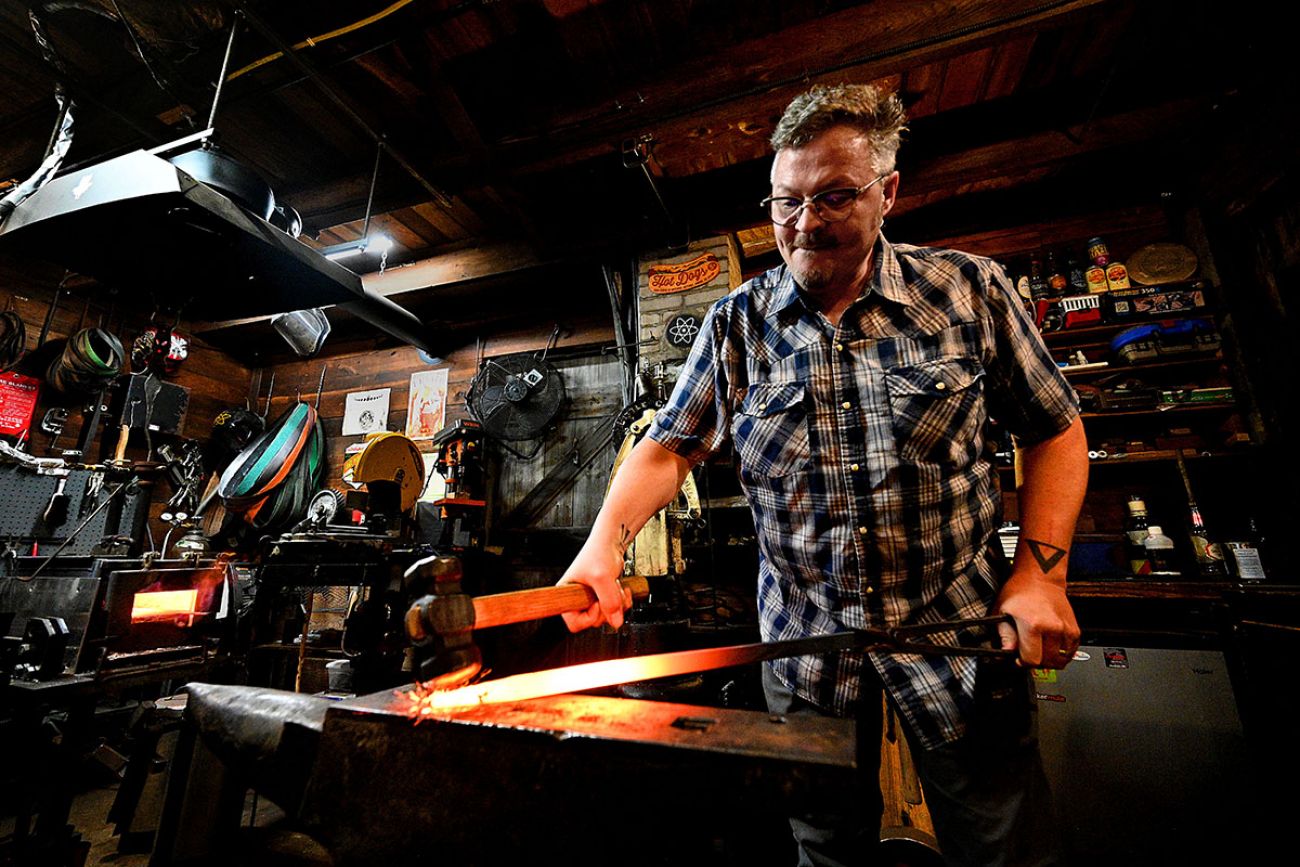 Sparks fly as James Race shapes hot iron in his shop. Race hopes to build a full-time business selling his forging creations online. (Bridge photo by Dale G. Young).
After twisting a piece of metal in the heat of a blue flame, James Race grabs a hammer and shapes it into what he fully believes will represent his future.
Holiday sales of his custom ironworks will tell him if he's right.
Race, a self-taught blacksmith, learned his craft over five years after he bought a five-foot section of steel grating from the Mackinac Bridge when older sections were replaced. He cut it into pieces and made keychains as gifts for friends.
But it was during the early days of the pandemic shutdown orders, when he seemed to have endless time at his Charlotte home, that he started improvising in his backyard workshop, creating bottle openers, crosses, hooks and more.
The more he worked at the anvil, the more ideas inspired Race, like hammering feather or snake shapes into the hot metal.
His wife, Megan, told him he had the talent to sell his work. Race, who works full-time maintaining supplier quality at a nearby automotive factory, wasn't sure.
"I spent almost every night in my shop, working," Race said of the early months of the pandemic. "Pretty soon, I realized I had some decent stuff."
He took his wife's advice, opening an online store. Race now enters the holiday shopping season busier than ever, one of Michigan's "makers" who aspire to dramatic sales growth over the coming weeks and, maybe, earning enough to make a living full-time. In preparation, they are using their kitchen tables or backyard anvils, knitting headbands, concocting hot cocoa bombs, sewing quilts and making glass balls for sterling jewelry mounts.
These are the state's smallest retailers — among the so-called 27 million-plus "solopreneurs" across the U.S. — who create their own inventory, market and sell it, often online on sites like Etsy or their own websites through Shopify, and in person at art fairs or locally owned stores.
The group is growing during the pandemic, as people reevaluate more traditional jobs and whether they're satisfied with them. The number of new businesses increased in Michigan by about 37 percent in 2020, with University of Michigan economist Gabe Ehrlich calling that and year-to-date numbers "incredible growth" at a presentation on November 19.
"A lot of them are what you will call non-store retailers," Ehrlich said, or online sellers who are in the early stages of expanding their businesses.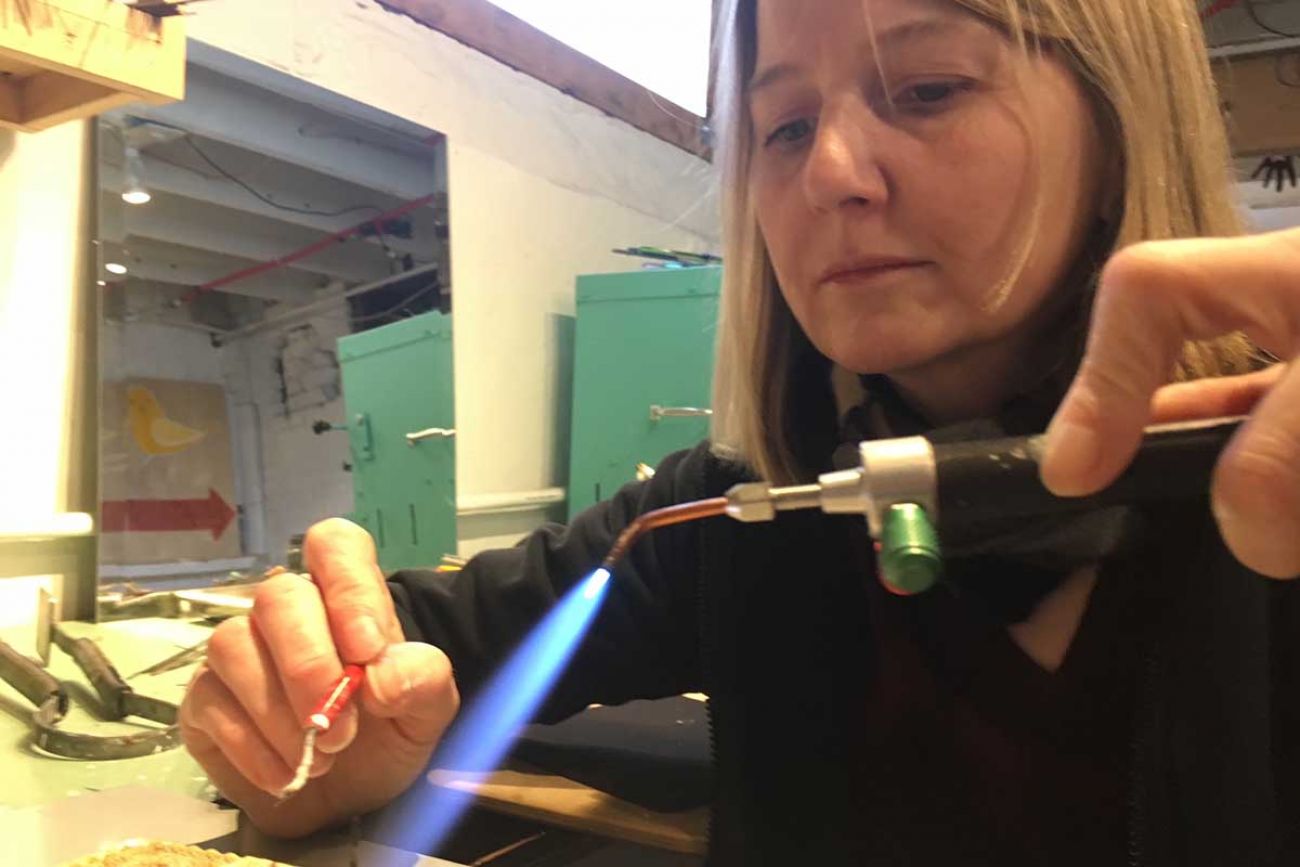 Kristen Perkins, a jewelry artist from Ypsilanti, makes glass balls that she'll set in sterling silver. (Submitted photo)
Holiday hopes
The National Retail Federation forecasts that holiday sales during November and December will grow between 8.5 percent and 10.5 percent over 2020 to between $843.4 billion and $859 billion – setting records for both the growth rate and total amount spent. Consumers are expected to spend an average $997.73.
Michigan retailers are seeing sales growth already, said Jennifer Rook, spokesperson for the Michigan Retailers Association.
Now makers join other retailers in the state in hopes the "buy local" movement that took hold in Michigan and across the U.S. in 2020 continues this year, Rook added.
"You're not just supporting them, you are supporting your community," she said of independent and Michigan-based sellers. "You're putting dollars back in the community."
While sales are increasing, retailers this fall also are dealing with supply challenges and staffing shortages, and the rising COVID-19 cases that are challenging state infection records. Many retailers, Rook said, increased their online sales options last year, something that may help them as uncertainty about public health continues into December.
Nationally, online shopping set a record during 2020 and it's expected to grow by 11 to 15 percent this year, according to global consulting firm Deloitte.
Kristin Perkins of Ypsilanti has spent years as a full-time jewelry artist, making glass balls and setting them into sterling silver silver rings, earrings and necklaces.
Her production slowed in 2020 as art shows were canceled and she took a different job for several months, but sales at shows picked up last summer. Now sales from her website are driving her business, and she's back to full-time jewelry-making.
As she looks ahead to the holiday, Perkins said she thinks people recognize the value of buying art — and of supporting the work of artists by searching for it in stores and online.
"A lot of my customers have developed a connection with me as a person," Perkins said. They tell her, she said, that buying something handmade "makes me feel so rich."
Meanwhile, downtowns struggling with empty storefronts are increasingly considering how to create incubator space for local artisans who, eventually, could grow into their own store space, Rook said.
Some retailers across the state already see the potential for bringing makers into their stores, whether it's by buying merchandise outright, taking it on consignment or leasing small areas to them.
One example is The Port in Portland, northwest of Lansing, where the craft wine tasting room also sells items like meat sticks and cheeses from local vendors and plans events that showcase makers and their specialities.
The store "is here for the community," said co-owner Merry Haas. Bringing in merchandise from small vendors helps to shape that, alongside the experiences customers can find there, like a class on making candles.
"By exposing people to these local makers, they're put in a better position to actually succeed," Rook added.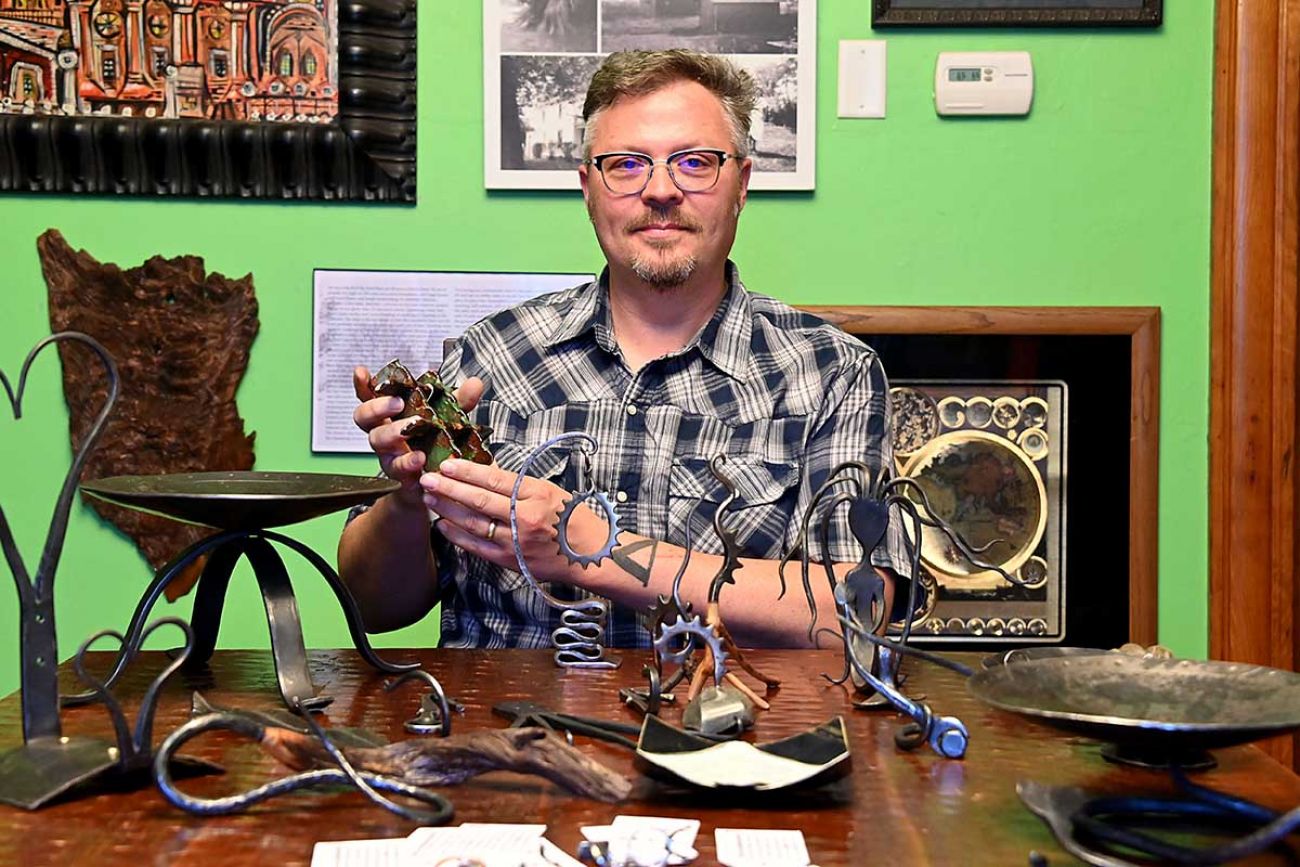 James Race shows some of his creations. (Bridge photo by Dale G. Young).
Learning about business
Artisans play an important role in the state's retail landscape. While their sales may be a fraction of a larger retailer, the makers are "learning the ropes of how to run a business," Rook said.
Race, the blacksmith from Charlotte, sold some items at craft fairs early this year, but he barely has time for that now.
He just had his best sales month yet on his Etsy store, AtomicRabbitironwork. In one week of November, he made as much revenue as he did in his first six months as a seller.
Race thinks the warning about product shortages are helping.
"People are using it as an excuse to … find hand-made stuff," he said.
So once again, he's spending every day in his barn, hammering at his anvil. This year, he's taking time off work to keep up with orders, like the one for 12 feather hooks.
"I spend my time making more stock," he said. "All of a sudden, I'm selling out."
The joy of creating is still there. Now, it's buffered by experience of how to set prices and how long he can spend on each piece to make the sale worth the time invested.
Pieces made from the Mackinac Bridge remain most popular, and he just stocked up on a 40-foot piece of it to keep the inventory flowing.
He's learned that selling his art "isn't just a fluke," Race said. "Now I have to make sure I have enough stock to keep it going."
Business Watch
Covering the intersection of business and policy, and informing Michigan employers and workers on the long road back from coronavirus.
Thanks to Business Watch sponsors:
Support Bridge's nonprofit civic journalism. Donate today.
We're not just a news organization, we're also your neighbors
We've been there for you with daily Michigan COVID-19 news; reporting on the emergence of the virus, daily numbers with our tracker and dashboard, exploding unemployment, and we finally were able to report on mass vaccine distribution. We report because the news impacts all of us. Will you please support our nonprofit newsroom?