Metro Detroit I-75 project nearly done, but with some drama 100 feet below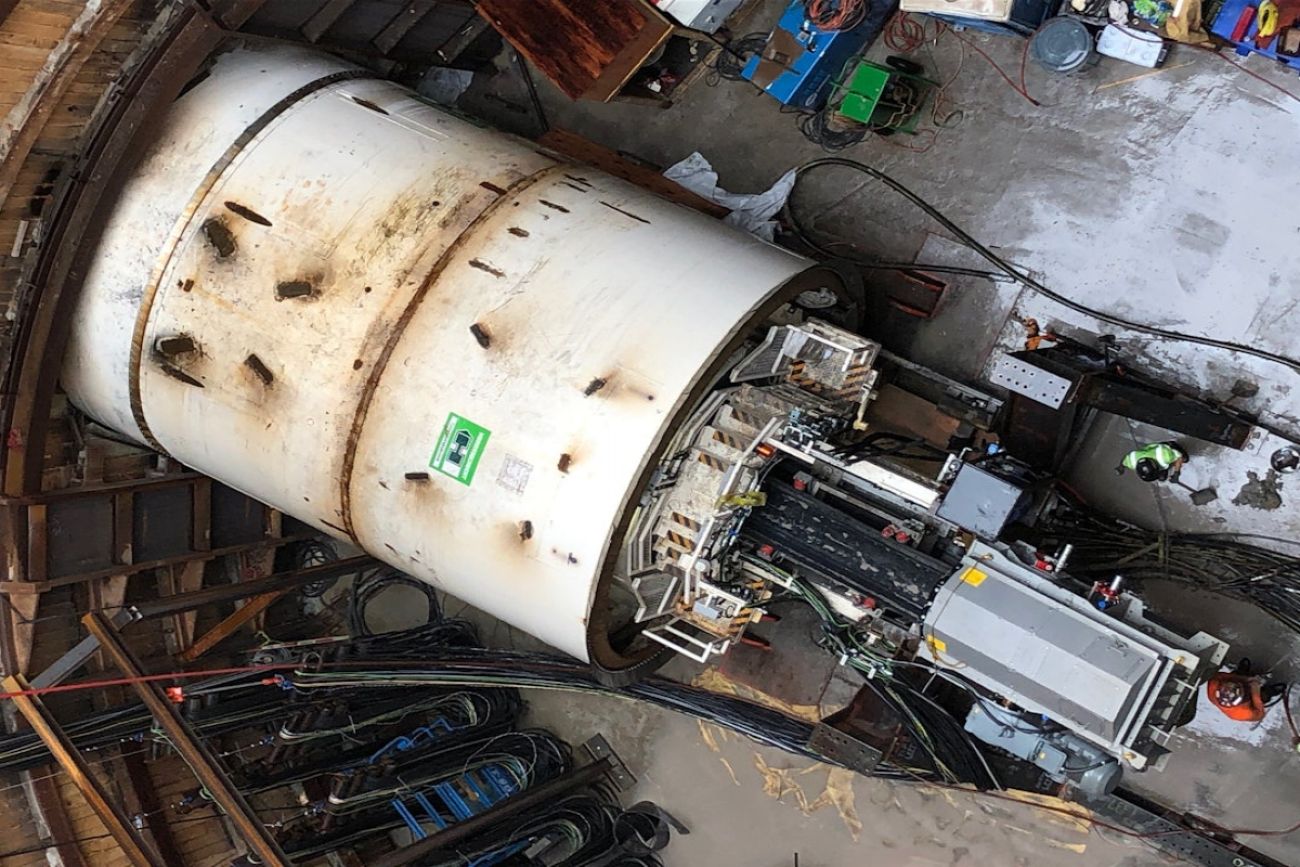 The tunnel boring machine then known as "Eliza" is shown in a deployment shaft near I-696 in Madison Heights as it prepares to start digging a new stormwater tunnel two miles northward while 100 feet underground beneath the I-75 service drive in spring 2020. That July, it hit a silt pocket causing a sinkhole above it and halting work for nine months until the machine could be recovered, repaired, and relaunched. (Courtesy of Modernize 75)
A seven-year, $1.7 billion road project on I-75 in Oakland County is set to finish in September
But there was plenty of drama 100 feet below the surface, where a massive tunnel boring machine was trapped for six months
The tunnel is designed handle up to 25 million gallons of water to prevent a recurrence of the infamous 2014 storm floods
---
After seven years of orange barrels and traffic-snarling lane closures, 18 miles of Michigan's busiest highway in Oakland Country should be fully open in September — but work will continue far underground on a tunnel project that narrowly avoided catastrophe.
A private contractor consortium hired by the Michigan Department of Transportation is wrapping up the Modernize I-75 project's $1.4 billion third and final phase, a 5.5-mile stretch from the Wayne-Oakland County border at 8 Mile Road in Hazel Park to near 13 Mile Road in Madison Heights.
What's less visible is a massive stormwater tunnel system that's been built concurrently with the freeway reconstruction and is already partially in operation. It is part of the state's effort to stave off flooding in that stretch of Oakland County that's been plagued by high water for decades, most infamously in August 2014.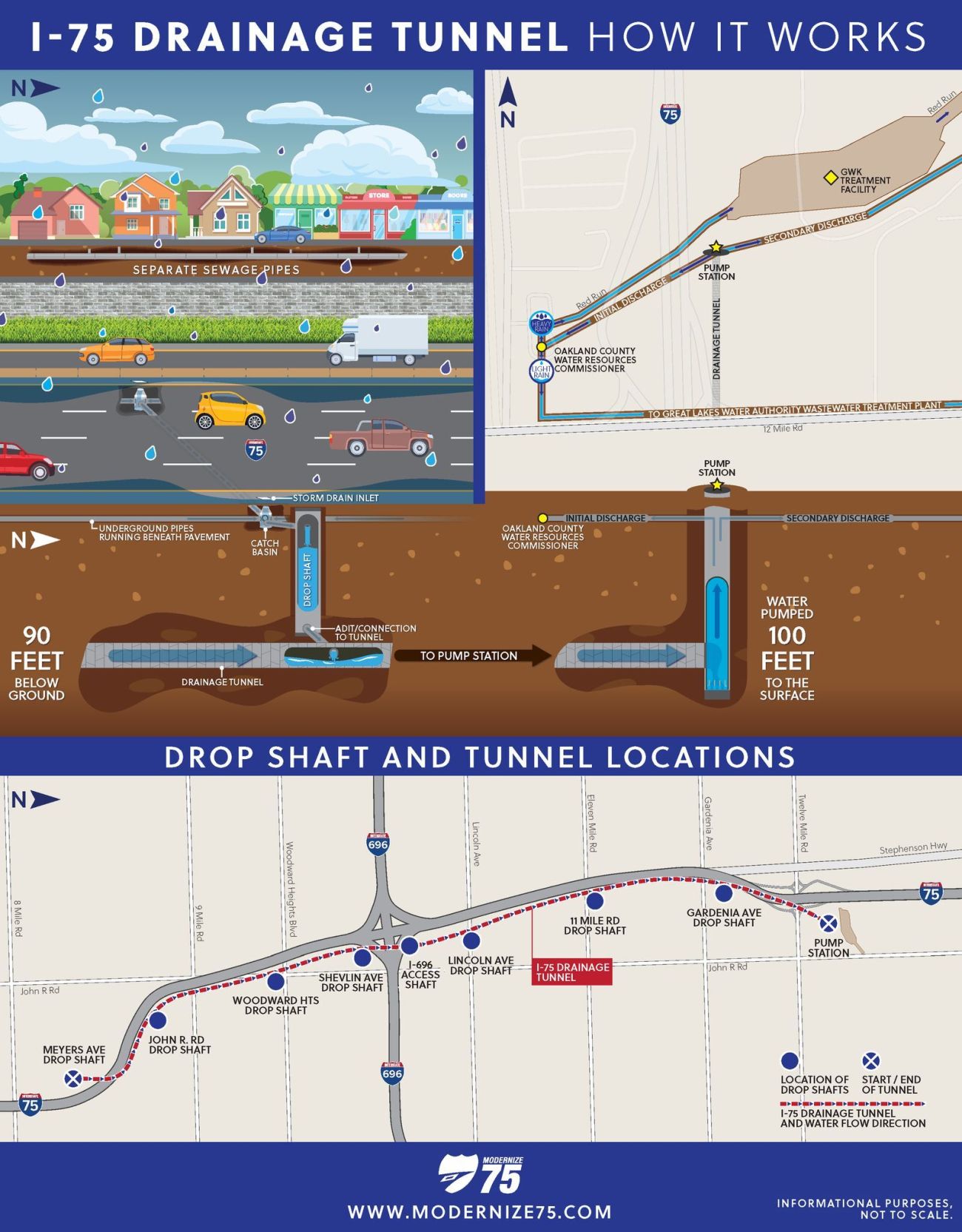 (Courtesy of Modernize 75)
Also invisible to motorists, and not widely reported until now: A large tunnel boring machine (TBM) got stuck underground for six months during the project as it carved out a four-mile-long tunnel 100 feet below the northbound service drive.
Related:
The German-made machine was inching along between 11 Mile Road and Gardenia Avenue in Madison Heights on July 30, 2021, when it struck a pocket of silt that triggered a sinkhole about four feet deep on the surface. The highway was closed for a few days, but the service drive was closed for much longer. A recovery shaft had to be dug to haul out the multi-million-dollar machine and repair and replace portions of it.
No one was injured during the sinkhole incident, which TBMs are designed to handle. Officials said workers in the tunnel at the time were able to exit because of built-in safety technology and protocols.
"It worked," MDOT spokesperson Robert Morosi told Bridge Michigan of the escape operation. "When it hit that silt or whatever it hit, no one was injured and all the workers were available to evacuate."
It's unclear how much the delay and repairs added to the project cost, but only a sliver of that is being footed by taxpayers, Morosi said. That's because the final phase of the highway project, which includes the tunnel work, was handled through a public-private partnership (P3), with contractors paying the up-front construction costs via loans, bonds and private equity investments.
Much of the $1.4 billion will be paid by MDOT to the consortium over 25 years, an arrangement that shaved a decade of work off the overall I-75 project, which originally was set to end in the early 2030s.
The consortium building the project, called Oakland Corridor Partners (OCP), will get what's known as availability payments through 2048 as part of the deal's requirement that OCP perform preventative maintenance on the freeway and tunnel, according to MDOT.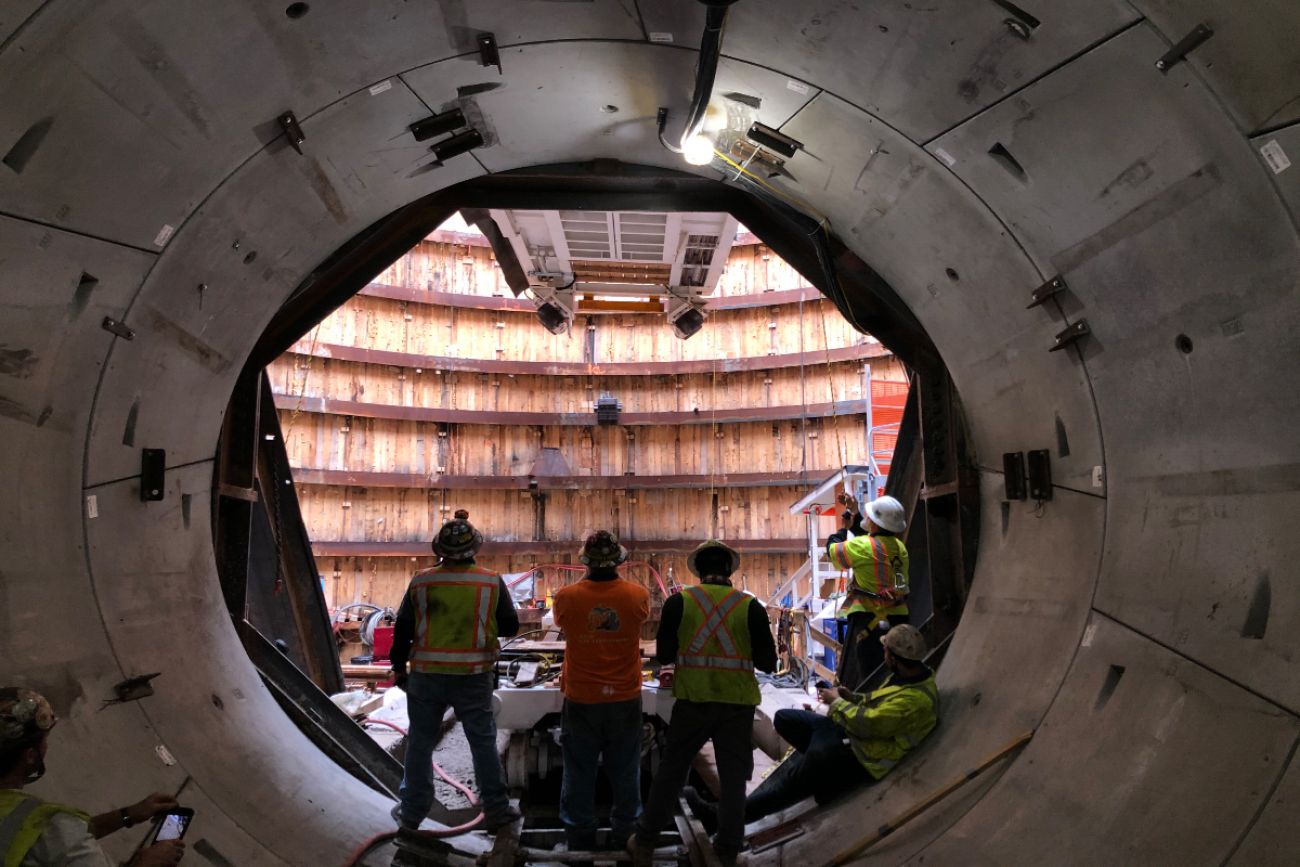 Workers watch as a portion of the tunnel boring machine is lowered into the deployment shaft. (Courtesy of Jay Dee Contractors Inc.)
OCP's top executive said that even with the sinkhole and TBM incident, the overall project is on time and additional costs will be largely covered by OCP and its insurers.
"We are reaching substantial completion on schedule," said David Nachman, CEO Oakland Corridor Partners and CEO of British infrastructure investor and management firm John Laing, which is overseeing the I-75 project.
While motorists will enjoy the smooth, wider finished highway with sound barriers and carpool lanes, the new stormwater collection system is intended to keep I-75 free from impassable water. It also will help prevent bigger floods such as the 2014 storm that overwhelmed the highway and local sewers and caused water damage to more than 100,000 homes across metro Detroit.
The northernmost portion of the stormwater tunnel is already collecting water, MDOT said. The new system can hold up to 25 million gallons that are now separate from the area's municipal water collection that drains to the same treatment plant. Seven large shafts along that portion of I-75 will collect the storm runoff. The tunnel will store and lift that water to the treatment plant in Madison Heights to prevent it from being overwhelmed and causing floods, according to MDOT.
"The municipal system isn't taking on freeway and service drive water. That's why you're putting that drainage system in that section," Morosi said. North of the project site, the highway is at grade and water drains into ditches. Flood control elsewhere in Detroit is handled by separate systems, many of which are aging and in need of repair or modernization.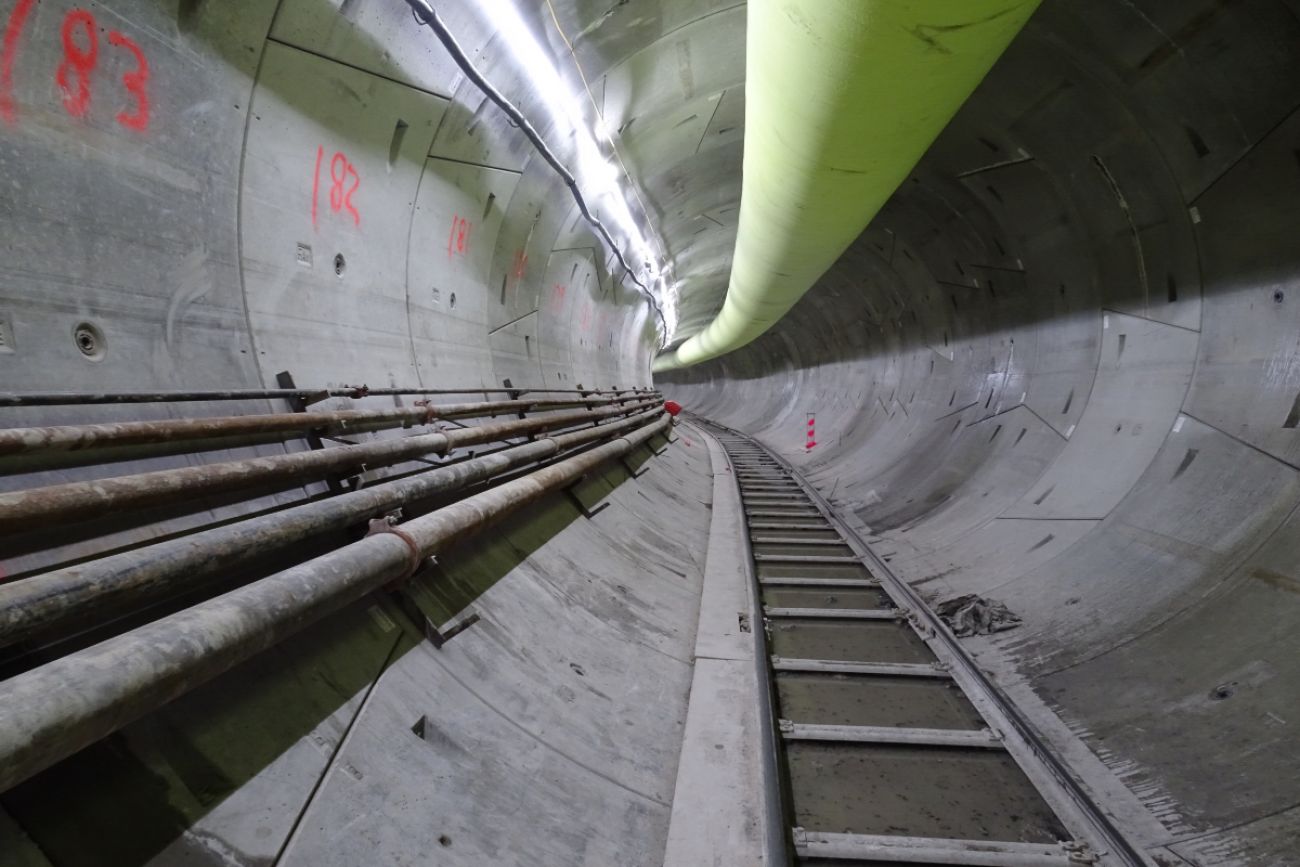 The interior of the new water collection and storage tunnel under I-75's northbound service drive in Madison Heights is shown after the tunnel boring machine has pushed northward. (Courtesy of Jay Dee Contractors Inc.)
The automated tunnel boring machine was initially deployed three years ago into a 60-foot-wide vertical tunnel near the I-696 interchange in Madison Heights. Once underground, it went to work drilling a hole 14.5 feet in diameter, using a large rotating cutting wheel on its forward face to chew up rock and soil, which was returned to the surface via a mini rail line built inside the concrete-lined tunnel. Fleets of trucks hauled away the excavated rock and dirt.
The TBM employed hydraulic jacks to push itself forward on the edges of pre-formed concrete sections lining sections. It excavated about 250 feet weekly in a brute but deeply technical and scientific process. Work crews operate behind the TBM within a 300 foot long assembly of equipment to install the concrete sections and handle the water, electrical supply and ventilation necessary for the dig.
When the TBM struck the silt pocket two years ago, it immediately halted work. After nine months of recovery, repair, and preparation work, the machine restarted digging last summer and completed the northbound tunnel portion last October. In June, it reached the southern terminus and was brought up.
Nachman said the new pump station is still being finished, and the tunnel system should be fully online early next year. Oakland County will assume its operations at that point.
It's unclear if the tunnel boring machine — initially named "Eliza" for Eliza Seaman Leggett, whose Waterford Township home was an Underground Railroad stop, and then renamed "Phoenix" after the original TBM was melded with new parts — will be disassembled for future use, sold for parts, recycled, or scrapped. In some tunnel projects, such as under the English Channel and under Manhattan, the TBM is simply buried under the worksite.
The single shield TBM, built by Germany's Herrenknecht AG, can cost tens of millions of dollars but it's not known how much was paid for the machine used below I-75. Anja Heckendorf, the company's head of corporate communications, deferred comment to Livonia-based Jay Dee Contractors Inc., which is the consortium's tunneling company.
MDOT deferred questions about the TBM and sinkhole to Jay Dee. Nachman said the partnership has a non-disclosure agreement with MDOT that prevents OCP and its member companies from talking specifically about the TBM sinkhole incident.
While these sorts of tunnel projects undergo a series of test digs and other measures to identify potential sinkholes or other obstacles, it's not a foolproof process. A TBM in Seattle was trapped underground for two years during a 2013 project. Another became stuck in December during a massive Australian hydro project, but is expected to begin drilling again soon. A small TBM digging an anti-flooding tunnel in Toronto has been trapped for more than a year and could add $25 million in recovery costs.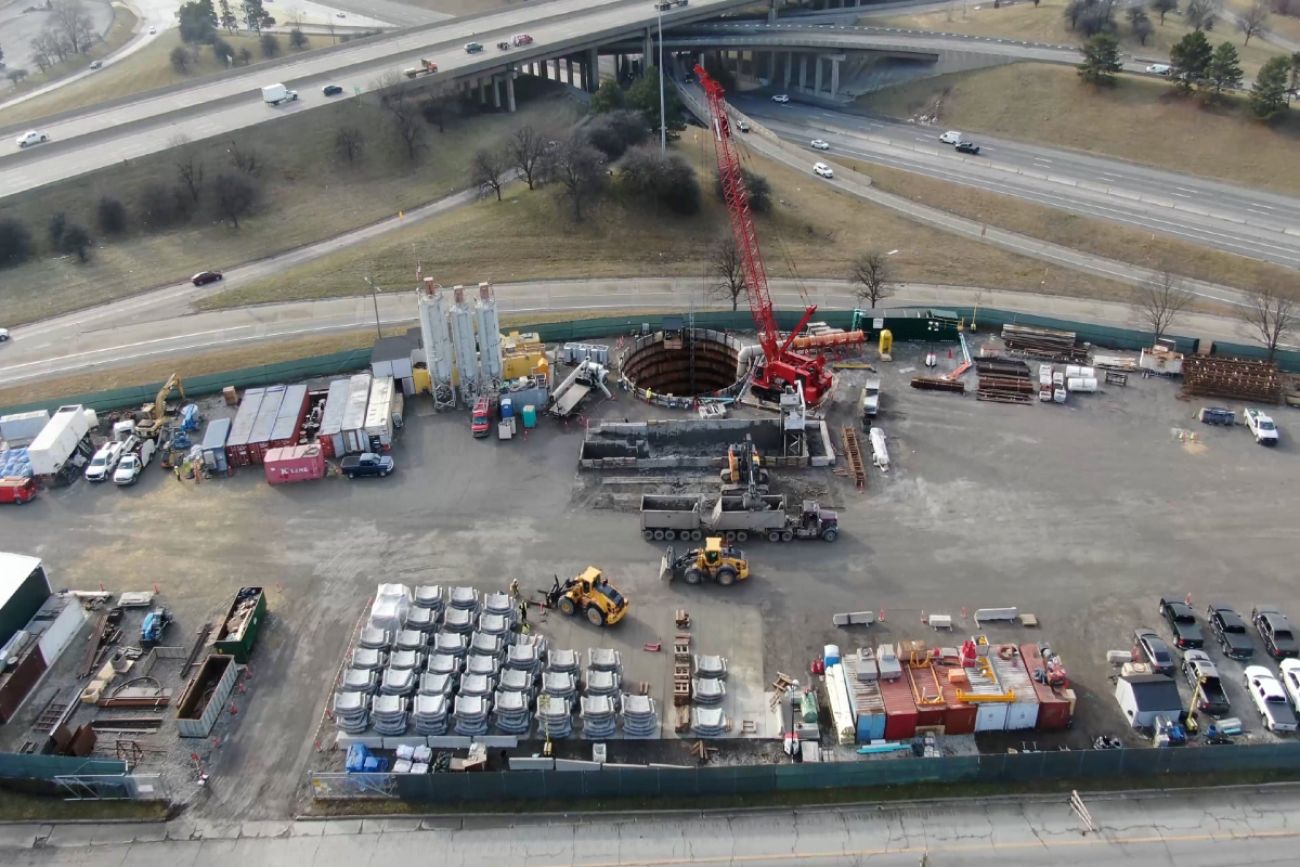 The tunnel boring machine was initially deployed from this massive shaft dug near the I-75 and I-696 interchange in Madison Heights in 2020. It would dig north for about two miles, becoming stuck in July 2021. It then went another two miles south after repairs and work restarting a year later. (Courtesy of Modernize 75)
"Underground construction is one of the biggest sources of uncertainty for a construction contractor," said Vineet Kamat, a professor of construction management and sustainability at the University of Michigan's Civil and Environmental Engineering Department.
Pre-project testing doesn't always catch problems. Underground problems "can be easily missed with exploratory bore holes," said Kamat, who said it's not unheard of for silt pockets or other disruptions to cause sinkholes.
"These types of events are a little bit rare," he said. "You really don't know what you're going to get until you reach the work phase … Tunneling is the epitome of project uncertainty."
While modern tunneling operations are safer than the days of dynamite drilling, deaths still occur. At least three workers were killed in TBM accidents when the Chunnel was built between England and France in the 1980s. More recently, five were killed in an undersea Japanese TBM operation in 2012. Those were much deeper projects than I-75's tunnel.
While stuck TBMs may not be common, unexpected incidents that add to costs and delays are common for large, complicated engineering projects.
"This sequence of events is not atypical of construction projects at all," Kamat said.
The entities involved in the I-75 project haven't said much about the TBM incident.
Jay Dee Contractors did not return calls or emails but did provide a statement via a public relations firm: "It's not our place to comment on the intricacies of public projects. However, we would like to share that we are proud that we are a part of the contractor team. The nearly finished infrastructure of the Segment 3/ I-75 Modernization Project is a part of making our freeway system better for all."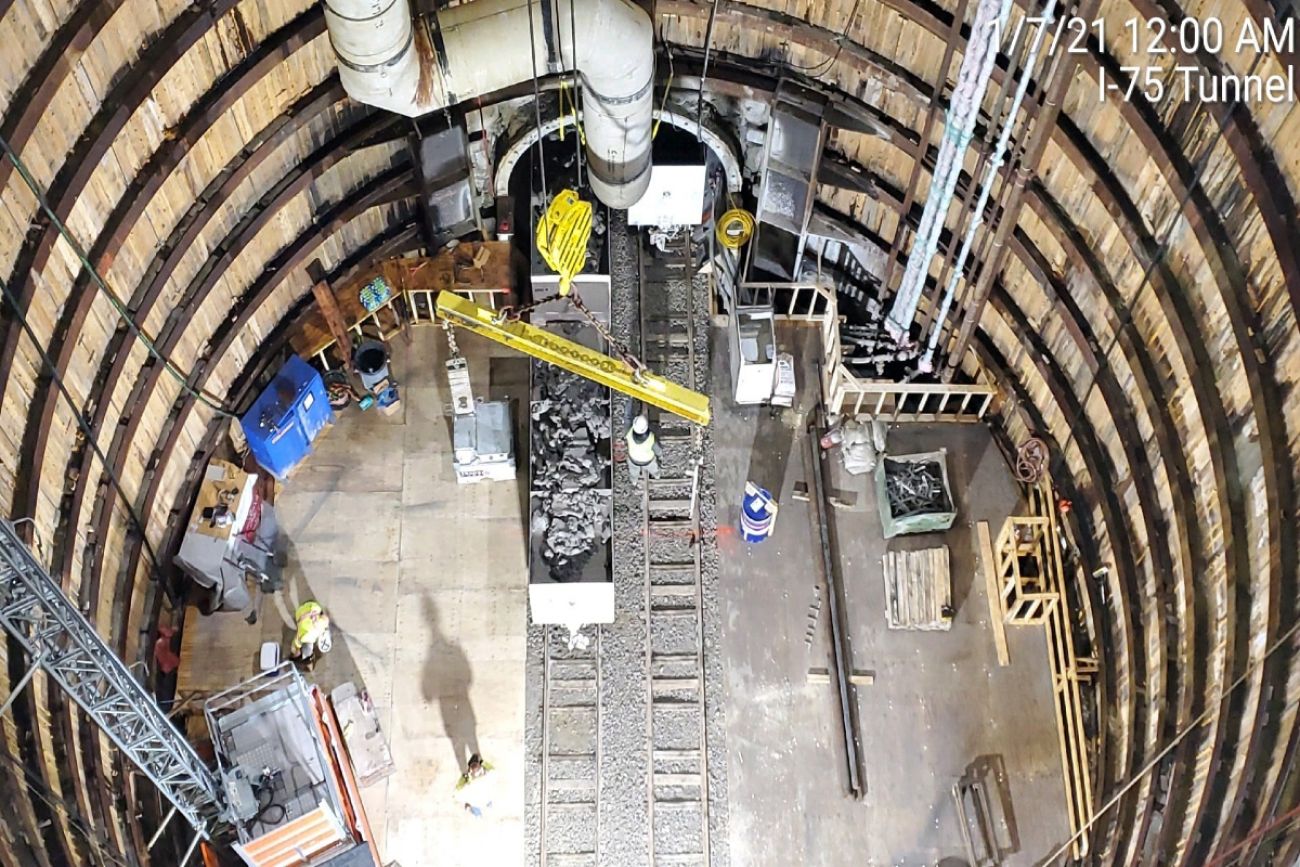 Behind the tunnel boring machine and its trailing apparatus is a long miniature rail line used to haul away rock and soil excavated by the enormous cutter head that bores a 14.5-foot diameter tunnel. (Photo courtesy of Monderize 75)
It's unclear how the insurance claims will work, except to note that taxpayers will pay only a small fraction of the added cost, MDOT said.
"MDOT did not take on any additional responsibility or pay for the event," Morosi said via email. "There was no claim filed because of the risk transfer agreement included in the (public-private partnership) contract along with the builder's risk insurance policy the contractor had to secure. In essence, the insurance provider paid for almost everything."
Morosi noted that MDOT did "split the $250,000 deductible with the contractor. The $125,000 was used for providing traffic control to close the northbound service drive for the building of the recovery shaft and post recovery reconstruction."
The $1.4 billion final phase of the I-75 project includes highway reconstruction and widening, the addition of carpool lanes, replacement of numerous vehicle and pedestrian bridges, installation of sound walls and landscaping, along with the tunnel system. That section of the highway averaged up to 175,000 vehicles a day, according to a MDOT traffic student before the pandemic.
Under the "design-build-finance-maintain" P3 contracting model MDOT set up for the project, Oakland Corridor Partners financed construction up front and will receive payments from the state for 25 years after construction ends to maintain the highway and tunnel. It locked in prices for the taxpayers, too.
"We believe it's worked from our perspective," Nachman said. ""We appreciate (the public's) patience."
He said a few punch list items will be finished up next year, but the highway, ramps, interchanges and bridges will all be open for traffic at some point in September.
The full 18 miles of highway work stretches between Detroit's northern border of 8 Mile Road and M-59 in Auburn Hills. The first two phases of the project were wrapped up between 2016 and 2020. The entire 18-mile project will have cost $1.75 billion, per MDOT, including $368 million for the first two phases.
Business Watch
Covering the intersection of business and policy, and informing Michigan employers and workers on the long road back from coronavirus.
Thanks to our Business Watch sponsors.
Support Bridge's nonprofit civic journalism. Donate today.
Only donate if we've informed you about important Michigan issues
See what new members are saying about why they donated to Bridge Michigan:
"In order for this information to be accurate and unbiased it must be underwritten by its readers, not by special interests." - Larry S.
"Not many other media sources report on the topics Bridge does." - Susan B.
"Your journalism is outstanding and rare these days." - Mark S.
If you want to ensure the future of nonpartisan, nonprofit Michigan journalism, please become a member today. You, too, will be asked why you donated and maybe we'll feature your quote next time!