Michigan bars worry as East Lansing bar's coronavirus tally tops 70 cases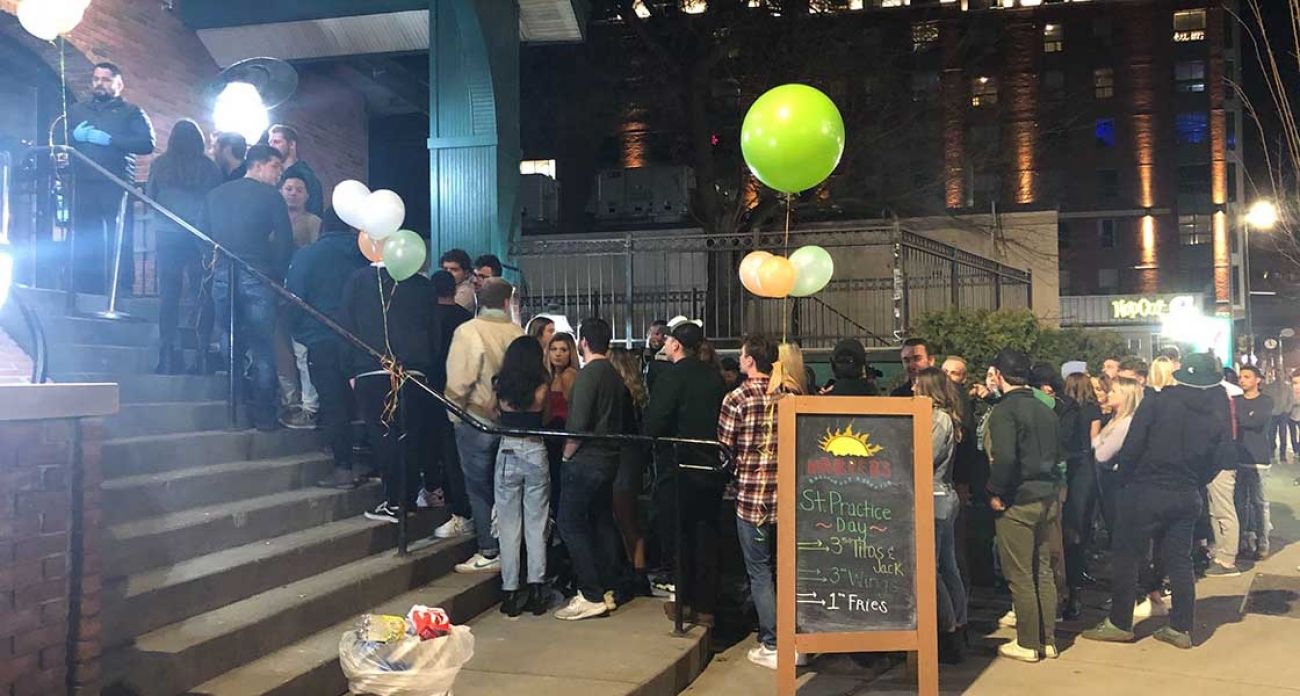 Not everyone had fun at Harper's Restaurant and Brewpub in East Lansing when the popular bar near Michigan State University reopened this month.
One customer complained on June 18 to the Ingham County Health Department. "Bar patron reported no one wearing a mask and little social distancing," said Linda Vail, county health officer, reading from her files.
That's the same day that Vail learned her staff had identified a couple of positive coronavirus cases from people who'd been at the bar.
Those initial cases grew into an outbreak as the bar closed to patrons. By Friday afternoon, the count of people affected was up to 63. At 7 p.m., the total had grown in 76.
Health officials say they are not likely finished with identifying people who were infected with COVID-19 after visiting the bar between June 12-20. Seventeen of the cases are asymptomatic, and testing continues. None have been hospitalized.
"It's hard to tell where you are in a curve when you're in the middle of it," Vail said. "But I certainly expect more cases.
"You don't expect to identify 10-15 new cases in a day and have it just end."
The situation at Harper's comes as Michigan coronavirus case count increases, with an uptick among people under 30 since June 5. From March 1 to June 5, about 16 percent of Michigan's cases were among people ages 0 to 29. But from June 5 through June 26, cases in that age group increased to almost 31 percent.
Overall, Michigan has had 62,695 coronaviruses cases and 5,885 deaths, as of Friday. The seven-day average was at 267, the highest the average has been since June 5.
The outbreak in East Lansing raises questions about how the virus will be controlled near college campuses as universities plan to reopen this fall.
At the same time, at least two states — Florida and Texas — announced Friday they are closing bars amid sharp increases in COVID-19 cases. That news strikes fear into struggling bars and restaurants in Michigan, where they'd been ordered to close from mid-March until June 8.
"We've been crippled," said Scott Ellis, executive director of the Michigan Licensed Beverage Association. "Now I'm afraid these things that happened at Harper's and elsewhere will add to that."
Pat and Trisha Riley, owners of Harper's, were not available for an interview with Bridge. They issued a statement this week, along with a list of improvements they're planning at the bar.
"Our small family business takes its role and responsibility in our community very seriously – especially when it comes to the health and safety of our customers and team members," they said.
Ellis, of the beverage association, represents about 8,500 establishments in the state that serve alcohol. About 30 percent said when surveyed that they may not survive the coronavirus shutdown that started in March. By June 8, bars and restaurants were allowed to open at 50 percent capacity.
"We're not built to survive at 50 percent," said Ellis.
Reopening generated a wave of business, he said, but now many bars and restaurants report that traffic is slowing. As a result, he said, many are vigilant about adhering to social distancing to maintain business and prevent having to close temporarily if a staff member falls ill.
However, one common problem, he said, is customers who refuse to wear masks.
"Patrons do what they want to do," Ellis said. Within a week of opening, members reported that rudeness to the staff was their top concern.
"They're not there to battle people who say, 'I don't want to wear a mask,'" Ellis said of bar and restaurant workers. "It's just very tough for the owners."
Vail, the county health officer, said there's a solution for bars: Deny entry to anyone not wearing a mask.
Local health departments already license bars and restaurants. Vail said they also have the authority to add social distancing requirements found in Gov. Gretchen Whitmer's executive orders to their licensing standards.
Now, Vail said, restaurant inspections will also look for six-feet of distance between tables and masks on staff as part of routine enforcement. Her staff is starting that now, and it could result in escalating actions, like hearings and educational sessions, all of which involve costs. The ultimate action could be to close a facility.
In the meantime, she's trying to encourage compliance. Watching the case count climb at Harper's immediately after its opening signals that everyone in bars and restaurants will benefit from the increased protection coming from masks, she said.
That's not a question at nearby campus favorites like Crunchy's and the Peanut Barrel, according to those businesses. Both are posting signs and emphasizing that patrons must join staff in wearing masks.
"The last thing we want is to get shut down again because someone who works for us or a customer is exposed," said Meghan Bell, manager at the Peanut Barrel. The restaurant is providing masks to customers, and staff outlines the policy while seating patrons.
So far, the Peanut Barrel has handed out at least 1,000 masks, Bell said. Most people agree to wear it, though some grumble.
"It's gotten better since everything happened at Harper's," she said.
Vail said health officials across the state can look to East Lansing for a glimpse into coronavirus spikes that could happen this fall in college towns.
The worry, she said, is that "we'll have student-aged folks gathering at favorite hangouts and off we go."
East Lansing officials are bracing to deal with it. Mayor Ruth Beier said she asked the owners of Harper's not to open when they talked ahead of the June 12 opening.
"They called me, and wanted to assure me it would be safe," Beier said. They talked about the tables being bolted to floors and a new air-handling system to reduce the risk of infection.
But Beier said she looked inside the bar during the first week it opened and saw maskless patrons dancing and little social distancing. She said there was no notice on the door that anyone needed a mask to enter.
"In a lot of places this is working," Beier said of other bars and restaurants in the area that have less than Harper's estimated 500-person capacity. "Bars like Harper's, I don't know how they can open safely.
"I don't necessarily blame the owners of Harper's," she continued. "It's their whole setup. It might be impossible to keep it safe."
In an email to Bridge, the Rileys said they had taken every measure to meet guidelines, and their next steps are to go "above and beyond" to earn the trust of the community.
There is no date yet for reopening, the Rileys said. Opening "won't be until after we can assure even more enhanced precautions have been taken," they said. That will include testing all employees, vendors and suppliers.
"(We) are working tirelessly to do all the right things," they said.
Among the improvements planned by Harper's is a virtual line management system to control the patrons waiting to enter the bar while standing on city sidewalks, which "we have no control or authority over," the Rileys said.
That may change next week. East Lansing City Council will vote on Tuesday on a proposal to allow Beier to declare a health emergency, which in turn will allow the city to enforce social distancing on sidewalks.
Meanwhile, East Lansing and many other cities are trying to make it easier for bars and restaurants to rebuild lost sales, in part by closing off streets so that outdoor dining capacity can be increased.
Gov. Gretchen Whitmer also is expected to sign legislation next week expanding sales options for bars and restaurants, including the ability to sell alcohol to go and deliver it to customers.
That legislation was offering hope to many bars and restaurants, Ellis said. Optimism has been tempered by the outbreak.
Now, they look to East Lansing's outbreak as a sign that they face still more vulnerabilities when it comes to reopening. They now fear being closed again if the virus can't be managed in group settings, and they want customers to know they consider masks their lifeline, not a political statement.
Another closure could be devastating, said Ellis.
"We're still fearful that is going to happen," he said. "We knew as restaurant owners that people are going to come into our place that have COVID. That's why we're prepared as best we can with sanitization, the cleaning, everything.
"We just need the public to help us out."
Business Watch
Covering the intersection of business and policy, and informing Michigan employers and workers on the long road back from coronavirus.
Thanks to Business Watch sponsor:

Support Bridge's nonprofit civic journalism. Donate today.
We're not just a news organization, we're also your neighbors
We've been there for you with daily Michigan COVID-19 news; reporting on the emergence of the virus, daily numbers with our tracker and dashboard, exploding unemployment, and we finally were able to report on mass vaccine distribution. We report because the news impacts all of us. Will you please support our nonprofit newsroom?