The Ojibwa Casino in the northwestern Upper Peninsula town of Baraga is just one of many thousands of Michigan businesses shuttered due to the coronavirus pandemic. But at most businesses, lost revenue doesn't immediately demolish budgets for the local health department, police force and social services system.
The casino and resort funds as much as 60 percent of the Keweenaw Bay Indian Community's federal budget, said Chris Swartz, the tribe's president. Swartz said the Ojibwa closure is eating up to $2 million a month in revenue that the 3,600-member tribe would otherwise spend on children's health, police patrols, senior services, natural resources management and other programs.
"We had to lay off half of our government," Swartz said. "Unless they're in grant-funded positions, they're pretty much off until the casino is back up and running."
As a result, he said, fewer people are receiving medical care through the tribal clinic. Daily lunches for tribal elders have been canceled. Fewer social workers are available to keep tabs on child welfare. The cuts could linger well after the casino reopens, as the tribe is forced to slash government services to bring budgets back into balance. 
As Michigan's coronavirus shutdown dries up a key revenue stream for Michigan's 12 federally-recognized Native American tribes, government leaders face a similar conundrum: Open casinos sooner to stop the financial bleed and risk spreading infection on the gaming floor, or stay closed and decide which government programs to sacrifice? 
Why tribes do gaming 
Unlike state and local governments, Native American tribes generally lack the ability to levy taxes that fund key government services, which means revenue must come from elsewhere. 
The U.S. government provides a portion of funding for some tribal government programs as part of a treaty obligation with Native American tribes. In exchange for their lands, the United States agreed to provide tribes with services such as health care, law enforcement and education. But that funding has never been enough and remains inadequate, according to a 2018 report by the U.S. Commission on Civil Rights. 
So in the 1970s, some tribes began to make up the difference by opening bingo halls and funneling gambling revenue into government programs. Several states, including Michigan, sued in an attempt to shut down tribal gaming businesses. The disputes culminated in a 1988 U.S. Supreme Court decision that affirmed Native American tribes have the right to establish gaming operations on their land. Today, all of Michigan's 12 federally-recognized tribes own casinos that help fund their government. Some share a portion of revenue directly with their citizens in much the same way that Alaskans receive oil royalties. 
As sovereign nations, tribes are not required to disclose details of their budgets to the non-tribal public. Of the five tribal leaders who spoke to Bridge for this story, all said casino revenue is a significant portion of their government budgets but none offered specific dollar figures. Frank Ettawageshik, executive director of the United Tribes of Michigan, which represents Michigan's federally recognized tribes, estimated that on average, gaming contributions comprise about half of government budgets for Michigan tribes. 
"The casinos provide the revenue that's making up for woefully inadequate funding from the federal government," Ettawageshik said.
But tribes' reliance on gaming revenue can also leave government programs more vulnerable to economic downturns than, say, municipal budgets funded by property taxes.
"In a period of crisis like we're in right now, state and city government revenue is declining too, but the bottom hasn't fallen out," said Miriam Jorgensen, research director for the Harvard Project on American Indian Economic Development and the University of Arizona Native Nations Institute. "Because tribes don't have a tax base, the bottom falls out immediately when casinos can't operate."
Frank Cloutier, tribal spokesman and former chief of the Saginaw Chippewa Indian Tribe in central Michigan, said gaming revenue accounts for three-quarters of the tribe's budget. With the tribe's Soaring Eagle Casino & Resort near Mount Pleasant entering its seventh week closed, Cloutier said some government programs could be on the chopping block as the tribe looks to balance its budget with fewer casino receipts. 
"Most people hear about tribal gaming and they think slot machines and blackjack tables," Cloutier said. "I'm talking about education. I'm talking about lunch programs for our youth. I'm talking about elder care, I'm talking about housing infrastructure, tribal court, fire and police."
Tribal casinos help local communities, too 
Tribal governments and the citizens they serve aren't the only ones reeling from the casino closures. 
Under legal agreements with the state of Michigan, casino-owning tribes share 2 percent of their gaming revenue with local non-tribal governments near their casinos. In 2018, those agreements funneled $30.1 million into schools, fire and rescue services and other local government institutions in communities near casinos.
The money is a drop in the bucket for larger communities that receive tribal revenue sharing dollars, such as Battle Creek and Mount Pleasant. But five of Michigan's 12 tribes are located in isolated, economically limited regions of the Upper Peninsula, where fewer people and lower per-capita income translates into smaller local government budgets. In these communities, casino revenue can be crucial to local budgets.
Money from the Bay Mills Indian Community's resort and casinos accounts for nearly half of the budget of Bay Mills Township in the eastern Upper Peninsula, said Township Supervisor Roger Graham. It pays for the two-person grounds crew that mows the cemetery and completes odd jobs during the summer. It funds the volunteer fire department. It fixes roads and buys lawn mowers and other equipment. 
Graham said he isn't expecting a check next quarter. He might not be able to hire a grounds crew this year. That's two more jobs lost in an area where, even before the coronavirus shutdown, there weren't a wealth of job opportunities. Pre-pandemic unemployment was already near 7 percent.
"It's going to have a huge impact," Graham said. "I don't know what we're going to do. We're just trying to scale back anywhere we can."
Tribes also are among the Upper Peninsula's biggest employers, said Tom Durkee, business development manager for the Michigan Economic Development Corp.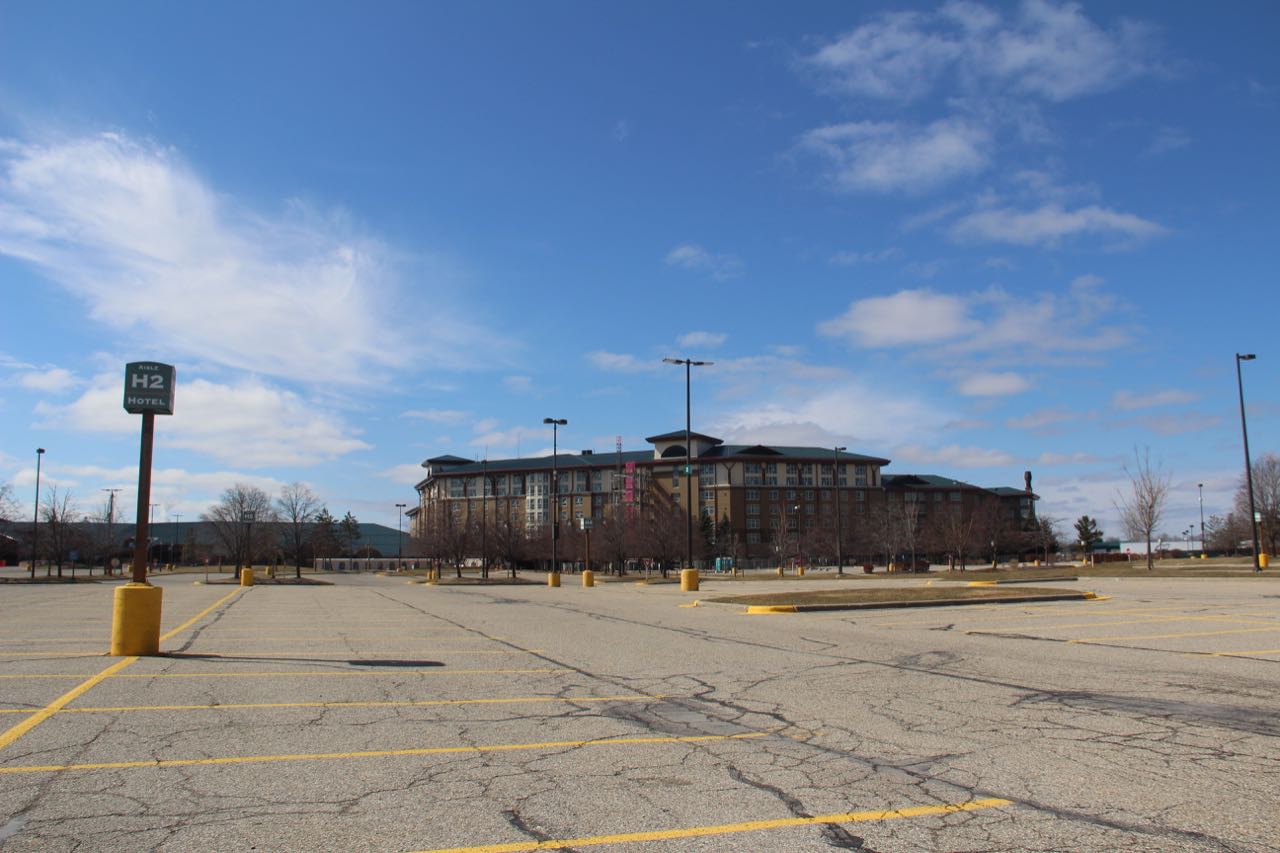 The usually busy parking lot at Soaring Eagle Casino & Resort has been deserted since March 16 to prevent the spread of COVID-19. Revenue from the casino and resort amounts to about three-quarters of the Saginaw Chippewa Indian Tribe's budget. (Courtesy photo by Natalie Shattuck)
In Baraga County, home of the Ojibwa Casino, the tribe is the largest employer by far with more than 500 workers, with the Michigan Department of Corrections a distant second, according to 2014 figures from the Upper Peninsula Economic Development Alliance. In Gogebic County, only the area hospital system employs more people than the Lac Vieux Desert Band of Lake Superior Chippewa Indians. Same goes for Chippewa County's Bay Mills Indian Community and Menominee County's Hannahville Indian Community. 
That does not include the satellite jobs that exist only because of the casino: The gas stations and restaurants that cater to casino visitors. The food distributors that supply casino buffets. The construction firms that maintain casino facilities. 
Looking to reopen  
Anxiety over the financial impact of a prolonged casino closure has Michigan tribal leaders counting the days until they can reopen. As sovereign land, tribal territory is not subject to Michigan Gov. Gretchen Whitmer's stay-home order and legally could ignore it. So far, Michigan tribes have followed Whitmer's decision to close nonessential businesses including casinos.
Whitmer has just extended the Michigan government's stay-home order until May 15. Tribal leaders across Michigan said they are tracking daily infection rates and pondering the right time to reopen casinos. 
At the Saginaw Chippewa Indian Tribe near Mount Pleasant, Cloutier said the opening date may come sooner than Whitmer would prefer.
"I hope and pray she is completely aware of the negative impact" on tribal communities, Cloutier said. For now, the casino is closed until further notice. The elected tribal council will be reviewing the closure this week, Cloutier said, and "there could possibly be a point where we have no other alternative."
One way to help tribes stay closed, said Newland of the Bay Mills Indian Community, is to speed up the rulemaking process for Michigan's newly-legalized online gaming law.
Michigan lawmakers in December legalized online gaming in the state. Although tribes don't need state permission to own casinos on their land, online gaming is an exception because it enables customers to patronize a casino without stepping foot on tribal land. As a result, tribes along with nontribal Detroit casino owners are awaiting state rulemaking that will enable them to get an Internet gambling license. The state aims to have online gaming up and running by early 2021.
Newland said leaders of the Bay Mills Indian Community and other tribes have urged Whitmer and the Michigan Gaming Control Board to expedite rulemaking so casinos can maintain some semblance of business while gaming floors sit empty. The move would benefit tribal government budgets as well as Detroit city government, which collects gaming taxes from Detroit's casinos.
A spokeswoman for the governor's office said Whitmer is reviewing the requests.
In the meantime, Newland and his fellow Bay Mills tribal councilors are discussing what it would look like to ease back into business while maintaining social distancing. 
"You'll see us and a lot of casinos start to bring things back slowly," he said. "Maybe slot machines, but not table games. Maybe no hotels at first. Buffet foodservice is going to be a thing of the past."
But, Newland noted, each tweak to the business model impacts the casinos' bottom line. When casinos finally reopen, revenue will likely be far lower and the financial pain for tribal governments will continue.
Awaiting federal stimulus 
While they do the math on a potential reopening date, Michigan tribes are tracking the federal economic stimulus effort in hopes of receiving some relief.
Each of the country's 574 federally-recognized tribes is eligible to apply for a cut of $8 billion in federal funding earmarked for tribes through the $2 trillion Coronavirus Aid, Relief, and Economic Security Act, or CARES Act. But more than a month since the act passed, the tribes' money remains in government coffers and mired in legal dispute. It's unclear how much Michigan tribes can expect to receive from the pot, or when. 
If federal money was available to offset the loss, Payment said, "it'd be a lot easier for me to be able to argue to my council that we should remain closed to keep people safe."
Attempts to get relief through other CARES Act programs have so far been unfruitful. The massive funding package created a Paycheck Protection Program that so far has included $659 billion in forgivable loans to help businesses pay employees and other expenses during the COVID-19 shutdown. Some tribes applied for loans, but the Small Business Administration, which runs the loan program, has long maintained a policy against lending to businesses that generate more than more than a third of their revenue from gambling. 
Newland said his tribe has tried for weeks to get through to the SBA, but has been unable to get agency representatives to answer the phone. 
Branching out from casinos 
The financial strain caused by casino closures underscores a longstanding recognition among tribal leaders and economic development experts of the need to diversify tribal government income streams. 
"Like so many things, if all your eggs are in one basket, then if something should happen to that area it kind of kills your ability to do anything else," said Durkee of the Michigan Economic Development Corp.
Durkee runs a program that helps tribes launch new business ventures outside the gaming industry. It's easier for some than others. Tribes in more populous areas tend to generate more revenue from their casinos, which gives them deeper pockets to invest in new ventures. And those more populous areas tend to have more diverse economies to begin with, creating more opportunities for tribes to branch out into new businesses.
The southwest Michigan-based Nottawaseppi Huron Band of the Potawatomi has been particularly successful at developing new income streams through its Waséyabek Development Co. In addition to the successful Firekeepers Casino and Hotel outside Battle Creek, the tribe has acquired several businesses and commercial properties. Earlier this year, it teamed up with the Shelbyville-based Gun Lake Tribe to purchase the McKay Tower, a mixed-use building in downtown Grand Rapids. 
"You never know what could happen with gaming in the state of Michigan, so we've been proactive about diversifying our portfolio," said Tribal Chairperson Jamie Stuck.
The tribe's business success has afforded it the financial resources to "plan for unforeseen circumstances," Stuck said. As a result, Stuck said he doesn't anticipate any loss of government services as a result of the shutdown. 
In Keweenaw Bay? Not so much. 
Tribal leaders hope to get into the recreational marijuana business, but for now, gaming is the tribe's only major revenue-generator. Swartz said the tribe still owes money on a second casino it opened in Marquette four months ago. Now, he is worried about paying down the debt with no revenue coming in. 
He tries to look on the bright side: The tribe's home of Baraga County is one of only five Michigan counties with no confirmed cases of COVID-19 — all of them in the U.P. Maybe the casino closures had something to do with that.
"It's bad timing," Swartz said. "But it is what it is, you know? It could be worse. We could have a 10 percent death rate, too."
RESOURCES: