Michigan universities limit dining options, citing worker shortage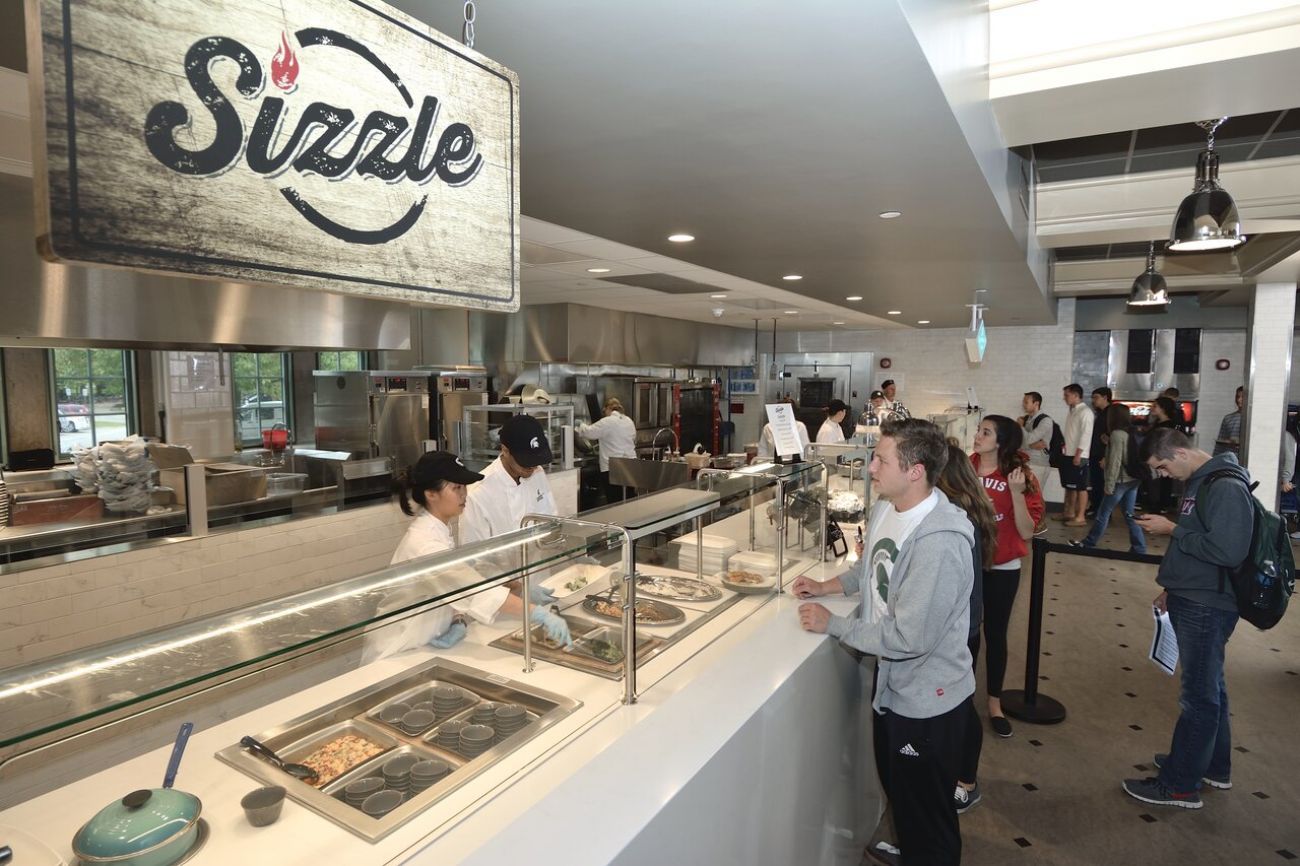 Michigan colleges are cutting dining services amid a drastic decline in workers. The Sizzle grill at Michigan State University's Landon Hall is among them, after the dining hall closed for dinners this month. (Courtesy photo)
Trevor Klatt no longer lives in Michigan State University's student housing, but the junior still regularly found what he describes as the "best home cooked meal" on campus by crossing Grand River and swiping his meal card in the Landon dining hall.
He fondly recalls the days of dining on barbecue brisket and rotisserie chicken at the university cafeteria.
But this fall, Landon is one of two dining halls that closed for dinner as MSU grapples with a massive workforce shortage. That's left the school to make tough food service decisions: closures, short hours, easier-to-prepare food and, in some cases, 100-hour work weeks for those workers still there.
Related stories:
MSU's scramble reflects a workforce shortage that is playing out in college cafeterias across the state and the nation, prompting frustration among parents, staff and students.
"This is not where we want to be," Kat Cooper, chief communications officer for MSU's Residential and Hospitality Services, told Bridge Michigan just a few hours before she too would pick up a four-hour shift serving teriyaki beef and bok choy to diners at Akers Hall.
"This is not the experience we want to provide students."
But times have changed: Cooper is among 130 administrative staff, including vice presidents, who now take two campus dining shifts a week to pick up the slack. Soon, parent volunteers may join them.
Even the soft-serve ice cream machine was closed recently at the Brody Hall cafeteria as the state's largest university scrambles to figure out how to deliver on a food service promise with 90 percent fewer student workers.
The numbers at MSU are stark: The university normally starts a school year with 3,900 students employed in housing, dining and hospitality operations.
This year, there were just 400 students who signed up to work.
And it wasn't a surprise.
"We've known that coming into this year, we'd be facing staffing shortages," Cooper said.
When the university shifted to online classes in March 2020 at the onset of the pandemic, most students left campus, leaving about 3,000 students using MSU's dining services, so staff was trimmed due to the reduced demand.
But this fall, more than 15,000 students moved back to MSU's campus, part of a requirement passed last December that sophomores in addition to freshmen live in dorms. Thousands more are living off-campus but have the option to pay for university dining. They returned to school amid a broad, pandemic-abetted workforce shortage that has employers in industries ranging from retail to manufacturing to construction scrambling to fill jobs as 200,000 fewer people in Michigan are recorded as being in the labor force.
The staff members who left in 2020, Cooper said, got other jobs. Some non-student full-timers retired. "And they made other decisions about their careers," she said.
The situation is mirrored across much of higher education. Cooper said MSU's dining execs regularly discuss the problem at Big Ten meetings. Similar conversations are taking place among other state schools.
"We're all struggling with the same things," said Craig Wieschhorster, associate vice president for business and finance at Grand Valley State University.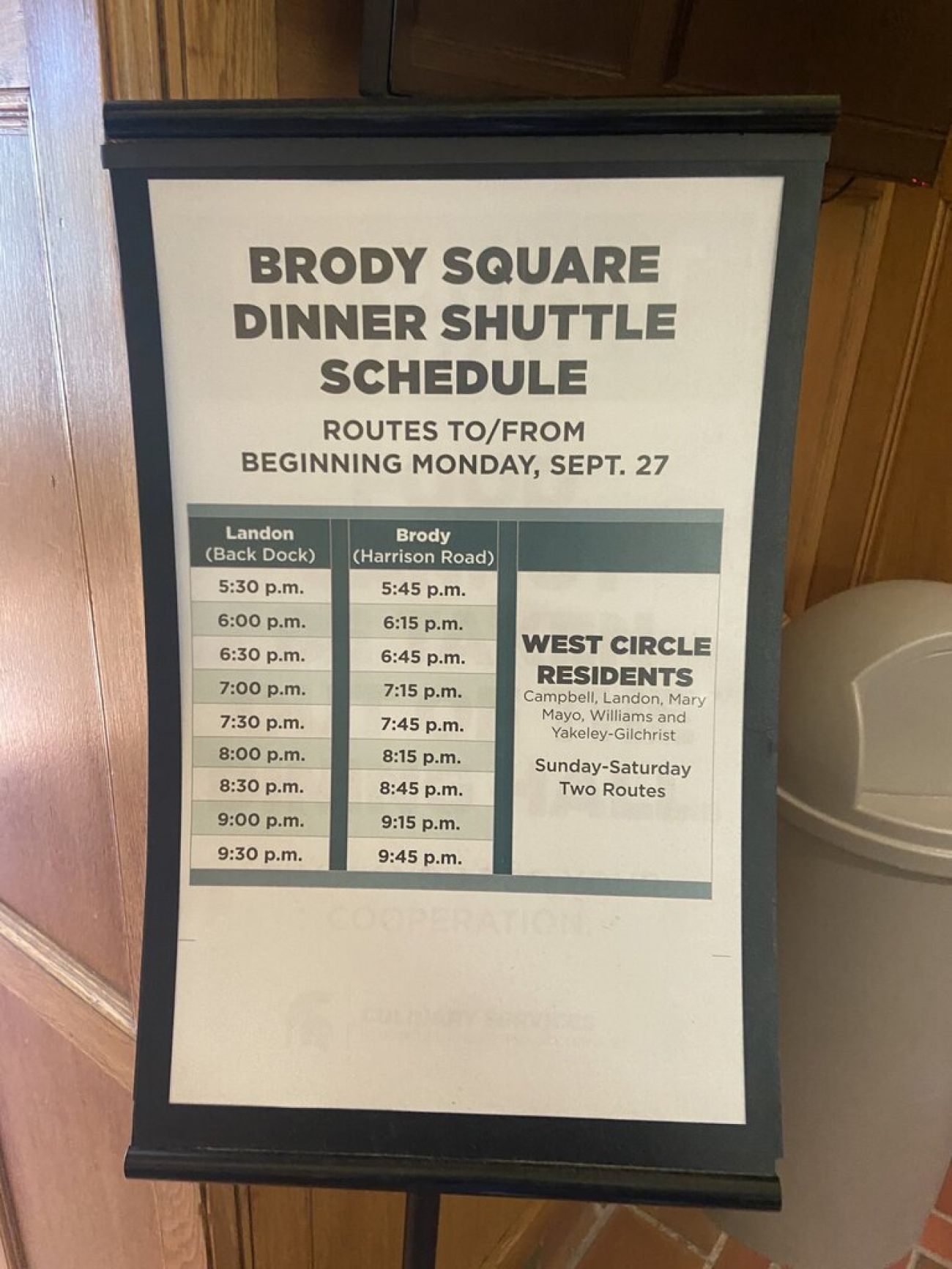 The new shuttle bus schedule is posted at the Brody dining hall so that residents of other Michigan State University residence halls can travel there to eat dinner. Two other cafeterias were closed last week as the staffing crunch continues. (Courtesy photo)
At the University of Michigan in Ann Arbor, a "now hiring" ad on the campus dining page touts flexible hours and starting wages of $12 to $14 per hour. Dining halls at smaller dorms now have limited hours — and are closed on weekends — while students report longer lines at other facilities.
Ferris State University, in Big Rapids, announced Sept. 21 that labor shortages prompted five dining closures, including one of two Starbucks. They'll be closed, the university told the campus community, for "an undetermined amount of time."
Grand Valley students are finding more "grab and go" food options, Wieschhorster said, as they try to remove custom-made orders from the menu while student staffing, at 450 people, is 50-percent below what it should be.
At Central Michigan University, Towers Dining Hall was closed over the weekend. Its employees were moved to other dining sites so that they could be fully staffed, according to a note from the university.
More than 500 students at MSU have signed an online petition, saying dorm residents were being deprived "of the full potential of their dining hall plan that we paid for," which can cost students nearly $7,000 dollars for a full year's meal plan.
The closest open dining hall for many students on the sprawling campus may now involve a shuttle bus instead of a walk downstairs.
Off-campus residents, like Klatt, say they're having to drive to the closest dining option, sometimes having to pay to park or for a parking ticket.
"Having dining halls closed for dinner also means that more students are forced to go to the same dining hall, as opposed to having multiple options spread out around campus," he said, "so this leads to large crowds and much longer lines than before."
And the menus, once they arrive, may be different: "A lot of the options available right now are more generic like pizza, cheeseburgers, and fries," Klatt said.
But the general public won't see any of that at MSU, at least for a while. MSU — which just over a year ago celebrated having its campus dining named best in the U.S. by FoodService Director industry group — last week closed dining halls to anyone without a school-issued ID card in yet another step toward trimming the workload in dining halls.
The implications for universities struggling to provide a seamless dining experience go beyond inconvenience.
At Grand Valley, the $55 million housing and dining budget is supported by fees paid by students who live in campus housing and eat at university facilities on the Allendale and downtown Grand Rapids campuses.
"The costs with labor have to be covered by the costs of meal plans and housing," Wieschhorster said, saying the school has been proud of keeping costs low and wants that to continue. However, the new pressures raise still more questions about how housing and dining will be structured in the future and whether Grand Valley can afford all the options it wants to offer students.
"To keep those costs low," he said, "everything matters."
Sustainability efforts have been impaired, too. The cafeteria staff shortage forced MSU to look at using disposable plates, cups and utensils in dining halls to cut down on the labor of washing dishes.
"It's breaking our hearts that we have to do this," Carla Iansiti, sustainability officer for housing, told parents in a Facebook group post this month. "We are normally on reusables and pride ourselves on our green practices."
And while many parents are publicly supportive of the schools, they're also showing some frustration. Many ask in online chat groups about whether they'll receive rebates or other consideration for the change to what their kids are receiving for the food plans, which can cost about $4,000 to $6,000 for two semesters. At Central Michigan, administrators this month extended the deadline to make meal plan changes to Friday, allowing unhappy students (and their families) to find other options.
The situation also offers a specific glimpse into the state's workforce concerns, at a time when many business leaders in Michigan identify talent recruitment as a top concern in the state as it recovers from record unemployment during the pandemic.
However, the lack of college-aged dining hall workers goes beyond pandemic employment trends that led to many, including many women, leaving the workforce, and older workers choosing to retire rather than return to jobs that exposed them to the virus, such as nursing and teaching.
"Young people appear to have increasingly decided not to work while they are in high school or college," University of Michigan economist Donald Grimes told Bridge Michigan in July.
These are trends that predate the pandemic. For example, among 16 to 19 year olds, only 35.4 percent were in the labor force this June, the same number as in June 2019, before COVID hit, Grimes said.
In 2000 — around the time when many of today's college students were born — the labor force participation rate among 16 to 19 year olds was a far-more-robust 52 percent.
"So there has been this very sharp decline in the participation of young people in the labor force over the past two decades," Grimes said.
Unclear is the reason, Grimes said.
The numbers suggest "these college students are not needing the money as much," Grimes said. "Maybe they're able to get financial help from their parents or student loans and so they haven't needed jobs. Maybe they have felt that getting other volunteer experiences or other activities (are) generating a more worthwhile experience than getting a job."
That doesn't stop MSU or other colleges from hoping to see more student applicants, even as they recognize they're likely to have to keep recruiting non-student full-time workers to fill the vital dining roles.
Grand Valley on Monday rolled out a new pay structure that could be worth up to $1,700 in bonuses to students who start work this semester and stick with it through April.
MSU is counting on a job fair Thursday at the Breslin Center to boost the number of potential workers in its pipeline. They'll now make $13 to $15 per hour, up from $10 to $12, Cooper said.
And both schools hope that administrative logjams — from slowed paperwork at MSU as potential workers turn in employment documents, to hiring management staff — soon will loosen enough to get more people into the cafeterias.
"While this is a stunning moment in being understaffed," Cooper said, "we've been struggling to get students to work for a while now."
Jobs, she said, "are available if they want them."
Makayla Coffee, a Bridge Michigan intern in summer 2021, contributed to this report.
Business Watch
Covering the intersection of business and policy, and informing Michigan employers and workers on the long road back from coronavirus.
Thanks to our Business Watch sponsors.
Support Bridge's nonprofit civic journalism. Donate today.
Only donate if we've informed you about important Michigan issues
See what new members are saying about why they donated to Bridge Michigan:
"In order for this information to be accurate and unbiased it must be underwritten by its readers, not by special interests." - Larry S.
"Not many other media sources report on the topics Bridge does." - Susan B.
"Your journalism is outstanding and rare these days." - Mark S.
If you want to ensure the future of nonpartisan, nonprofit Michigan journalism, please become a member today. You, too, will be asked why you donated and maybe we'll feature your quote next time!